Best Varmala Designs For Wedding
Pretty gypsophila Varmalas
Rosy blush - Rose varmalas
Another bloom of love- Carnation Varmala Designs For Wedding
A fragrant obsession - Mogra varmalas
Pastel simplicity- Light rose Varmalas
Heavy woven tubular Varmalas.
A pious basil- Tulsi Varmalas
Heavenly Kamal- Lotus Varmalas
Orchid-shorchid- Orchid Varmalas
An earthy touch- Leafy Varmalas.
Pink and green Varmala Designs For Wedding
Beads and roses Varmala designs
Varmala Designs For Wedding with names
Ivory romance - White Varmala designs
Taking a break from flowers
Thai Vibes - with fine knit varmalas
Go Hawa - Hawaii style flower garlands.
Summer-y - marigold Varmala Designs For Wedding
Be it Jai mala, or varmala or mala bodol, this is one of the most important rituals of any Indian wedding. This commemorates the beginning of the wedding ceremony, where the bride and the groom exchange garlands of different Varmala Designs For Wedding to each other's necks. And this is followed by a phase of exchanging gifts and good luck charms.
We all know what an important role families play in Indian marriages, and so does tradition. Hence, like many other rituals, Varmala is also a very much obeyed custom, even in marriages today!
If we study the History of Indian culture, we are very sure to find several references to the Jaimala ceremony. The concept roots from the Vedic times, when it was believed that the gods and the goddesses used to follow the same custom to begin their marriage ceremony. This ritual used to signify the acceptance of the bride to get into nuptial ties with the groom.
In fact in the Hindu`s sacred literature, Ramayana, Mata Sita and Lord Raama are also believed to have followed this ceremony before they moved ahead with their marriage procession, after Sita's swayamvar. Even in Mahabharata, Draupadi is known to greet Arjuna as her first husband through a Varmala ritual.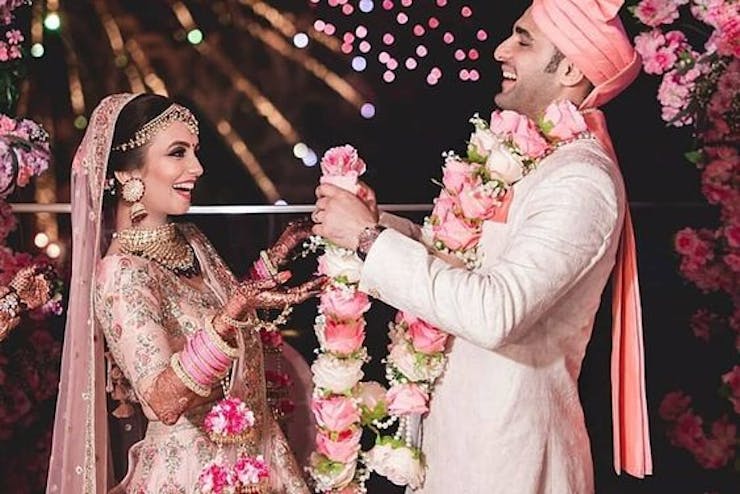 This ceremony commemorates the beginning of the marriage ceremony, right after the groom and the baaraatis arrive at the wedding venue. The parents and the family of the bride welcome them. After this, it is when the bride and the groom exchange beautiful looking Jai malas to greet each other and a new beginning.
This ritual is made a fun custom, by the friends and peers of the bride and groom both. They pretend to stop each other from exchanging the garlands, by either lifting them high and higher or by demanding treats. This indeed is a very rejoiceful ceremony. Along with all the triumph, and joy, this ceremony also symbolizes the piousness of the marriage, and also the love between the couple.
A wedding varmala, or the flower garland which this ritual centres around, comes in an array of beautiful and enthralling designs. The flower markets offer an endless variety and options to choose from or customize one for each wedding. Couples these days prefer going for Jaimalas that enhance either their wedding attire or go by the theme of their wedding.
In fact, the size and the varmala design also varies from region to region, and culture to culture.
For instance, in the southern part of the country, the conventional wedding varmala design is more on an elaborate and heavy side, while in Goa, they prefer more of a chique and minimalist design.
The Jaimala ceremony has been a very highlighted ritual of Indian weddings, throughout the world, because of its being kind of a staple depiction of Indian marriages in movies, shows and operas. But let us get a glimpse of how couples celebrate this ceremony, in the real world.
So dive with us into a gallery of beautiful wedding flower varmala designs, that were chosen by couples in real life!
1. Pretty Gypsophila Varmalas
Have you ever seen the pretty baby breath flowers? Aren't they of the type which literally adds to the definition of a beautiful floral garland, or bouquet?
This beautiful gypsophila garland here is a perfect combination of everything pretty. The luscious white roses are being given a perfect definition by the sheer greenish and white vibes.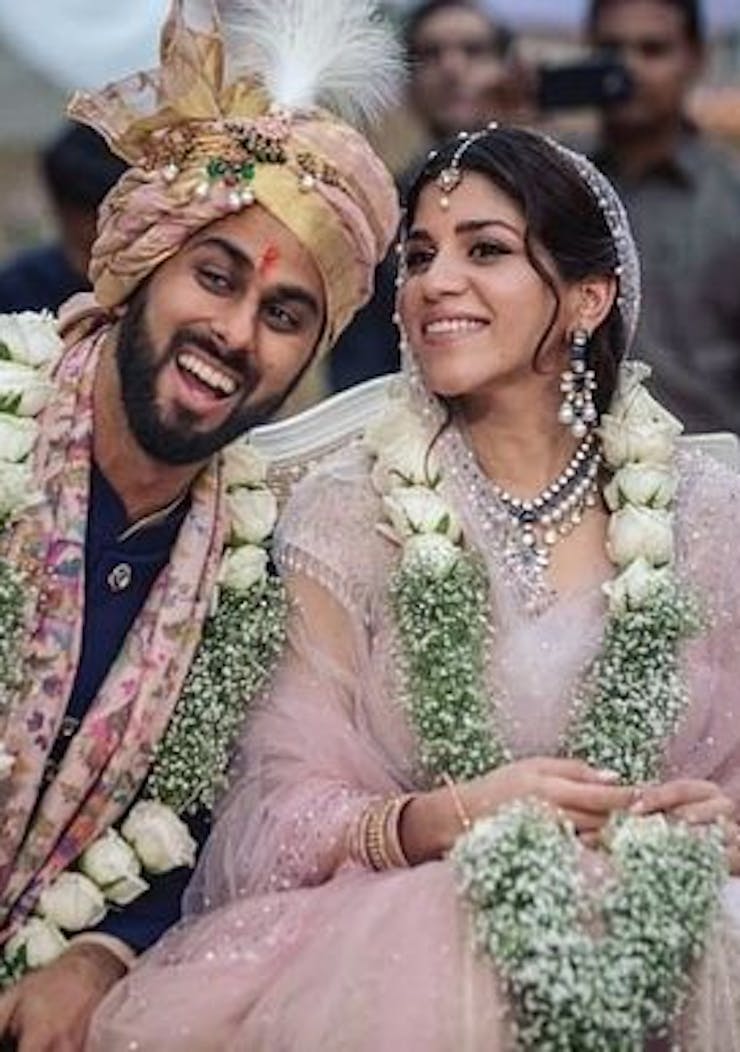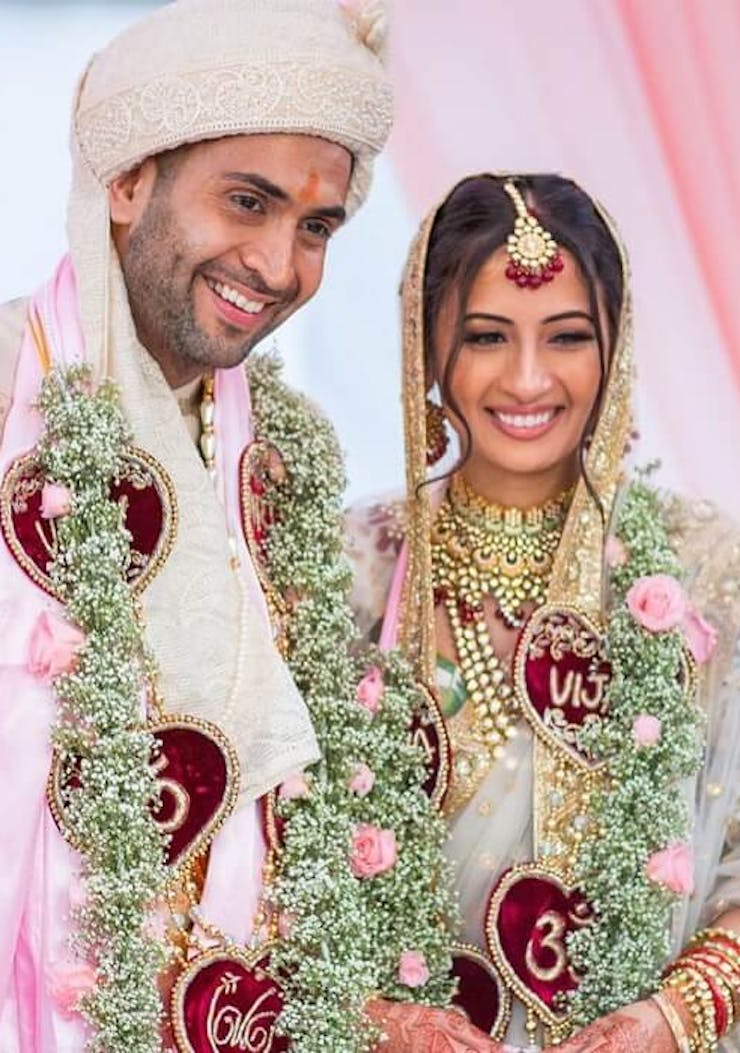 And how about this exquisite all gypsophila Varmala? The sheer look this garland creates goes perfect with the all pink theme, the bride and groom have chosen!
How about this beautiful baby breath varmala with red roses at intervals? Isn't it really pretty? The beautiful smile the bride holds further spreads a vibe of joy in the space.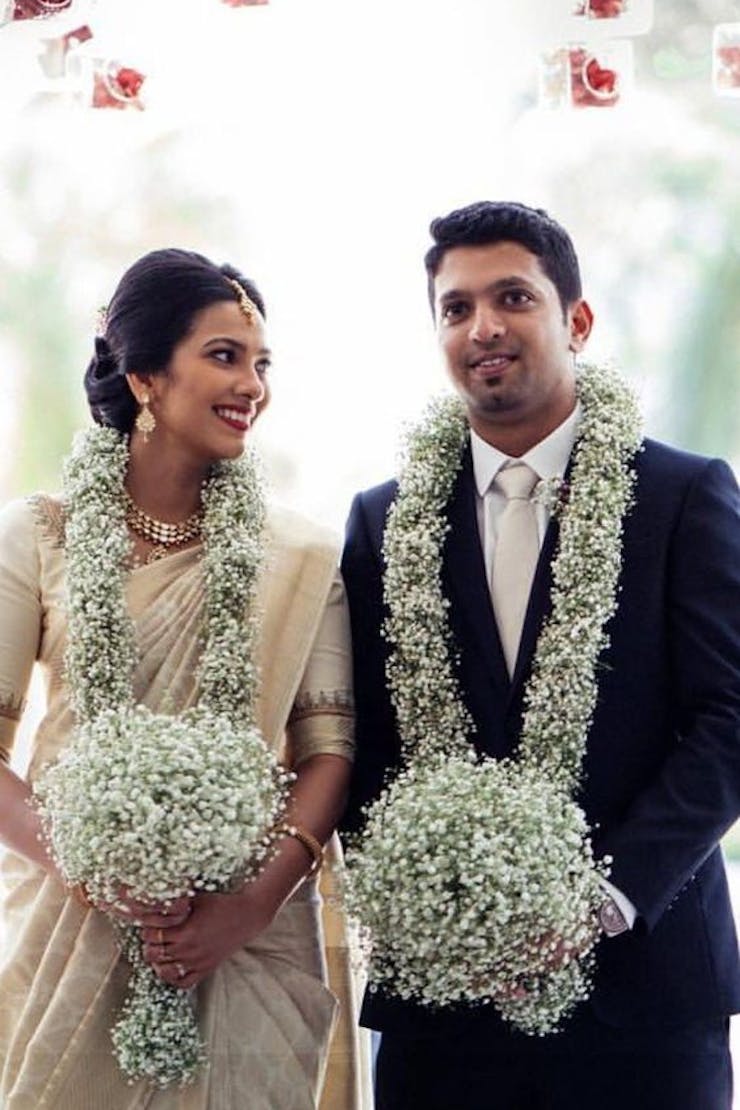 This Karelian couple here also chose to go with an all gypsophila garland for their wedding. In fact, the bouquet they are carrying is also made only of pretty baby breath flowers.
Recommended: Haldi Ceremony - A Beautiful Indian Wedding Ritual
2. Rosy Blush - Rose Varmalas
Love and roses are almost synonymous. So what could be better than a garland of roses to greet your partner for life? See for yourself with these rose varmala design images.
This beautiful rose varmala designs for wedding is an absolute beauty! The combination of red roses and white roses is looking as regal as it can be!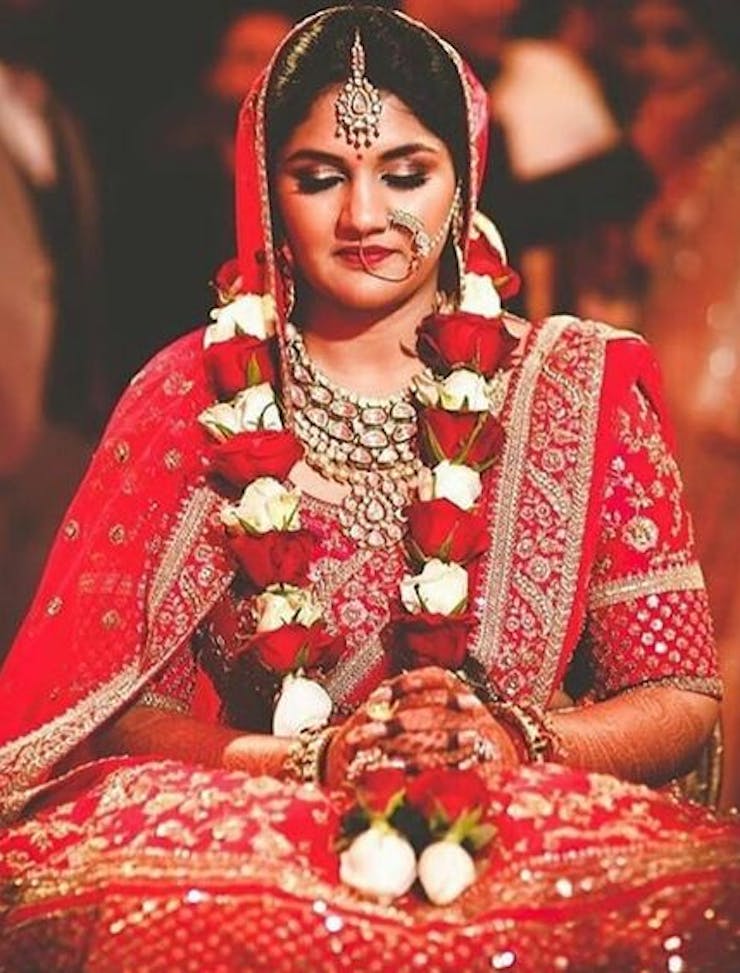 And how about this beautiful all-red rose varmala? The little details of the gypsophila cluster add an extra element of beauty to the design. 
And this baby below is another instance of the royal aesthetic roses can emit! The thick varmala for wedding is made by closely knitting roses and a little detail of jhau leaves.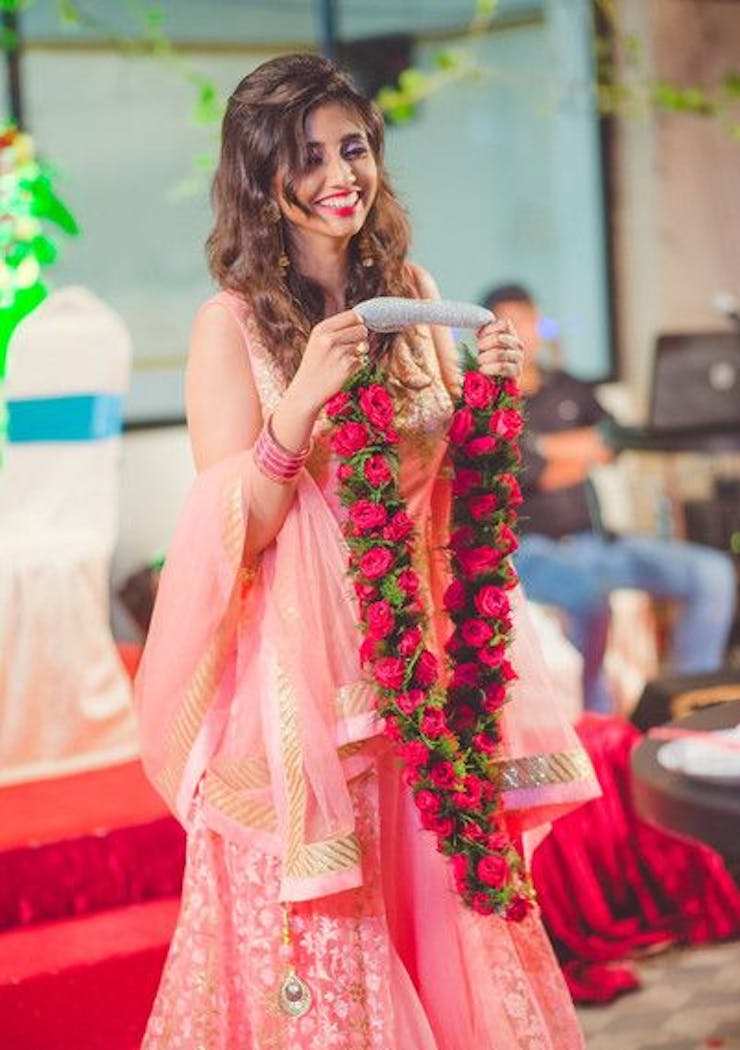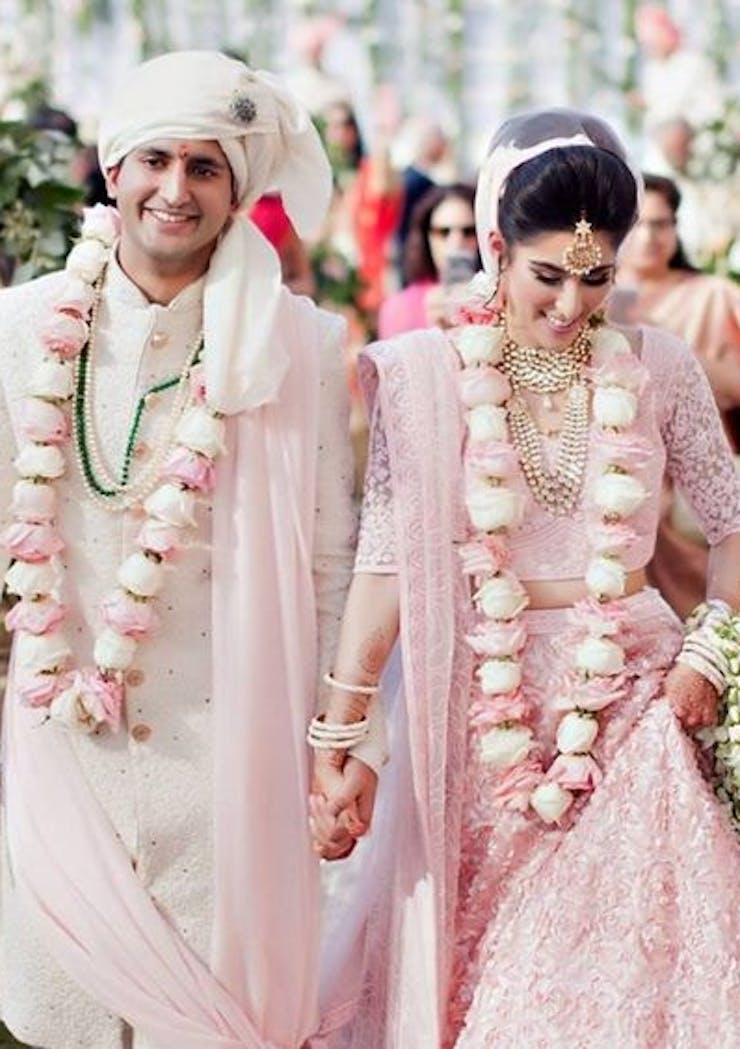 And how about a sombre pink and white jaimala? This design here has perfectly blended with the outfit of the couple, and also the beautiful garden day wedding theme.
3. Another Bloom Of Love- Carnation Varmala Designs For Wedding
The carnation flower is another very beautiful symbol of love. This signifies the devotion, commitment and love that marriage takes to be kept!
When speaking of carnations, the first thing that comes to my mind is the beautiful varmala that Ranveer Singh and Deepika Padukone chose for their special day.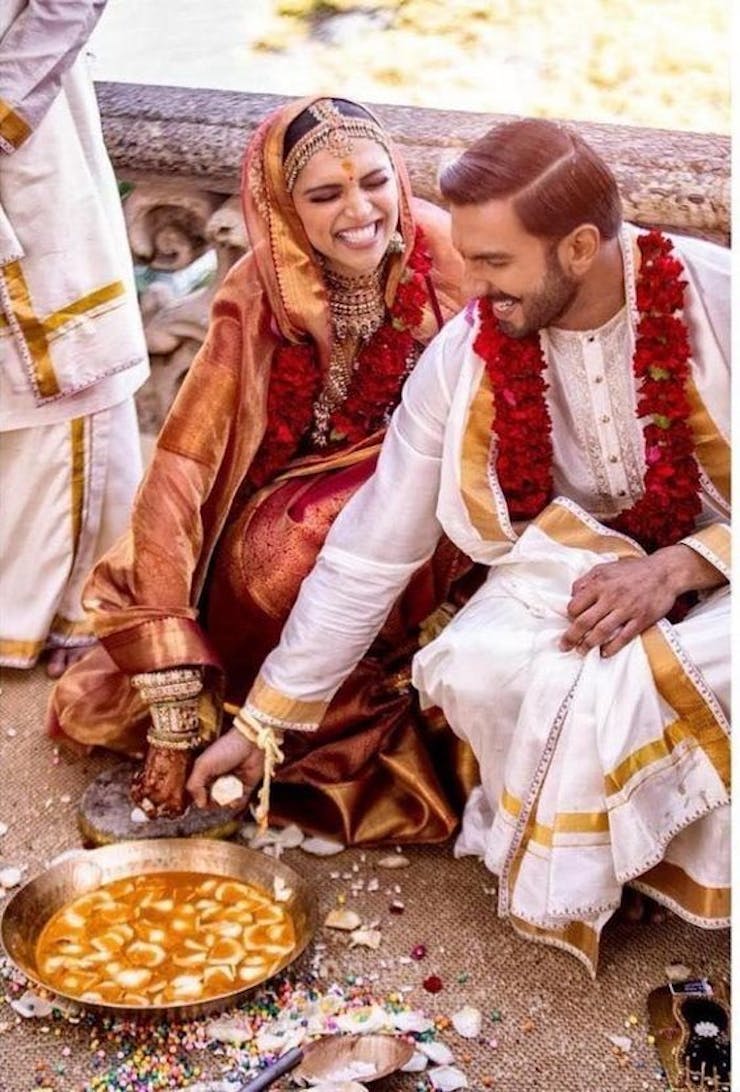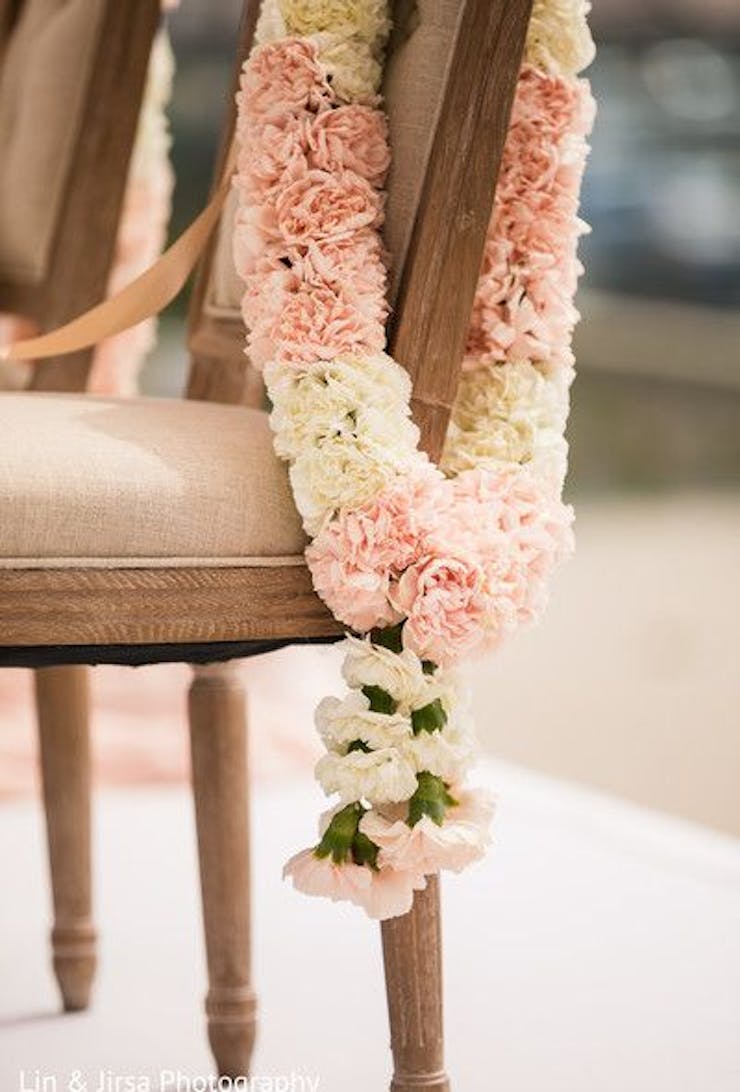 And what can I say about this beautiful bicolour jaimala made of pastel pink and white carnations? Simply awesome.
This beautiful varmala designs for wedding, is unique, pretty and everything that means good at once! I am simply awestruck by the beautiful ombre effect created using three different shades of carnation.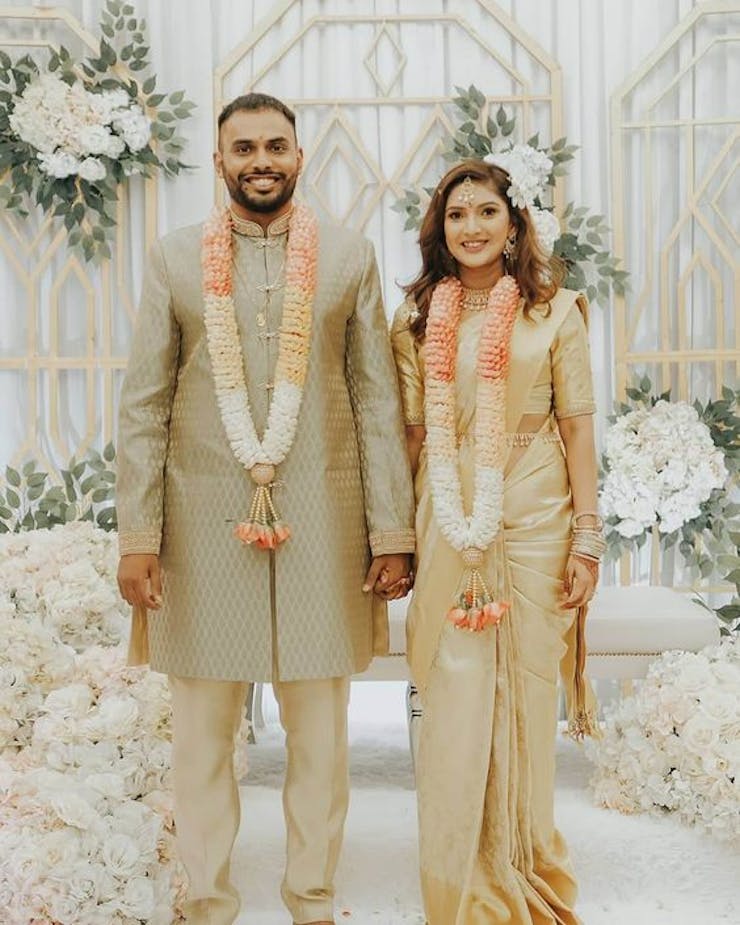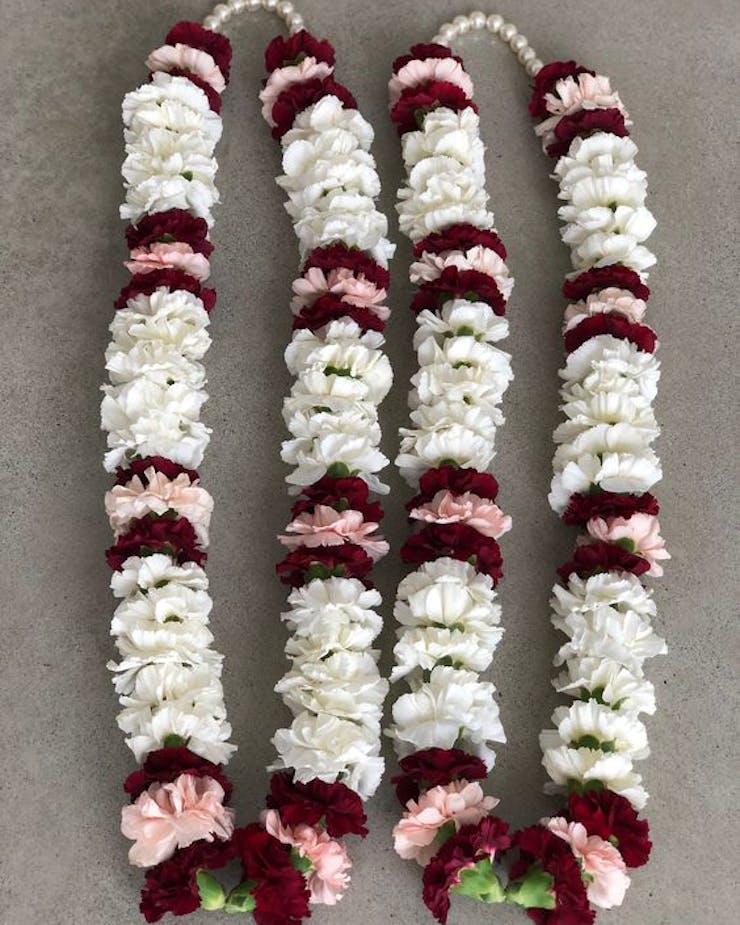 And how about this absolutely surreal design, made out of white carnations, with little details of pink and rich red carnations? Beautiful, aren't they?
4. A Fragrant Obsession - Mogra Varmalas
Joohi mogra is one of the types of flowers that can be well associated with Indian festivities. And this obsession doesn't leave the cases of wedding jaimalas as well.
This beautiful and simple pipe-like varmala made of mogra flowers is everything from simple, to refreshing, and gorgeous as well. Mogra is after all the flower loved by Mughal emperors!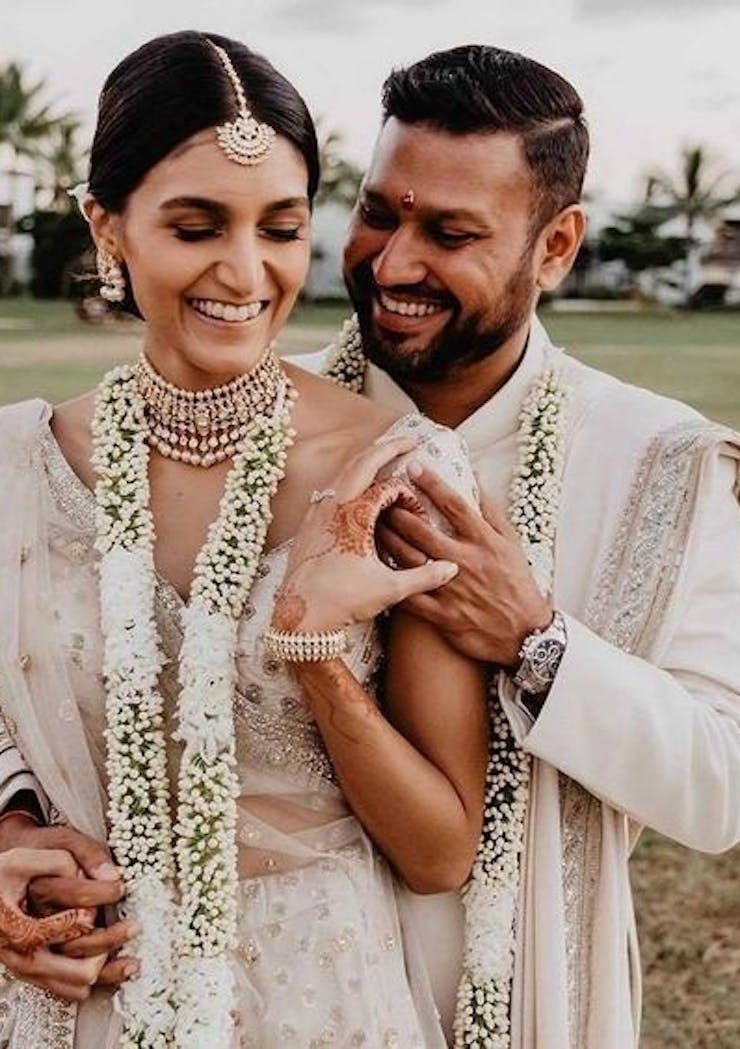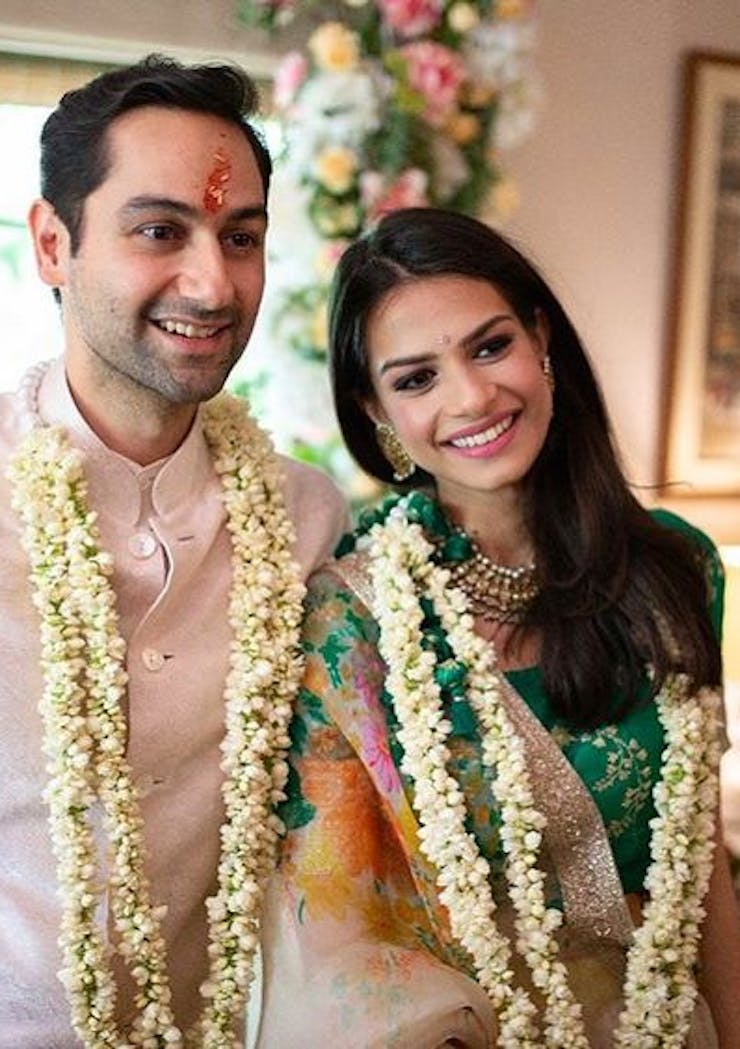 This couple here chose to get a very simple double-layered varmala made of beautiful jasmine and mogra buds. This design well compliments their beautiful yet minimalist outfits.
This South Indian couple here has chosen to go for a traditional looking wedding varmala ideas, made of combining just the right amount of mogra buds and baby breath flowers. Really goes nicely with their white and off white outfits.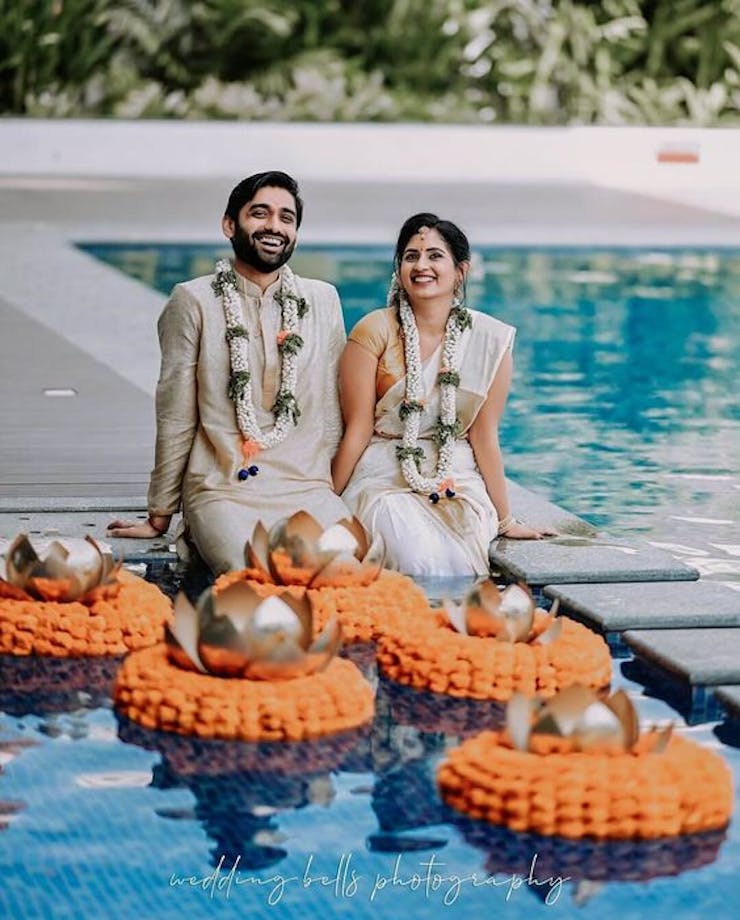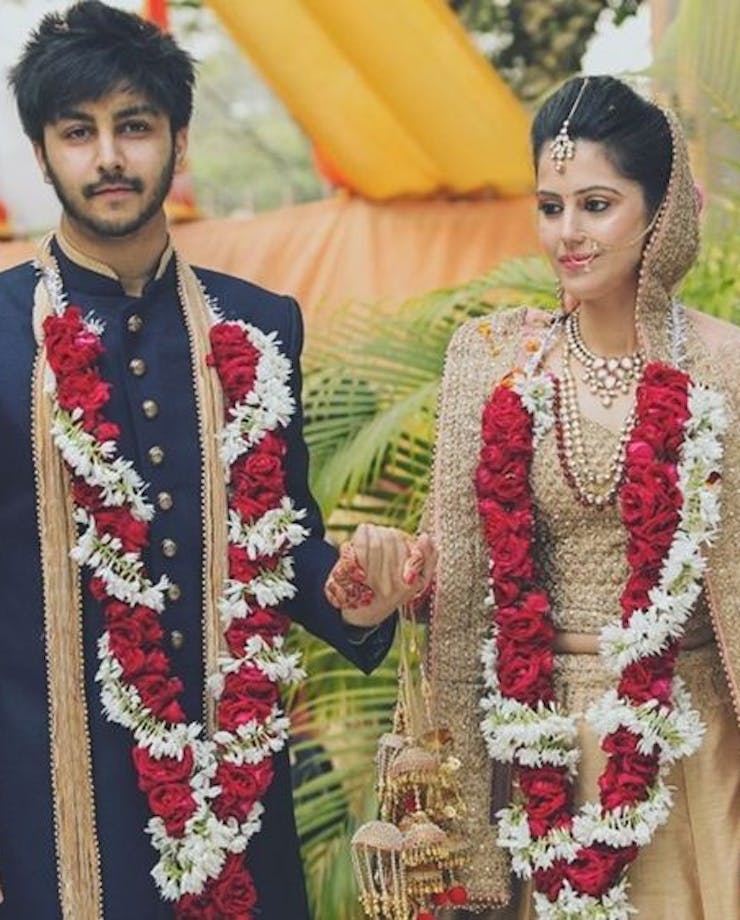 And this beautiful combination of red roses and jasmine flowers is yet another best thing I have come across today on Pinterest!
5. Pastel Simplicity- Light Rose Varmalas
Not just bright red or white, but there are almost more than two thousand varieties of roses that come in different shades and looks. The next few inspos are gonna be of varmalas beautifully made with roses on the sombre tint of the palette.
And the first thing that comes to mind with this is the beautiful pastel yellow and pink varmala of one of the most celebrated couples VirUshka!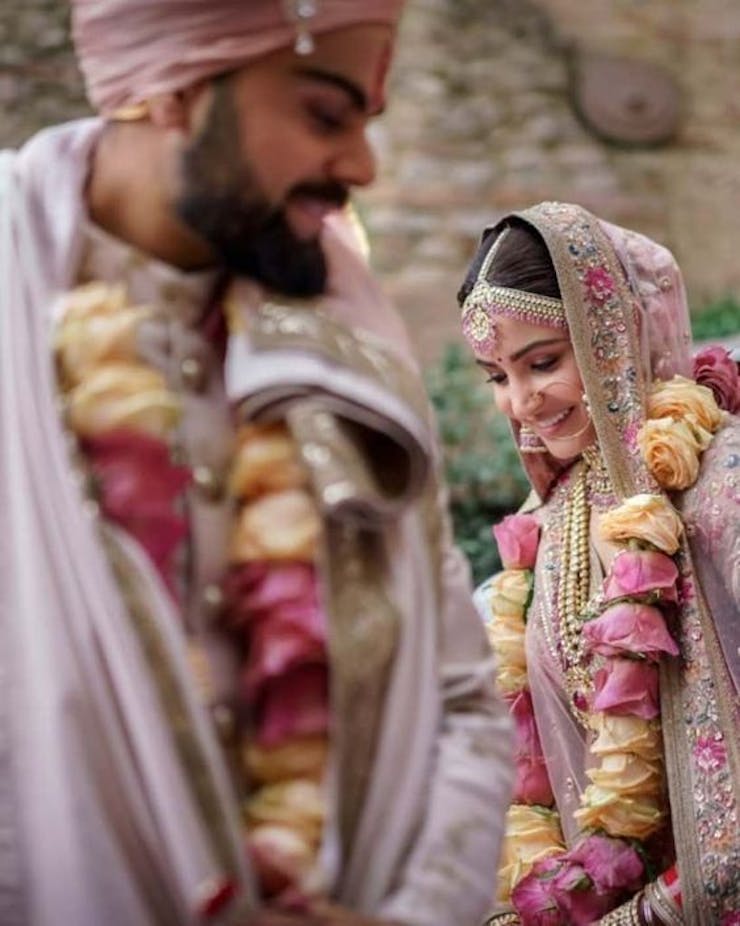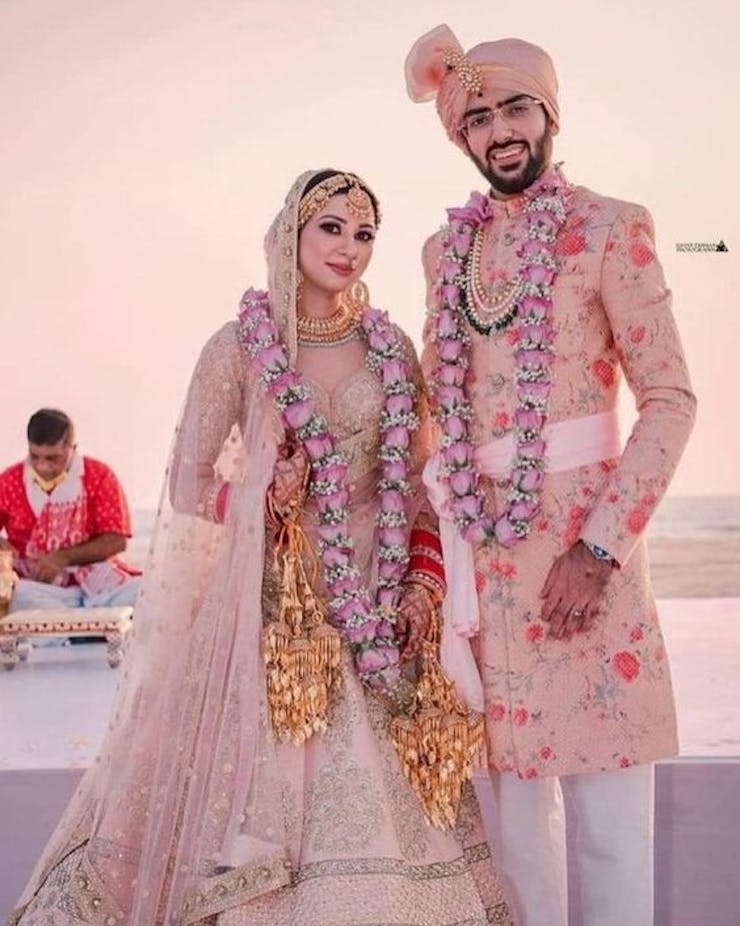 Next comes these beautiful taffy tinted roses, which has been perfectly woven into this beautiful garland design. The little gypsophila details add an element of WOW!
This is yet another beautiful flower varmala designs, with a segmented compilation of blush pink roses, and baby breath stretches. Indeed beautiful!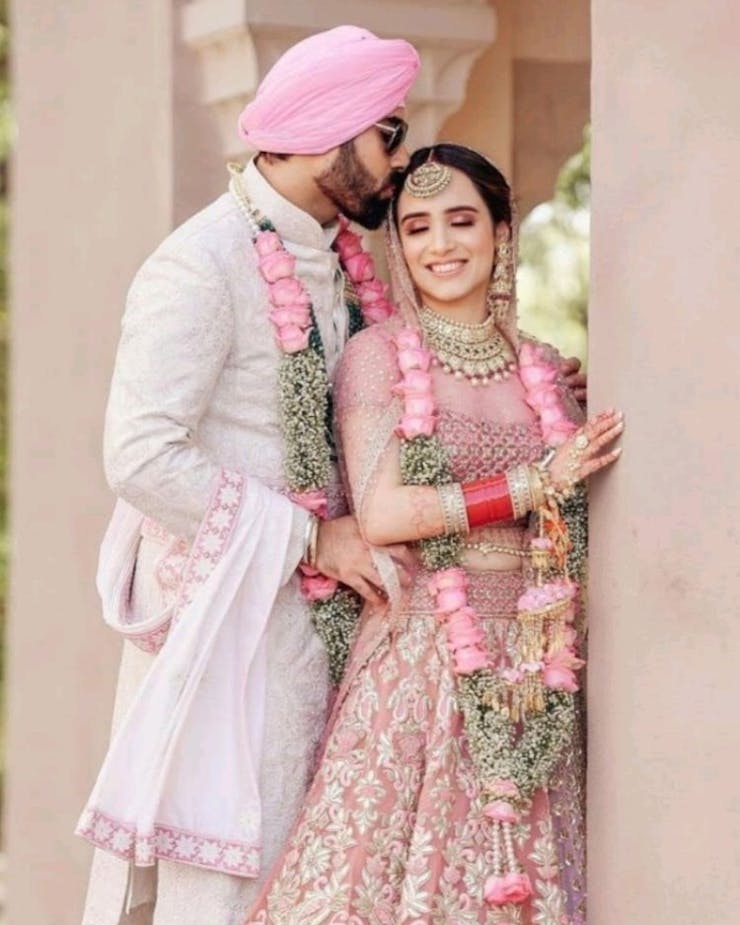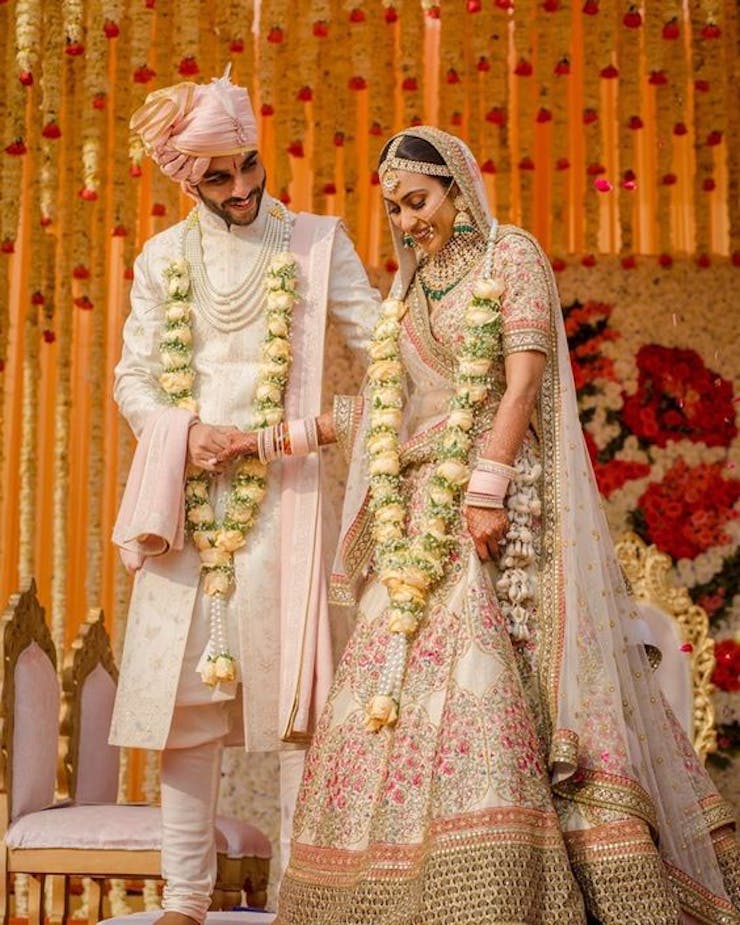 And how about these beautiful light yellow coloured roses tied together to an absolutely pretty jaimala design? The yellow perfectly enhances the blush outfits and the yellow background of the wedding.
6. Heavy Woven Tubular Varmalas.
Some beautiful heavy knit wedding garlands caught my eyes indeed really hard this morning, on Pinterest. They seemed to be nothing less than surreal and majestic.
This enthralling combination of redbuds, with white tips, and some Kermit detailing at segments is indeed a very beautiful design to pick for a royal-themed wedding.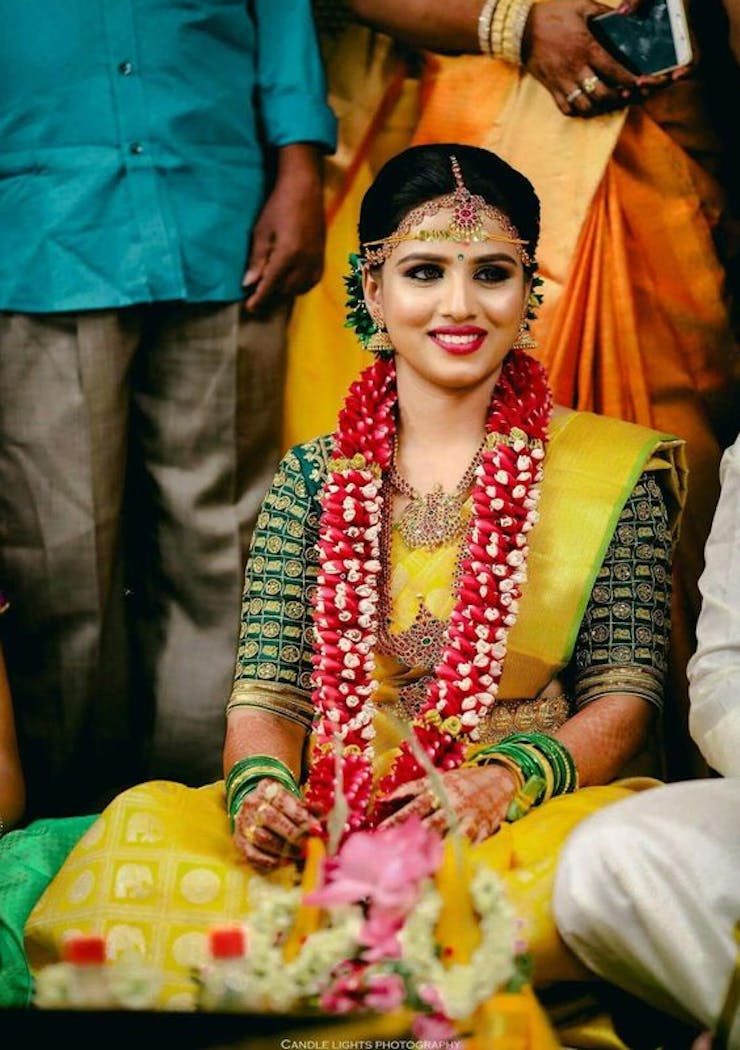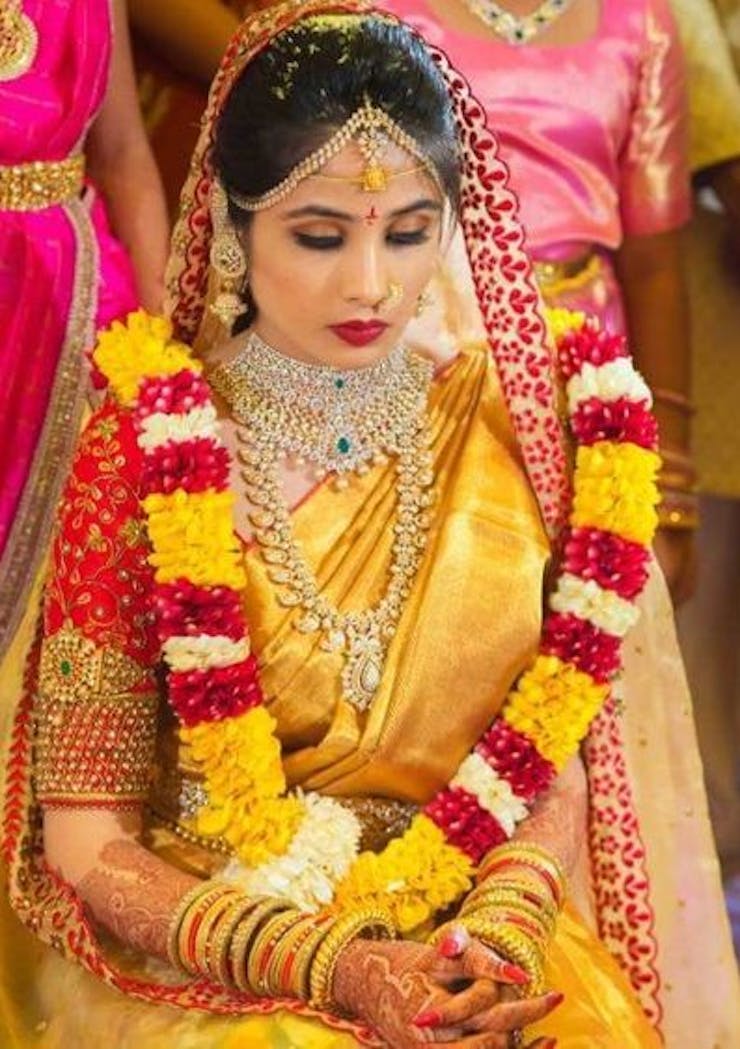 This beautiful combination of red yellow and white Kermit flowers have been woven to perfection to make this exquisite wedding flower varmala designs.
The beautiful and rich jaimala design is indeed beguiling. I am simply amazed by how a simple pink rose is made to full bloom and woven in segments with Juhi buds, to make this wonderful.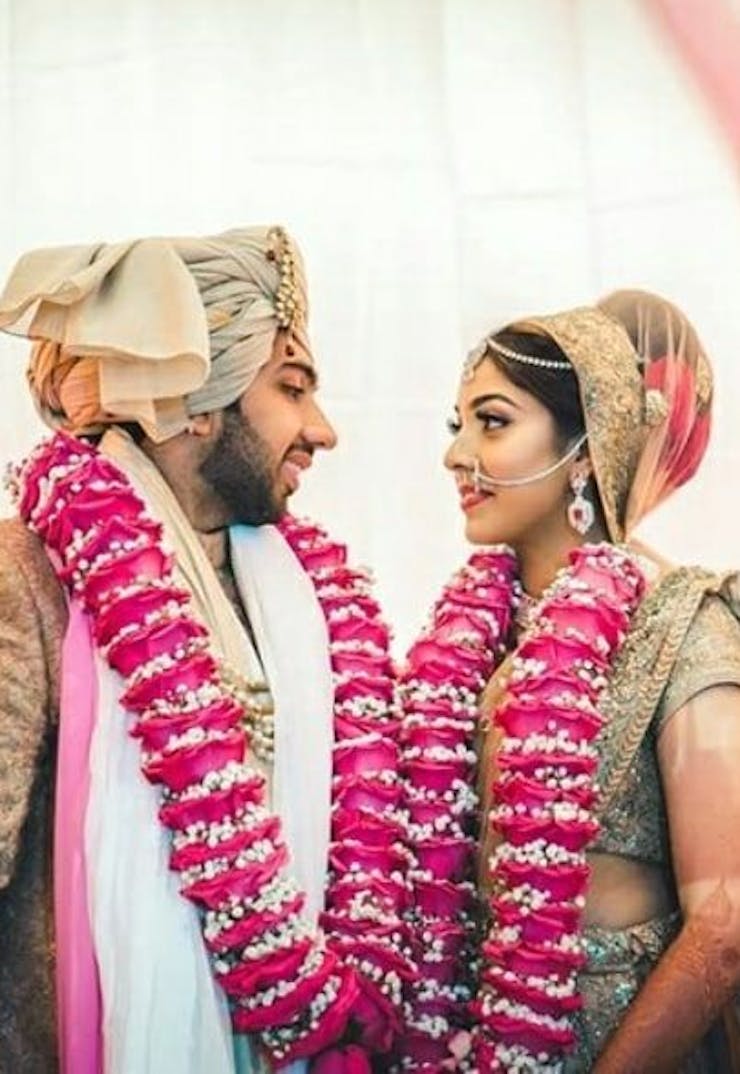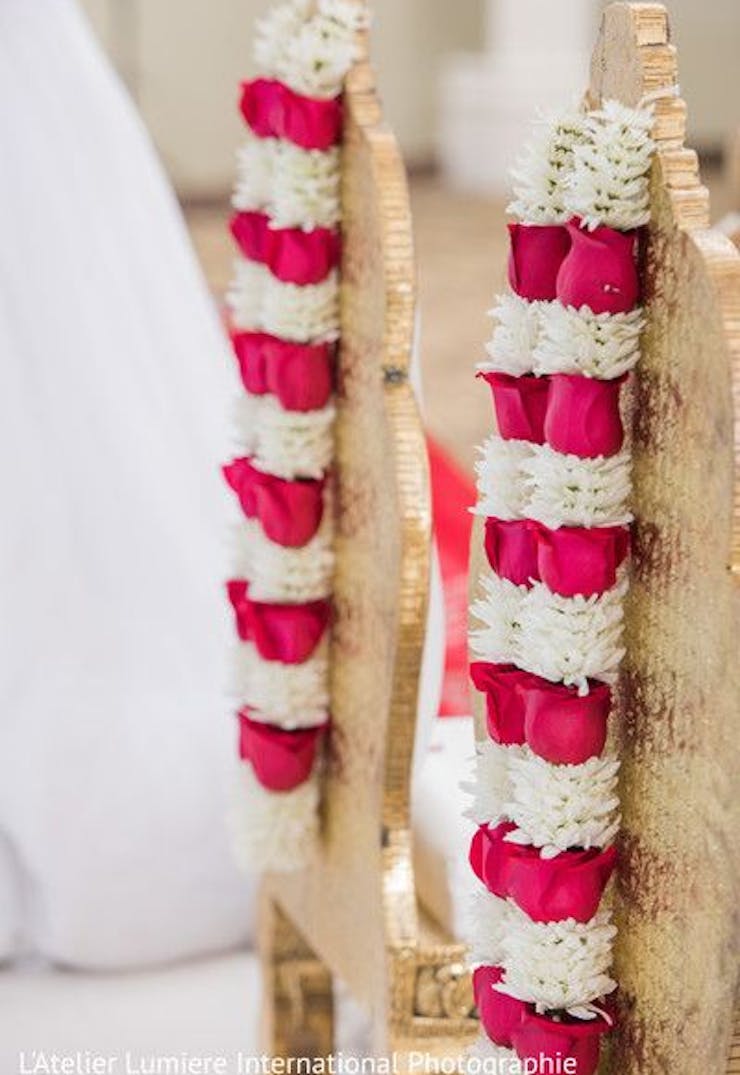 And this traditional Bengali style heavily woven varmala made out of rajnigandha flowers and red roses, literally makes me want to marry soon!😉
7. A Piously Basil- Tulsi Varmalas
Tulsi has been a very sacred plant of the Hindu culture. It is worshipped and believed to be associated with the Hindu deity, Vishnu Bhagwaan. In fact, it is deemed to be the earthly manifestation of goddess Tulsi. Apart from its religious significance, the plant is known to have medicinal and purifying properties. And what can be better than greeting your significant other with a garland of well being?
This beautiful Malayali couple has beautifully complemented their outfits in white and gold with the serene Tulsi garland.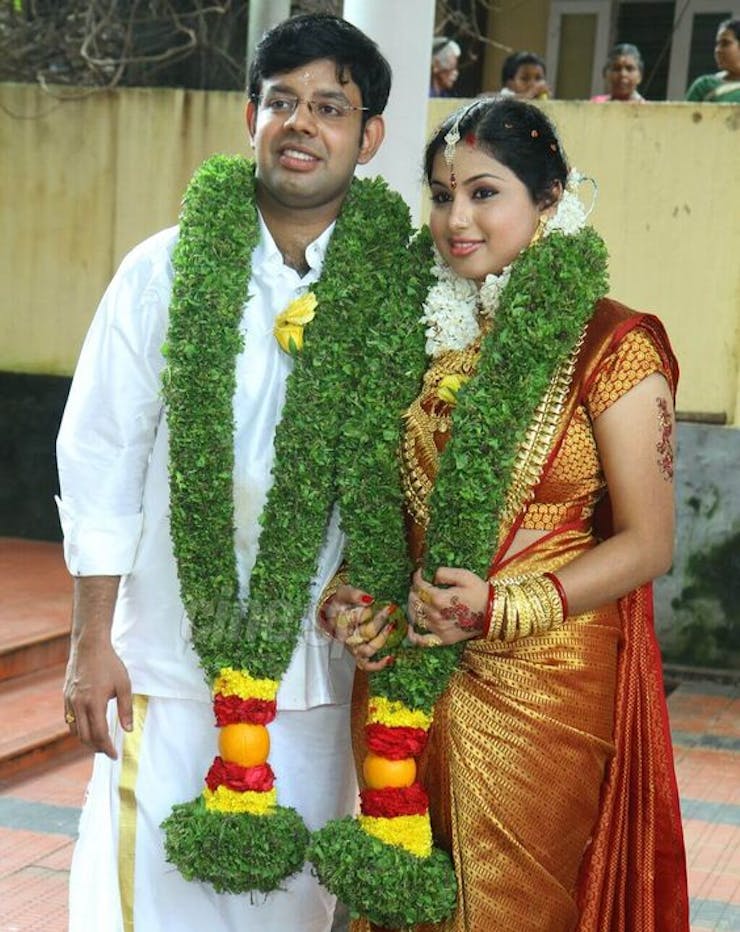 And how about this gorgeous and indeed heavy tulsi varmala. The little yellow rose details are also eye-catching.
8. Heavenly Kamal- Lotus Varmalas
Lotus is yet another sacred and beautiful Indian flower. Very much in use for Pujas, is also being used to make varmala design with price these days.
This beautiful full-bloomed lotus with little red details at the tip is indeed looking beautiful. The garland is sure to make the couple get a regal heavenly vibe.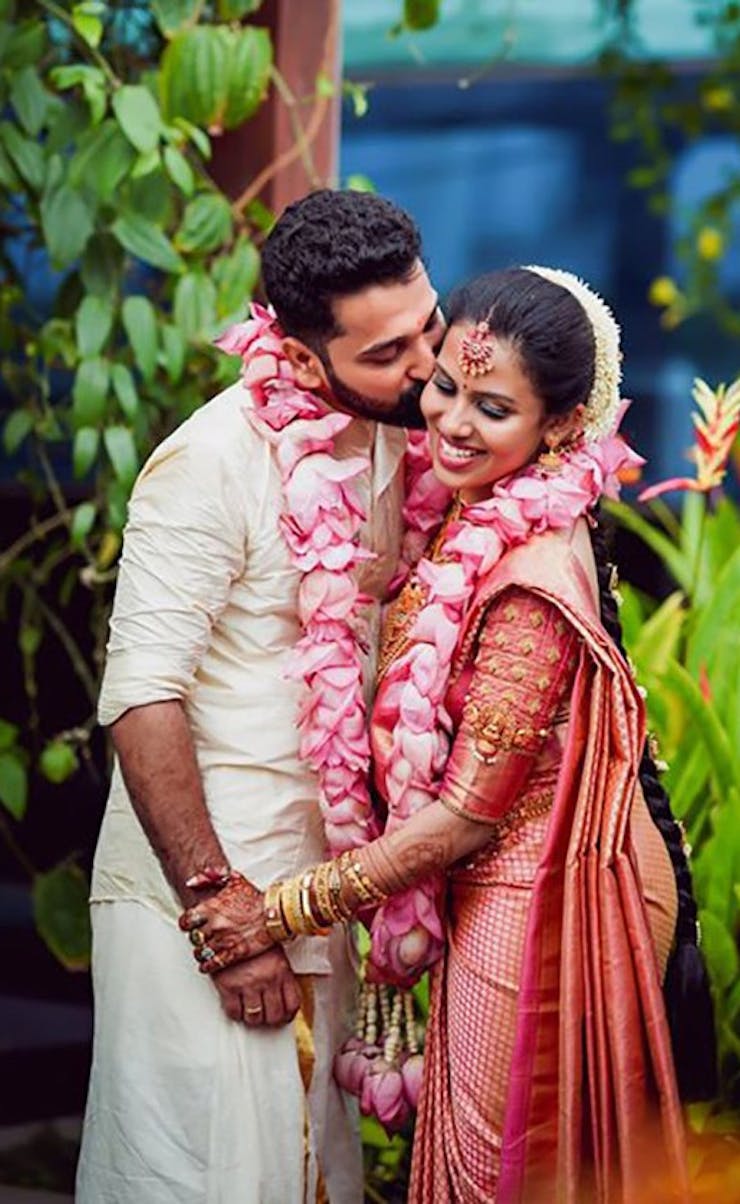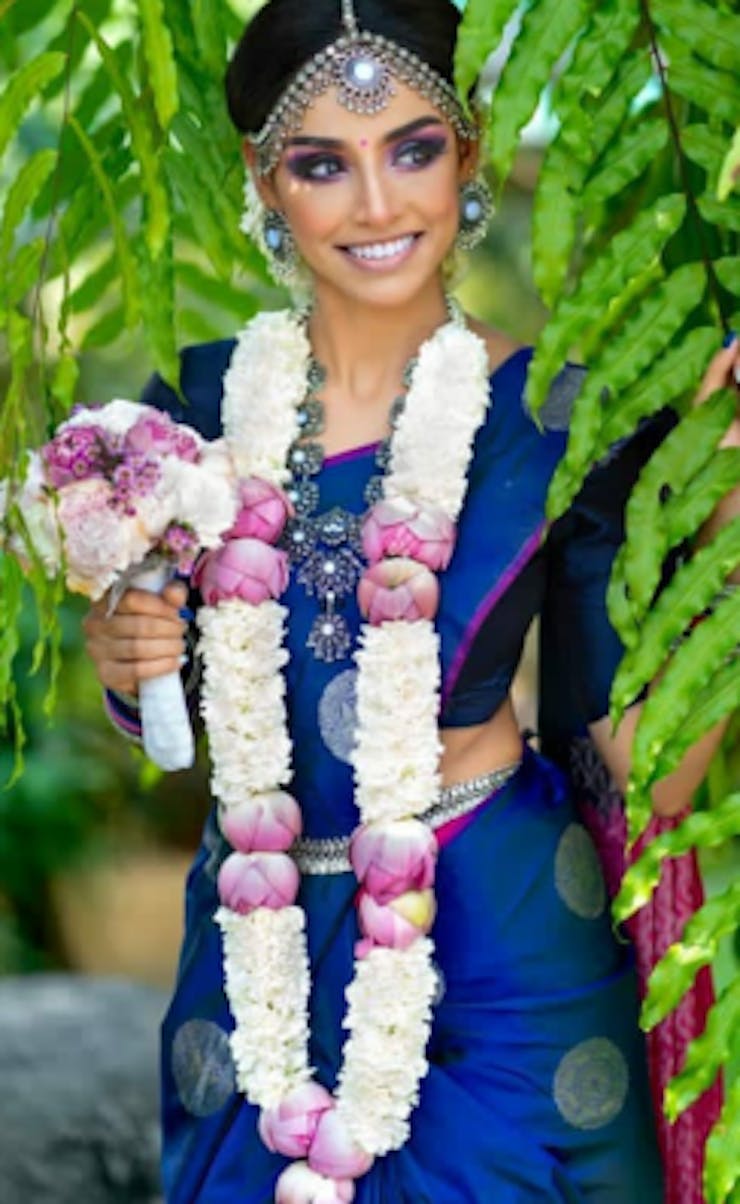 This beautiful couple here is looking no less than the mighty Lakshmi-Narayan getting married again. The pretty blush lotus varmala is looking so so so pretty.
And how about this blissfully pretty bride in the gorgeous maala of lotus and Kermet?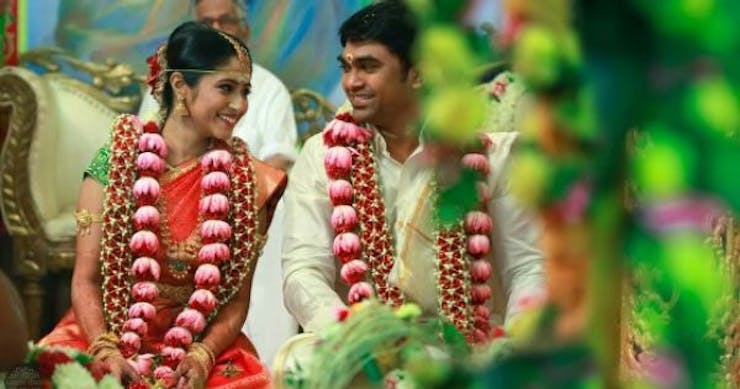 9. Orchid-shorchid- Orchid Varmalas
Orchids have been a favourite of couples for the decoration of their wedding venues for a long time. However, its beauty has been scintillating enough to make it wanted as a material to make varmalas.
His beautiful combination of Fuschia and ivory orchids with a little leaf detail is indeed the prettiest!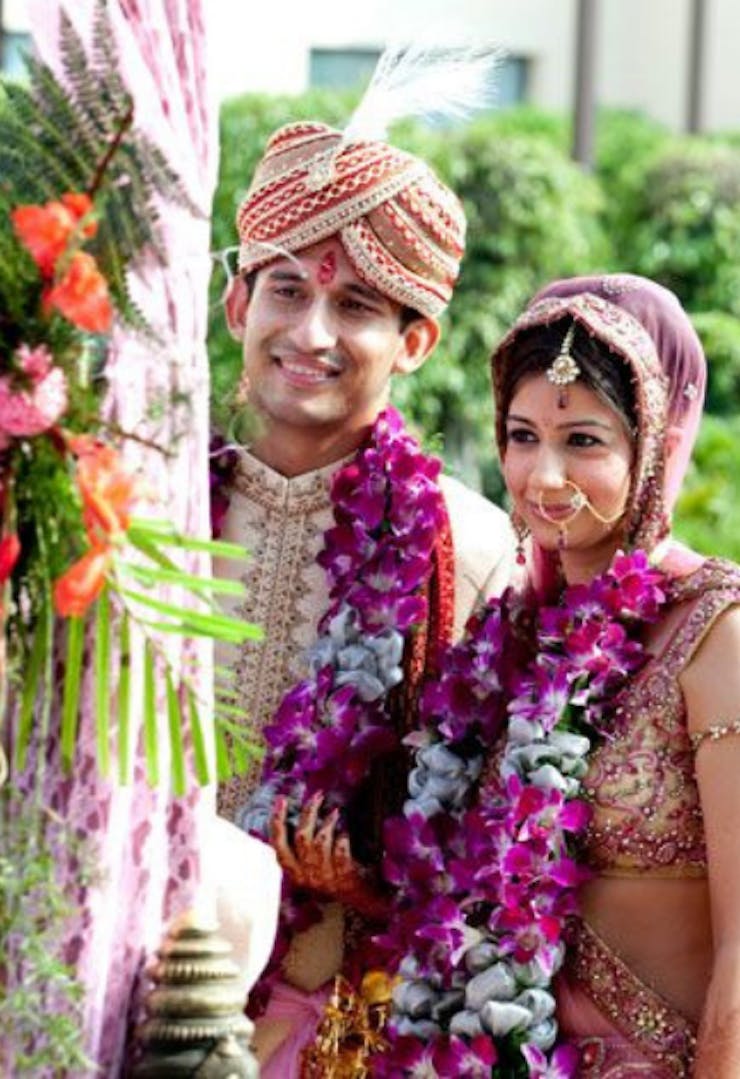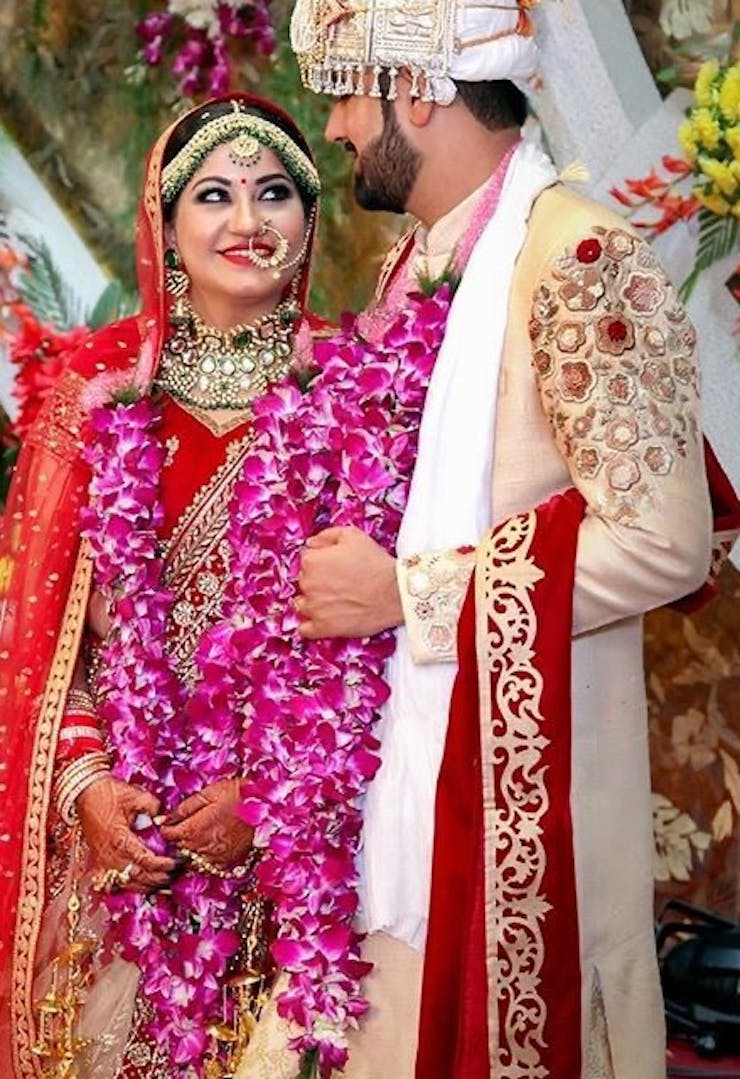 And how about this heavy all pink orchid wedding varmala? This contrasts and looks nice on the red and beige outfits of the bride and groom.
This beautiful and tranquillizing combination of blue orchid varmala is very sure to make the couple dive into the trip of love, once again.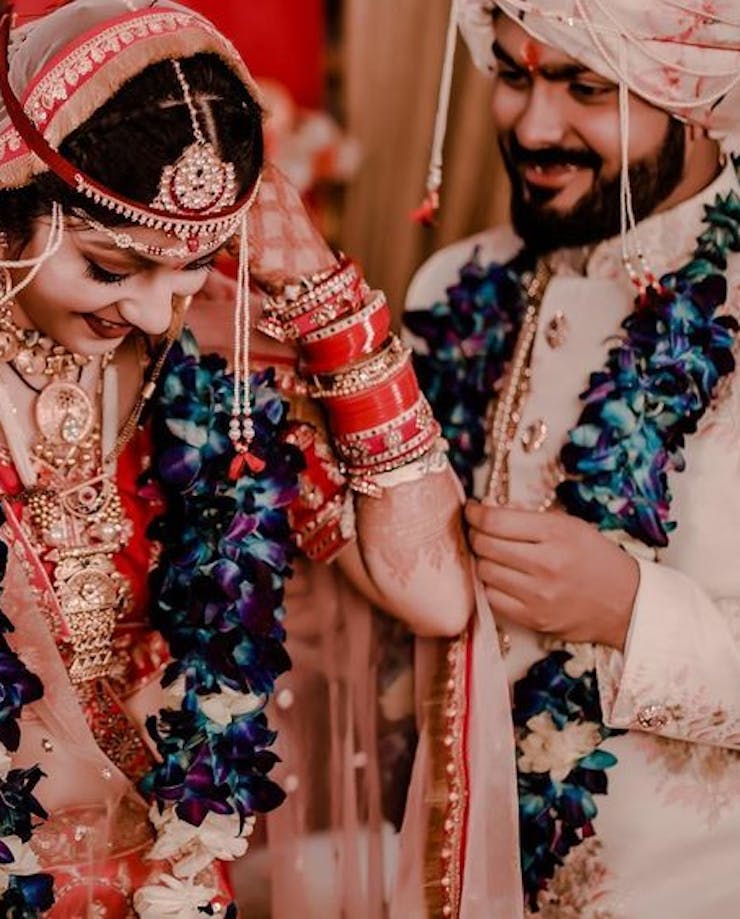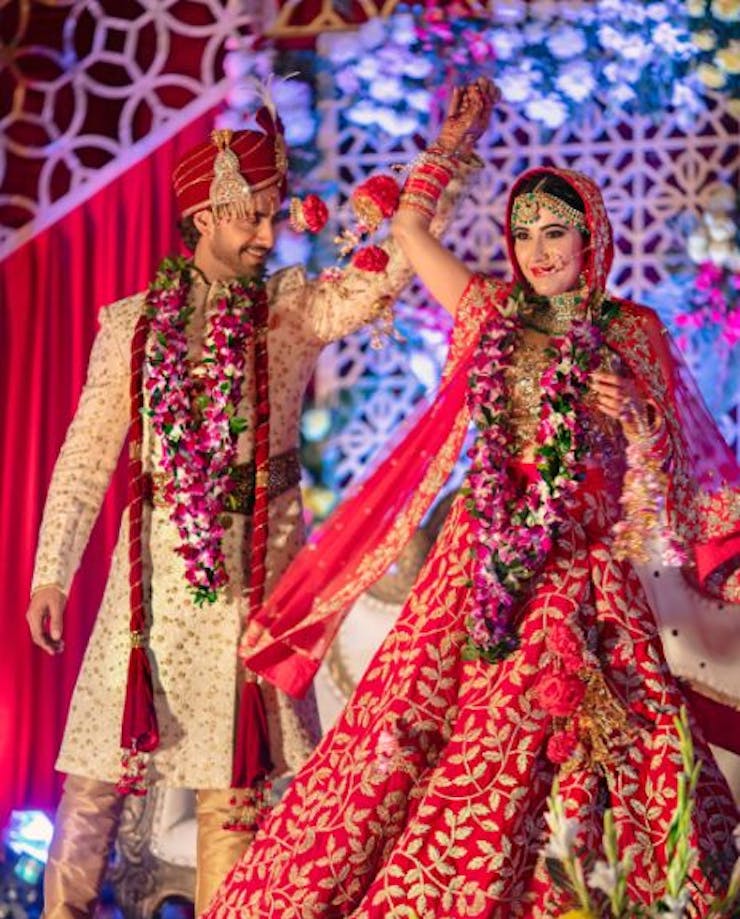 And how about this beautiful combination of pink orchids with segments of leafy details. A perfect design that also compliments their OOTD!
10. An Earthy Touch- Leafy Varmalas.
Now let's take a break from all the flowers, for a while and explore some beautiful designs of frond varmalas.
This handsome groom here has got his varmala perfectly complimenting his green achkan. A beautiful earthy yet sophisticated vibe.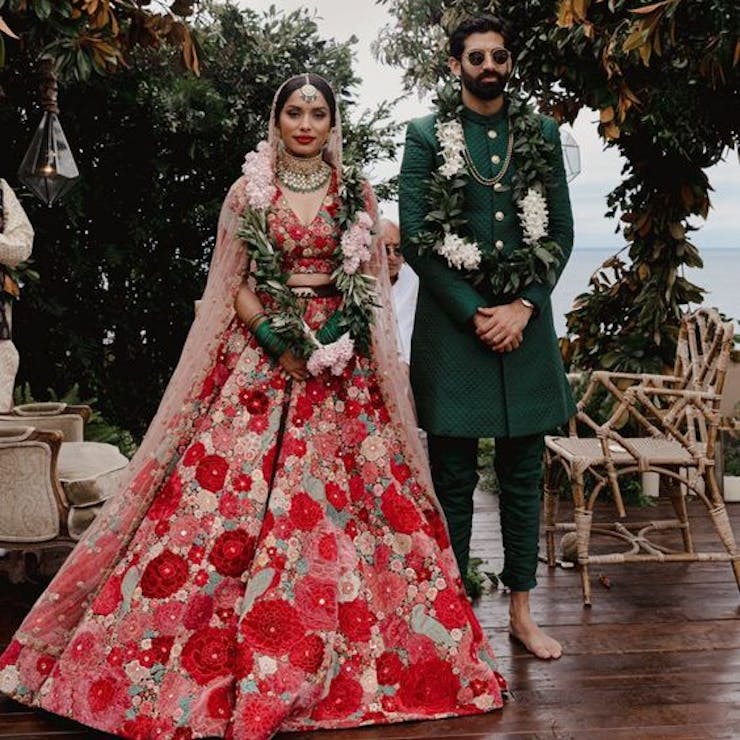 And how about the ravishing combination of white flowers and foliage? Not just the groom, but the design also compliments the floral lehenga of the beautiful bride as well.
11. All Red Varmalas
Red is the colour of love. And nothing can be as beautiful as manifesting this feeling by greeting your loved one with an all-red garland.
This pure red rose varmala is absolutely beautiful and enhances the ambience and chemistry of the couple.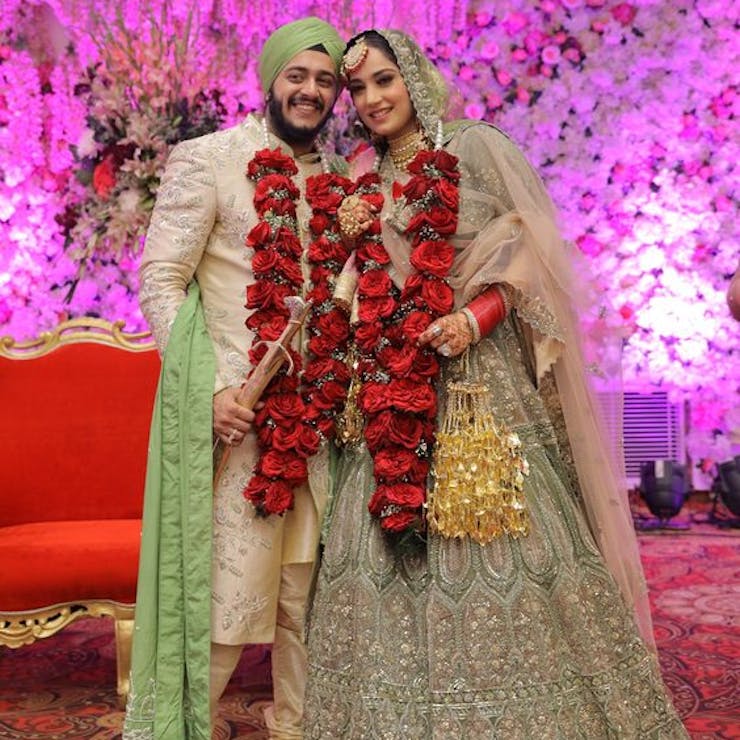 This beautiful couple has the spark in their eyes further enhanced by the heavy red rose garlands. Indeed beautiful!
12. Pink And Green Varmala Designs For Wedding
A really unique combination of pink and green is yet another very Indian and fantastic combination for wedding garlands.
How about this pretty South Indian style garland made of greenish kermits in segments with beautiful and humongous Inka roses at segments.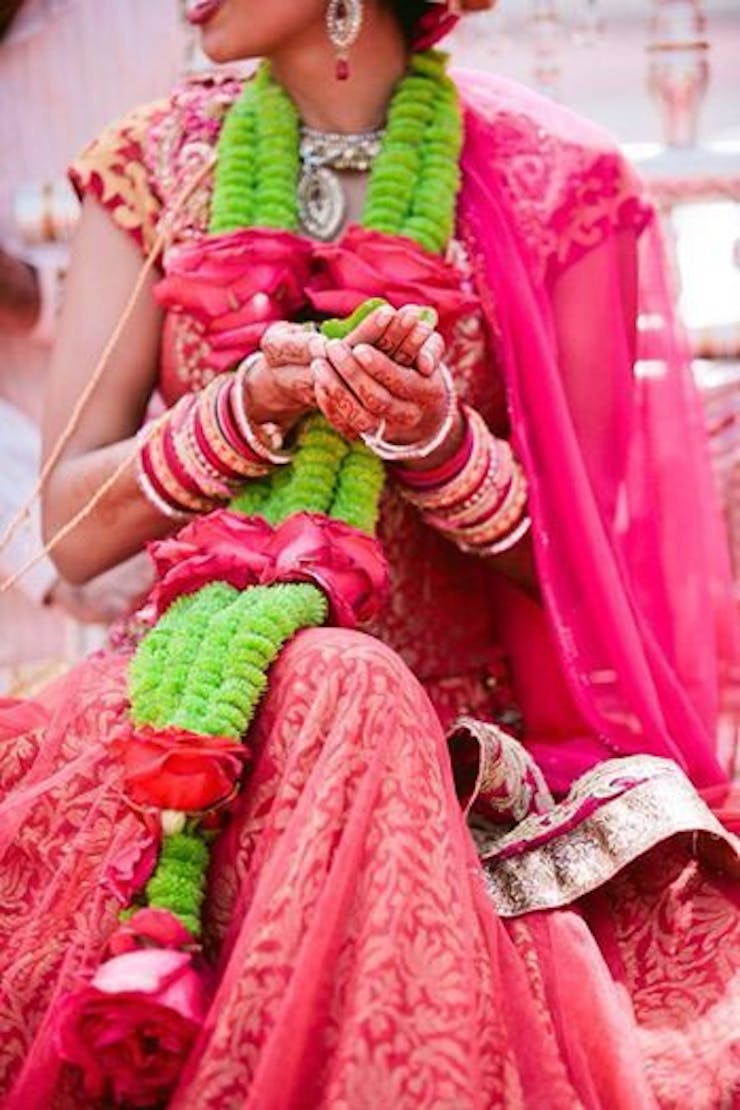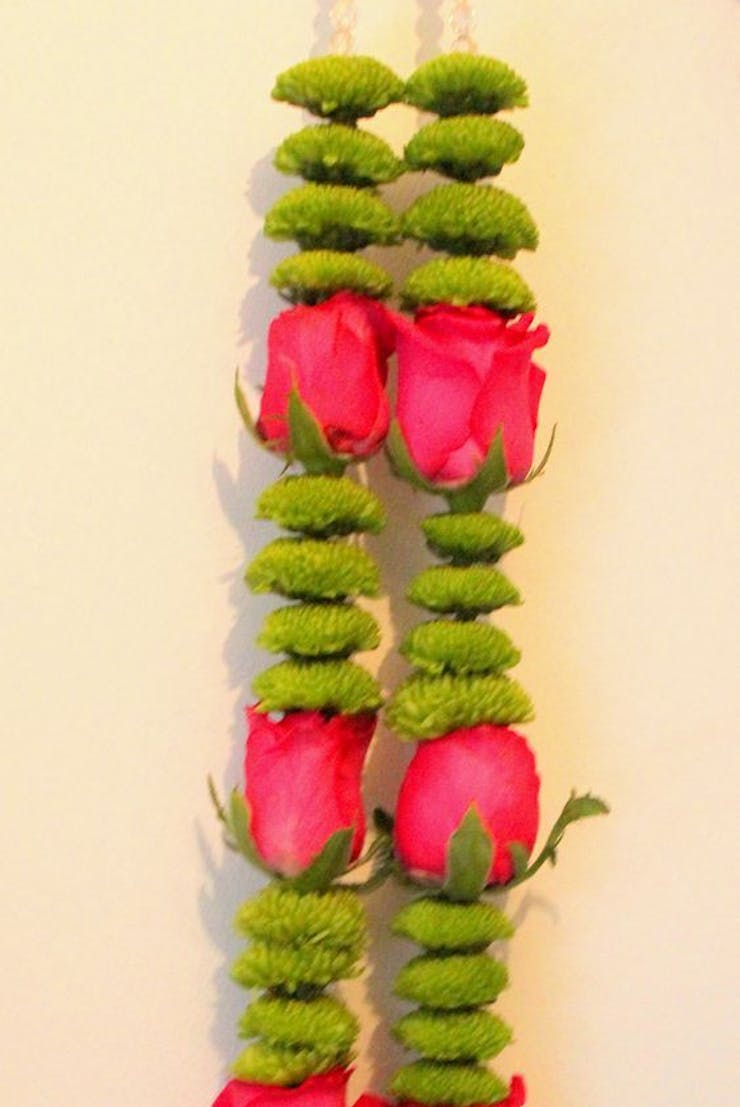 This beautiful varmala with yellowish-green flowers and some half bloomed roses is indeed beautiful!
13. Beads And Roses Varmala Designs
If you wanna make your varmala ceremony a little more royal and elaborate you may always add some more elements to beautify your day.
This beautiful rose garland with beads and stone details here and there at different segments is indeed a masterpiece. I would definitely try to preserve this as long as possible!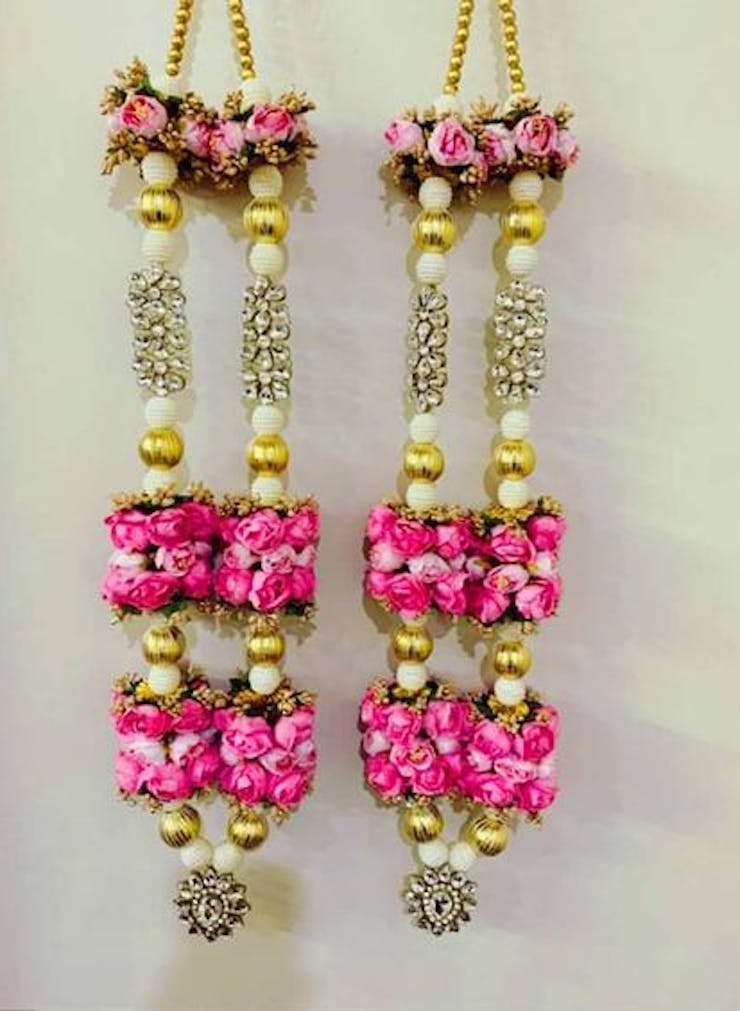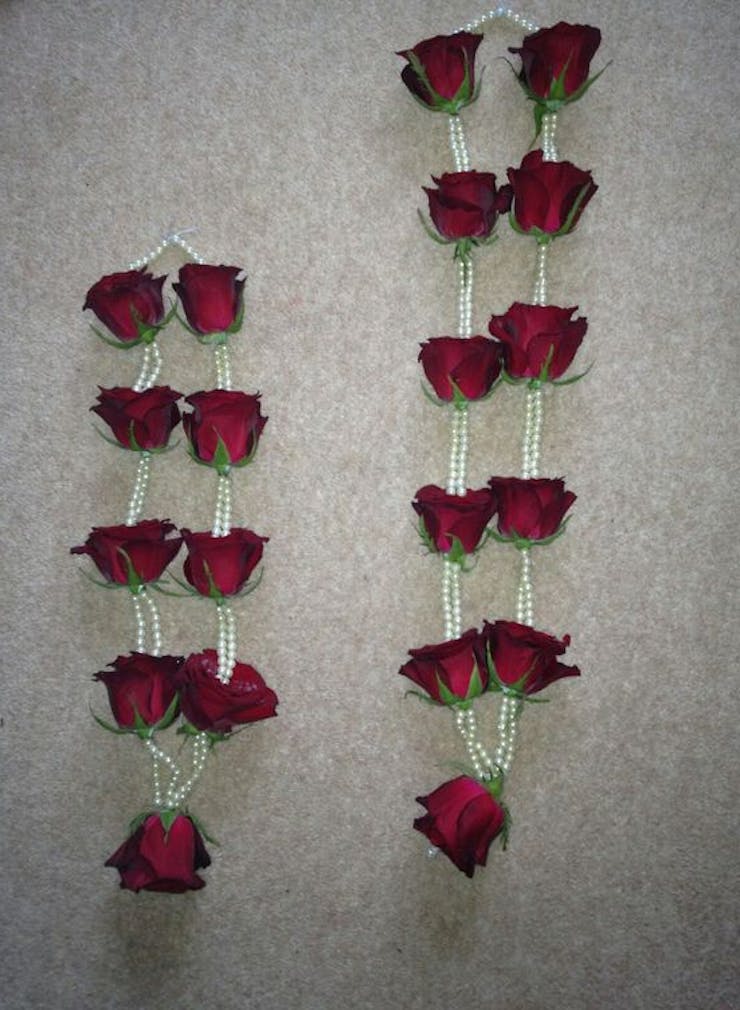 And how about this chique combination of red roses and pearl beads?
14. Varmala Designs For Wedding With Names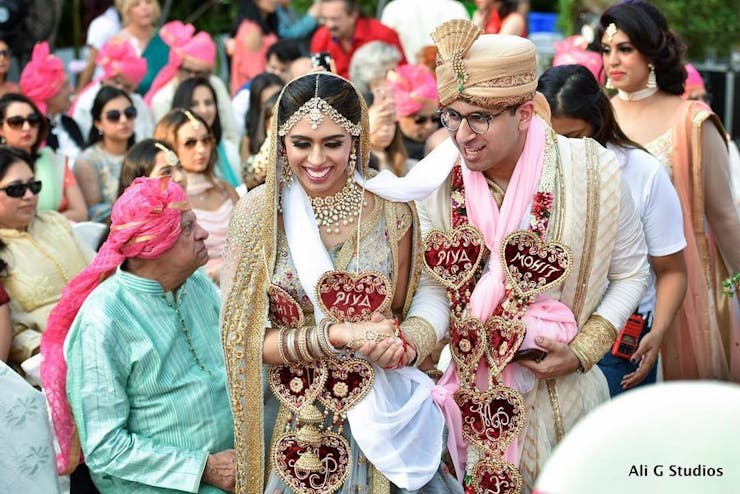 You must have heard about the saying ' daane daane pe likha hota hai khane wale ka naam'. Now what if I say ' Var maala pe likha rehta hai pehnne waale ka nam?'. Hope this doesn't sound lame,😋 I really tried to exercise my poetic aptitude here!
However, These beautiful and modern varmala designs have the names of the bride and the groom written in hearts. And I feel that this is indeed a very innovative idea.
15. Ivory Romance - White Varmala Designs
A sign of peace and harmony can indeed make a very sensible pick in terms of greeting your beloved into your life. After all peace and harmony are the most sought of aspects in a marriage, after love.
This beautiful varmala in all white roses with a little detailing of baby's breath indeed compliments the entire look of the bride as well as the groom.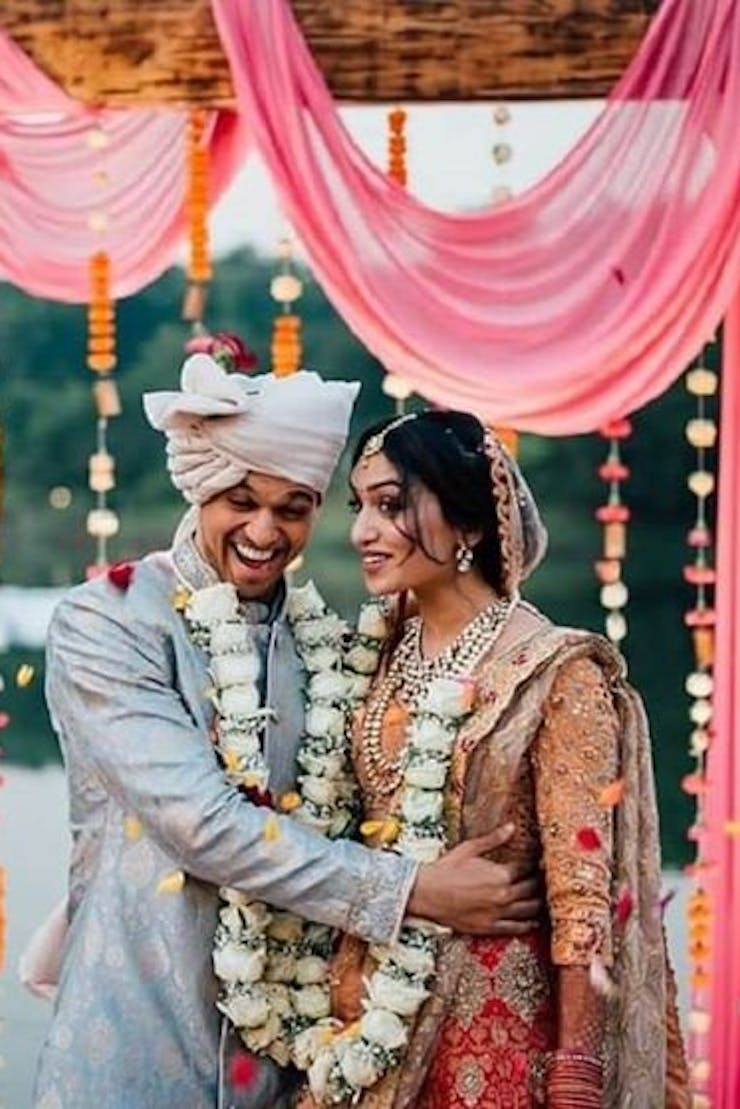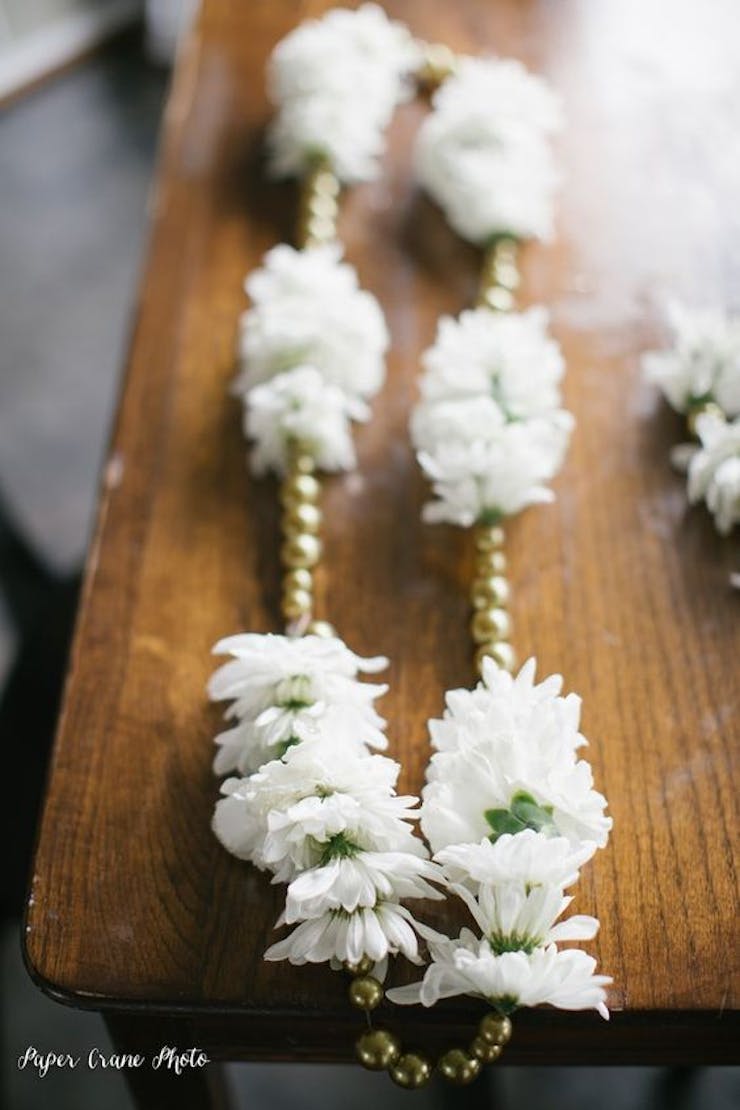 And how about this beautiful Kermit white garland? Simplicity and grandeur are imbibed together.
16. Taking A Break From Flowers
Flowers are getting overrated, aren't they? So how about exploring some more beautiful materials to make your wedding garland?
How about this beautiful garland made of little conch shells, anemones, coral and seashells? Aren't they mesmerizing?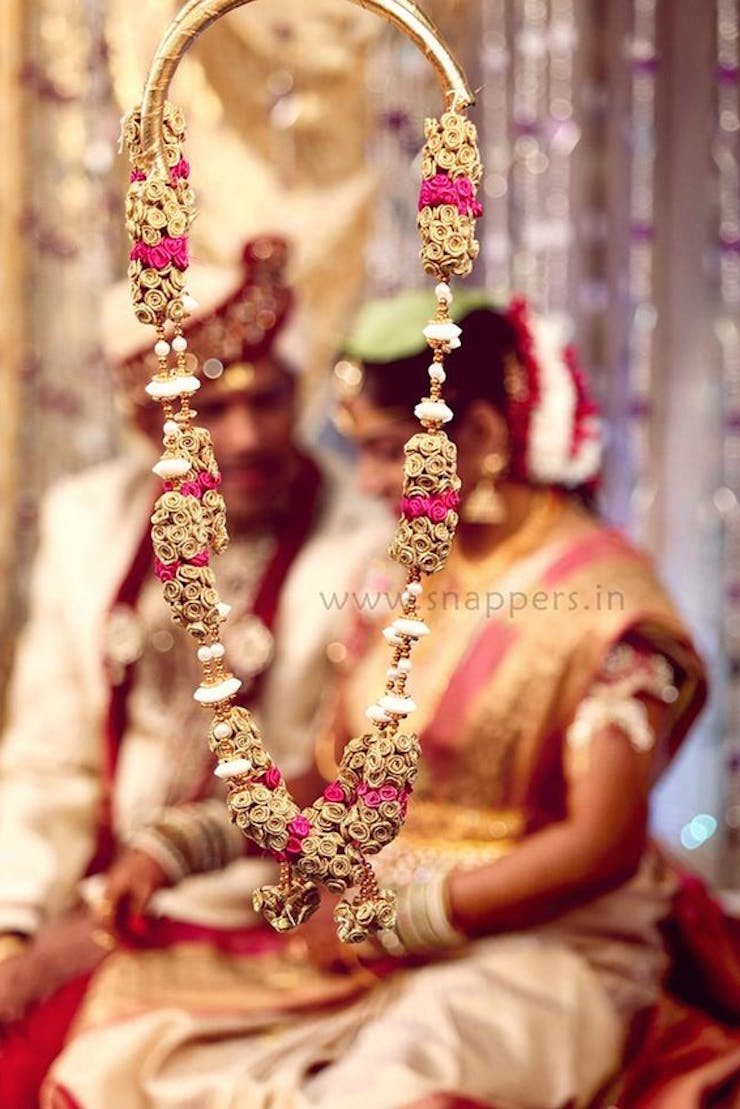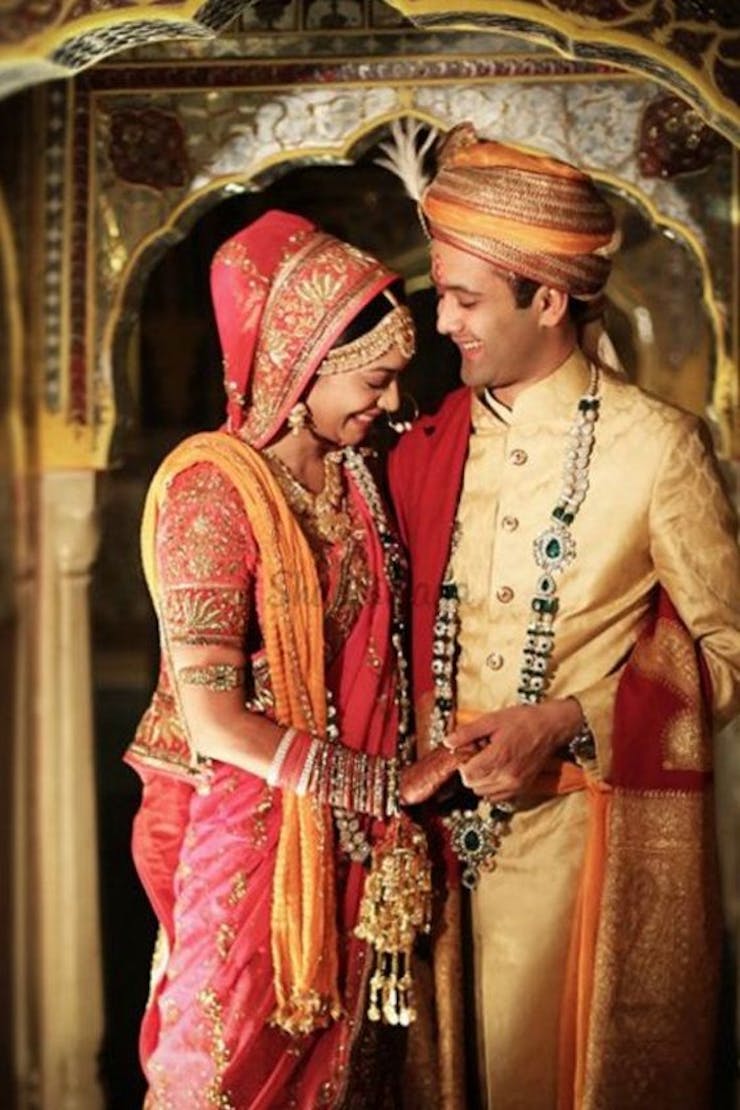 This beautiful jewellery like varmala design is sure to give tough competition to any designer jewellery!
17. Thai Vibes - With Fine Knit Varmalas
Thai style varmalas are special designs that are very intricately knit designs of flowers. They are usually made back in Thailand and exported to different places.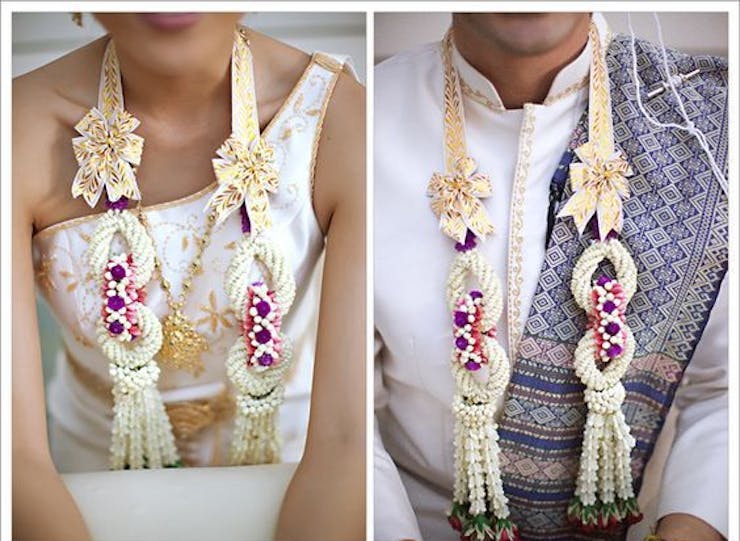 How about these beautiful bead-like flower garlands in all white, and little colourful details?
18. Go Hawa - Hawaii Style Flower Garlands.
If you are really up for a vacation-y or beach wedding, these relaxing and beautiful Hawaiian style flower garlands can make your perfect varmala.
This beautiful baby over here with pretty orchids leaves is indeed mesmerizing.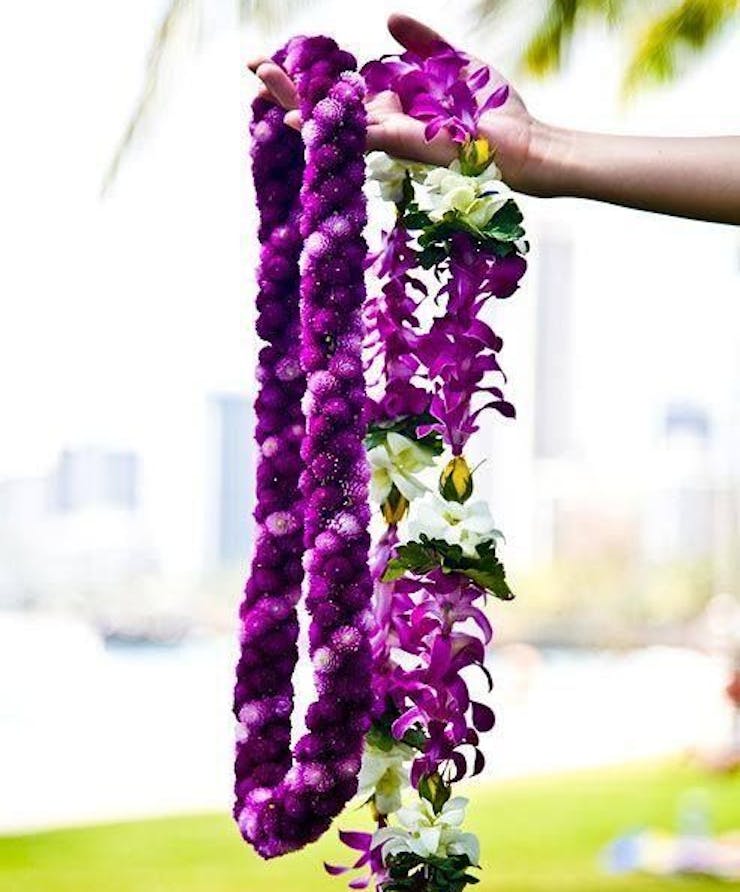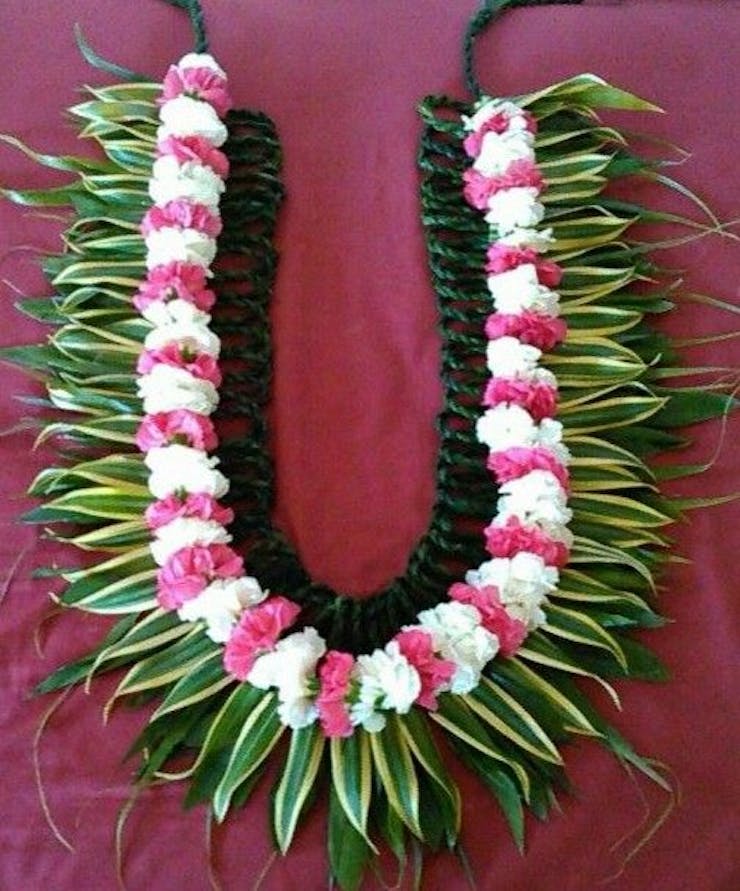 And how about this quirky leafy floral garland?
19. Classic Love
This beautiful rajnigandha garland is a simple and very classic option to choose from.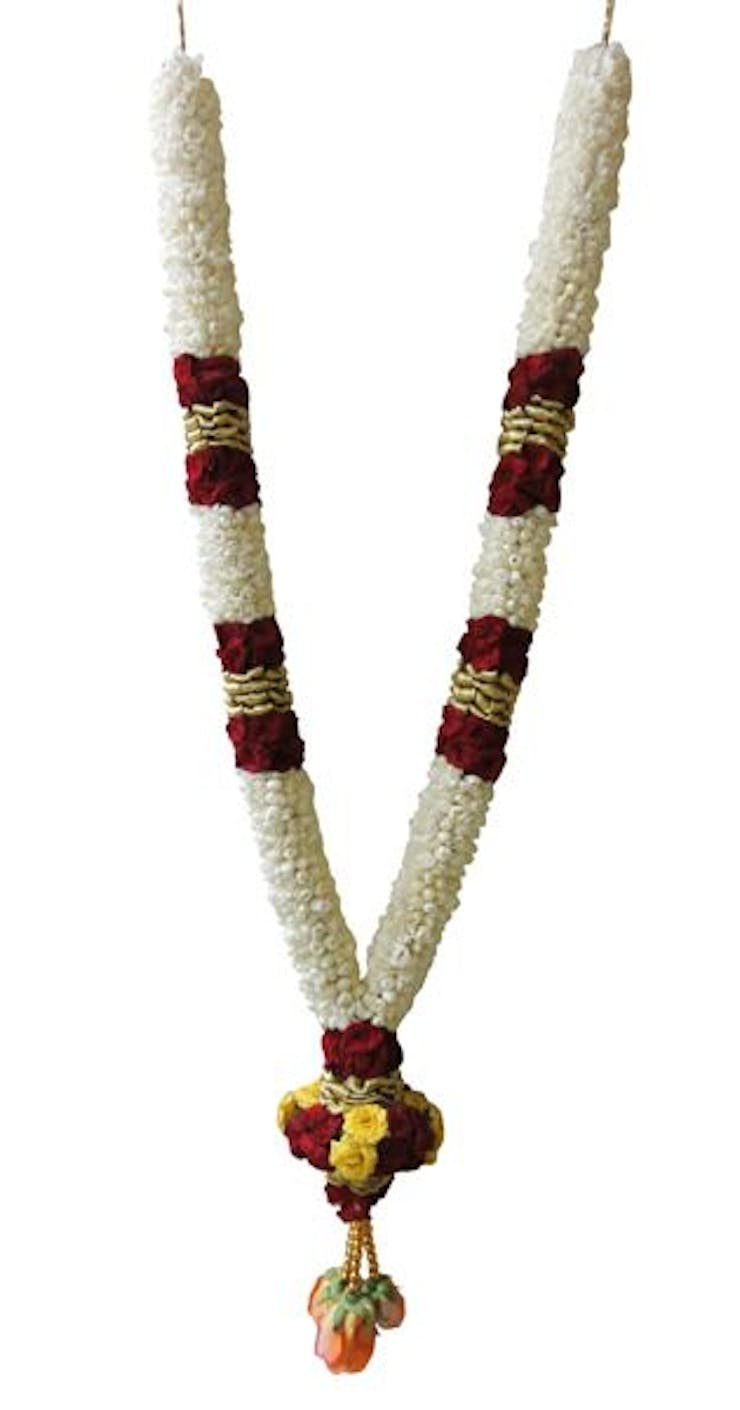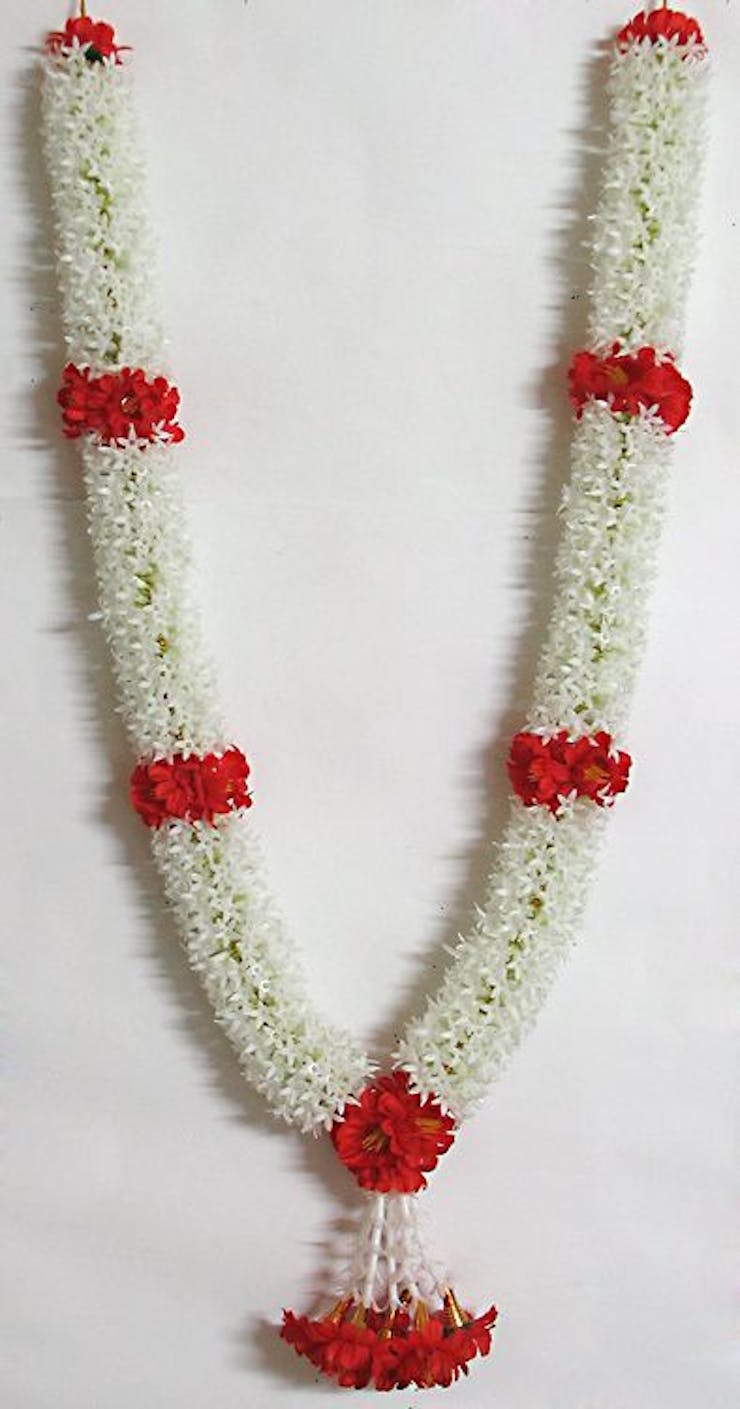 And so is this beautiful rich floral varmala.
20. Summer-y - Marigold Varmala Designs For Wedding
Marigold is a staple flower for any Indian festivity. Be it pujas, Diwali, or even weddings. But how shall it look as a varmala design?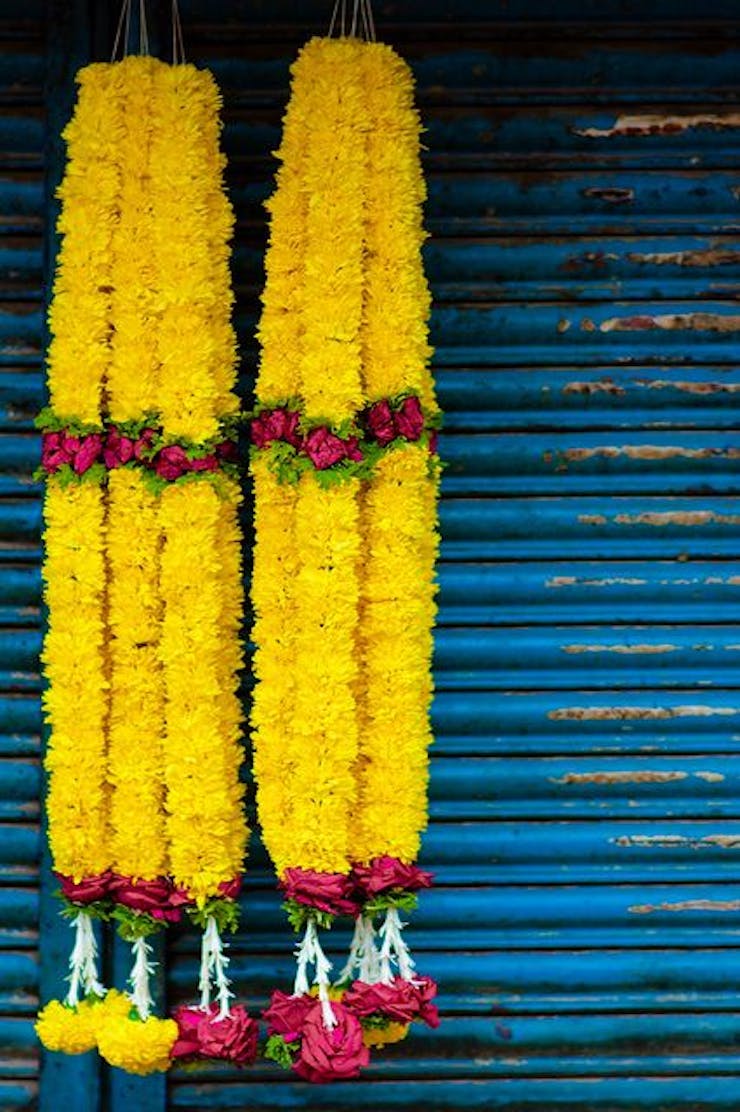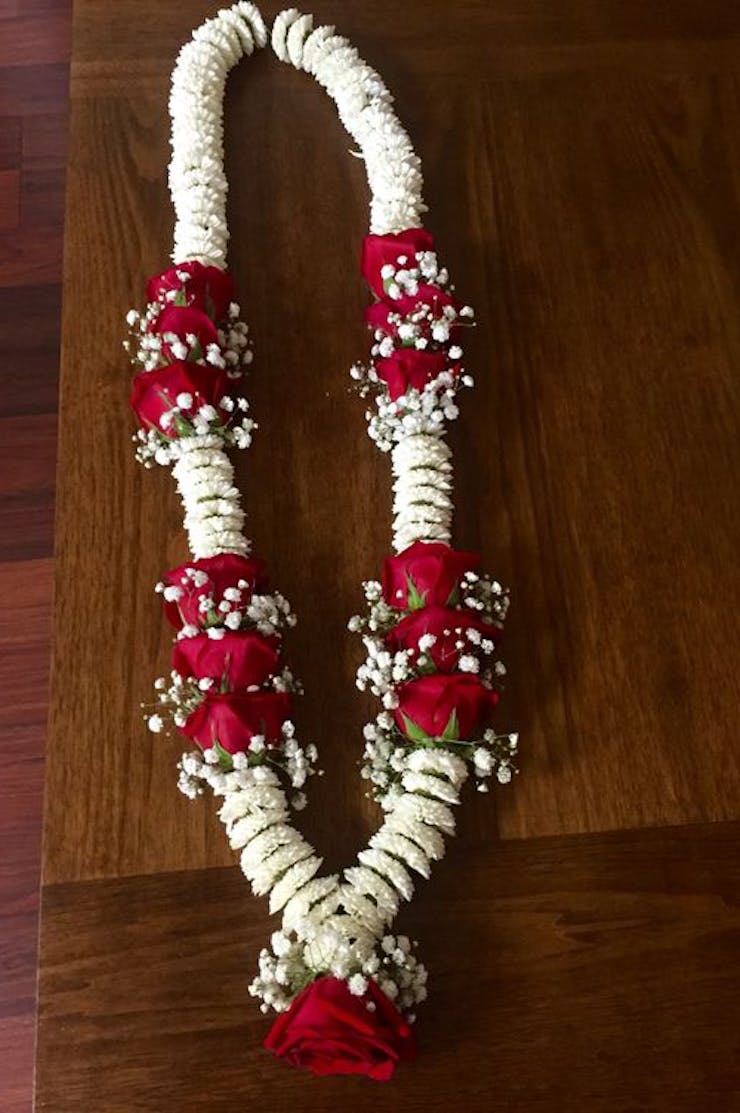 Absolutely rich, royal, and at the same time mesmerizing!
21. A Mix And Match!
Let's chuck the mono combis of varmala designs, and look at some of the pretty varmalas, having many flowers at once!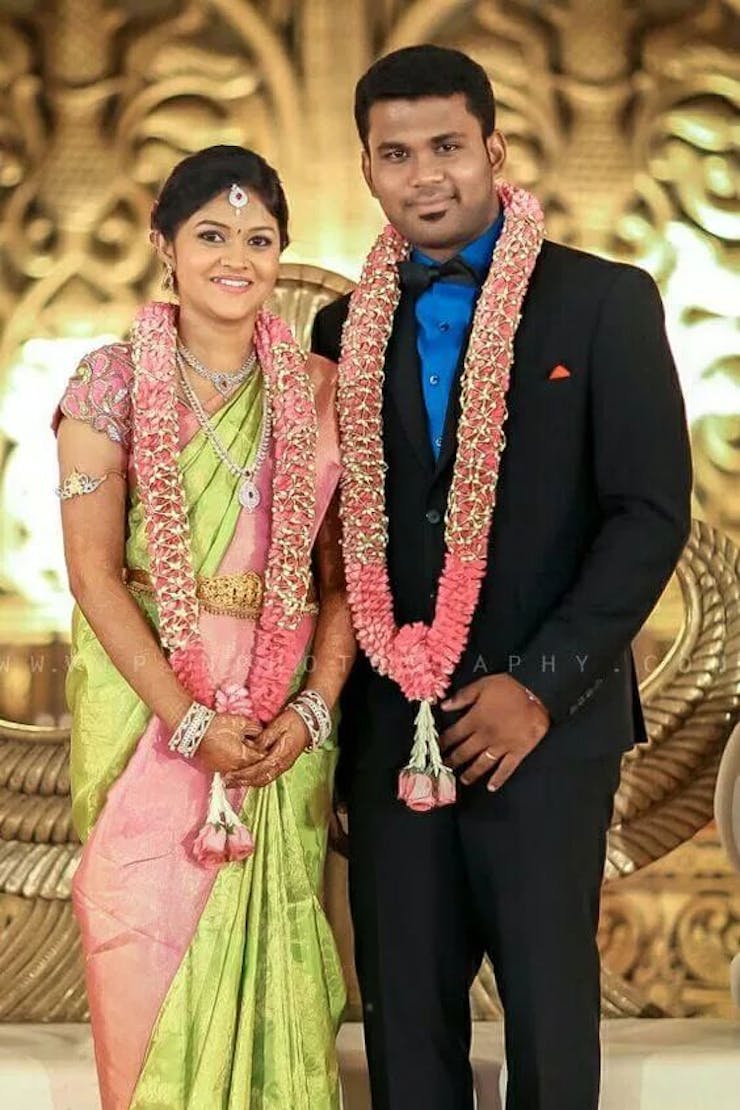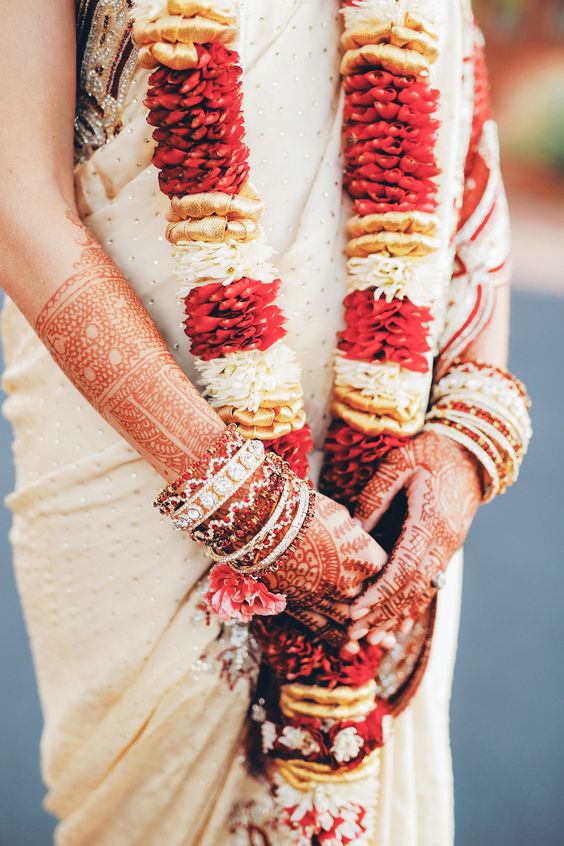 Indeed beautiful, a combination of roses, carnations and jasmine! Simple breathtaking.
Hope you like our spread of varmala designs for wedding.
We are soon coming up with more interesting and helpful writeups soon!
Till then,
HAPPY READING!