So you proposed your Lady love and she said YES! Congratulations! And thankfully, your families are very happy about your decision. The next thing coming up is your engagement. And you are super excited about it. You are looking forward to having the best engagement party together! But are you done with deciding your Engagement Dresses For Groom yet?
See we knew it. I understand that you may be too much engrossed in planning out the catering, decor and venue of your engagement. But "Apne liye bhi thora time nikaal liya karo yaar!"
So let's at least window-shop some groom dress for engagement party, so that you know what you wanna wear for the event.
Even though it isn't as formal or dressy an event, like your marriage ceremony, but it isn't as casual as your stag party either! So picking up a relevant outfit for your special day may be difficult. But as long as you know what suits you the best. And as long as you know which groom dress for engagement you will feel the most comfortable in, you are good to go.
Be it a blazing achkan, or a simple sherwani, or a pathani suit, we have come up with 31 major inspos for your Engagement Dresses For Groom. And we got it all listed below!
Curation of 31 Engagement Dresses For Groom ideas!
1. A simple green and white look for the groom
2. How about a tuxedo Engagement Dresses For Groom?
3. A dapper groom in velvet maroon Tux!
4. Our cute Bor twinning with his Hobu-Bou!
5. An all-black three-piece Engagement Dresses For Groom.
6. A kicky Sea green Kurta and Vesti look!
7. Or maybe a regal Admiral blue sherwani!
8. A bonny red tie!
9. A debonair Ivory suit!
10. And how about the swag of Vesti and shirt?
11. Our loving groom in a floral jacket.
12. How about our Pind da shera in a maroon Engagement Dresses For Groom?
13. Pastel blue simple kurta look.
14. A bandhgala with a shawl.
15. A layered Achakan suit.
16. An asymmetric bandhgala Engagement Dresses For Groom
17. How about an urbane shirt and trousers?
18. A  green bandhgala jacket.
19. A sombre regal engagement dress for groom.
20. A silk black bandhgala kurta.
21. A pastel three-piece suit for our Chocoboy!
22. Or how about a muted achkan?
23. A suave dress for groom for engagement in India
24. Our Anna just slaying the Vesti look!
25. Bangali babu in dhoti panjabi!
26. A Blanche elegance.
27. A rich embroidered sherwani for a big fat sagaai bash!
28. A dapper mirror work OOTD!
29. A denim blue achkan jacket.
30. And how about this funky Engagement Dresses For Groom?
31. A summer-y blazer co-ord for a beach engagement!
1. A Simple Green And White Look For The Groom.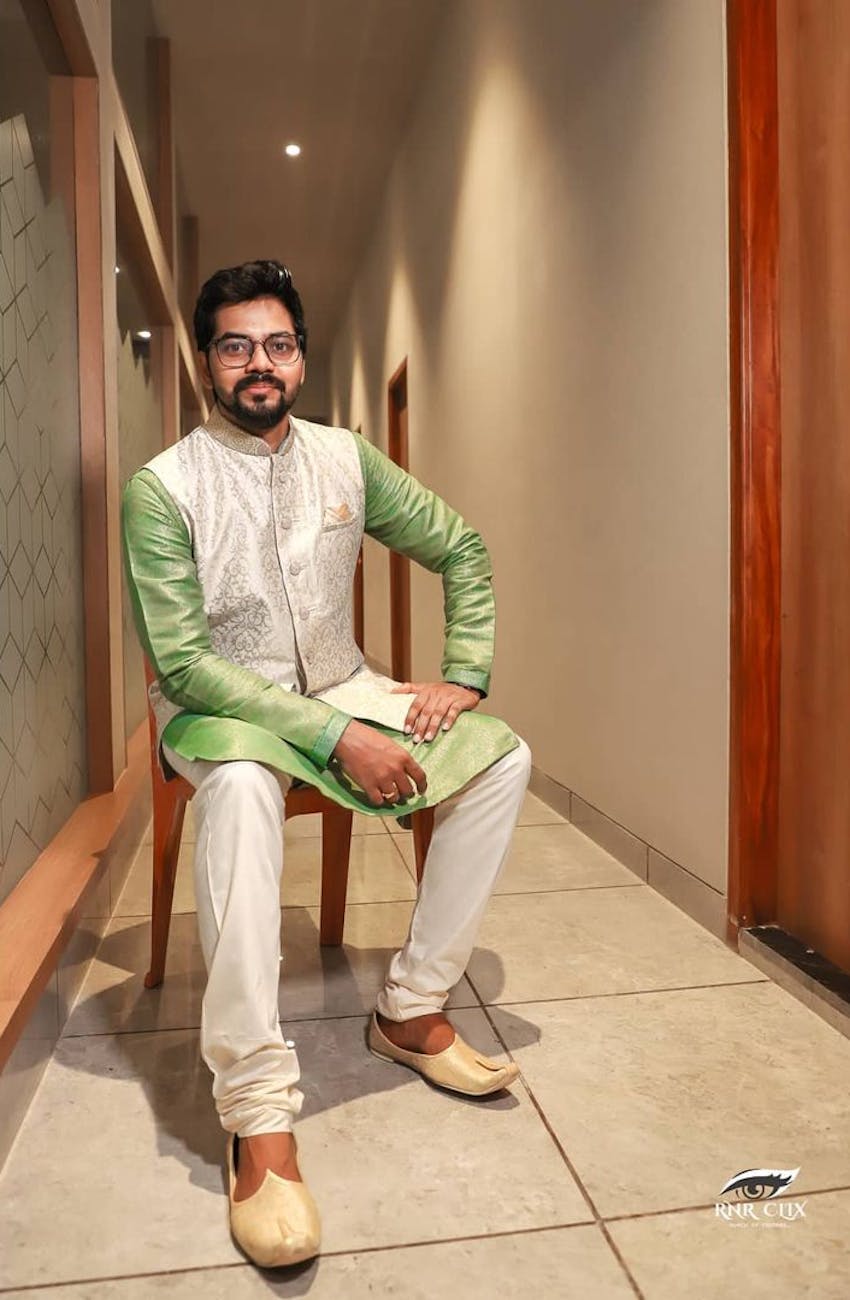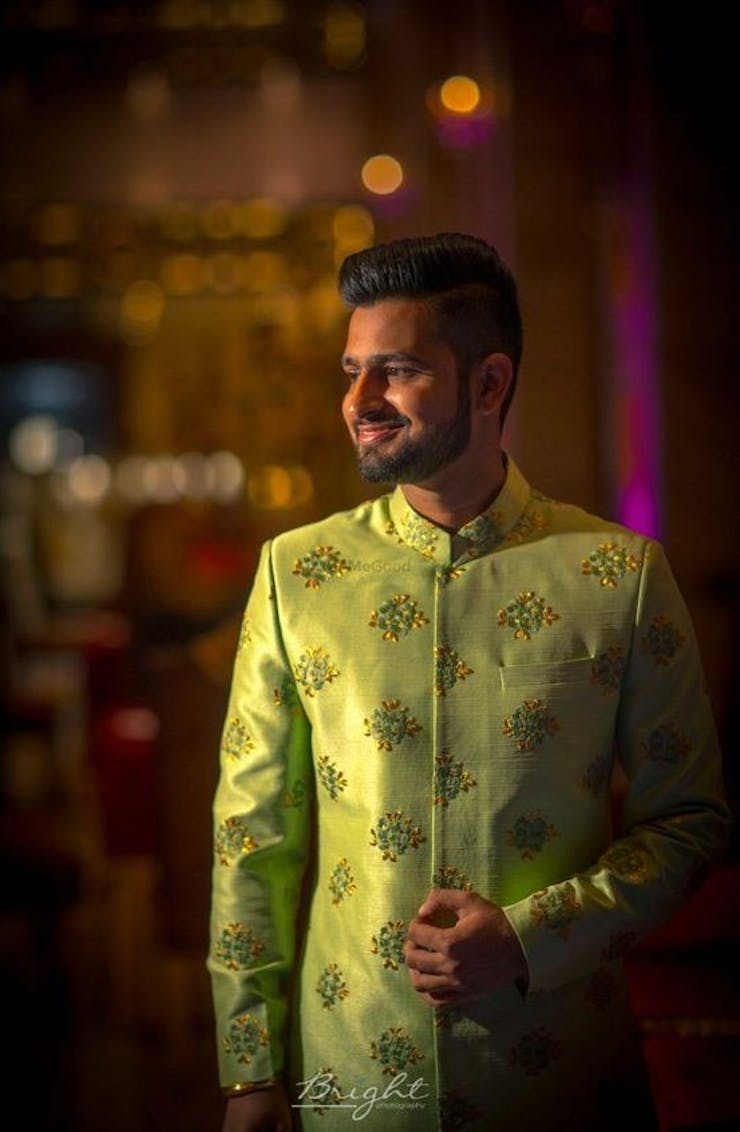 As we have already read, for an engagement event, it's always good to have a toned-down version of the traditional wedding attires. So the dapper groom here has dressed up in a beautiful mulberry silk Kurta in a muted pista colour. He paired the look with a self motif silvery ivory silk Nehru jacket. And an off white churidar for the bottom. And I must say that this makes one of the perfect engagement dress for male Indians along with the regal mojari sandal.
Recommended: Top 30 Pre Wedding Photoshoot Dress Ideas
2. How About A Tuxedo Engagement Dresses For Groom?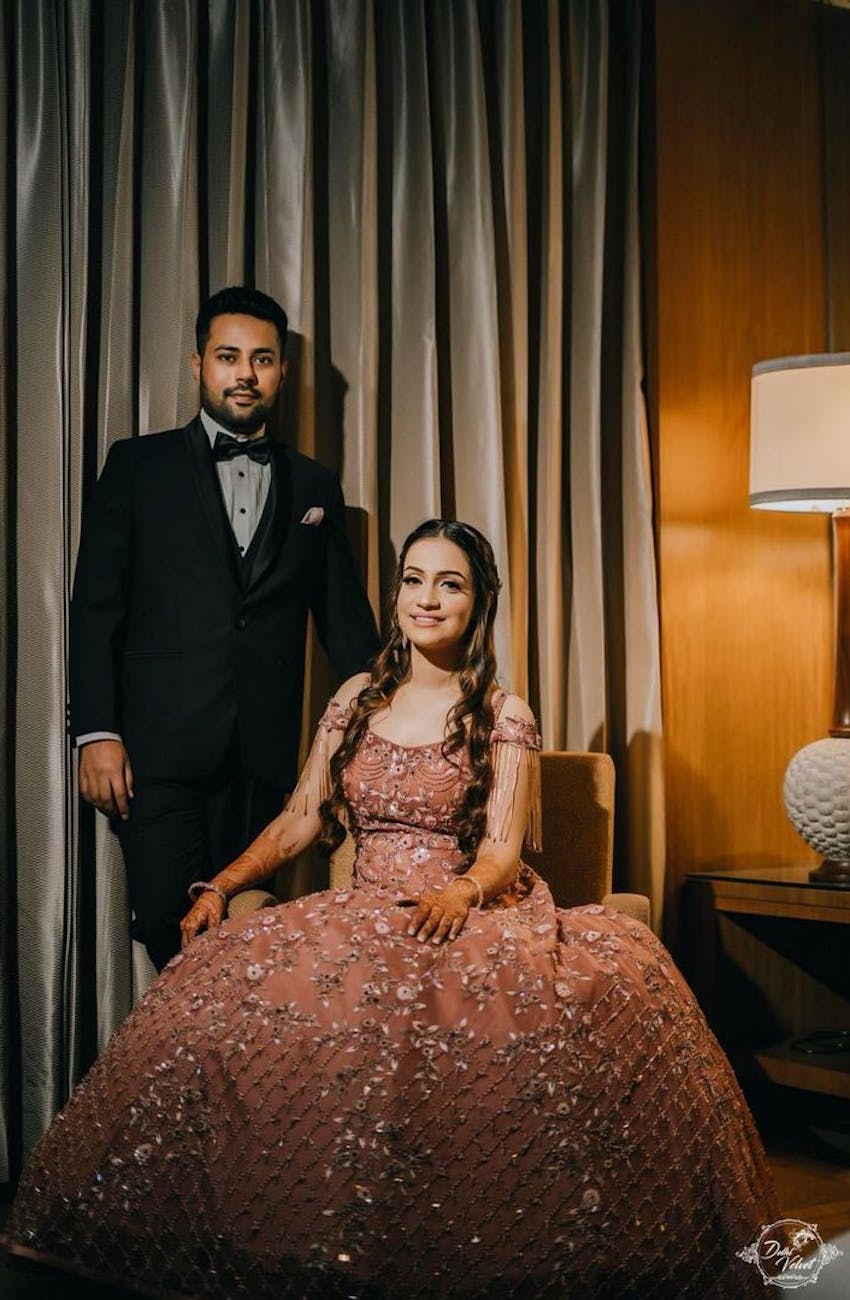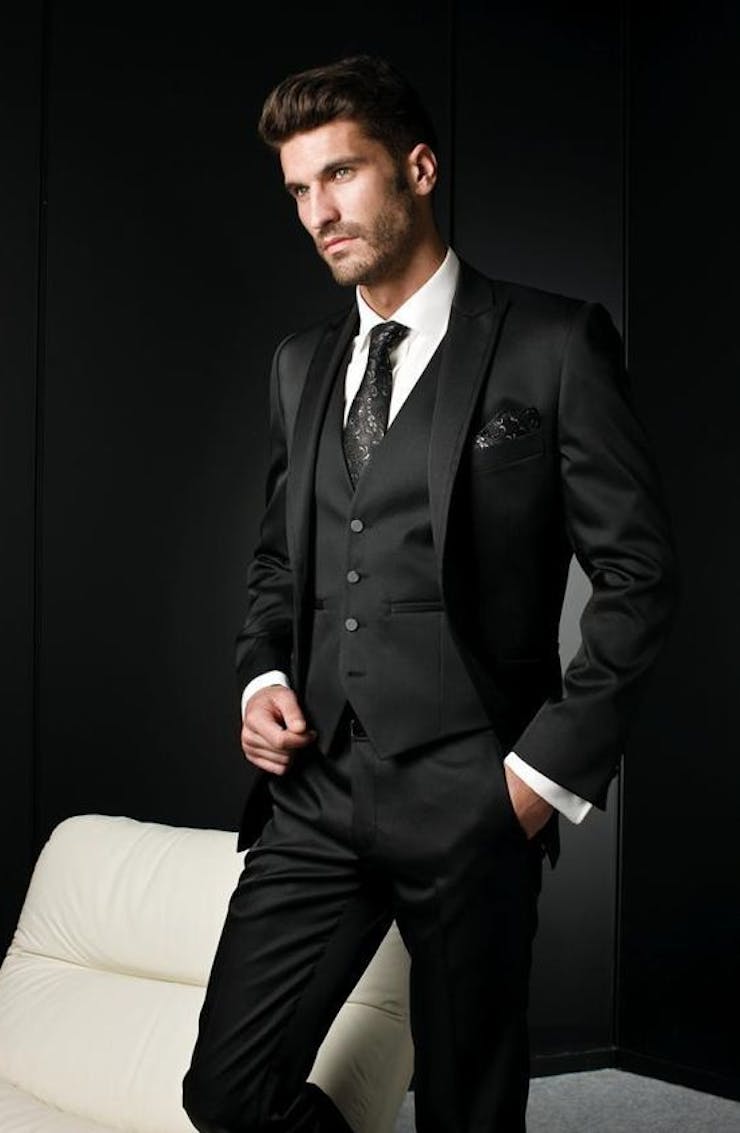 A chique Tuxedo set can also make an apt choice of groom dress for engagement party. The groom here is looking stunning in his matte black tuxedo suit. And I must say he has got a very nice taste in colours. He has combined the black suit with a powder grey silk shirt. And this totally balances and matches with the suit. The shades and textures perfectly compliment each other.
Also Read: Trending Bengali Sarees For Wedding [2022]
3. A Dapper Groom In Velvet Maroon Tux!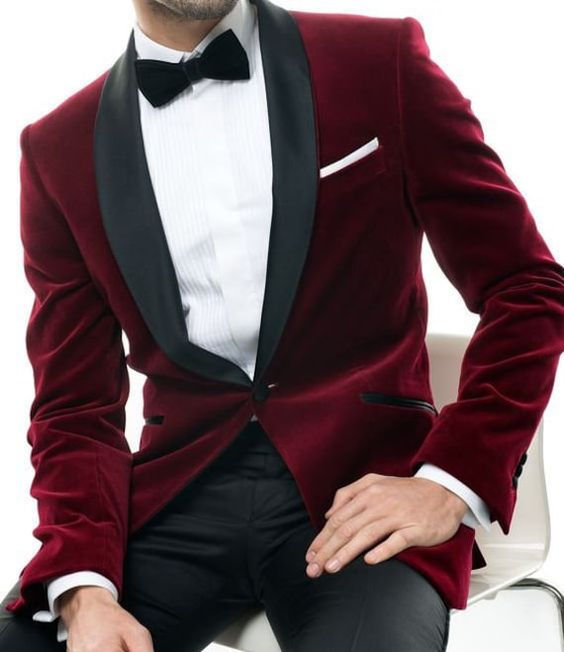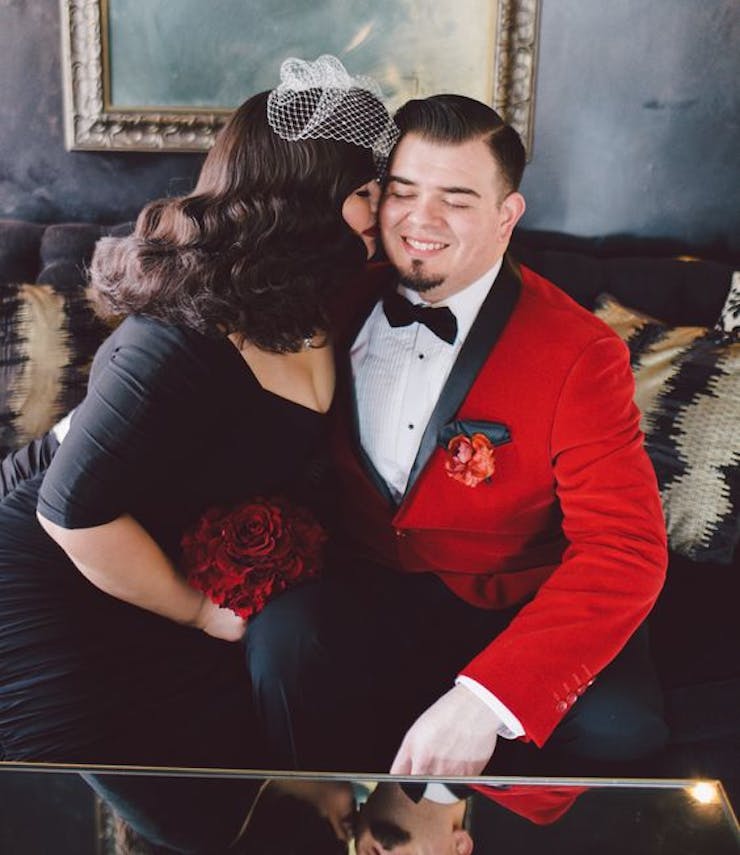 And how about a simple Tuxedo suit with a twist? Yes, this splendid maroon velvet tuxedo is exactly what I am speaking of! This bespoke piece for simple engagement dress for groom is indeed something that made me wanna recommend this to our dear dulhe rajas for their engagement event. The contrasting greyish borders at the collar area is adding a definition to the piece. Pair it with a black or white shirt and trousers. And don't forget to get shirts that are made for Tuxedos!
4. Our Cute Bor Twinning With His Hobu-bou!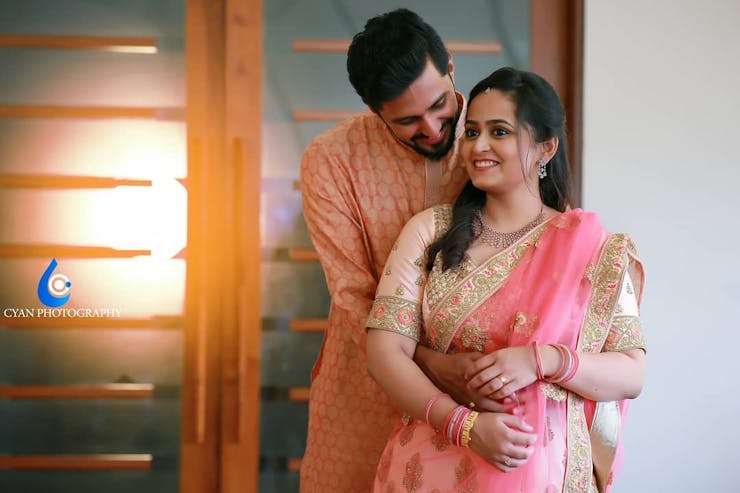 Awww! What a cute couple we have here today! I'm especially mesmerised by how perfect they look together. And this feeling is further accentuated by the pic perfect coordination of their choice of outfits for their Engagement! The groom has really well adapted to the pinky theme for the day. The light peach coloured self designer Kurta and the twinned bubblegum pink lehenga is indeed looking like an ideal traditional engagement dress for couple.
5. An All-black Three-piece Engagement Dresses For Groom.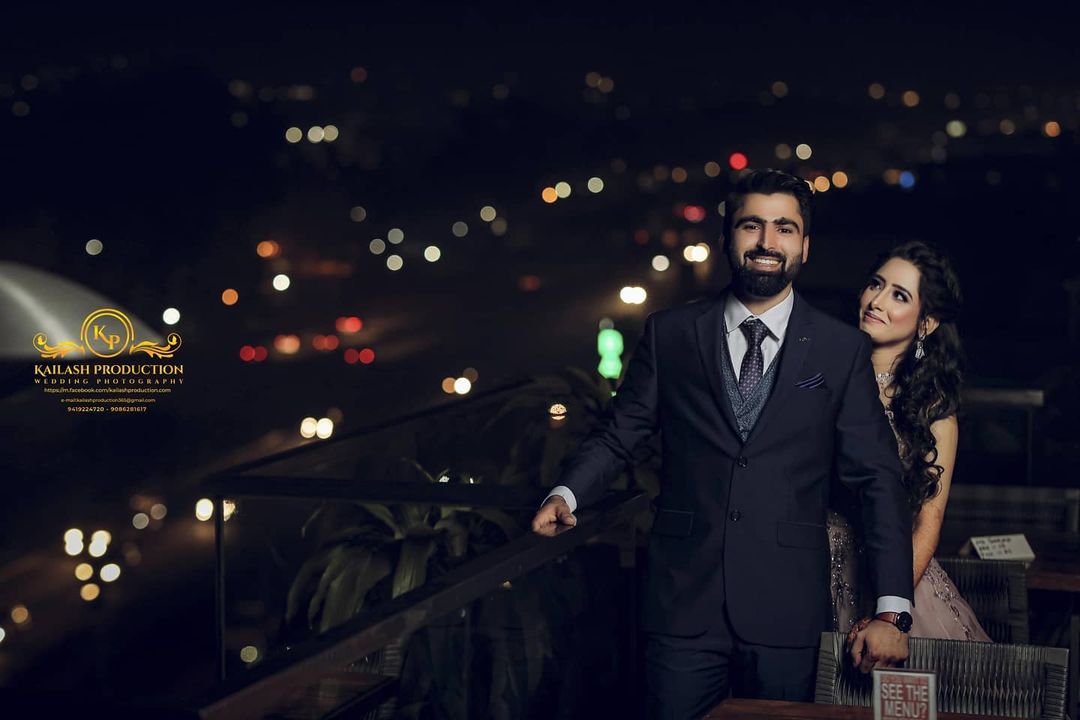 Our adonis in black here is simply slaying the three-piece look! An exquisite dappering suite in greys and black is making him all set for his special day! The Blackcoat with a greyish waistcoat and black trousers is giving out vibes that his wifey simply cannot keep her eyes off. The white shirt and matching tie beautifully add to the impressive, sophisticated look! You Just rock handsome!
6. I am So Much In Awe For This Kicky Sea Green Kurta And Vesti Look!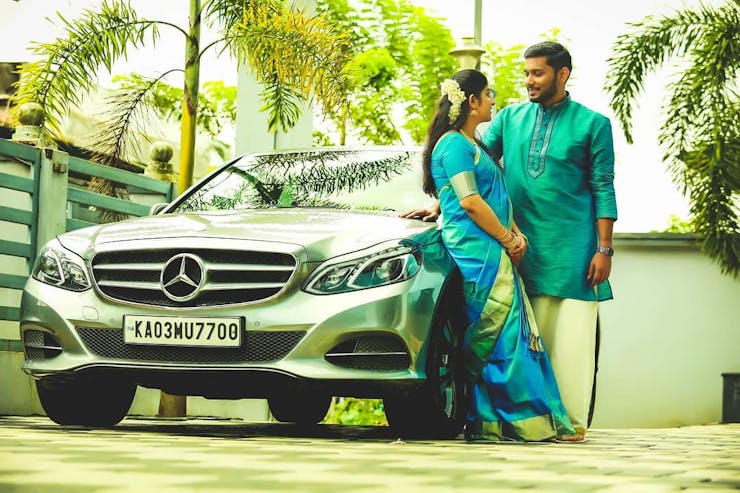 Vesti mundu is a traditional outfit of South Indian men. This is a white unstitched piece of cloth with a white and golden border. The piece is supposed to wrap around the waist, and be worn as a skirt or lungi. A staple for traditional events is usually worn with white or other subtle coloured Bush shirts. But our groom has taken this traditional engagement dress for groom to the next level by pairing it with a bright sea green coloured silk short Kurta.
7. Or Maybe A Regal Admiral Blue Sherwani!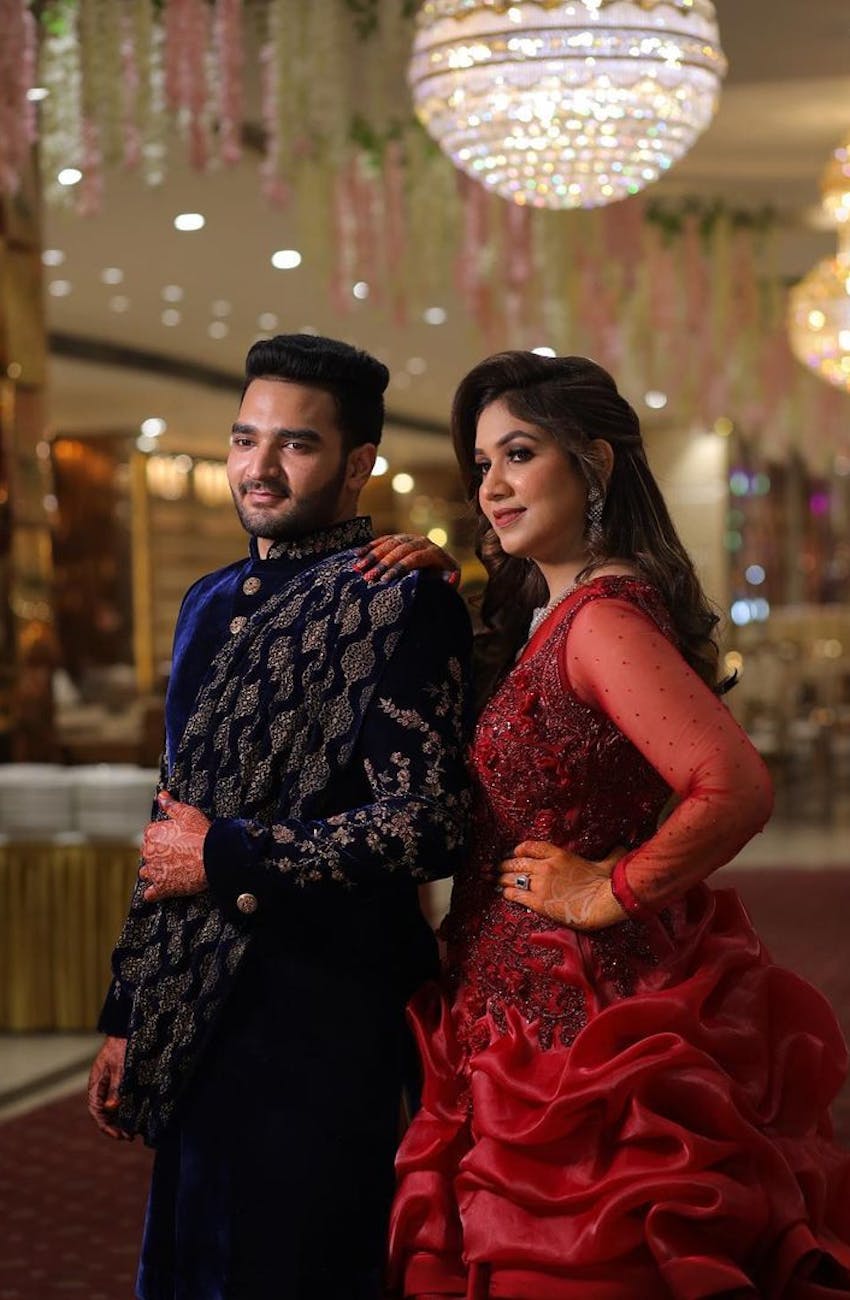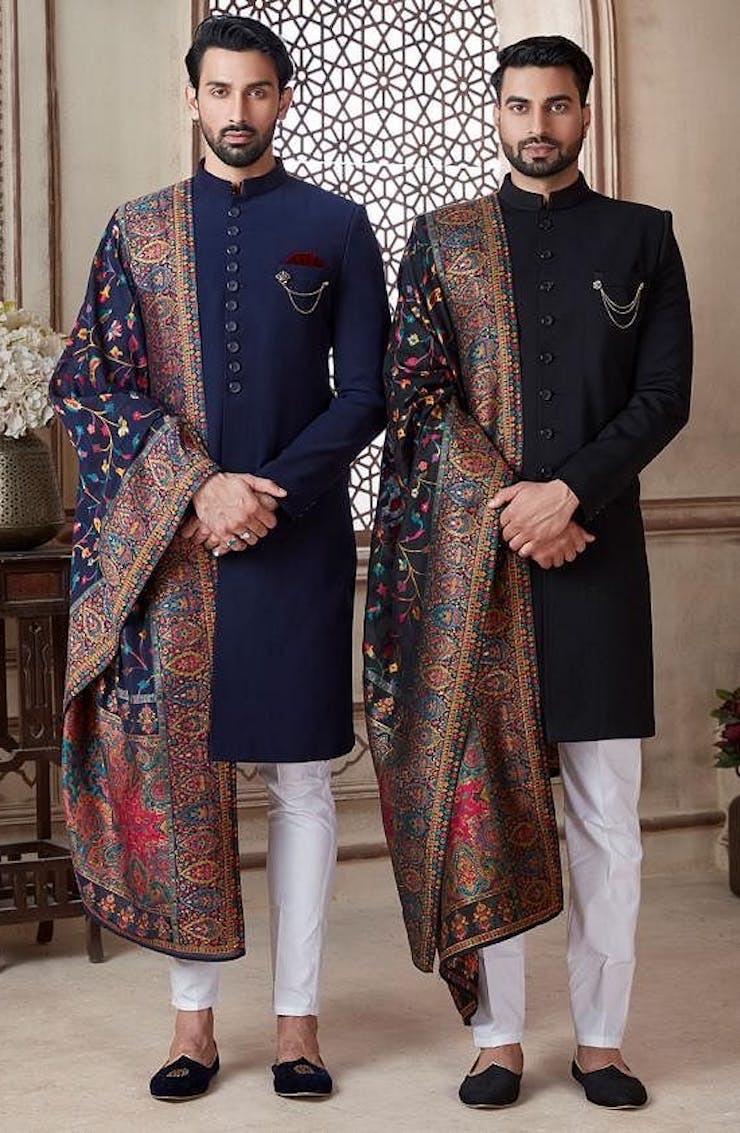 And how about this majestic engagement ceremony dress for groom? A bespoke admiral blue coloured sherwani made out of rich velvet fabric. The intricate zardozi floral motifs long the sleeves are adding to the elegance of the overall look. And the band-like pattern along the collar line of the outfit is indeed impressive. The beautiful buti kolka embroidered stole across the shoulder is further accentuating the look! He perfectly contrasts and matches with his wife's regal red OOTD.
8. A Bonny Red Tie!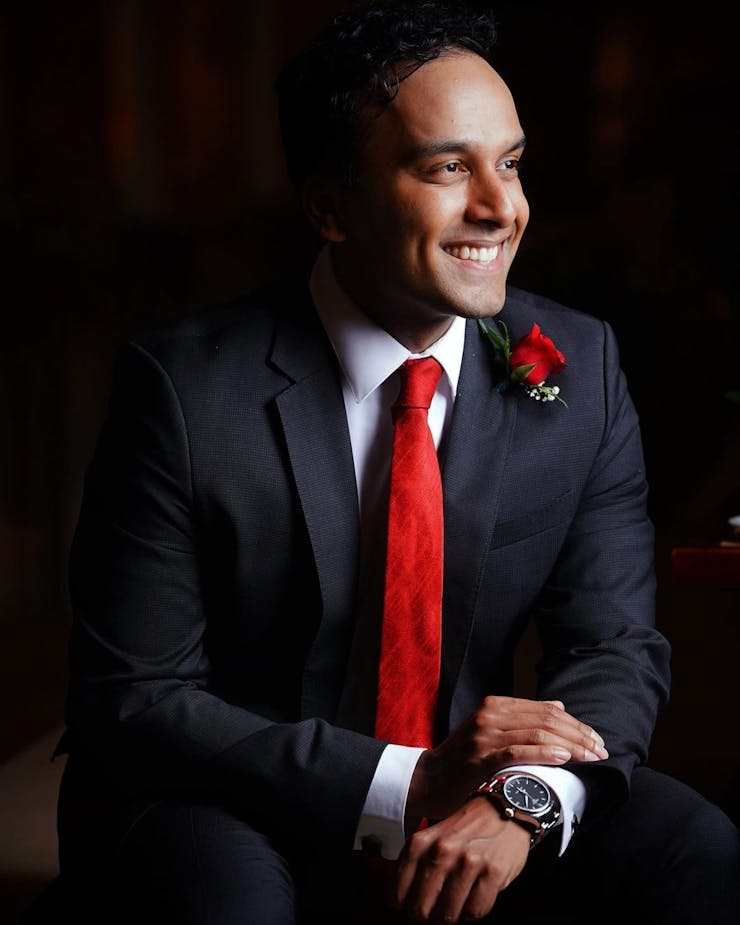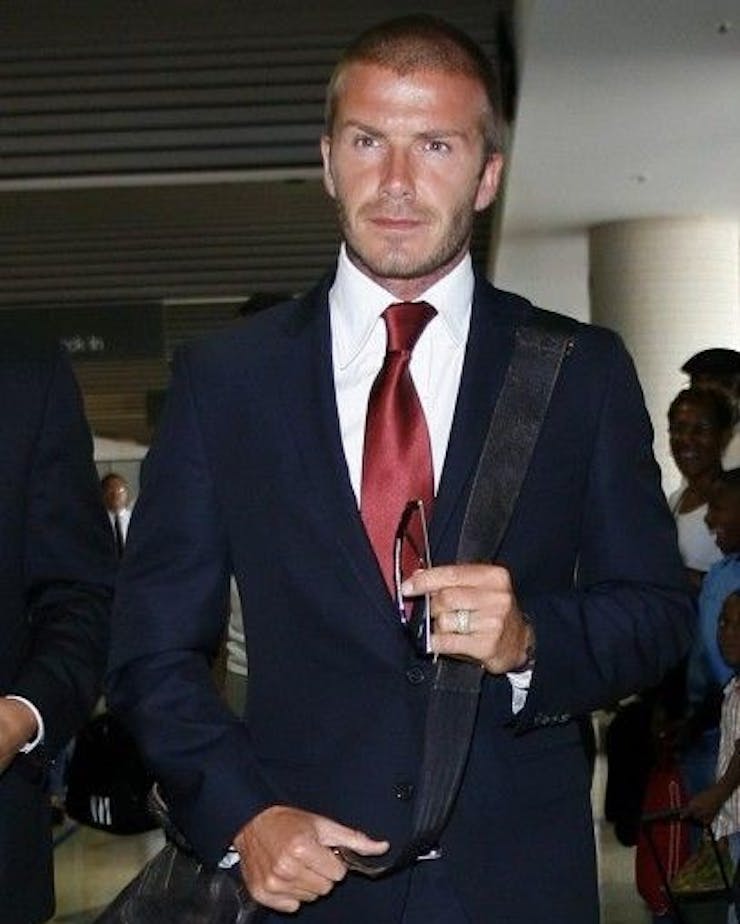 And how about the handsome groom here just zooting the simple black blazer and white shirt look. An absolute sophisticated ring ceremony engagement dress for groom. Indeed a very neat and smart get up for the groom. And trust me, the red rose corsage and red tie are adding to the exuberance of the outfit. A blingy yet sleek OOTD for our jamai raja!
9. A Debonair Ivory Suit!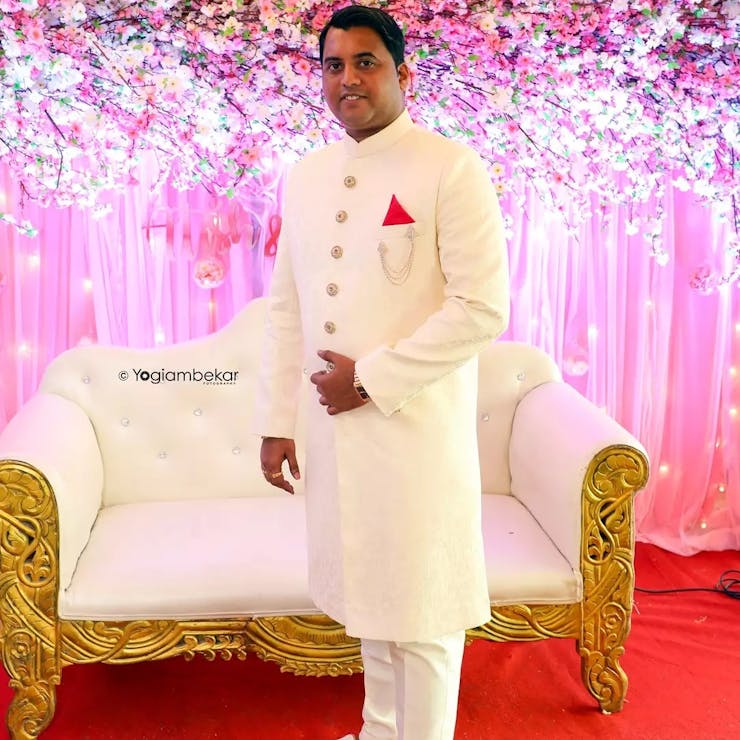 And how about this ultimate sophisticated Ivory bandhgala suit? A very simple yet hi-fi get up of a groom. This type of mono-colour suit is getting popular these days. An impressive and probably one of the best dress for groom on engagement. The statement silver stone brooch is adding to royal feel of the outfit. And not to overlook the rose rd pocket square. A perfect wear for this tall, dark and handsome groom!
10. And How About The Swag Of Vesti And Shirt?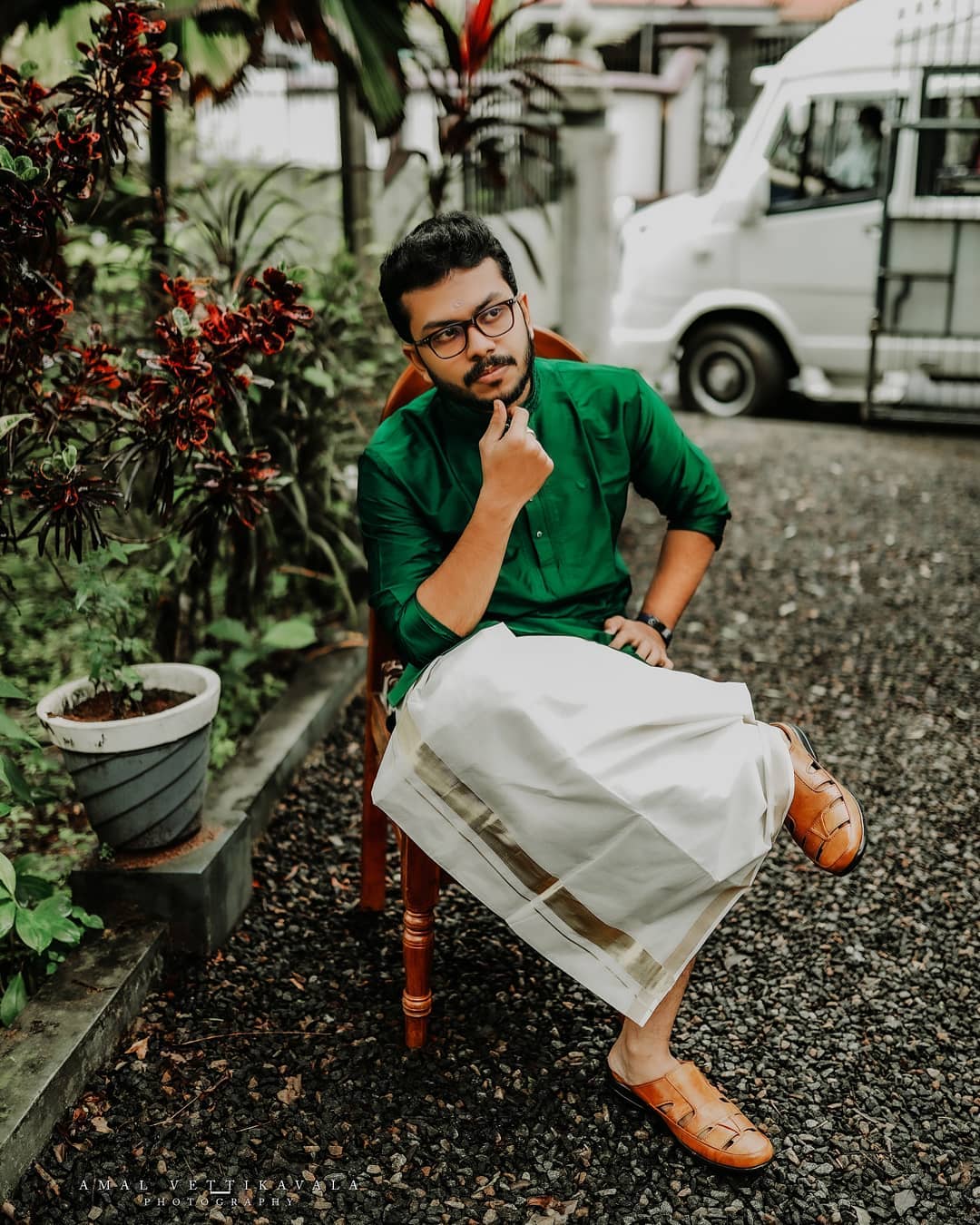 Our happy and cheerful anna here has done his vesti look with two different twists. He has chosen a silvery bordered Veshti, along with a bright green Kurta shirt! The bright emerald green silk kurta is absolutely adding to the elegance of the look. He has completed the look with some modern and chique accessories like a smartwatch and leather shoe sandals.
11. Our Loving Groom In A Floral Jacket.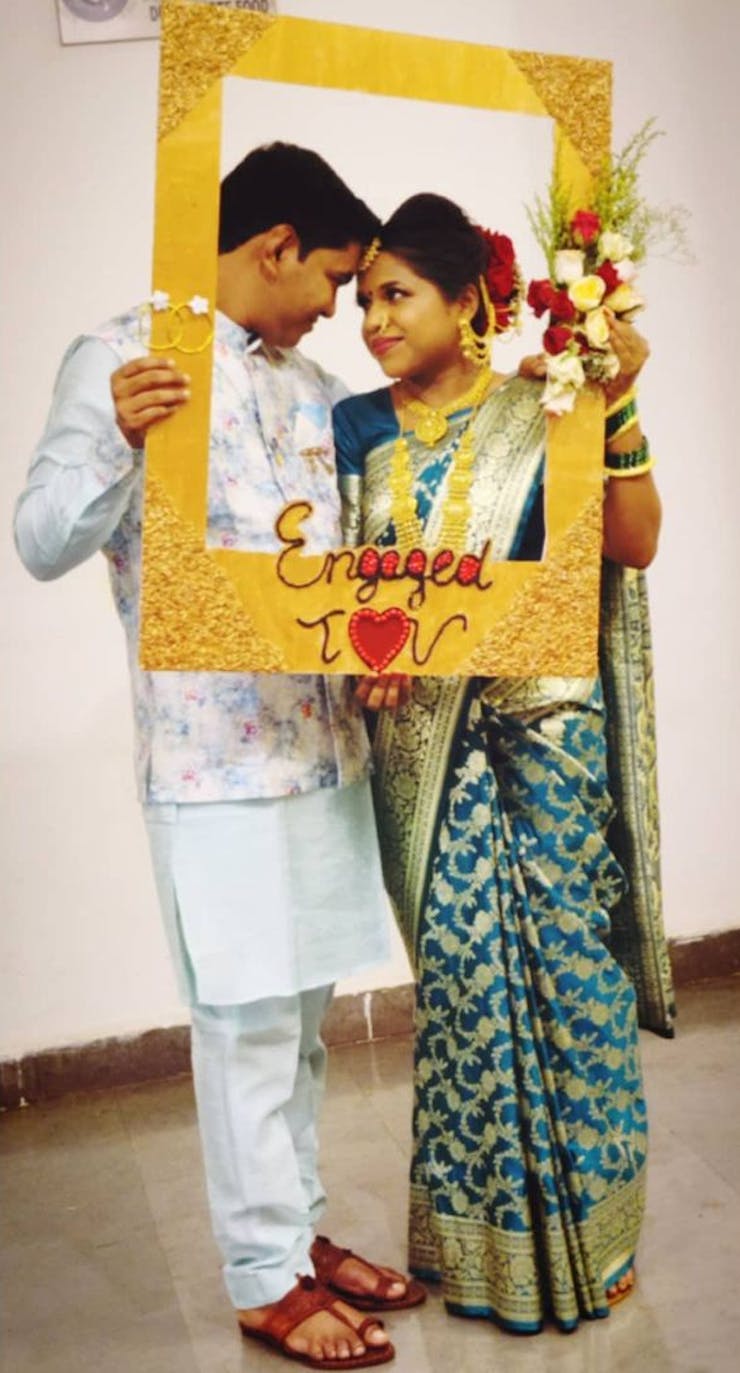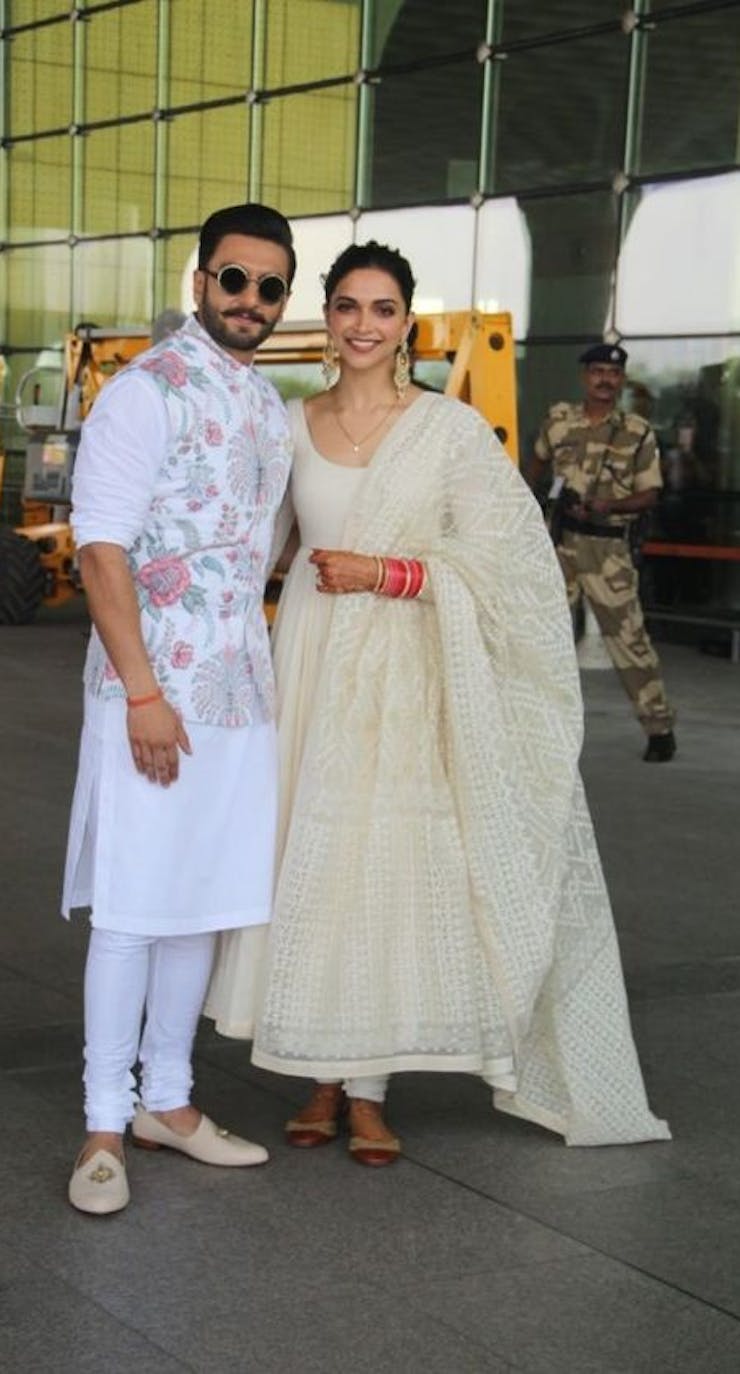 And how about our cute jamaibabu in a cute and simple outfit for his traditional engagement dress for mens. A pretty powder turquoise kurta and churidar. He has topped his simple look with an adorably pretty silk Nehru jacket. The floral printed Nehru jacket is making the outfit go from flat to FAB! I can cleary see the awe in his fiance's eyes! What a cute couple they make together. God bless!
12. How About Our Pind Da Shera In A Maroon Engagement Dresses For Groom.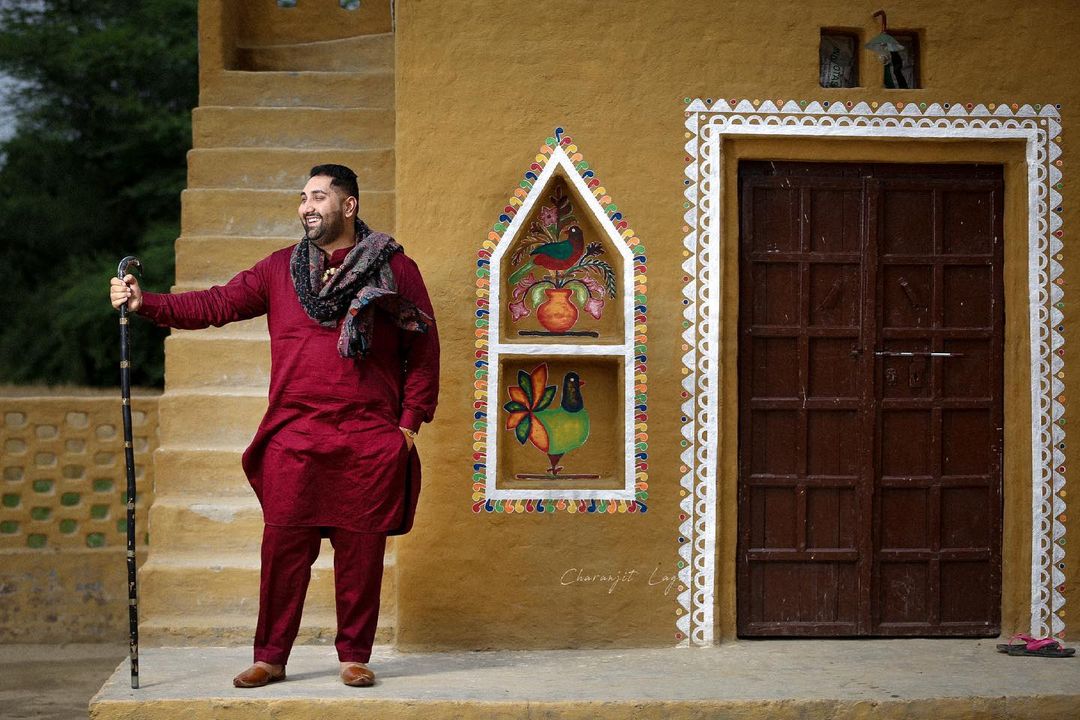 And our Pind da Gabru here is all set to embrace his pattaka Kudi into his life. He has done himself in an ultimate swagger Pathaani suit! The mono-colour suit made out of all maroon silk and cotton fabric is adding to the swash of our dashy desi hunk here! He has finished his look with a statement leather brown Nagra juta. And the statement neckpiece along with the greyish purple phulkari stole wrapped around his neck is adding to the best dress for groom on engagement-ness of the outfit!
13. Pastel Blue Simple Kurta Look.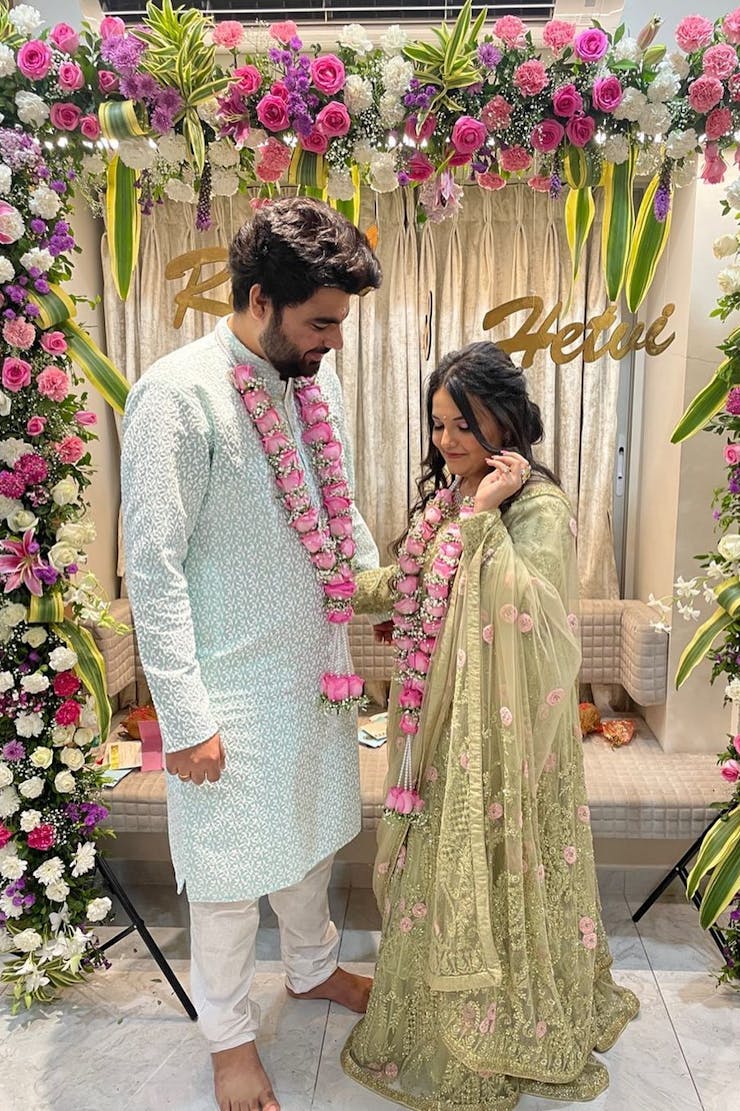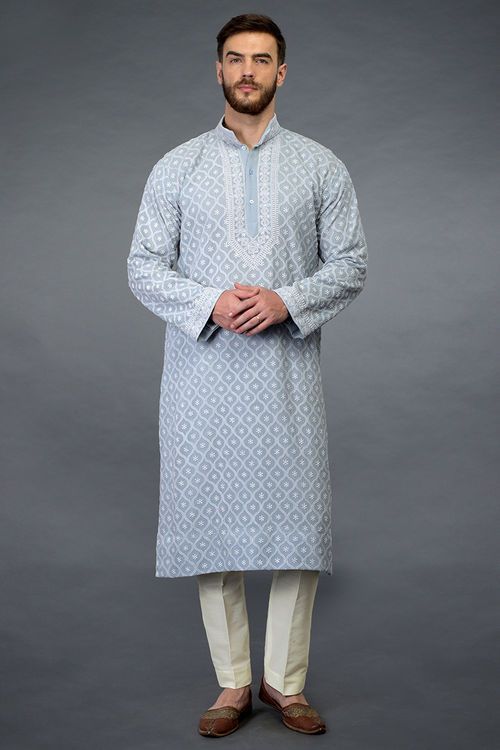 A simple and special Kurta pyjama look in sky blue and white. The intricate thread work in the floral motif is giving a beautiful and chique and prance appeal to the overall look. A very simple and respectful outfit for a simple daytime event. Look at how lovingly he is staring at his wifey! He is thrilled to have her in his life. It is clear through his eyes.
14. A Bandhgala With A Shawl.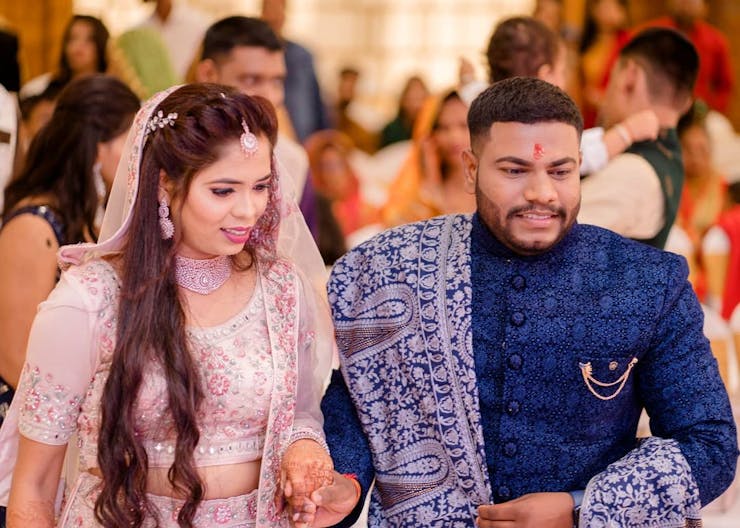 How about our stout groom in a bandhgala kurta? The millennium blue Bandhgala sherwani with intricate thread embroidery is indeed looking enthralling. He has coordinated his outfit with his wife's pink outfit. The zardosi shawl in millennium blue is indeed adding to the splendour of the look. Also, the statement golden brooch on the pocket is not to be missed out on! SImple dappering engagement dress groom, along with well-trimmed and shaped beard look!
15. A Layered Achakan Suit.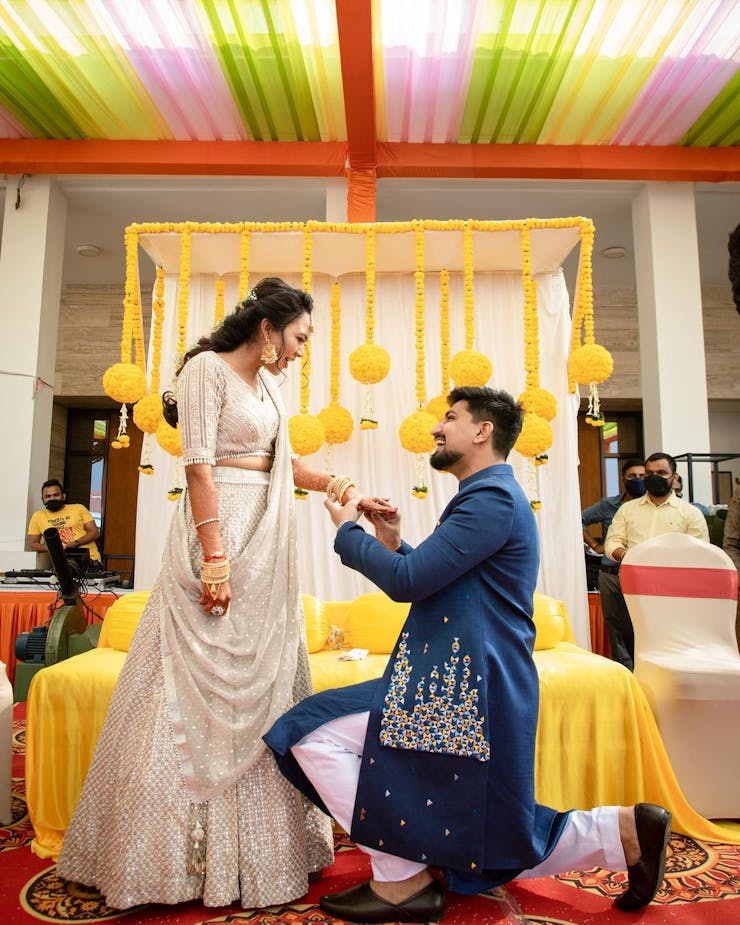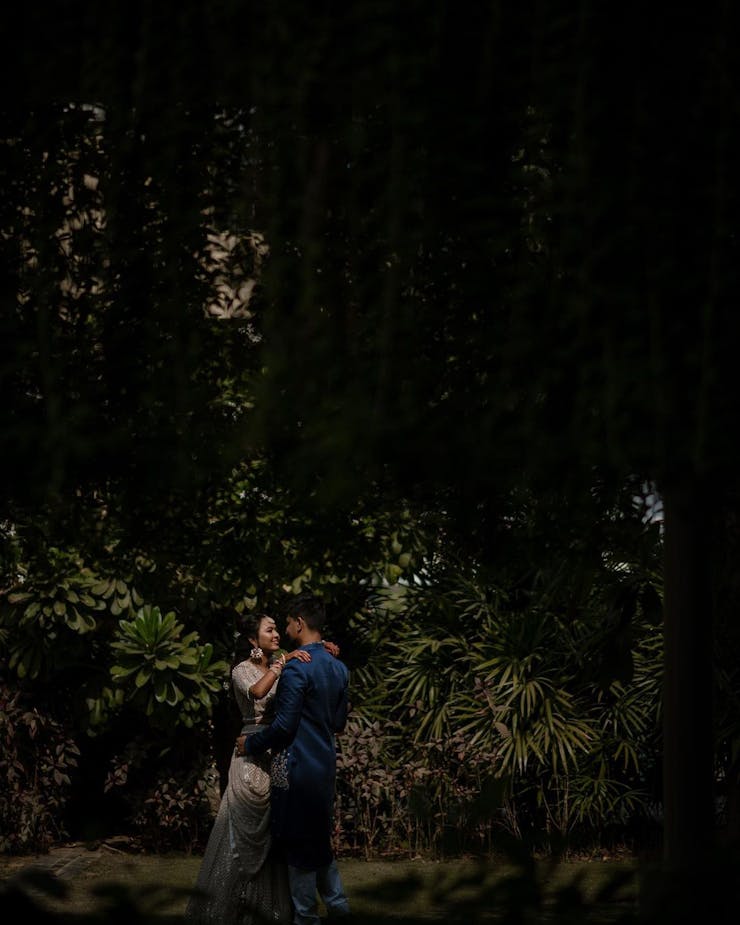 And how about this cobalt blue layered achkan sherwani? The groom has chosen indeed an eye-catching engagement dress for male Indian formal. The pretty gold and silver zari work in floral motifs along the hemline of the top layer is adding definition and elegance to the look. The contrasting powder blue churidar is completing the look. His wife's silver mirror work lehenga is perfectly complementing the pair's outfit.
16. An Asymmetric Bandhgala Engagement Dresses For Groom.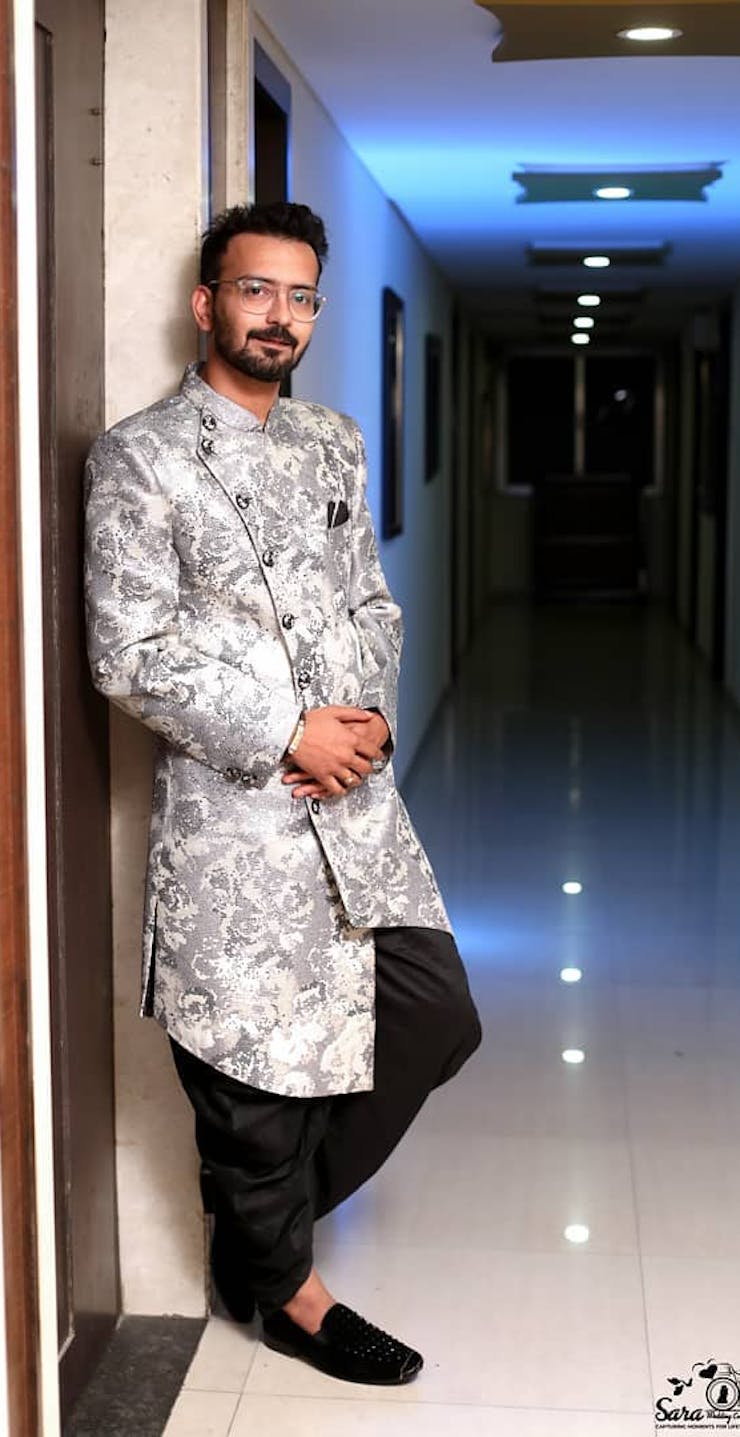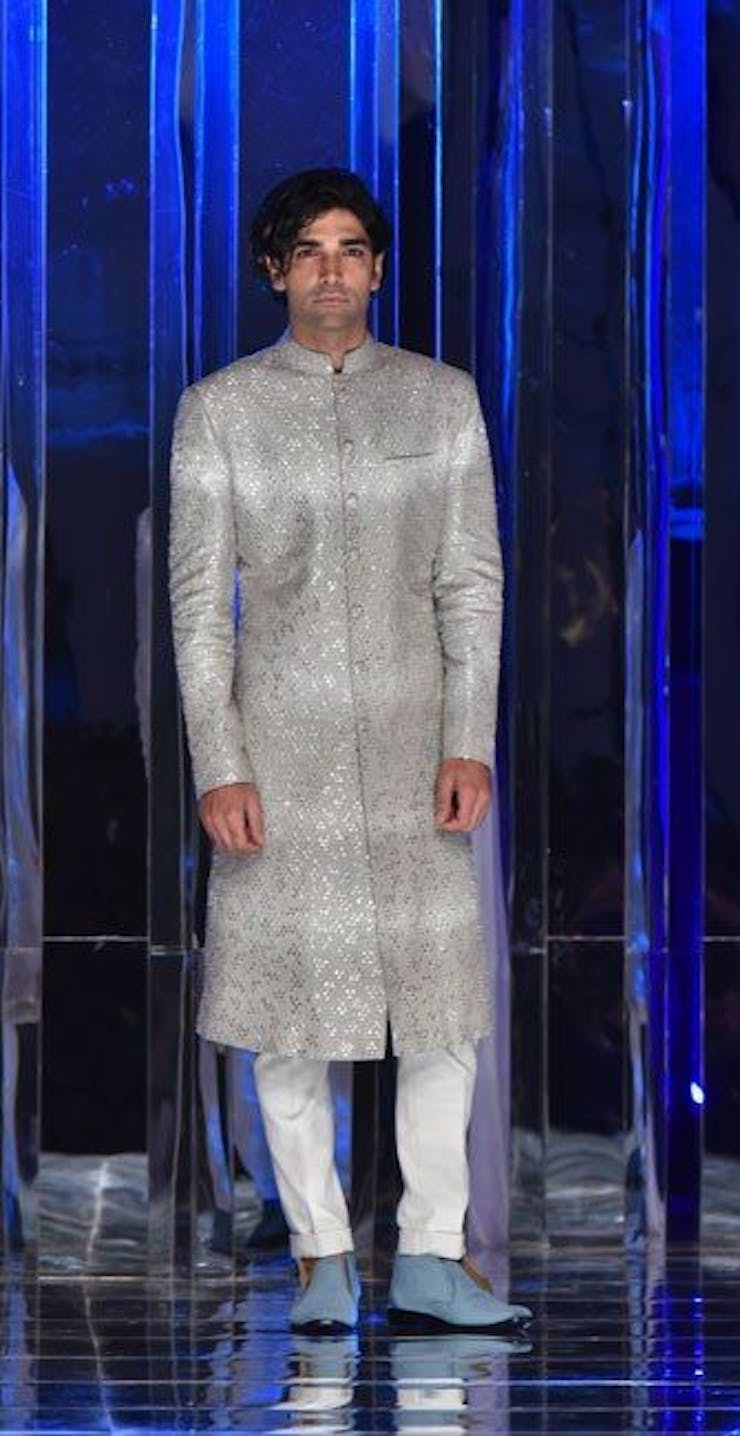 And how about a quirky bandhgala sherwani with an asymmetric hemline design? This handsome and swanky groom here is just slaying the look. An elegant and eccentric self designer silver sherwani. The black piping work along the borders of the button line is making the sherwani a perfect fit to be worn with the hot black Patiala pant! A fusion hindu engagement dress for groom.
17. How About An Urbane Shirt And Trousers?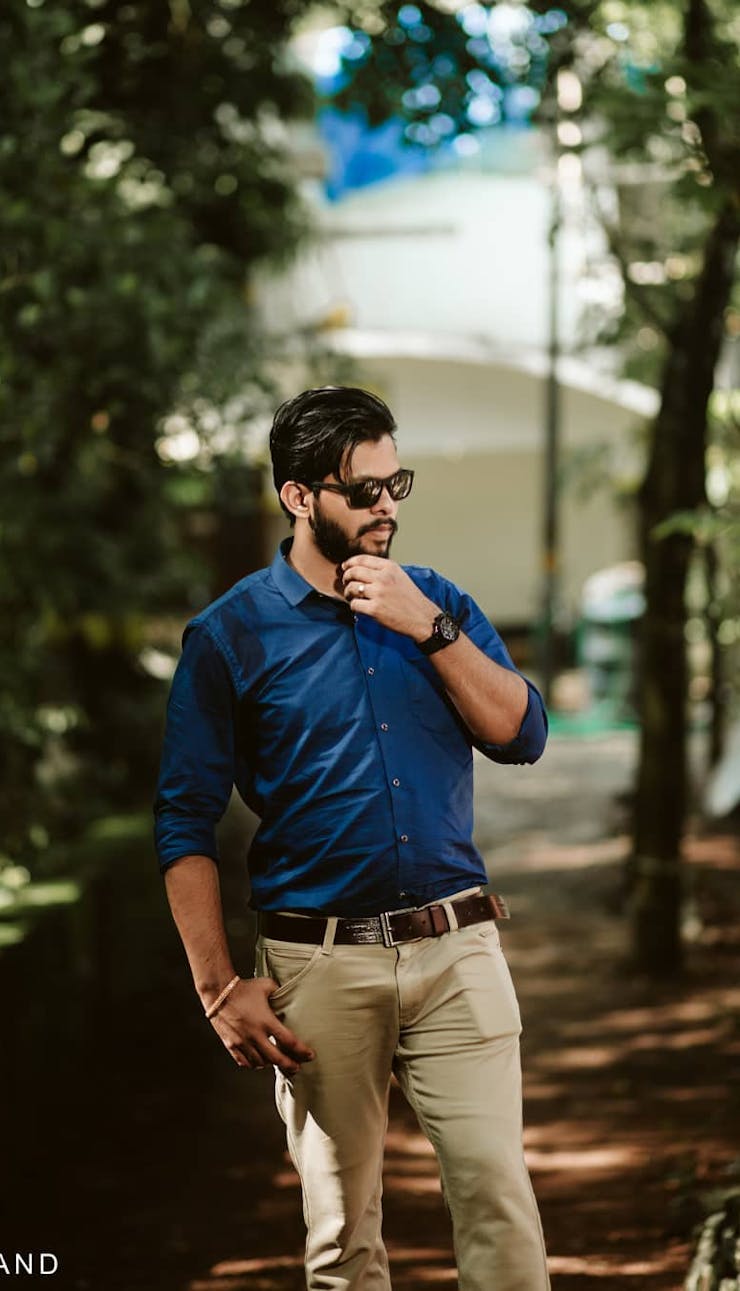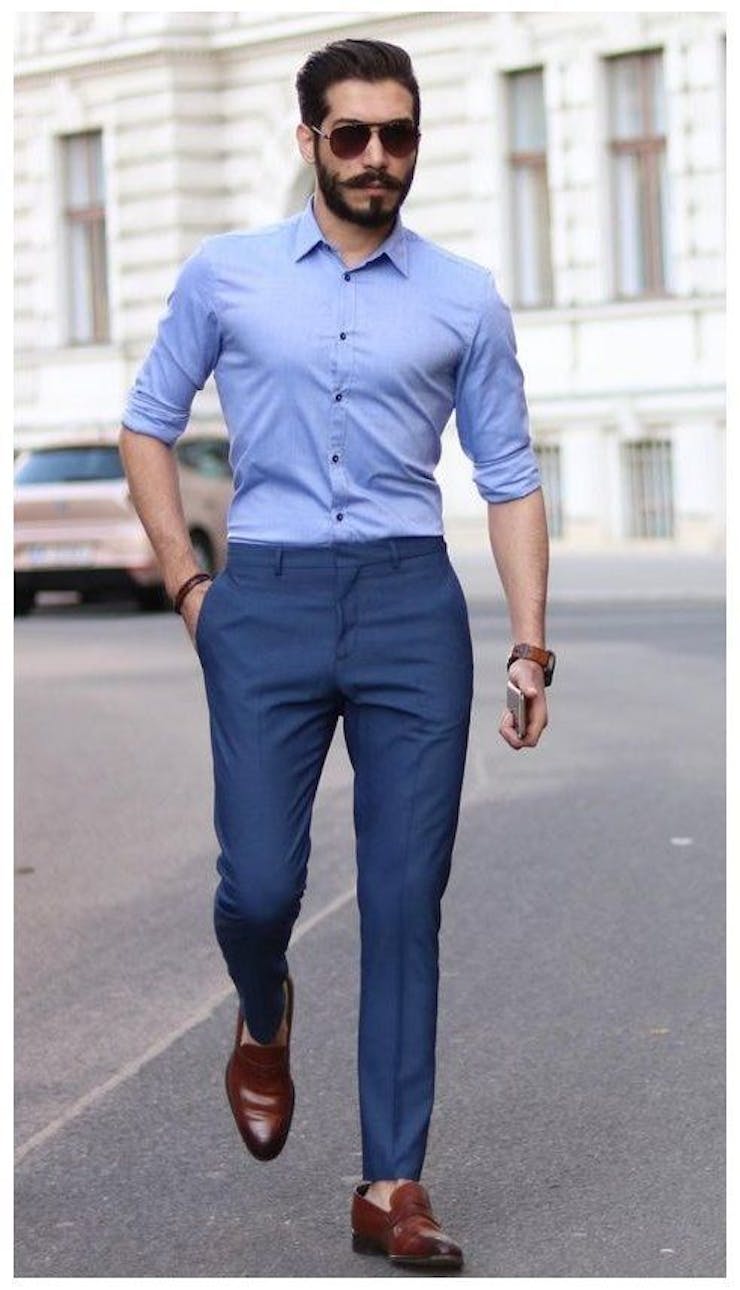 Now if you have your engagement party as well as your marriage registry on the same date, you are very likely to be visiting the Govt marriage registrar office either before or after the engagement. So in that case you are supposed to be doing a formal or semi-formal look rather than all the blingy Indian festive wears. This adonis in a sophisticated millennium blue shirt and beige trousers can be your Inspo for such a date!
18. Go for A  Green Bandhgala Jacket.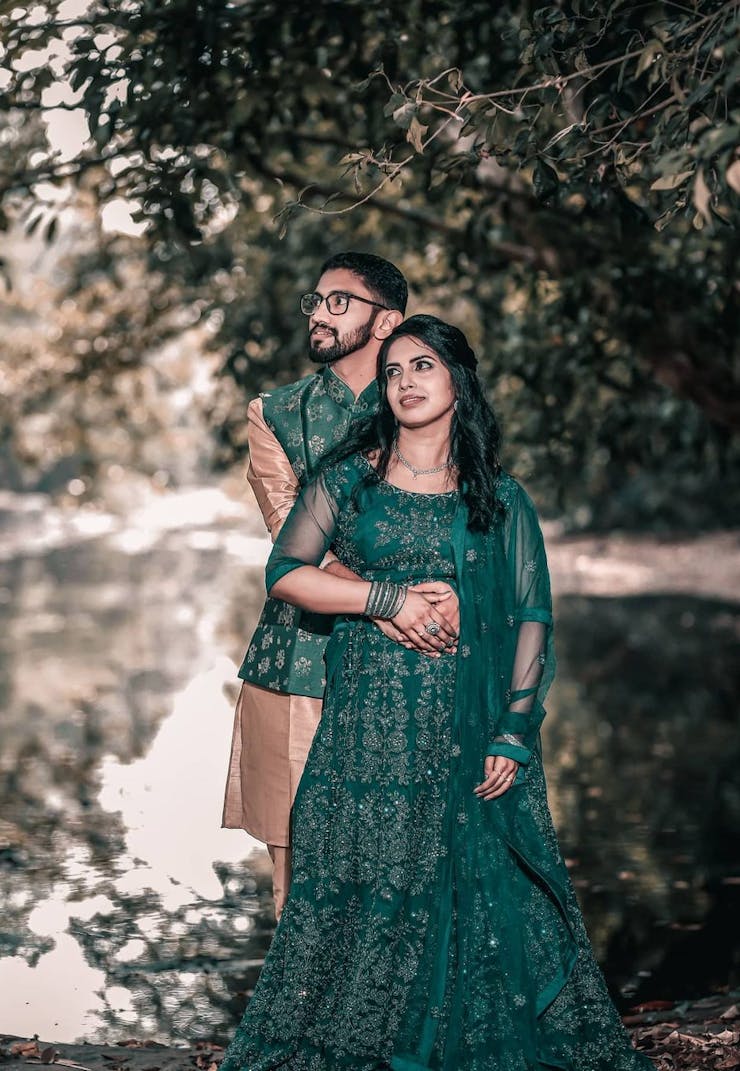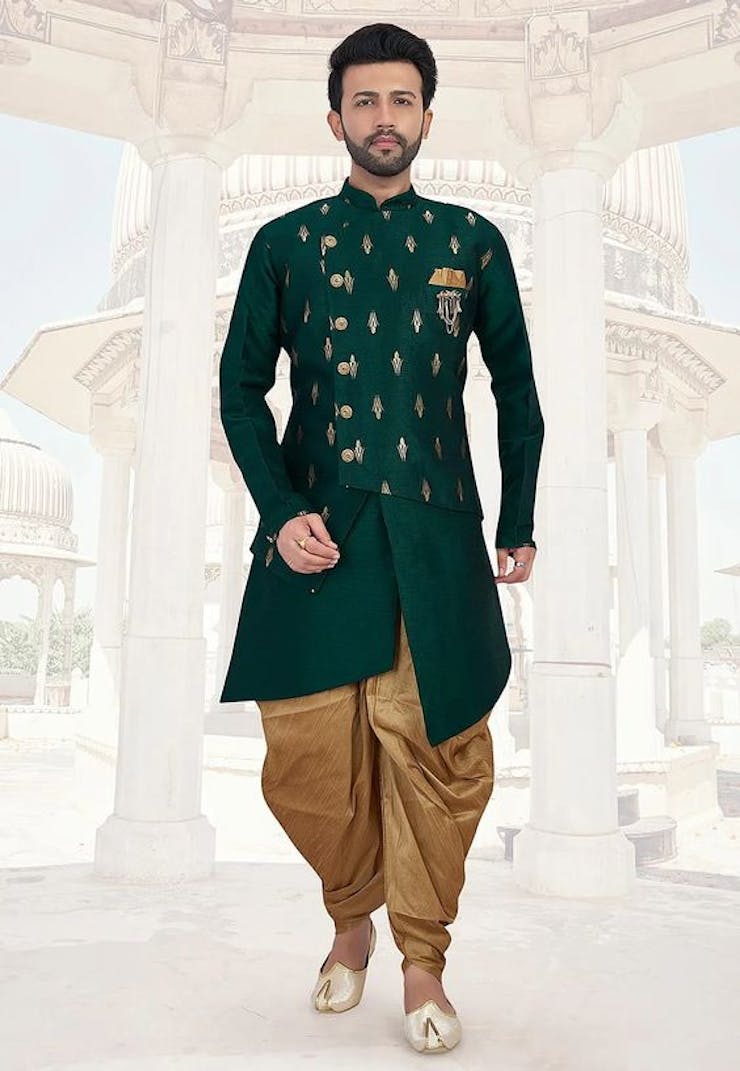 Yet another twinning traditional engagement dress for couple. Our cute Jodi over here has chosen a lush emerald green theme for their outfit. The bride has done a beautiful emerald green Anarkali dress with zardosi work all over the body. The groom has paired with his lady love by wearing a mono-colour Golden colour silk kurta pyjama. And topped the outfit with a similar emerald green bandhgala sleeveless jacket with golden prints all over.
19. A Sombre Regal Engagement Dress For Groom.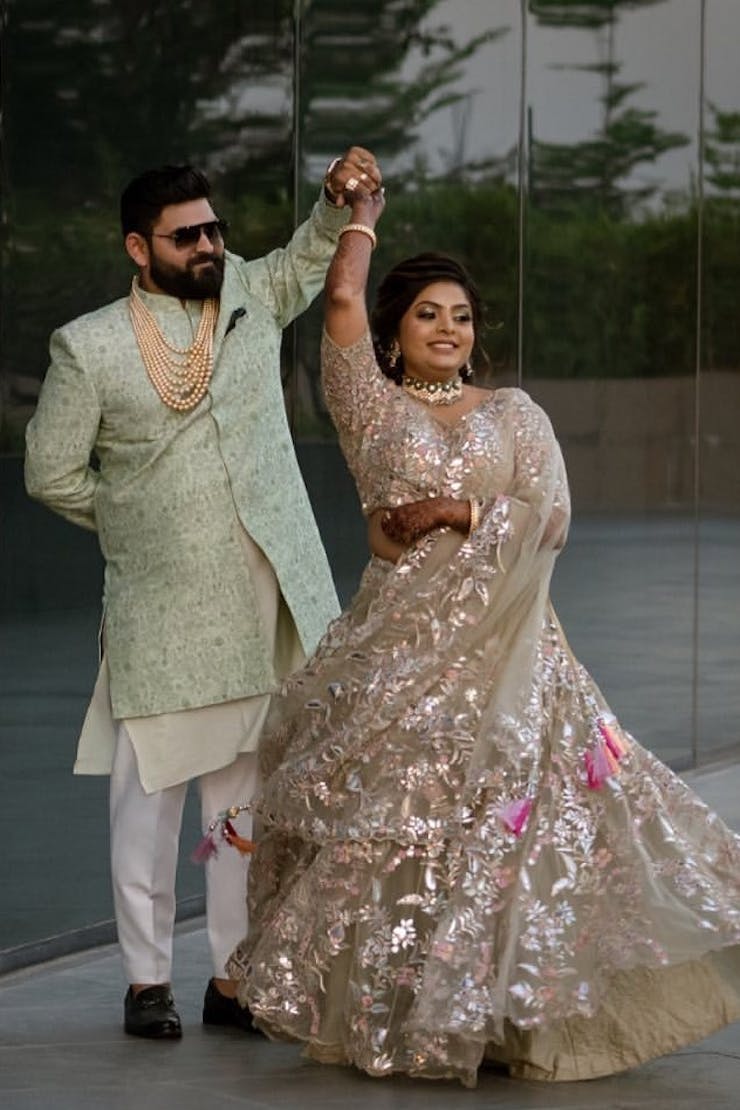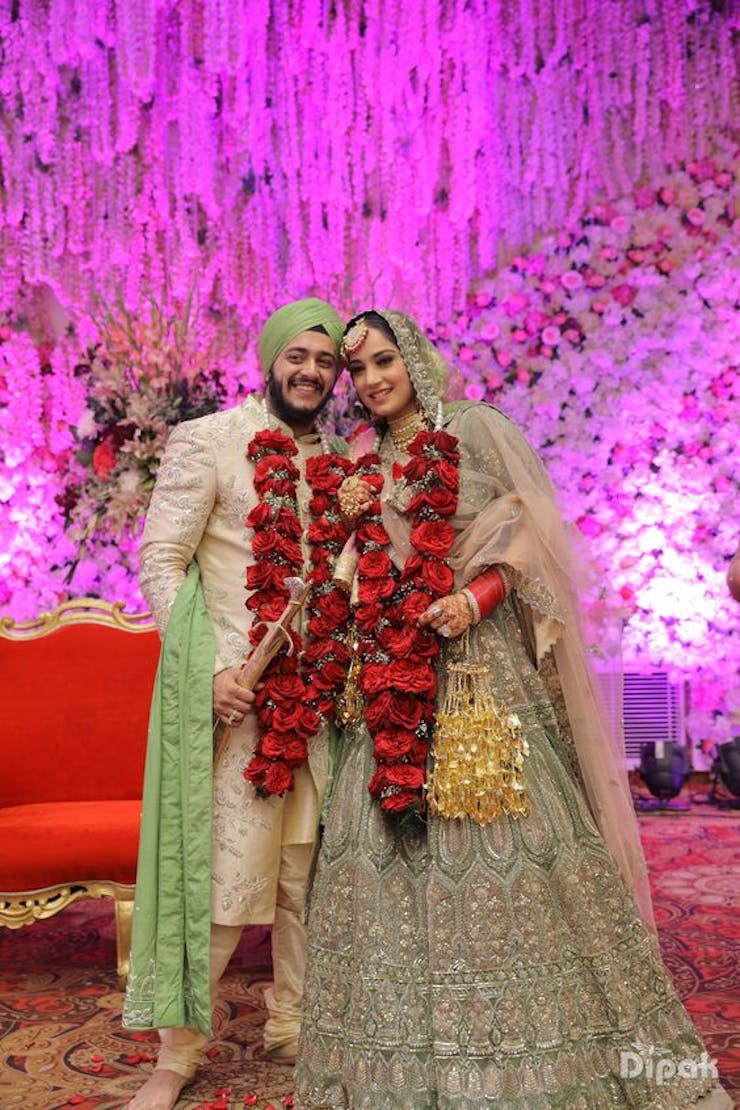 And how about the royal dulhe raja here walking down the aisle with his fiance, slaying the sherwani look? They look just made for each other. The dapper outfit of bluish-white monocolour Kurta pyjama, topped with a faded powder blue colour sherwani is indeed a sombre royal engagement dress for groom. And the statement pearl layered necklace and black pocket square are adding to the royal look.
20. A Silk Black Bandhgala Kurta.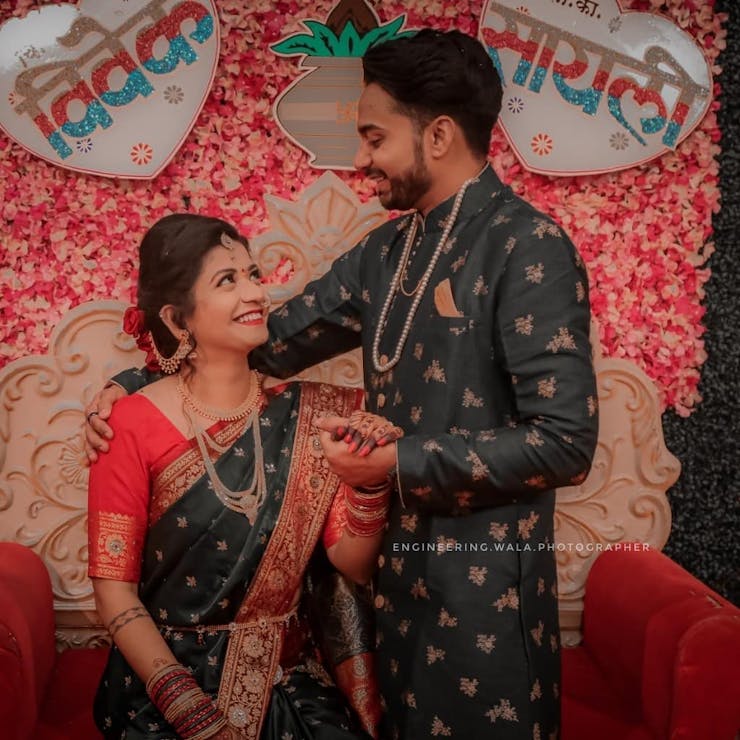 Yet another indulgent twinning couple look! The groom here has perfectly chosen a simple bandhgala kurta in silk black colour, to match the red and black saree look of his lady love. The beautiful floral buti work all over the body is indeed adding to the elegance. This outfit can be well paired with a golden or beige dhoti or churidar. And the simple gold chain and statement pearl beaded chain is further adding to the look!
21. A Pastel Three-piece Suit For Our Chocoboy!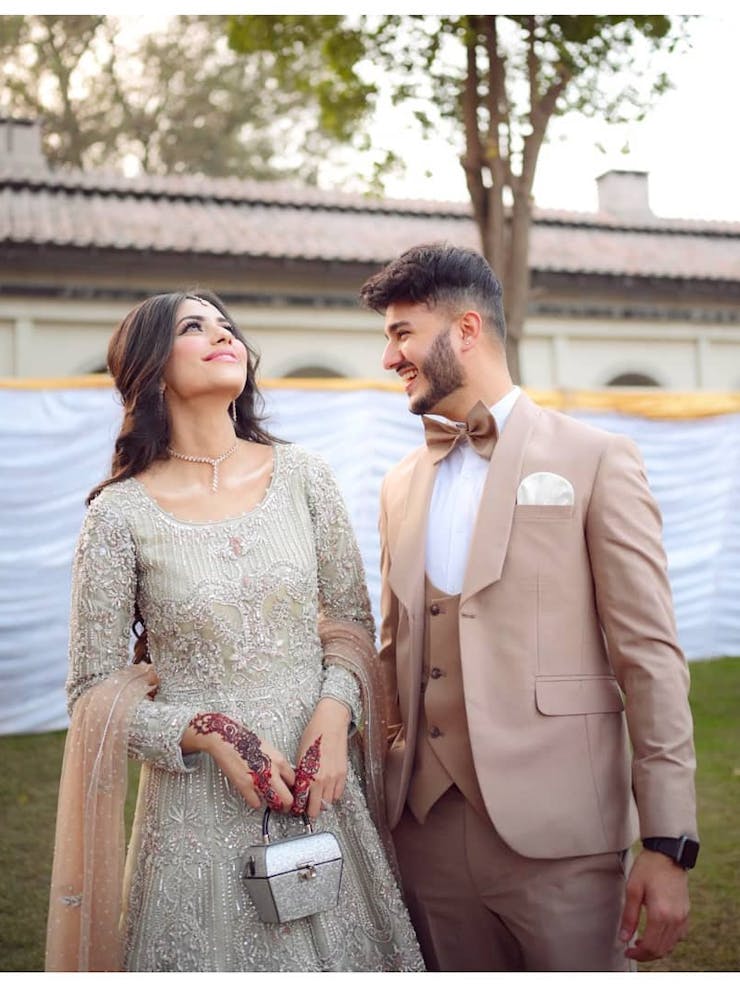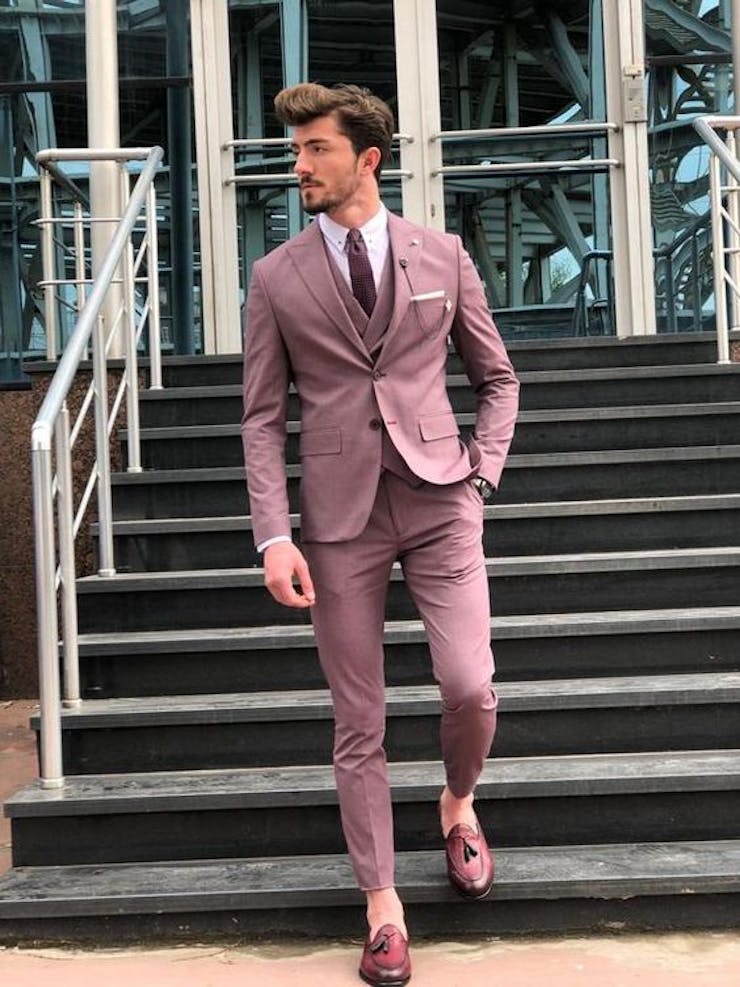 If you are having a brunch meet for your engagement day, in one of those boujee lounge restaurants in your city, then you need to wear something groom-ey! You may always go for the daytime shades of pastel. Here our cute groom has done a matte pastel baby pink three-piece suite and compliments really well with his Missus! The round pocket kerchief in ivory silk is adding to the prettiness. The cute bow tie in the same colour as the suit is highlighting the white shirt. 
22. Or How About A Muted Achkan?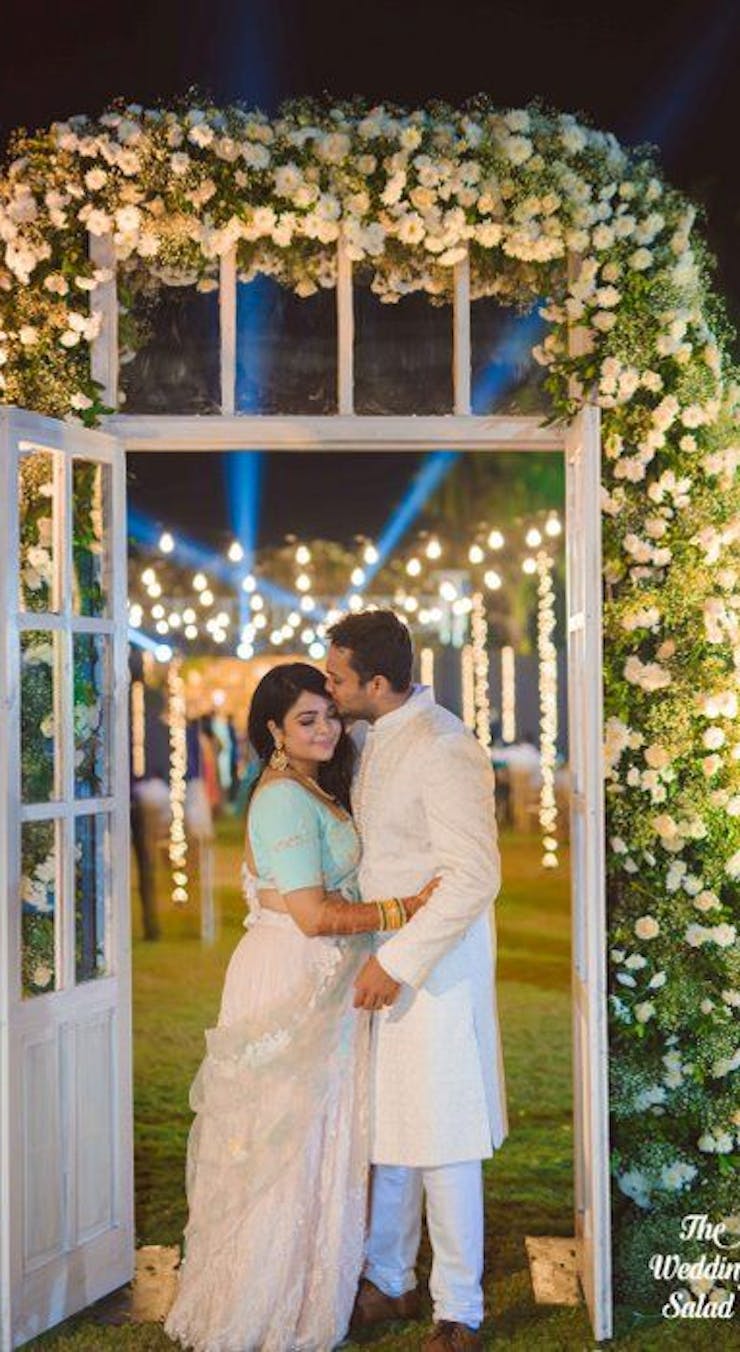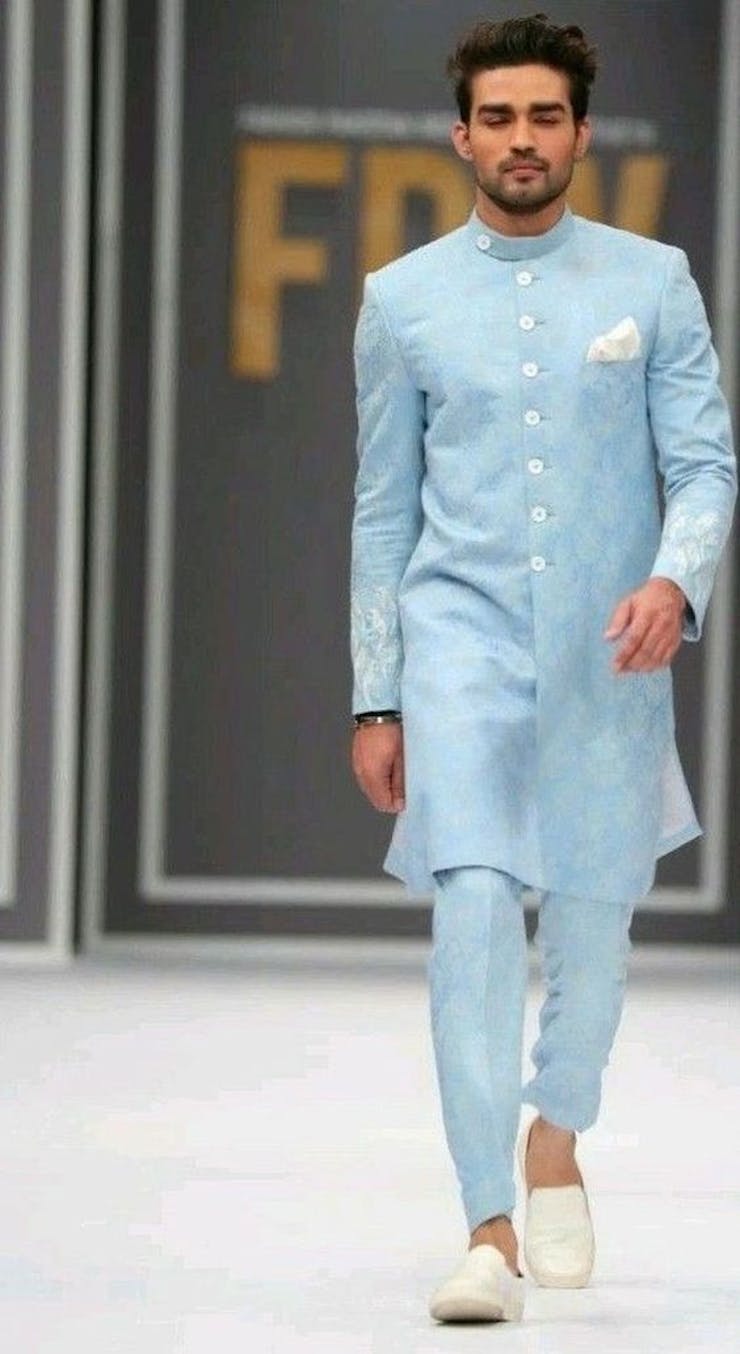 Our cute short and stout handsome here has done a pretty matte cyan coloured bandhgala. His bespoke outfit is matching with his fiance's lehenga as perfectly as they look together. He has perfectly paired his sherwani with an off-white parallel fitted trouser, and a statement pendant and chain.
23. A Suave Dress For Groom For Engagement In India.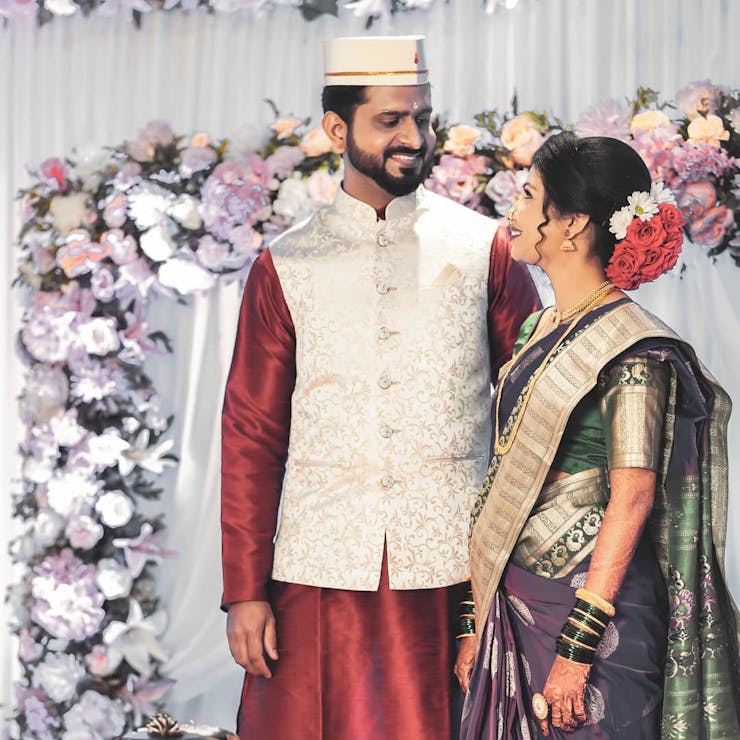 And how sweet does this Marathi couple look getting pre-hitched to each other? The Tall handsome groom is simply killing the Marathi groom traditional engagement dress for groom look. The pretty silk Jam red kurta topped with a silver and ivory Nehru jacket with self floral motifs is indeed eye-catching. Also, the traditional headgear adds to the look.
24. Our Anna Just Slaying The Vesti Look!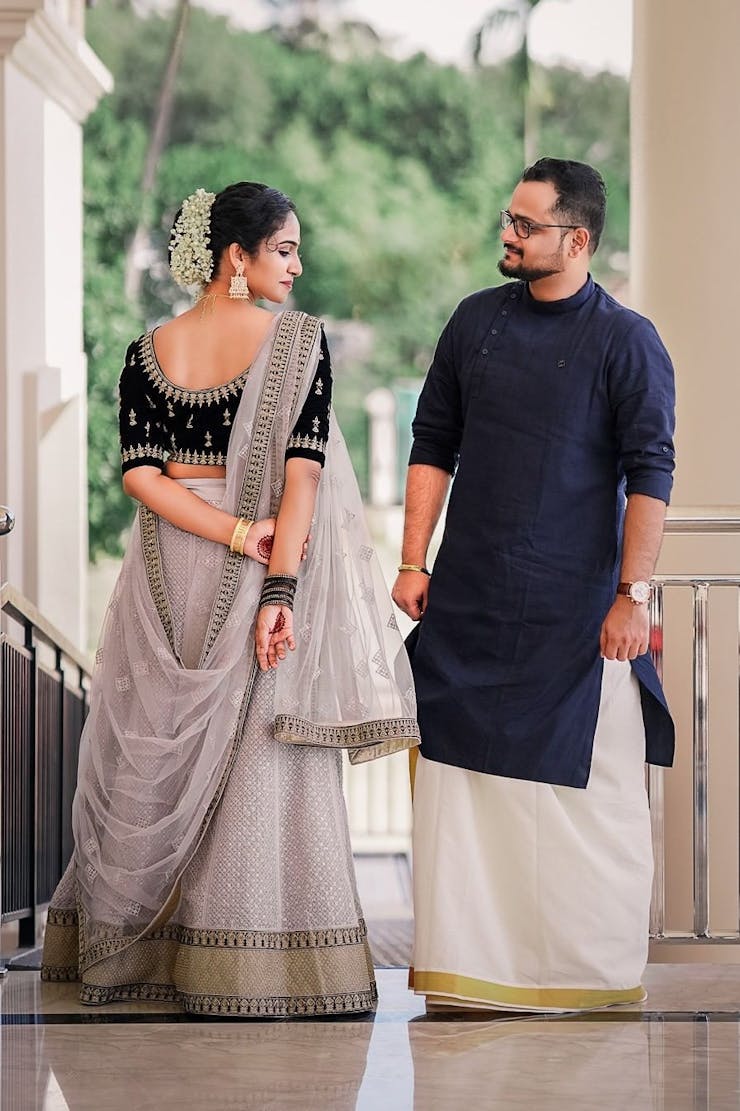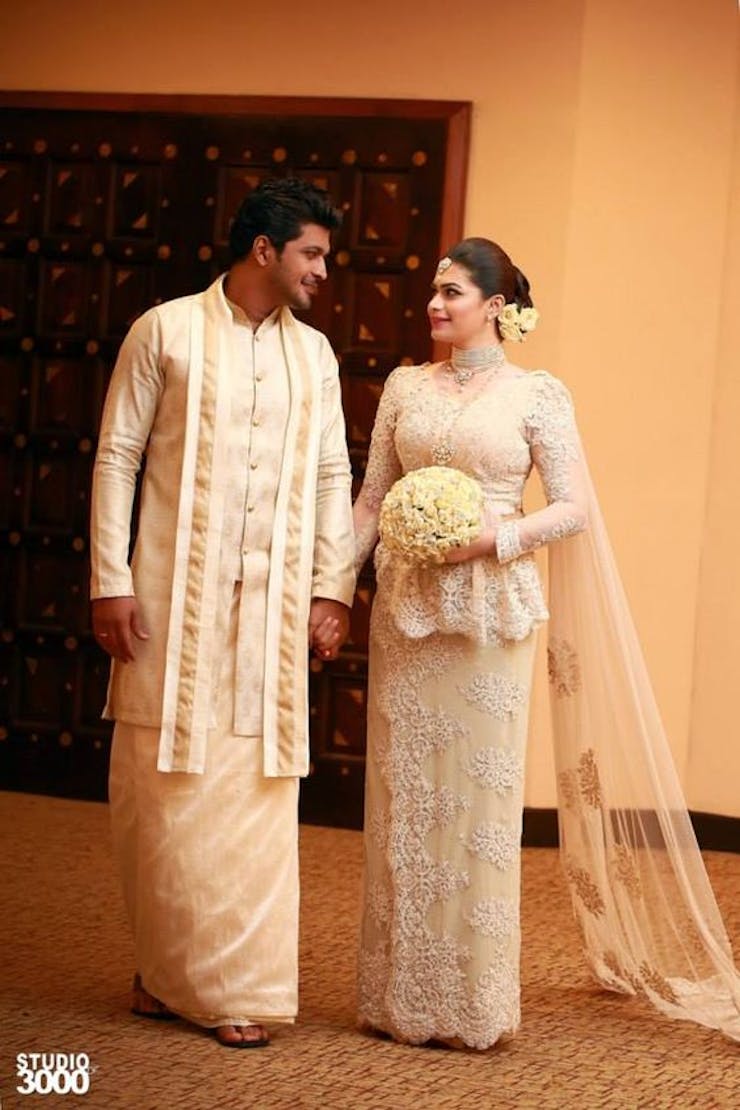 And how about this unique and quirky kurta veshti look? The navy blue cotton kurta is looking really awesome with the traditional golden border white veshti. The dapper groom has paired this with a simple leather brown leather strapped watch. One of the perfect daytime Engagement Dresses For Groom for our handsome tall young man!
25. Bangali Babu In Dhoti Panjabi!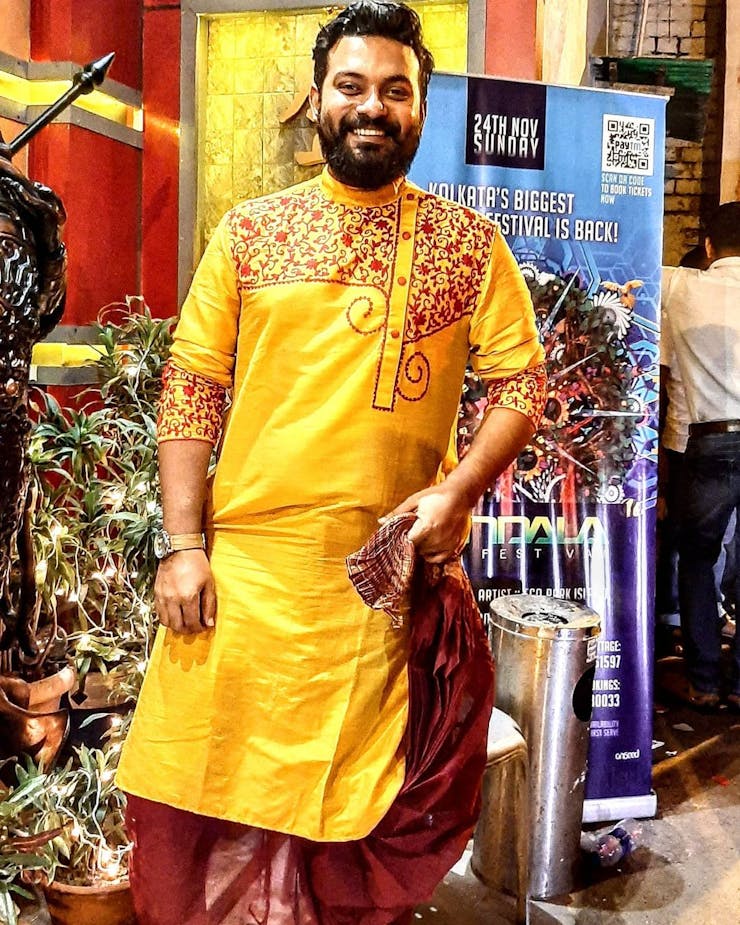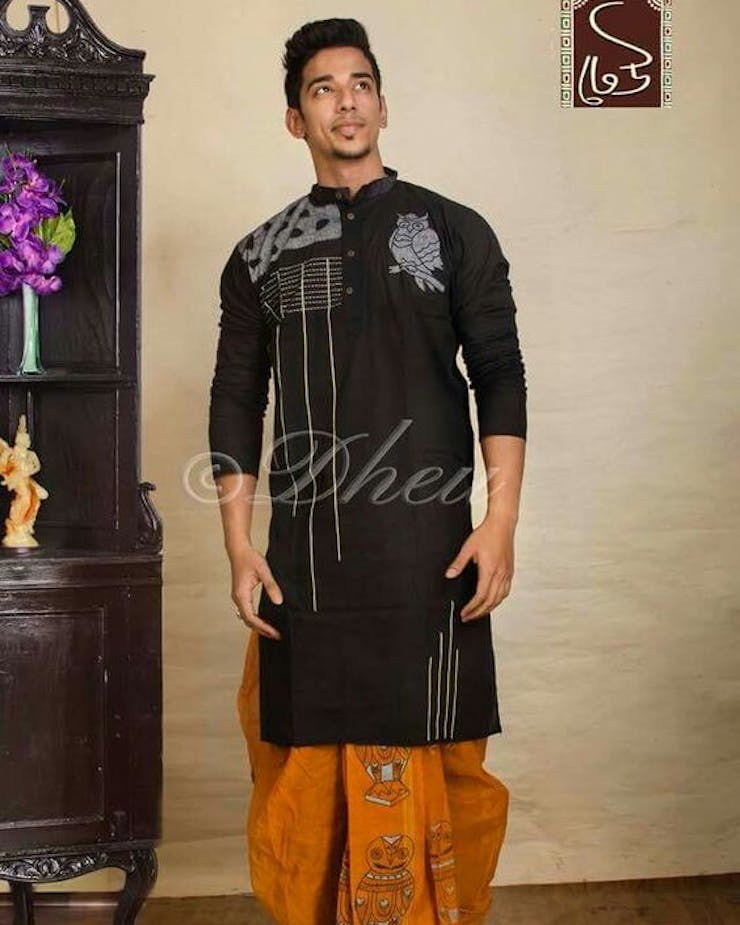 How about our Bengali jamaibabu slaying the Mayur puccho dhoti look. With the yellow cotton kurta that is amped up with the beautiful thread, asymmetric collar embroidery is adding to the lalitto of the outfit.
26. A Blanche Elegance.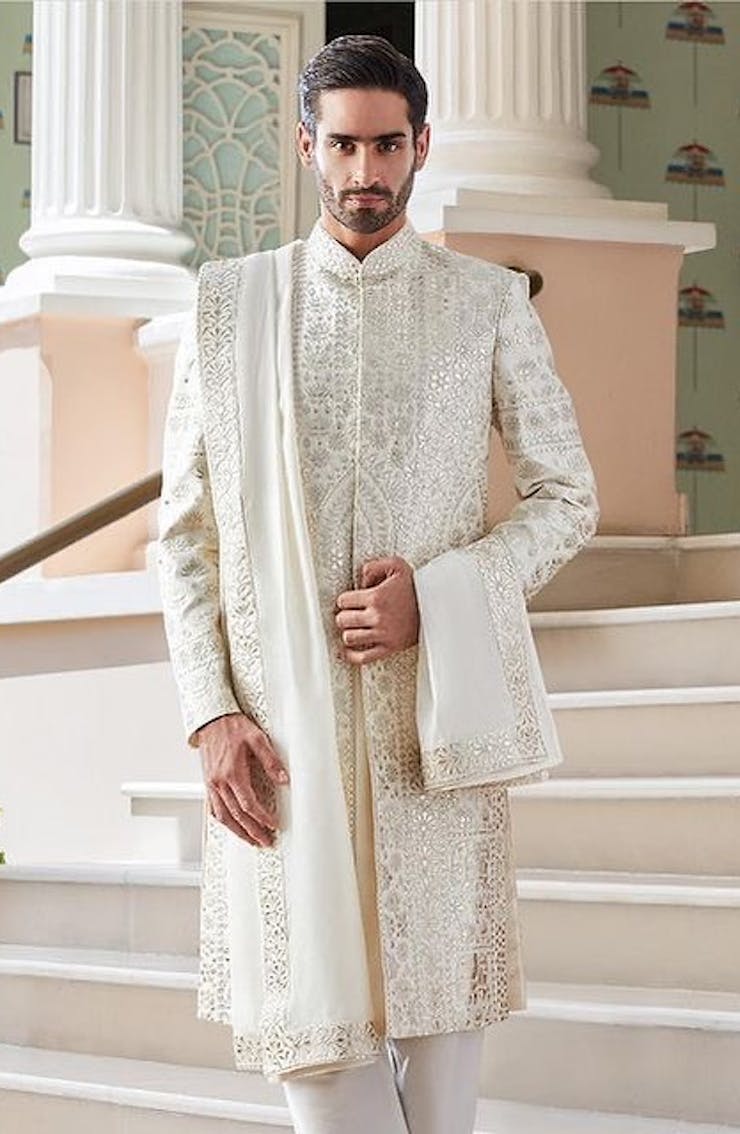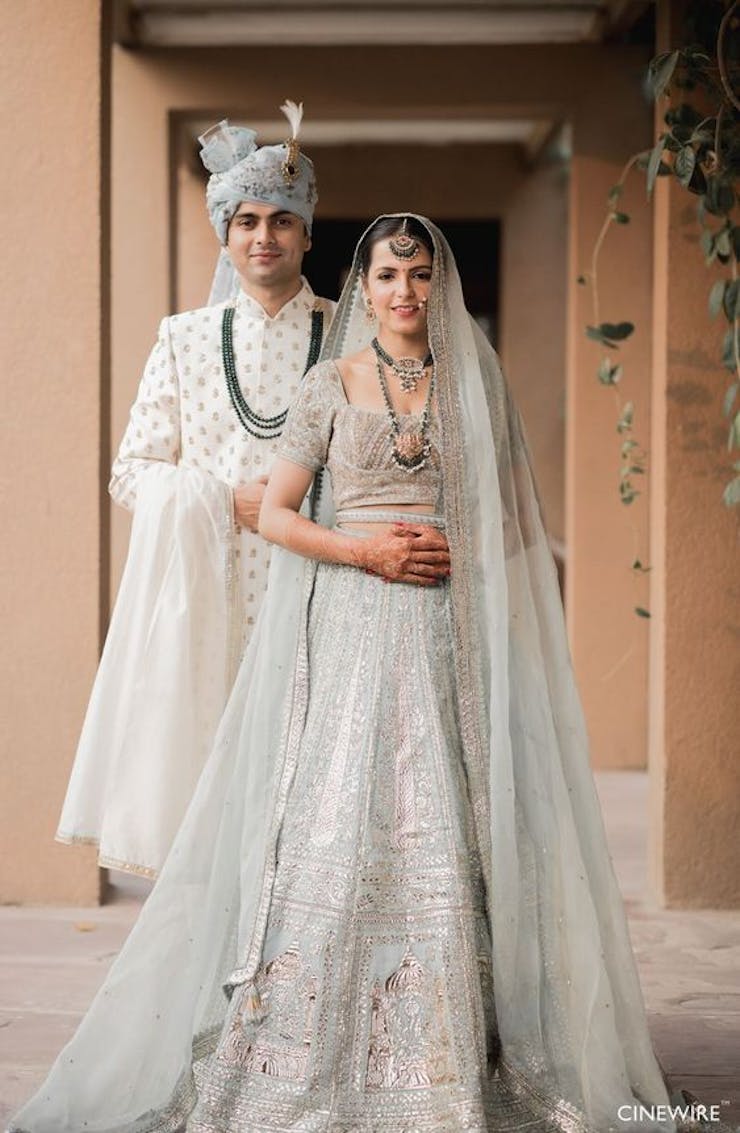 And how about this yet another royal outfit for an engagement party the ivory sherwani with intricate mirror work motifs is indeed eyecatching. The designer has beautifully created temple, flower and creeper illustrations with small chunks of mirrors all throughout the sherwani.
27. A Rich Embroidered Sherwani For A Big Fat Sagaai Bash!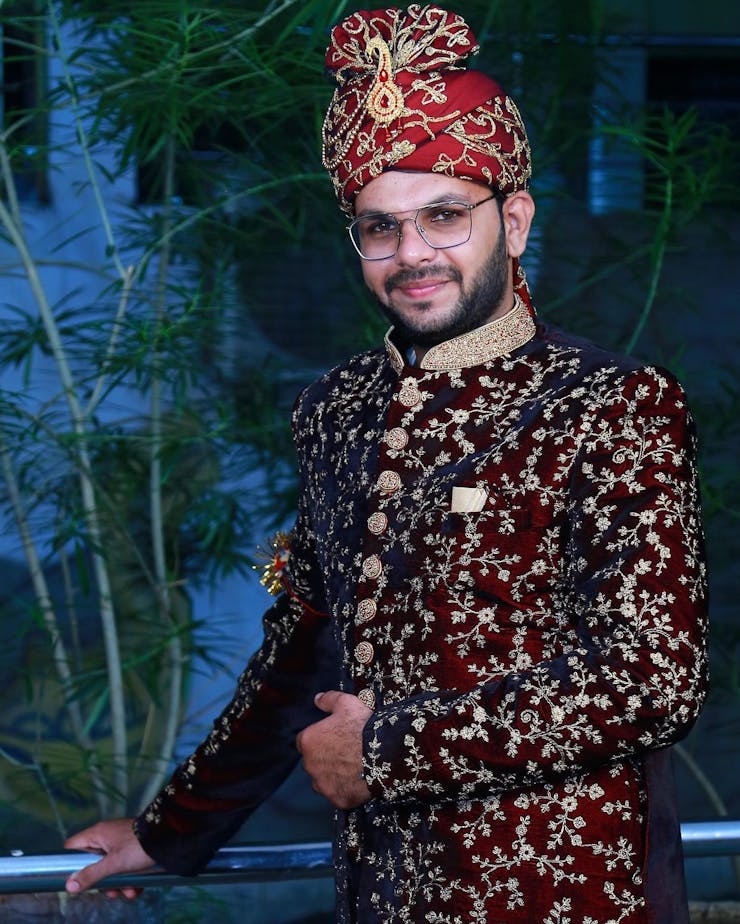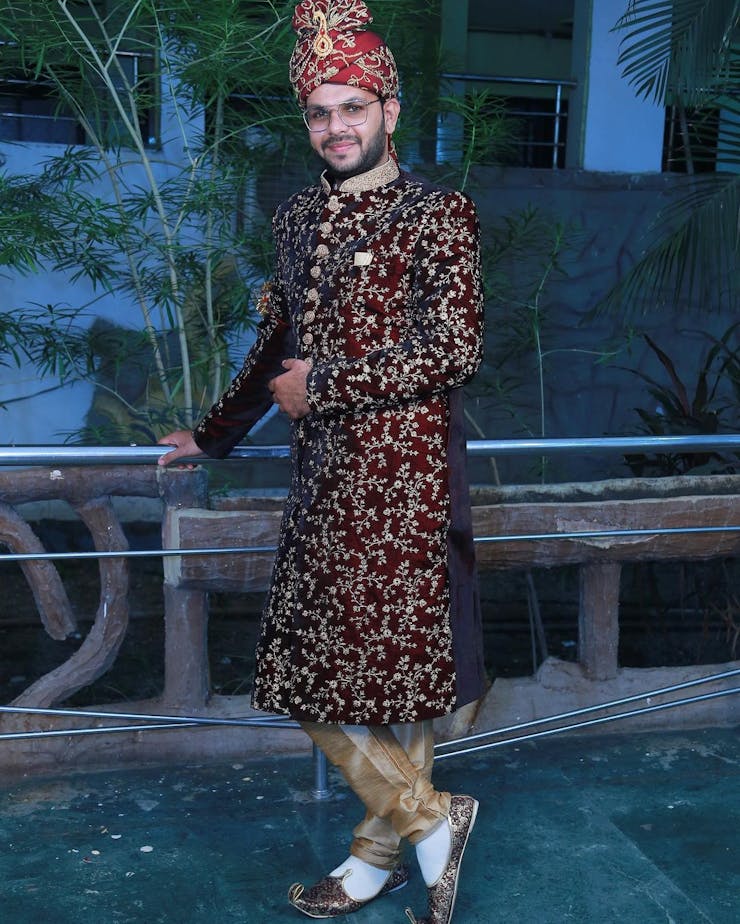 Oh, so you have a big fat engagement party in the evening? Are these dresses looking a bit too simple for the event? No worries dear, this rich silk maroon sherwani shall get you covered. The golden embroidery work is giving the outfit its much-needed bling and glamour!
28. A Dapper Mirror Work Ootd!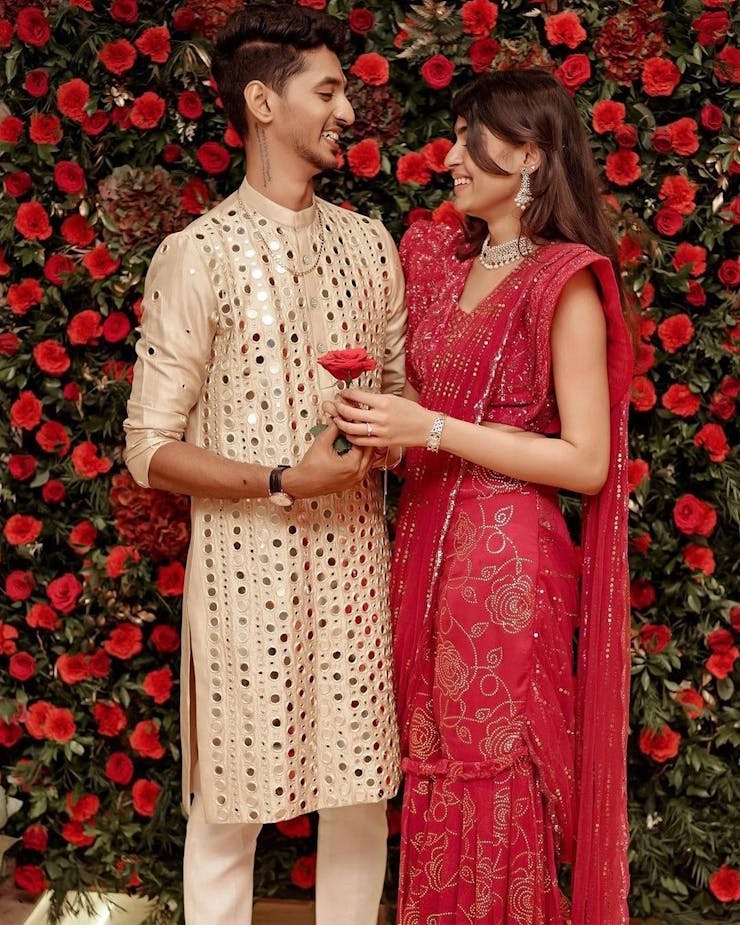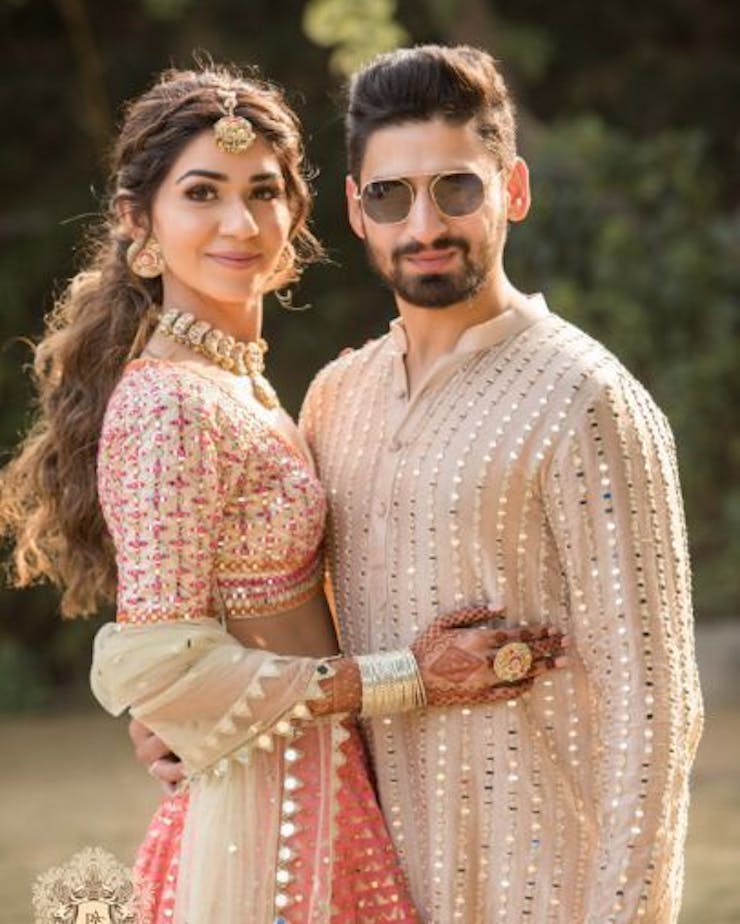 And how about this simple and unique daytime function Engagement Dresses For Groom? The groom is slaying this simple muted saffron-coloured kurta in cotton silk blended fabric. The mirror self works all over the body and mirror line to the sleeves is adding the perfect glitz and glamour to the OOTD.
29. A Denim Blue Achkan Jacket.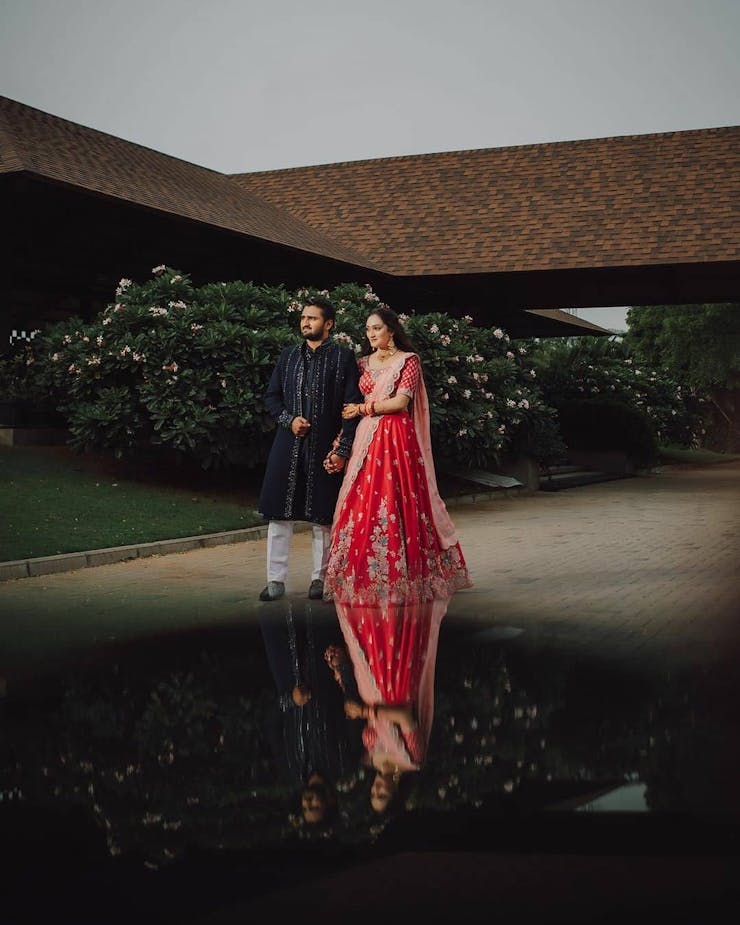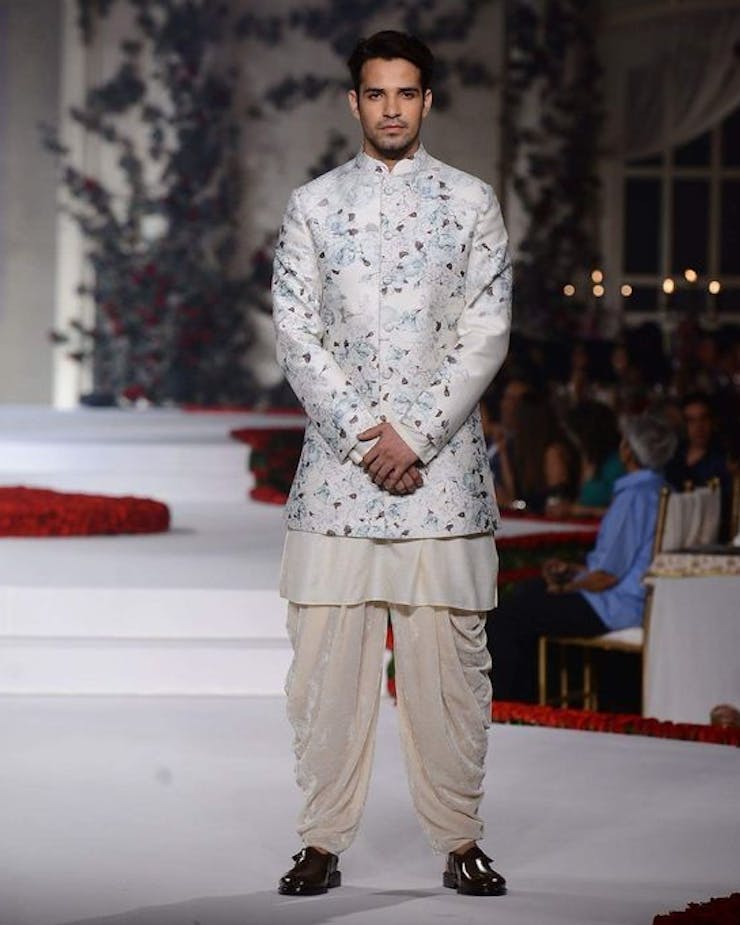 And how about this bespoke denim blue coloured kurta and bandhgala coat set? The simple silk kurta with simple thread work over the button line is perfectly complemented by the regal denim blue achkan jacket. The open button style is adding to the layering of the outfit.
30. And How About This Funky Engagement Dresses For Groom?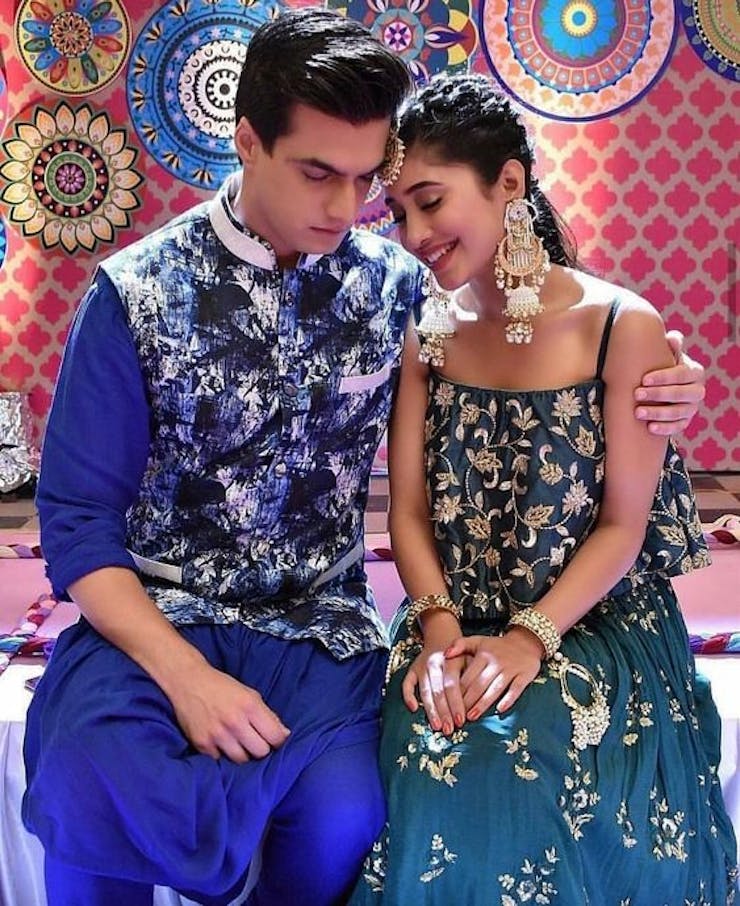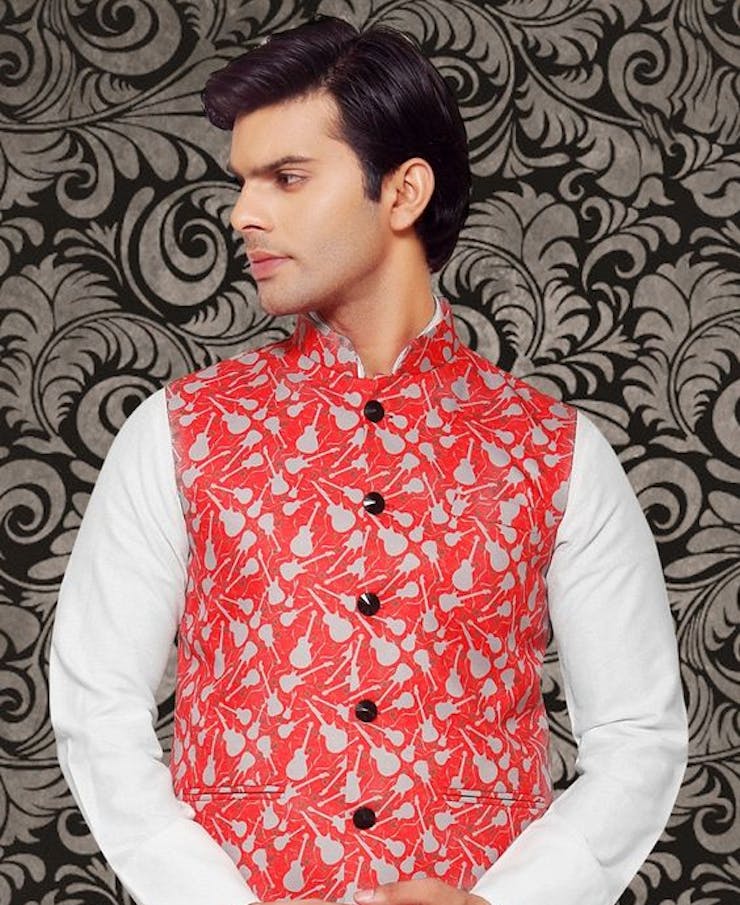 If you are an avid audience of the star network soap "Yeh Rishta kya kehlata hai", then you are very likely to be a fan of the duo Kartik and Naira. And the lover boy Karthik always surprises us with his stunning outfits, for each occasion. And this electric blue mono colour kurta pyjama set paired with an abstract printed jacket is one of the stunning designs!
31. A Summer-y Blazer Co-ord For A Beach Engagement!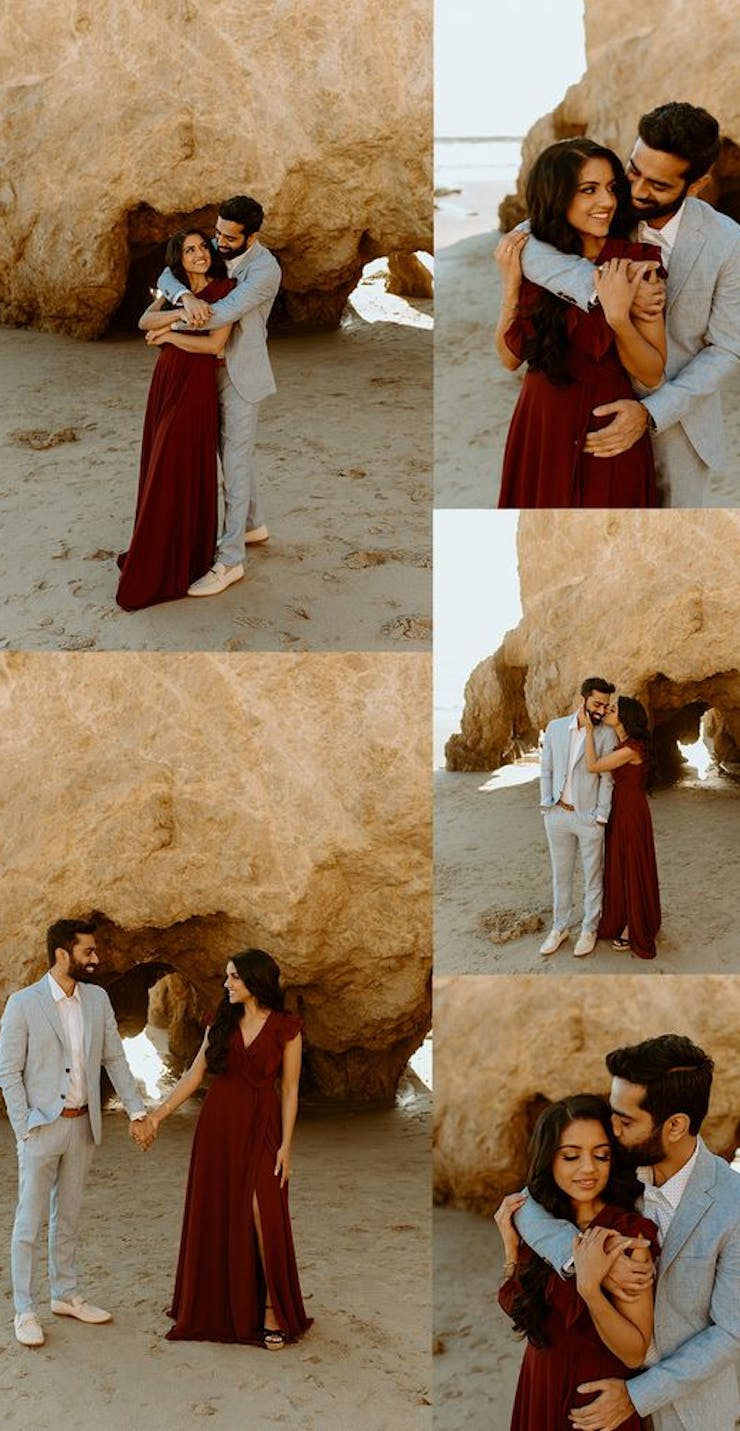 And how about this beachy grey blazer suit for a dream Malibu engagement? The man looks like an adonis in the sophisticated grey suit look pared with an ivory shirt and loafers.
See, it's this simple. Now you may go and pick your Engagement Dresses For Groom.
 We'll soon cover some more interesting topics on wedding organization. Till then stay tuned and 
HAPPY READING!