Isn`t the very thought of taking your nuptial vows, with the love of your life, amidst a scenic venue fascinating enough? At ShaadiBooks we very well relate to this feeling of yours. And hence we have come up with a series that starts with a complete guide to organizing a Destination wedding in Udaipur, one of the most sought-after places today!
Why Is Udaipur Famous For Destination Weddings?
Rajasthan gets its name from the grandeur and rich cultural history the place holds from all the powerful Rajput and Mewari rulers, who reigned the place. The haven of Kings.
The history and culture of Rajasthan have gifted the state a timeless gift of very royal architecture. Udaipur is one of the significant exhibitions of the magic of Rajasthan. So here are a few reasons why you would love to tie your knot at a venue in this city!
Udaipur has been rated as one of the most Romantic cities in India. And what could be a better reason to choose this place?
The city hosts some of the most lavish and high-rated venues in the country. And I think that's what a destination wedding calls for.
The blend of the scenic beauty of the beautiful lakes and the majestic Aravalli range makes a perfect location to click the pre-wedding shots. You are going to love them forever!
Now that you are setting your step to get married at a new and completely unknown location, you might need the help of some professional to get your events all sorted. The efficient event management firms got your back!
Why not begin a new life living a Royal dream with the King or Queen of your heart?
The cuisines and slurps are the spines of any wedding. And if you are going for a destination wedding, food should always be a top consideration. And the lip-smacking Rajasthani thalis, snack and mocktails shall definitely be loved by the foodie in you!
The place has a constant moderate type of weather all throughout the year.
Be it amidst the lake or by the hills, the place gives you plenty of ambiances to select from!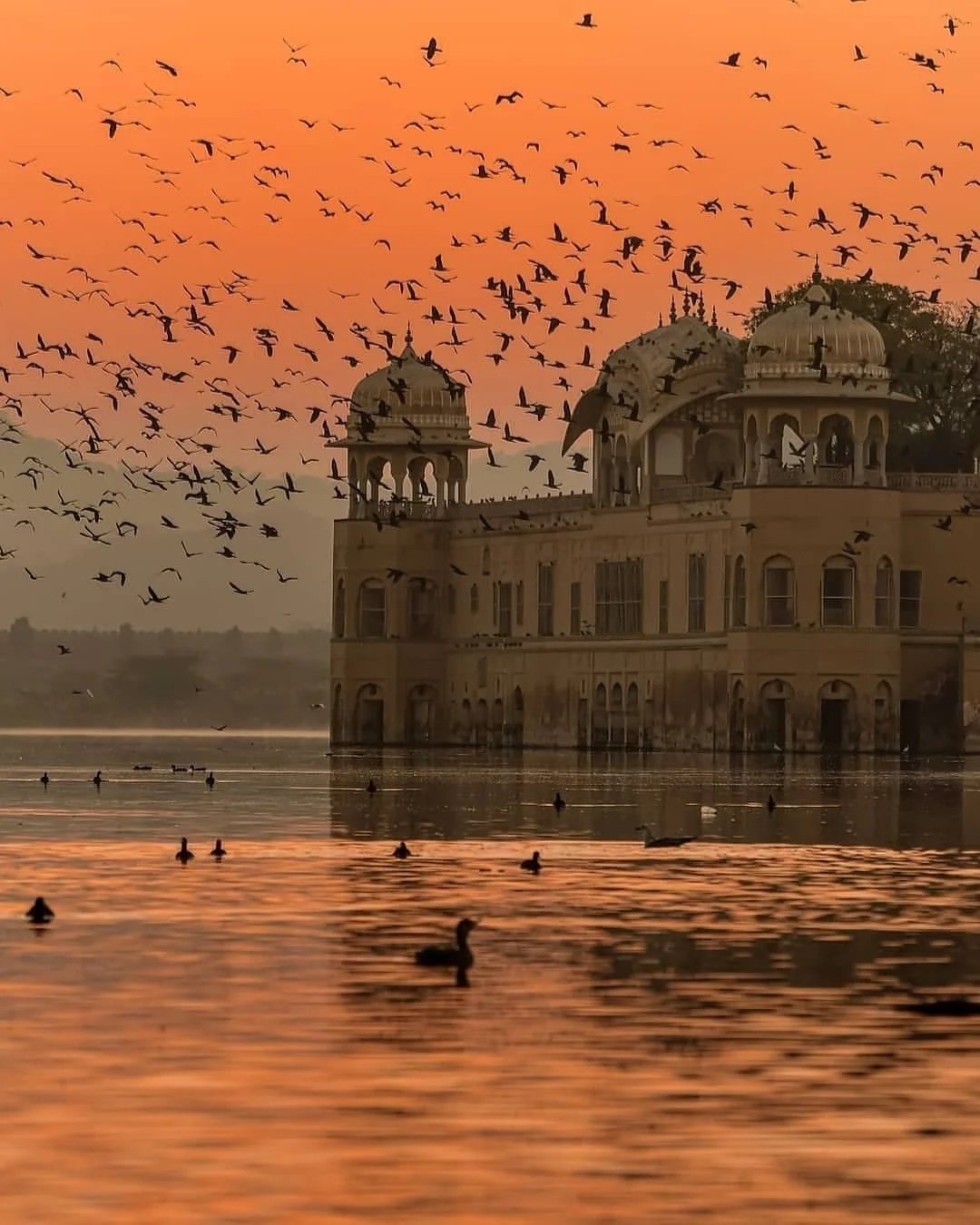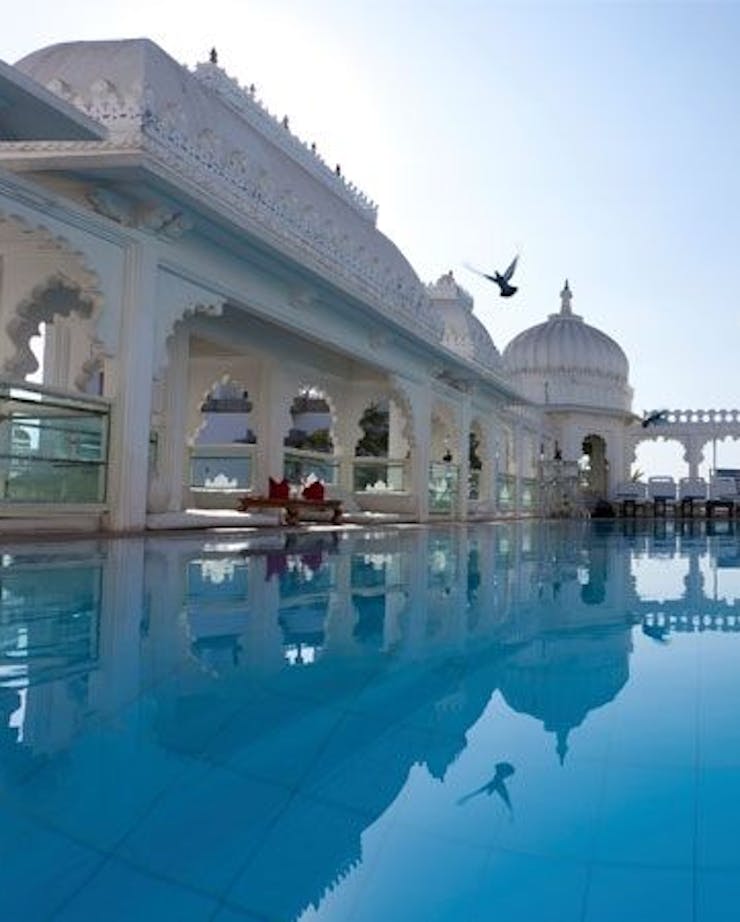 --------------------
Which Are The Best Places To Host Your Destination Wedding In Udaipur?
Now that we know why and with what budget can we think of arranging a wedding ceremony in Udaipur, Rajasthan. We shall now explore some of the best venues which can bring your destination wedding dream to reality.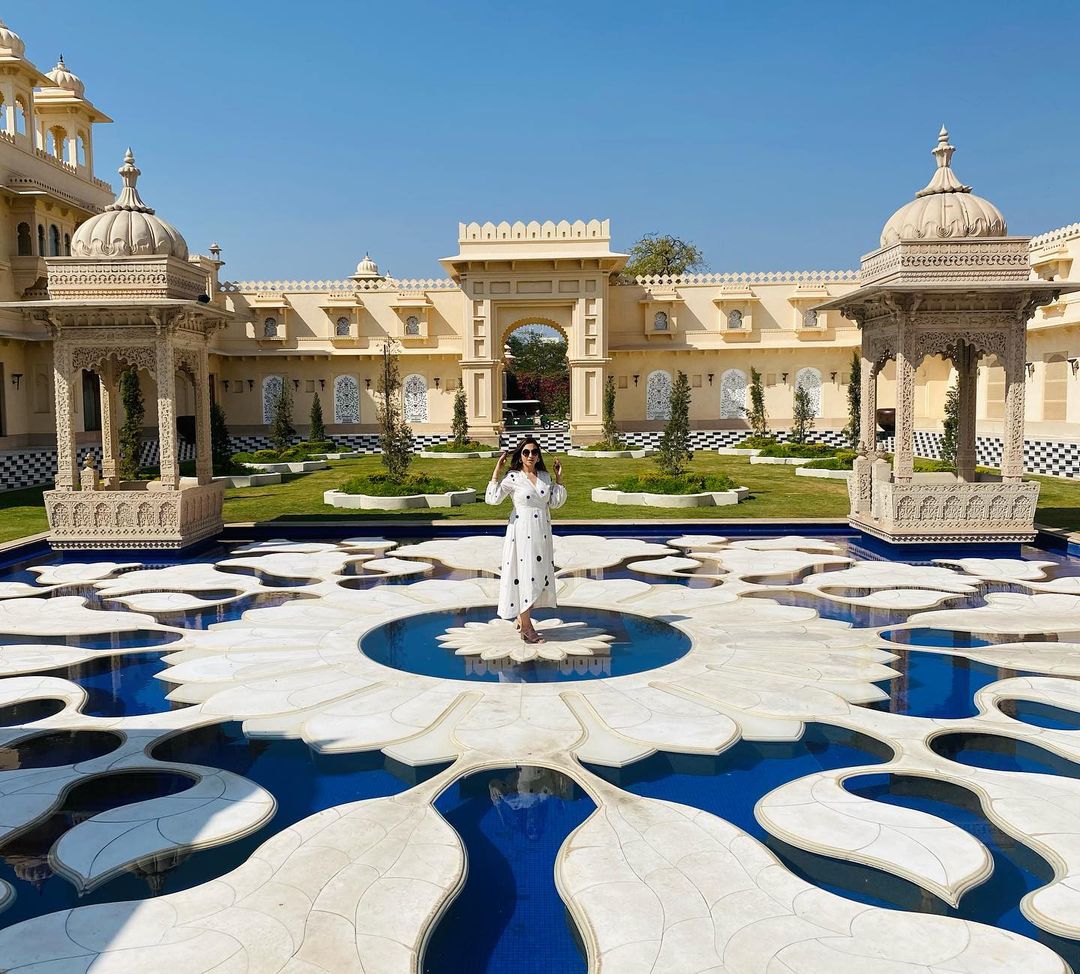 1. The Oberoi Udaivilas
This shall be the first thing that comes to the mind of anyone, you ask! A picturesque venue for a Destination wedding in Udaipur. The luxurious dome-shaped ceiling with a starry sky-like painting, stands beautifully by the side of Lake Pichola, for hosting your dream wedding!
Price: Starts from INR 8500 approximately.
Guests: up to 800 guests.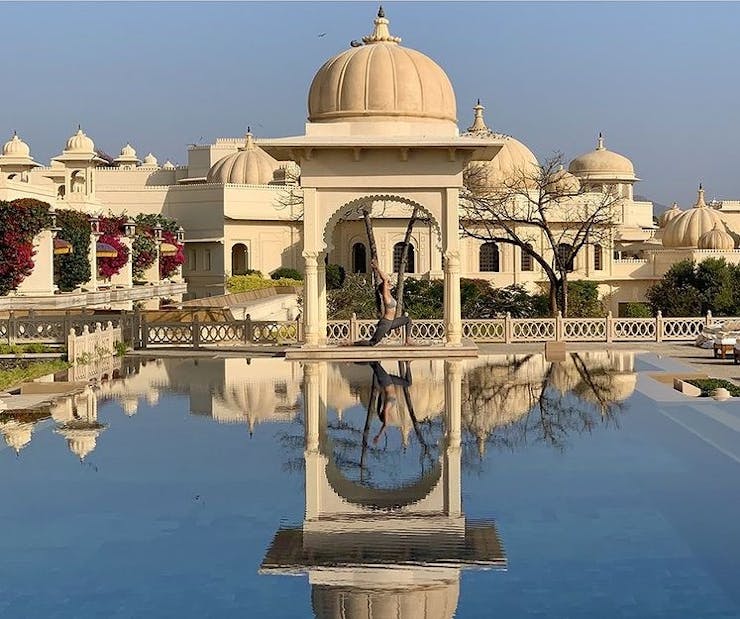 2. The Leela Palace Udaipur
This exotic destination is famous for its festive and elegant vibes! A modern decor that equally reflects the opulence and majesty of the Mewar dynasty. You shall be enjoying a picturesque glimpse of the entire city from the architectural windows of the location.
Price: Starts from INR 4000 approximately.
Guests: up to 750 guests.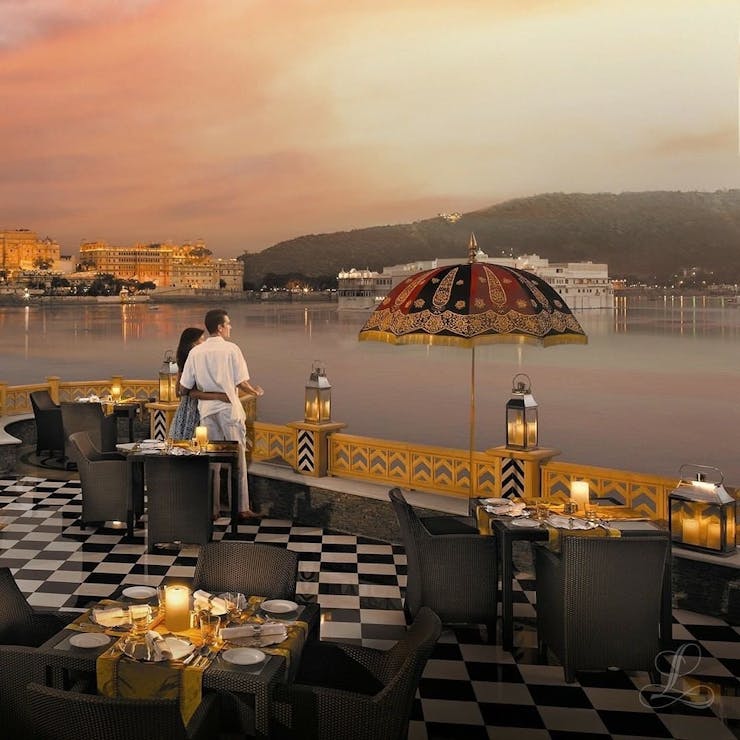 3. Fatehgarh Udaipur
Built close to the Aravalli hills, Fatehgarh fort makes one of the best places for a low-budget destination wedding in Udaipur. The place holds a dining restaurant that shall serve you and your guests some delectable cuisines. The Amritam bar shall serve you with a plethora of poison concoctions, which lets you booze your bachelorette party out!
Price: Starts from INR 900 approximately.
Guests: up to 1500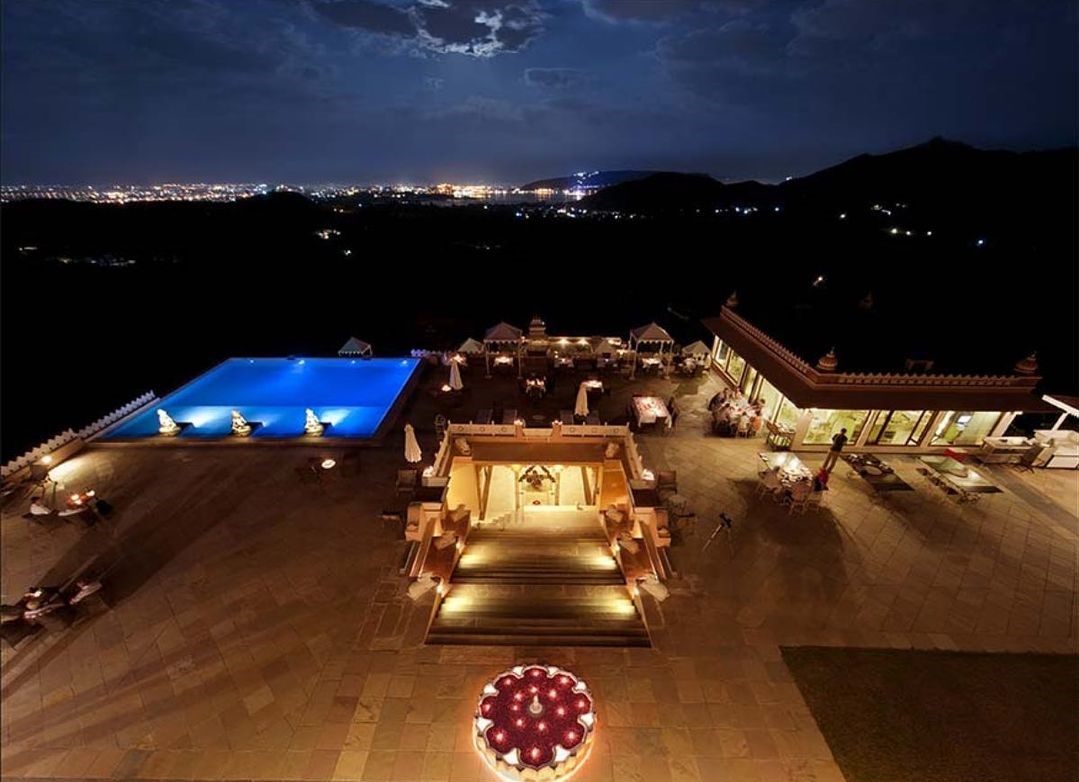 4. Chunda Palace
Be it a small intimate gathering or a lavish grand ceremony, this place got it all. The place radiates royalty and grandeur, through its architecture. With multiple banquets within the property, it can host multiple events at a time.
Price: Starts from INR 1200 approximately.
Guests: up to 300 guests.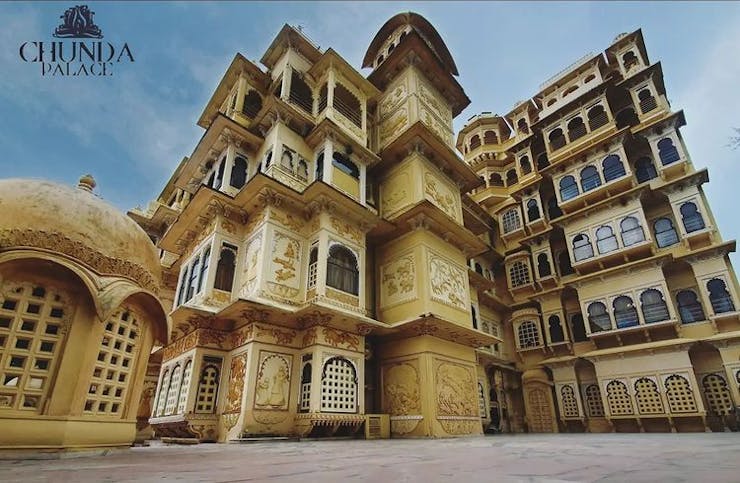 5. Jagmandir Island Palace
Also known as 'swarg ki vatika' has been a choice of many celebrities like Raveena Tandon, while hosting their wedding. The place offers a range of delectable menus, both vegetarian and non-veg!
Price: Starts from INR 1500 approximately.
Guests: up to 3000 guests.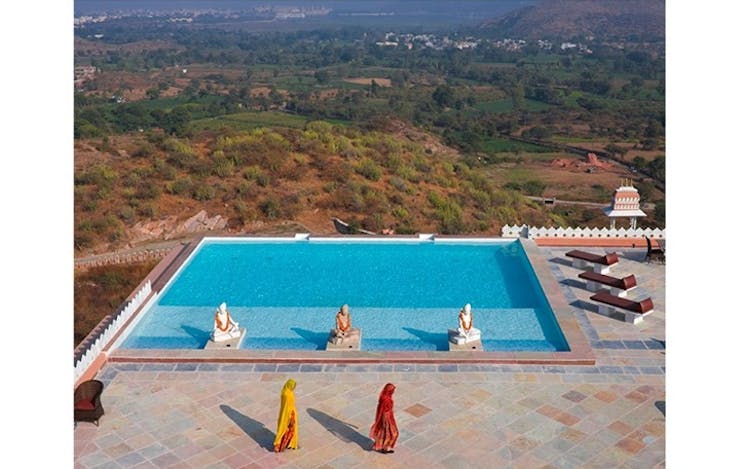 --------------------
Who Are The Best Wedding Planners In Udaipur?
But, since you are not a local of the place, there might be some things that professional planners would know better. But again, whom to speak to? So we have researched and come up with some of the wedding planners in Udaipur, whom you can trust!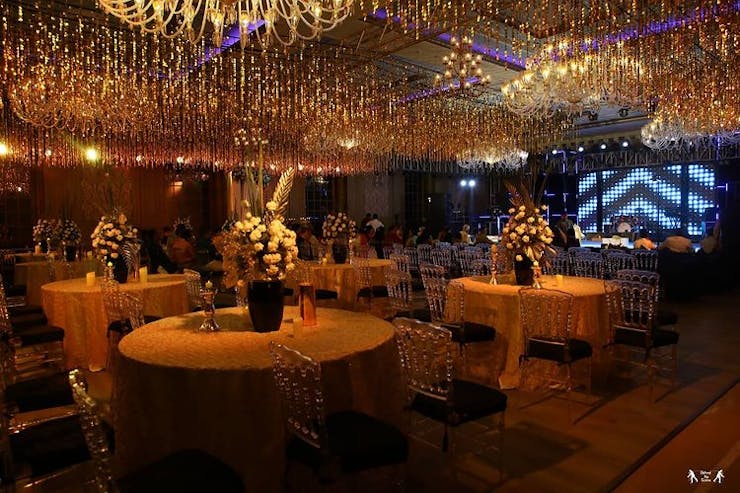 1. Kp Events & Entertainment
Founded in 2008, the Kp Events is known for its strategic planning services for any event. They have been attracting the interest as well as the trust of their clientele through their expertise and efficient planning.
Rating- 5 stars
Price- Starts from INR 10 lakhs approximately
Services- Decor, Venue booking, music, catering, photography etc.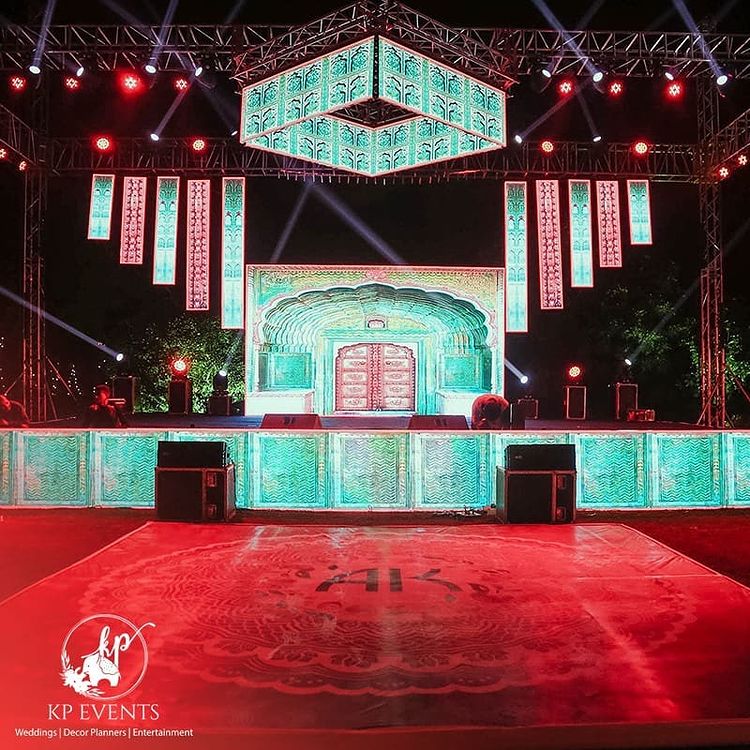 2. Elistra events- Luxury wedding
Led by Mr Shivam Agarwal, Elistra events was started in the year 2012. They have done over 500 events, which are the feathers to their cap. Based in Jaipur, they extend their service to clients all over the country. 
Rating- 4.7stars
Price- Starts from INR 5 lakhs approximately
Services- Decor, Venue booking, service staff, catering, photography etc.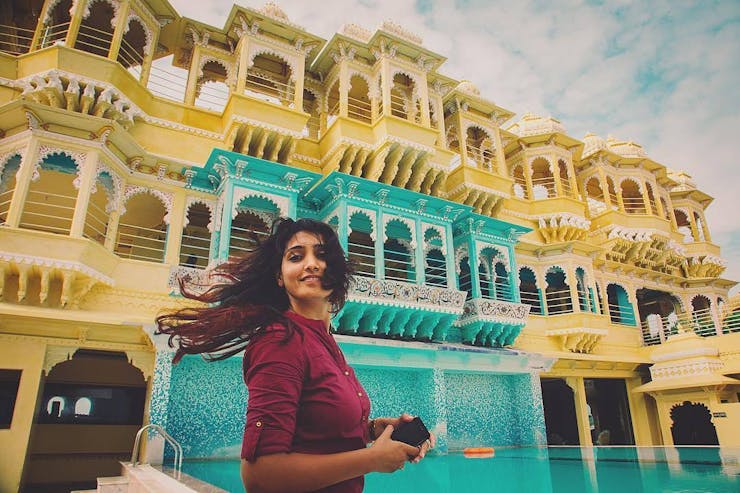 3. Ambica Wedding Planner
An event planning firm based in Udaipur itself is headed by Mr Nilkhil and Mr Ravi. One of the most popular destination wedding planner Udaipur, they show constant efforts in adding a unique touch to each of their client`s special Destination wedding in Udaipur.
Rating- 3.9stars
Price- Starts from INR 21 lakhs approximately
Services- Decor, Venue booking, Honeymoon, Invites, service staff, catering, photography etc.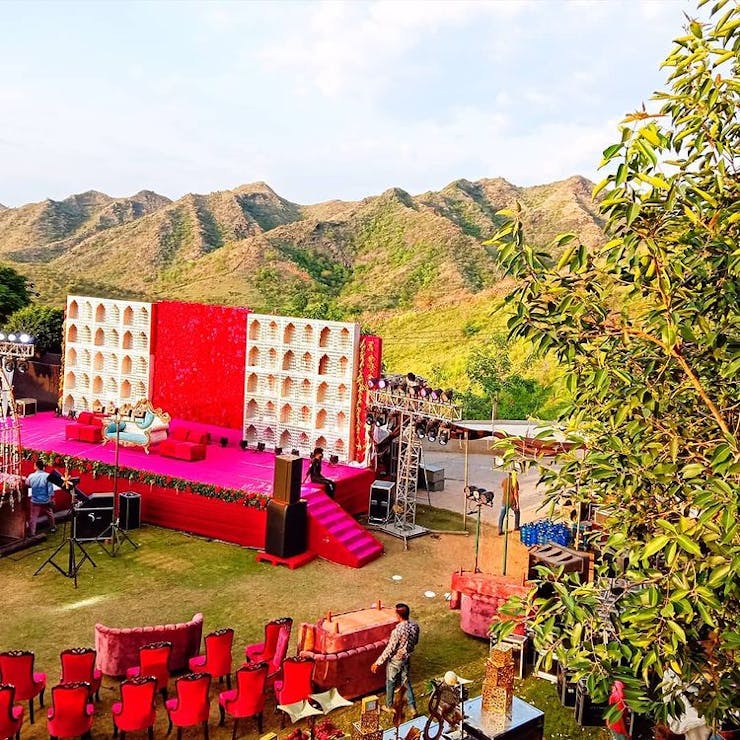 4. Silver shades
This firm is based in Delhi and is managed by Mohit and Shivani since 2019. One of the most trusted teams for a destination wedding in Udaipur.
Rating- 4.9stars
Price- Starts from INR 2.5 lakhs approximately
Services- Decor, Venue booking, service staff, catering, photography etc.
5. Desire Weddings
The Desire`s team has been working for more than 50 weddings since 2015, under the pioneership of Mr. Darshit Mojidra. 
Rating- 4.7stars
Price- Starts from INR 3 lakhs approximately
Services- Decor, Venue booking, music, catering, photography etc.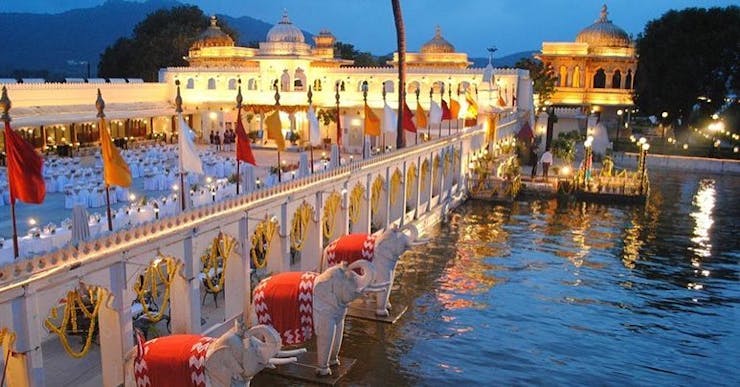 --------------------
How Much Does A Wedding In Udaipur Cost?
We totally understand how important the cost factor is when it comes to planning your wedding, be it a local or a destination wedding. And when it comes to a destination wedding, you need to have a destination wedding budget of the costs and then plan accordingly. 
At Udaipur, you are very likely to have a destination wedding plan because of the beautiful royal palatial vibes, and also the natural beauty. 
However, the cost of your wedding shall vary in Udaipur, based on the choices you make.
The City of Udaipur has a rich cultural and architectural history. It has a provision of Independent wedding venues like palaces. It may cost Rs. 60000 to Rs. 1 lakh per person for a two-day all-inclusive event with the two main ceremonies at these distinct Palace sites and the rest at a hotel in Udaipur of your preference. With a guest list of 200 people, you might spend anywhere from Rs 1.25 crores to Rs 2 crores, depending on your picks.
The city also has some of the palace venues that offer a full service for both stay and celebrations. For three nights' lodging, meals, facilities, design & decorations, and etc, the all-inclusive pricing for such Castle or Royal Hotels runs from Rs. 35000 to Rs. 2.75 lakh per guest. With approximately 150- 200 guests on your invite list, you might pay anywhere between Rs 50 lakhs to Rs 4 crore, based on your preferences.
Apart from the picturesque Palaces, there are indeed some modern luxury hotels that offer you to host the entire celebration as well as let you stay. The budget for such places, including all their services, can cost you about INR 30 thousand to INR 45 thousand per person for the 2 nights of celebration. An average guest list of 150 to 200 people shall make you spend from 40 Lakhs to as high as 1 crore INR.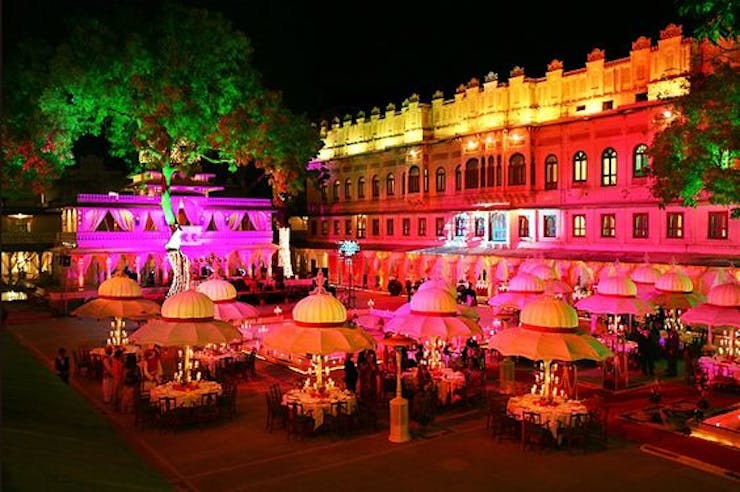 --------------------
How Can You Curb Some Expenses?
The buzz around getting married at exotic wedding destinations in Udaipur, or palaces has hit the wedding market hard and is here to stay for the longest! And it is very well known to us how much these beautiful destination wedding in Udaipur cost you. In the meanwhile, if certain strategies and conscious decisions can save you some dime, it is definitely gonna be a win-win situation. We have pointed out some of those lifesavers that can maybe save you some money for a short relaxing trip after the wedding phase is done.
Choice of location - If you are able to pick a place with more natural or pre-existing beauty, you shall be able to save a lot on the cost of decorations. This is indeed a part that costs a lot of money.
Choice of date - If you aren't too determined about a particular time of year, you can always pick your wedding dates that aren't too in season. Off-season dates have the cost of most of the vendor services waived off. Be it the venue, catering, decor and even the entire event management.
Lodging and celebrations - If you are lucky enough to get your hands on the venues that offer both lodgings as well as hosts the festivities, then toh 'balle-balle'. Even if that's not the case, do try to arrange for the lodging as near as possible to the venue. This will save you loads on the fuel and transport charges.
Another pro tip is to book your venues, vendors, and in fact the travels, as early as possible. Last-minute bookings can cost you a fortune!
Keep the itinerary as strict and as detailed as possible. You should have the arrival and in fact the departure date clear in your invites. Also, take advantage of the destination wedding and curb your guest list to a maximum of 150 people.
You may also curb the costs of cuisines by choosing local dishes. Plus, this shall also give your guests to experience the local taste.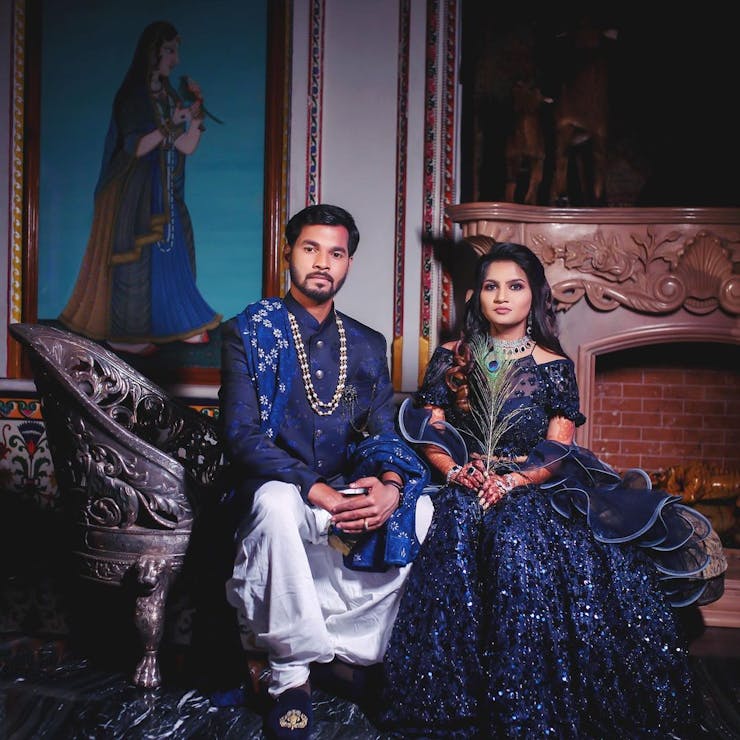 --------------------
Which Is The Best Time To Get Married In Udaipur? 
Just like any other destination wedding, the top destination wedding venues in Udaipur might need you to know the best time for organizing a destination wedding here. This shall be for the utmost experience of the ambiance. 
Having a semi-arid, tropical climate, the city does experience three major seasons- the summer, winter, and monsoon. The desert location is expected to have a very hot and dry type of climate. However, thanks to the beautiful Aravalli mountain range. It kind of moderates the climate. In fact, this is the only Rajasthani city to have a moderate climate all throughout the year. The scorching heat in the summers keeps the place hot. While the winters are pleasant enough.
The best time to arrange your destination wedding in Udaipur, India is between September and March, because the city endures extreme temps from mid-March to July. This is when the town's winter arrives, keeping the weather comfortable enough if you're out and around to soak in the sightseeing.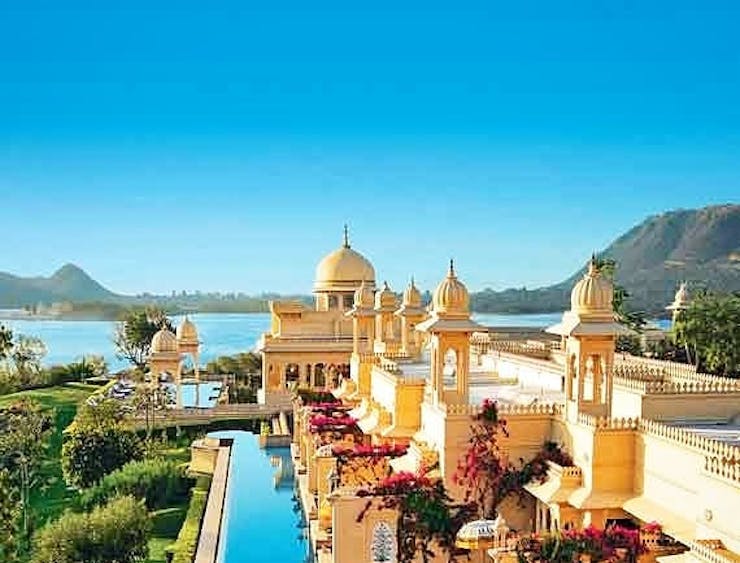 --------------------
How To Reach The Place?
A very well-known city in Rajasthan was founded by Maharana Udai Singh of the Mewar dynasty. This place is famous for its picturesque lakes and rich palaces, forts. Lake Pichola is a significant attraction of the place. Being a very Romantic city, Udaipur destination wedding places are some of the most sought after ones are not just in India, but also internationally. This place shall serve as an absolute retreat to the travel and destination freak couples. An appropriate blend of everything warm, contemporary as well as a rich history and tradition.
Traveling to this place with your entire squad can`t be very difficult. The airport of the city is 22 km away. The Maharana Pratap Airport is a national airport that lands daily flights from different places and cities of the country.
A well-connected North-Western Railway connects the Udaipur Railway station to the entire Rajasthan. In fact, there are many express trains connecting the place to other parts of the country.
National and state highways connect the city to major parts of the country, for easier transportation. In Fact, I would suggest avail the place by road or by railway, for many cost benefits.
In fact, if you are wondering about how to commute within Udaipur, to different places, they have a good service of cabs, rickshaws, and buses.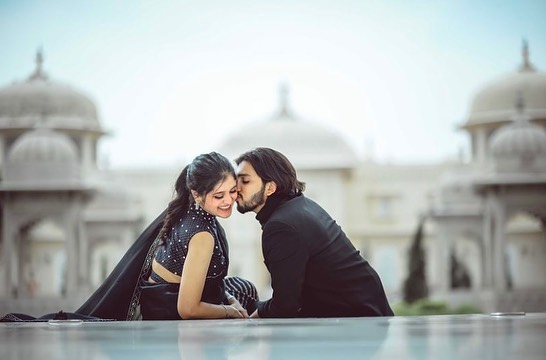 --------------------
How To Accommodate Your Guests?
Now that you have brought your guests to the city of love, you gotta make sure you have arranged for a comfortable stay for them. You may either arrange for a stay in the venue of the wedding itself. However, in case the venue doesn't facilitate lodging, there are a lot of options in Udaipur hotels for wedding to consider. They are affordable as well as cozy. Many vendors shall give you a significant discount on booking beforehand. In fact, there are also offers on destination wedding packages booking the same venue for lodging and festivities.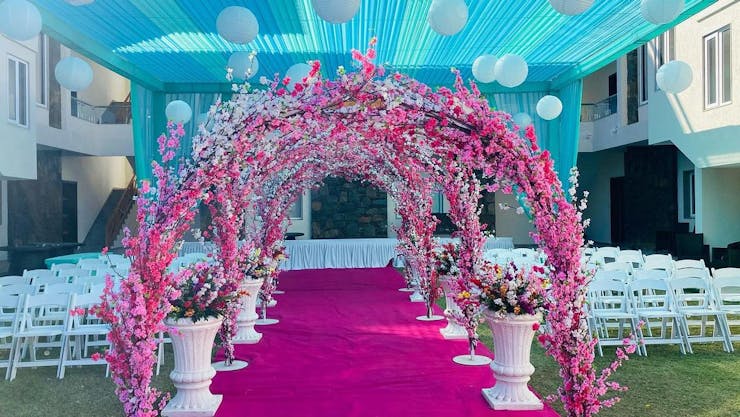 --------------------
Some Special Things To Do On Your Destination Wedding
There are indeed a lot of places to choose as your wedding destination in India. But there is something special about hosting it in the romantic city of Udaipur in the princely state of Rajasthan. The flamboyant and warm ambiance is sure to make anyone fall for the place. The history and tradition of the place give a lot of scopes to explore and imbibe the grandeur of the culture into the special event of your life.
Rajasthani miniature paintings can be an excellent pick to decorate the venue. Even the rich intricate work sells as garments and fabrics. You can certainly incorporate a hint of the art into your outfit. This shall certainly add to the vibe of your destination wedding. You can always go for local art forms, decoratives, and crafts to adorn your venue. The local event managers are sure to have a piece of sound knowledge in this regard and can surely help you!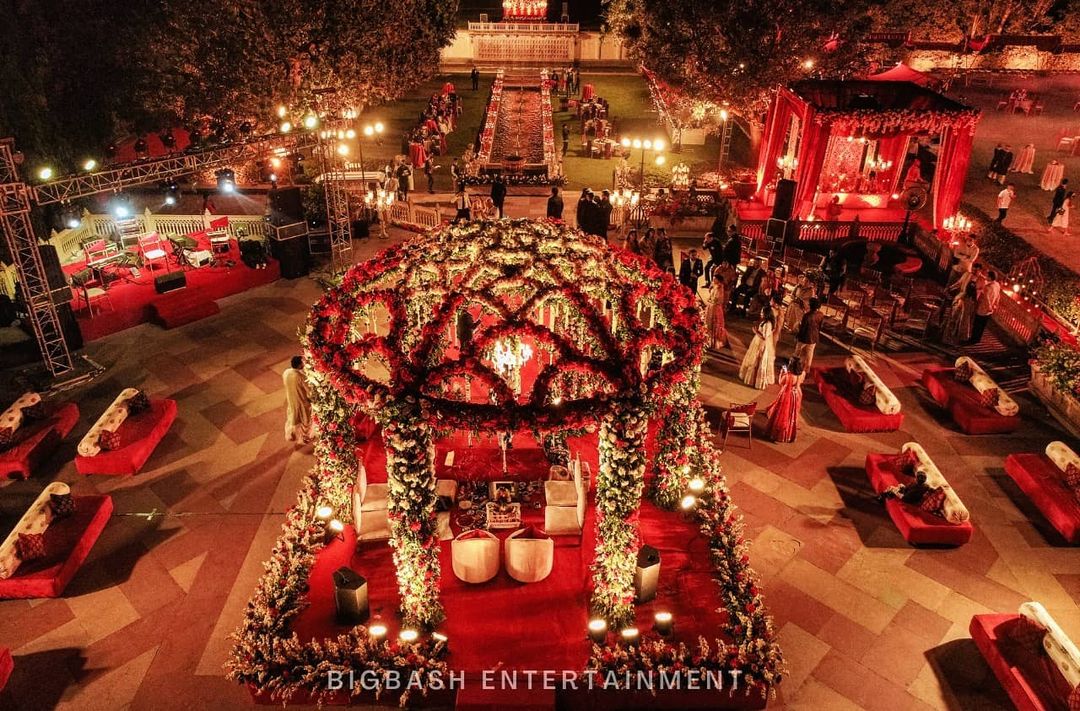 You may also organize shows or performances of the local folk dance and music for at least one of the events. The traditional Ghoomar dance can certainly add the much needed Rajasthani grandeur to your ceremony. The beautiful sarangi instrumentals shall also help you organize the best destination wedding in Udaipur!
We would be thrilled to know about how you have organized your dream Destination wedding in Udaipur. Be it before or after reading us.
We are soon coming up with more guides on destination weddings.
Till then
HAPPY READING!