Bengal has always been known as a state rich in intellect, culture and empowered femininity. The place has its unique taste and style when it comes to Fashion, rituals and culture.
They have developed their distinct tradition and when it comes to Bengali Wedding Jewellery you can find the most exquisite collection. A Benarasi sari, chique Bengali jewellery and the intricate Chandan art - and Voila! Your Bong Queen is ready to rock the show.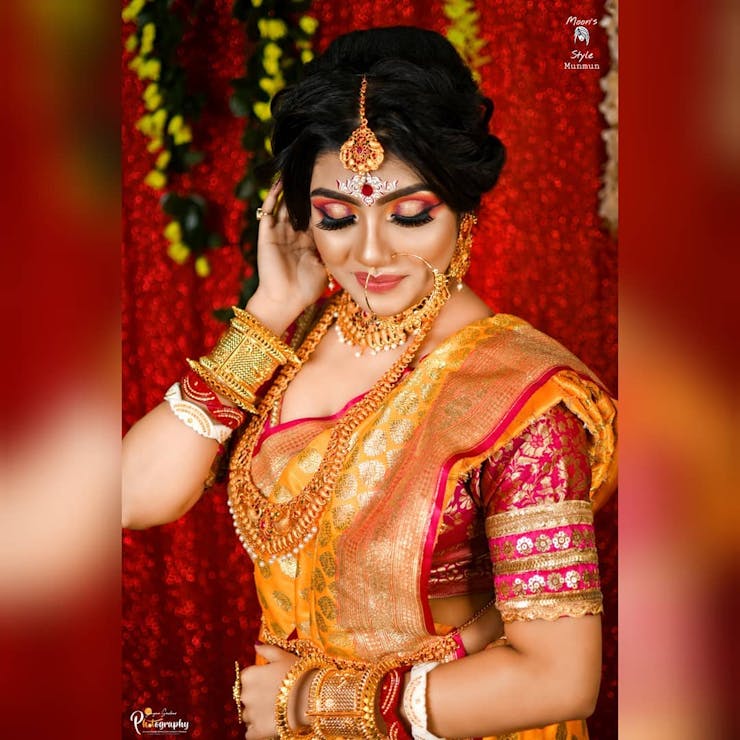 If you are preparing to dress like the queen on your special day, here are some Bengali wedding gold jewellery designs for you to seek inspiration from!
1. Earrings
Earrings are probably the first thing that comes to mind when we speak of Jewelleries. And if we speak of Bengali gold jewellery, we have got an array of earring styles to choose from.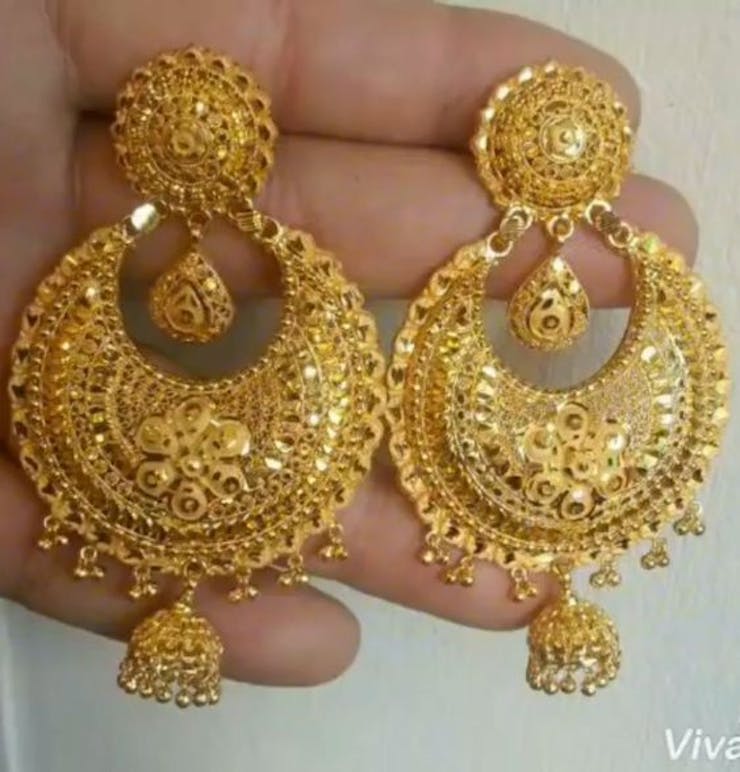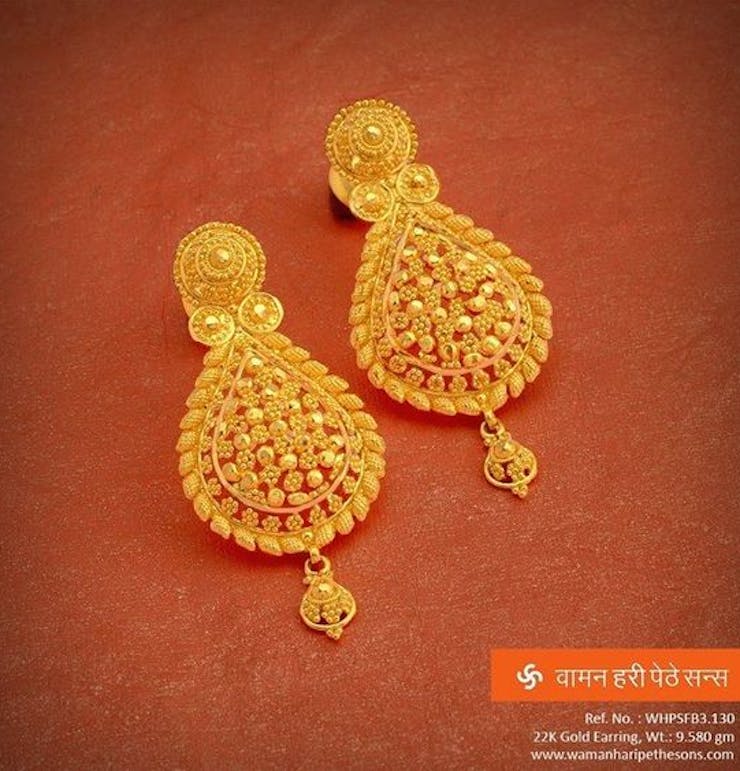 2. Dul And Jhumko
Jhumkis and Kaner Dul are the most popular picks of Bong brides when it comes to their Bengali wedding jewellery. You shall find them in different heavy and light designs.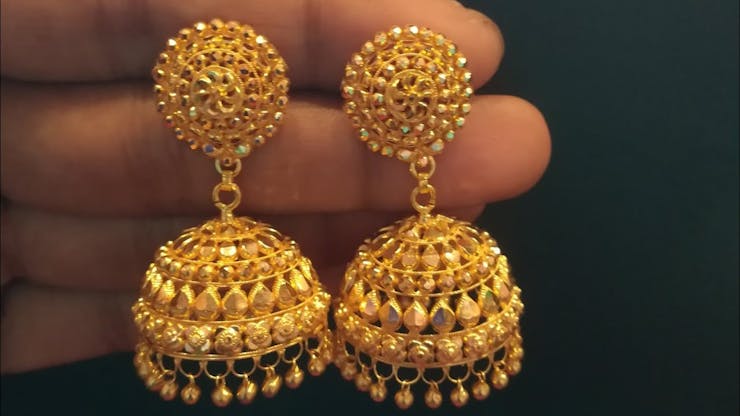 3. Kaanbala
Kanpasha is a leaf-like structure that is supposed to cover the entire ear and has a small jhumko or any hanging design down. This is a regal design that belongs especially to the box of Bengali bridal jewellery.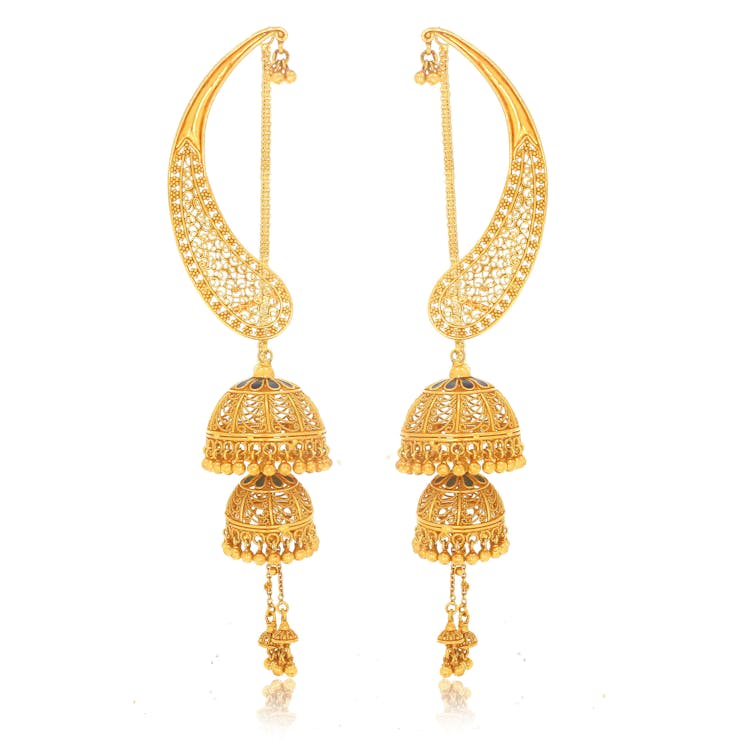 4. Kaanpasha
Poisha is the mother of the word Pasha. Poisha means coin in Bengali, and since Kanpasha is a coin like a design for the ears, it's known by the name.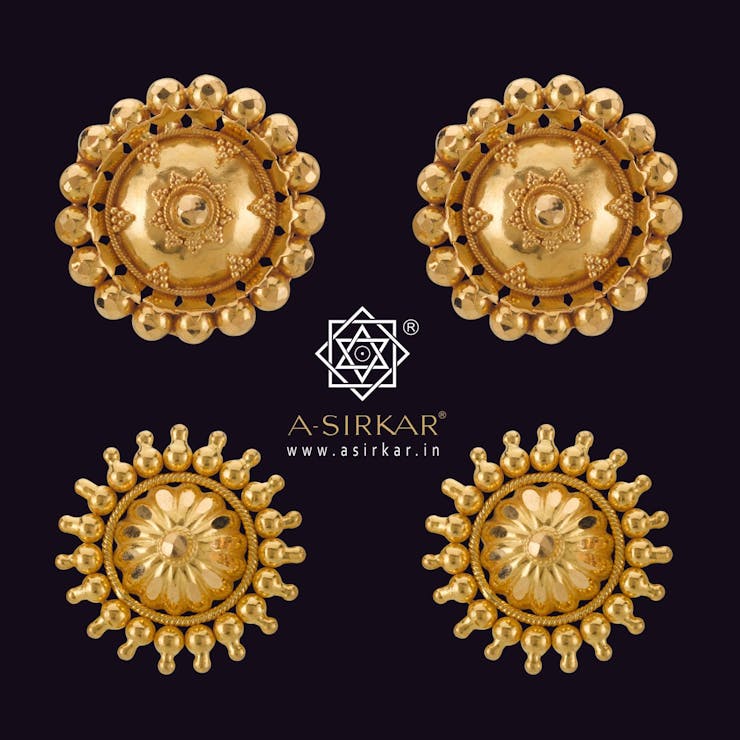 The next thing we can think of is adorning our necks with stunning necklaces. They make kind of the backbone of Bengali wedding jewellery sets.
5. Chic
A choker-like piece that usually sits on the neck of the bride, and above the collar bone, is what Bongs call Chic. You can rock a minimalist as well as a lavish bridal look with chic. You may also find red velvet cloth strips that have gold designs attached to it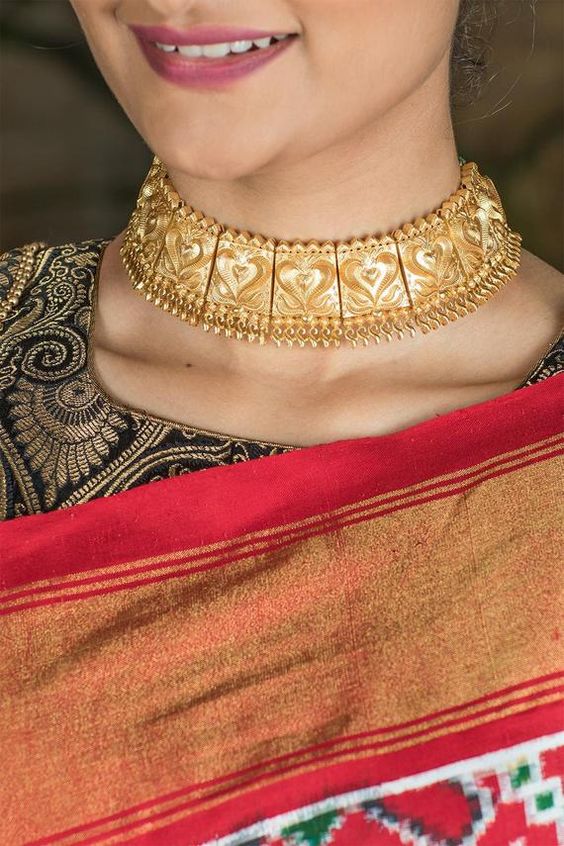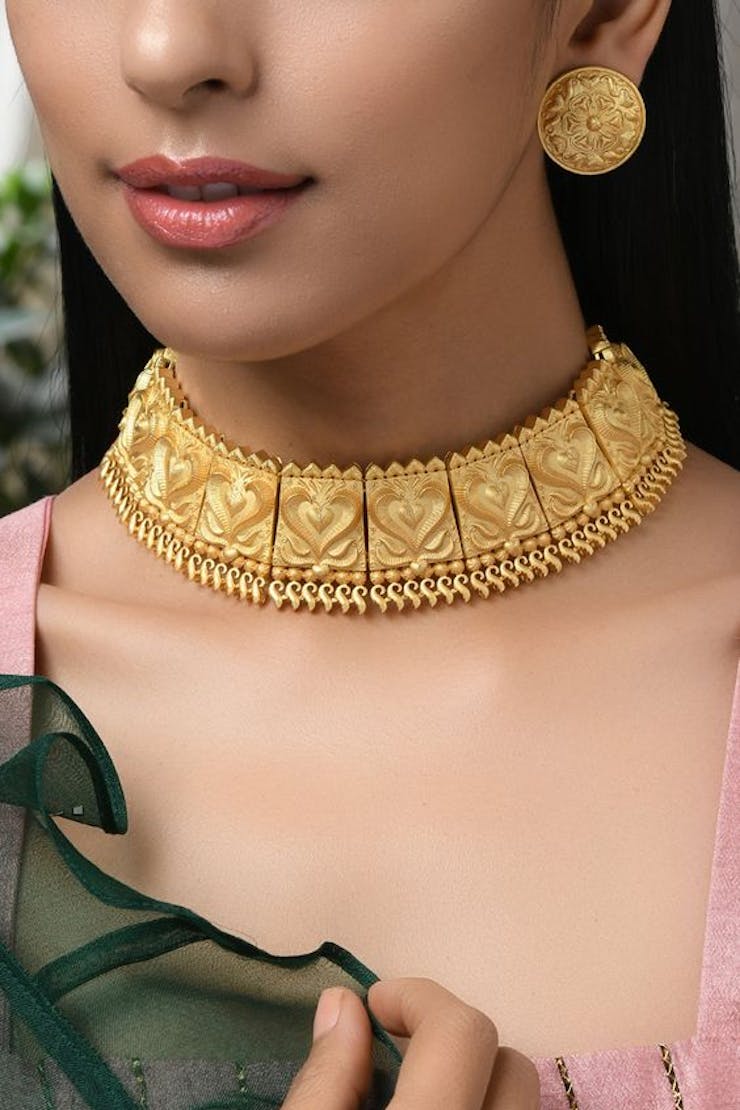 Look at this queen here, she is just rocking the statement Chik necklace. I can totally imagine myself doing something like this, someday.
6. Noli Haar
They usually come in seven or five layers and hence called Saat Noli haar or Paanch Noli haar. Noli means layers in Bengali. You shall find them made in heavy solid gold. But since there has been a significant rise in the gold price over years, the designs have evolved to a blend of beads, stones and chains and gold motifs.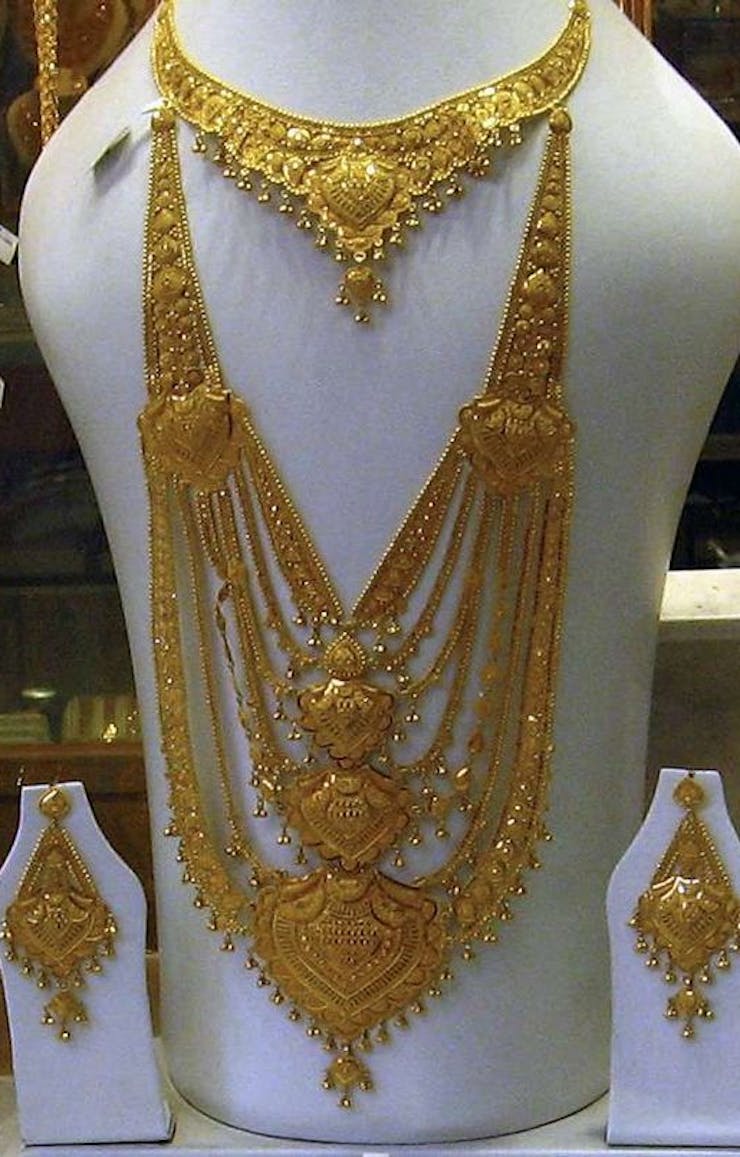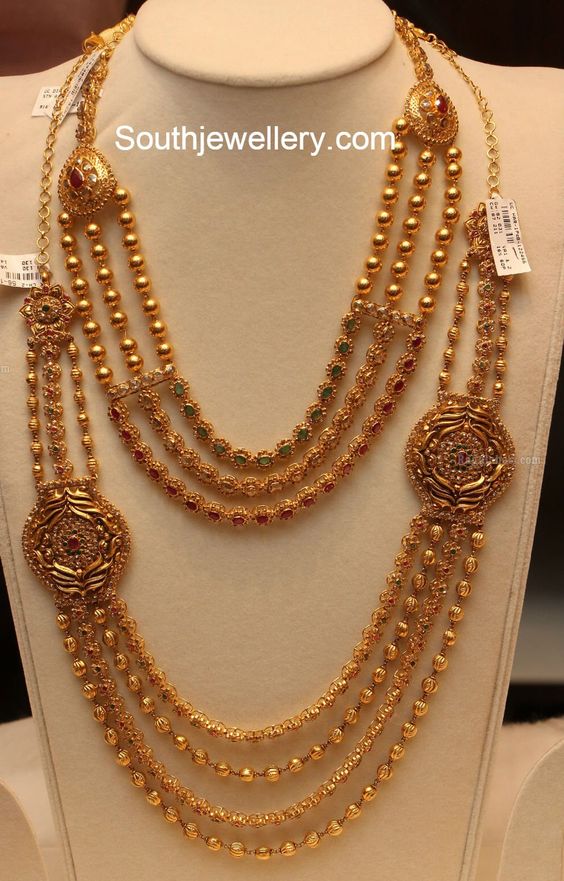 Look at these designs. A grand, royal and indeed expensive design. However, you can always contact your local goldsmith to curate a similar design for you within your budget!
7. Narkel Mala
They are probably one of the heaviest and most expensive pieces in the Bengali bridal gold jewellery set. They are thick chains like designs that are made of hollow spherical beads that almost resemble a coconut or a star fruit. Coconut and Starfruit are known as Narkol and Kamranga respectively in Bengali. The making of these designs involves a high level of intricacy and quality skillset.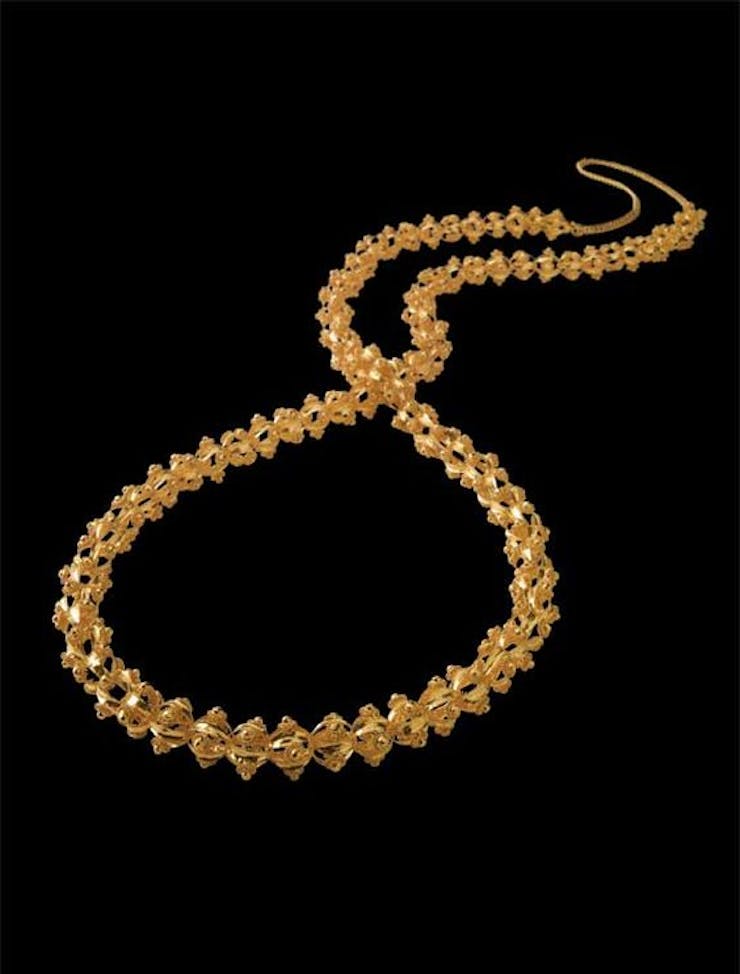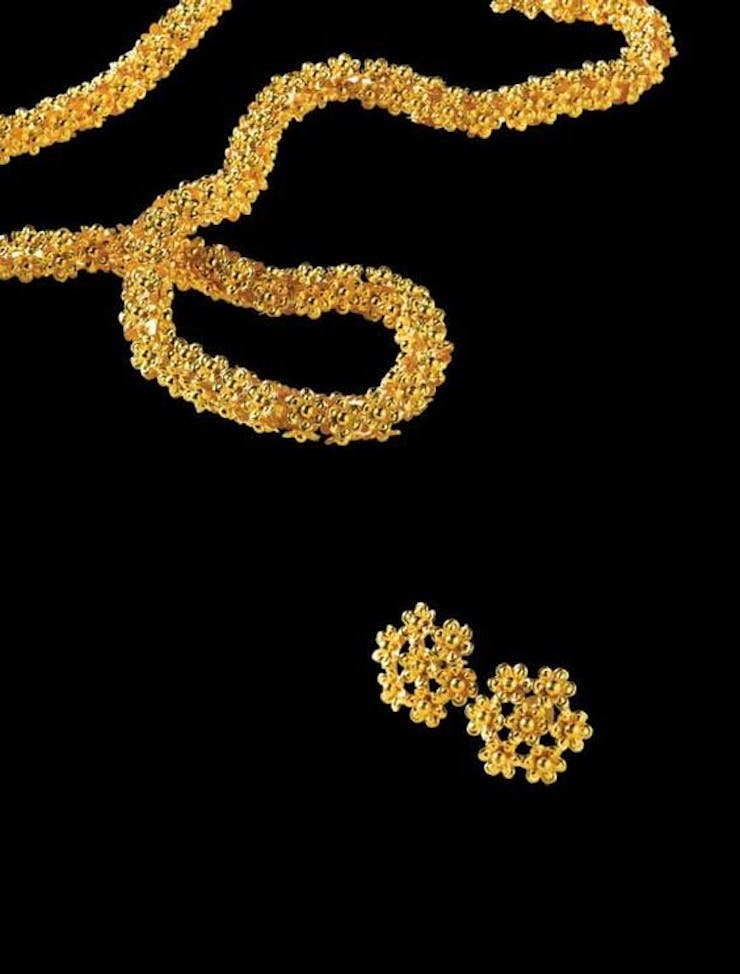 Just look at these stunning pieces. Aren't they simply spectacular?
8. Sitahar
Sitahar is a kind of temple jewellery, that is designed with long flat gold laces coming down from two sides and a big pendant like design joining them. The design is supposed to be about the bust-length.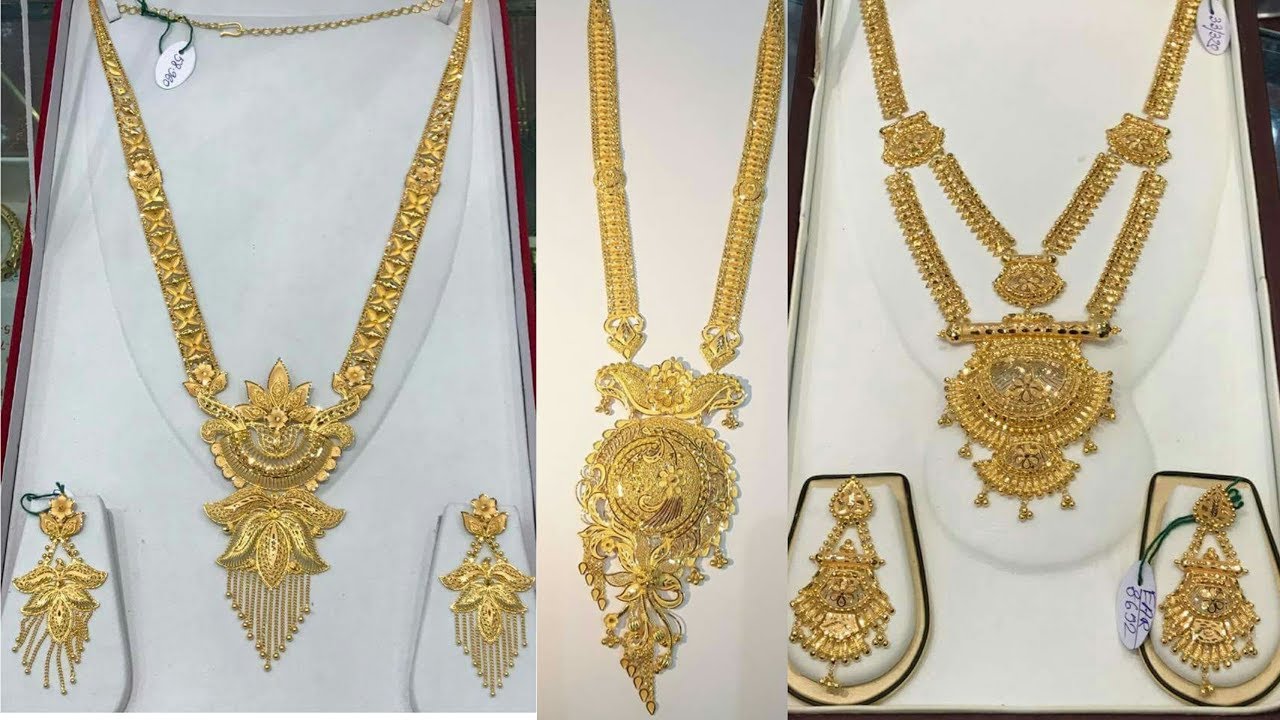 An exquisite style of necklace is usually made of at least 20 grams of solid gold. However, these days you can also find modifications to the design that uses less gold and hence, is available at a more affordable price.
9. Ratanchur
With adaptations from other cultures, Bong brides adorn their palms with Mehendi and all. But traditionally, it was the Ratanchur that ornamented the palm of the bride. It is a design that attaches one to four-finger ring-like structures to a bracelet-like design, basically to adorn the backside of the palm. It is not necessary these days to get them only from gold. You may always go for less expensive imitation jewelleries.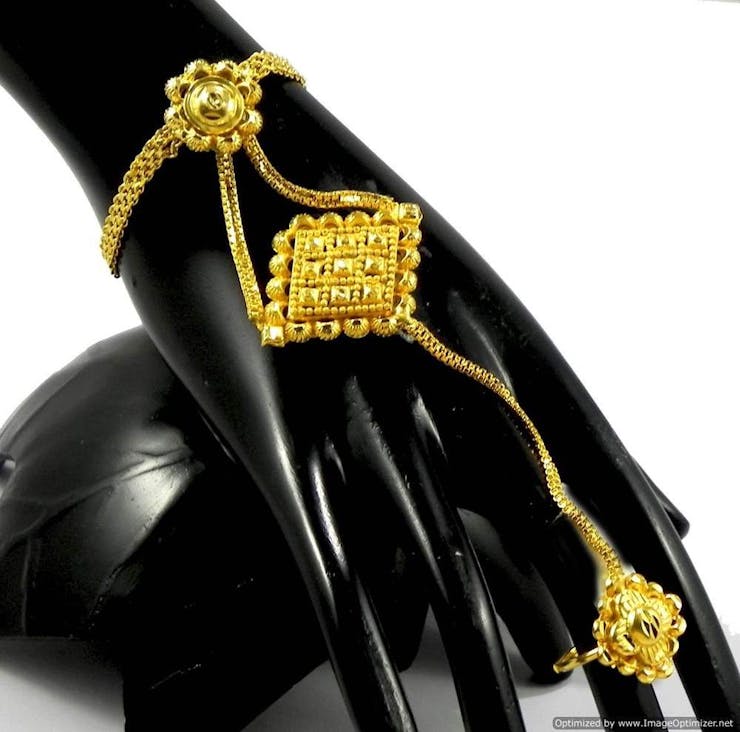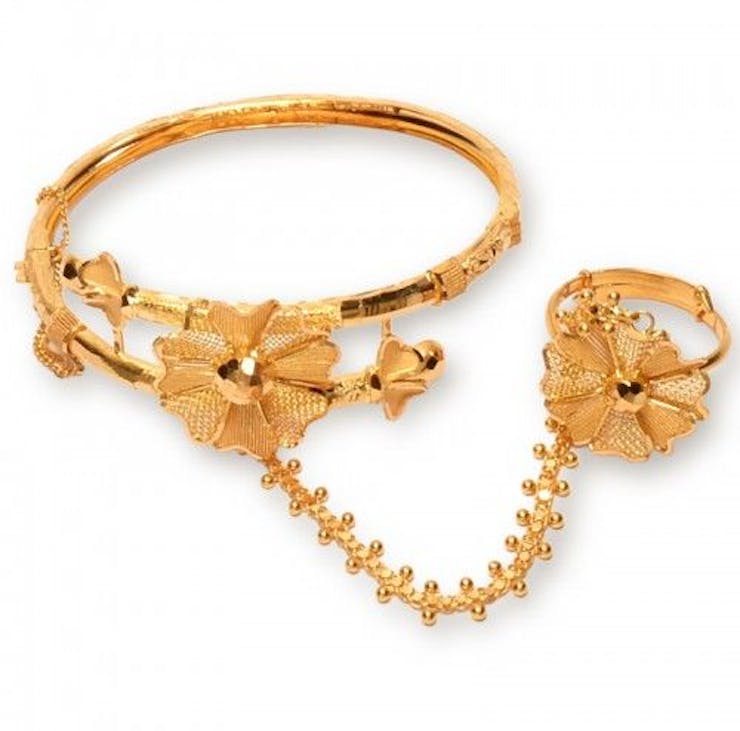 Aren't these beautiful Ratanchoors stunning and unique? I can totally see myself ditching Mehendi for them at my wedding!
10. Bala
They are the type of hand ornament that very much resembles a Kada. Solid Thick bangles that have lac or gala filled in them. This is a very basic jewellery for a Bengali wedding that every bride loves to own.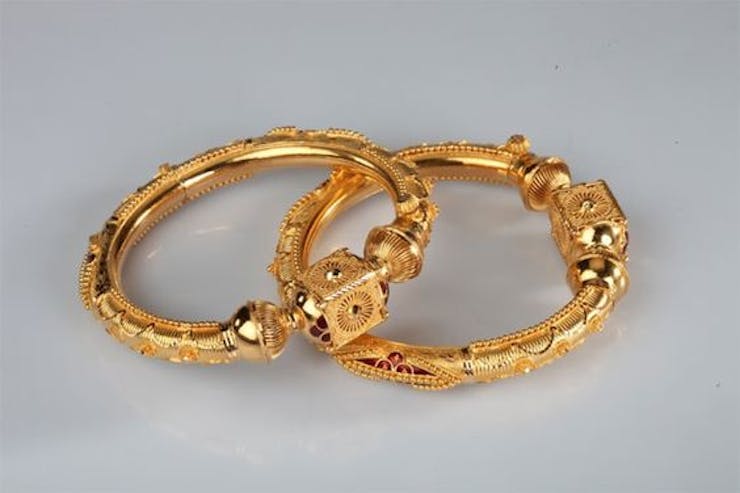 Aren't they majestic?
11. Sankha Pola Noa
Sankha Pola and Noa badhano are the typical Bengali version of mangalsutra. While married women in other states wear Mangalsutra, our Bongo Bodhus wear the trio of Sankha, pola and noa.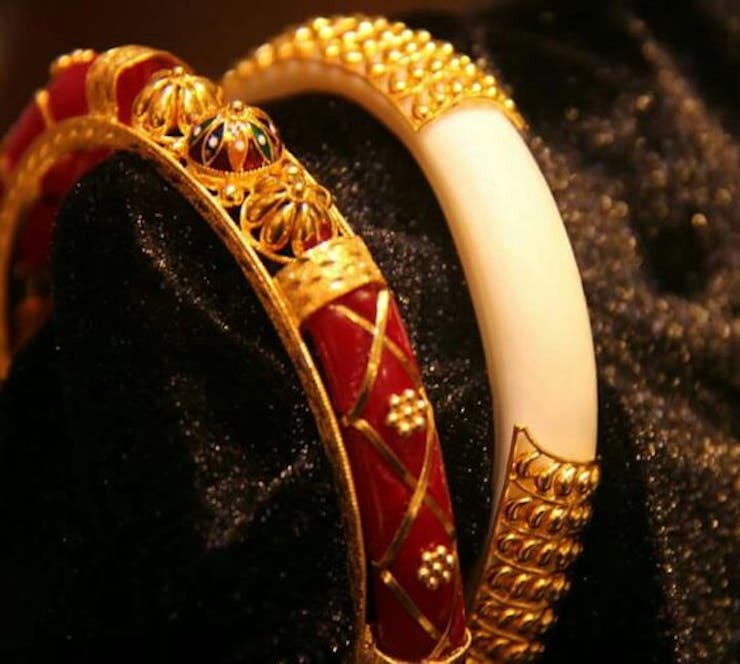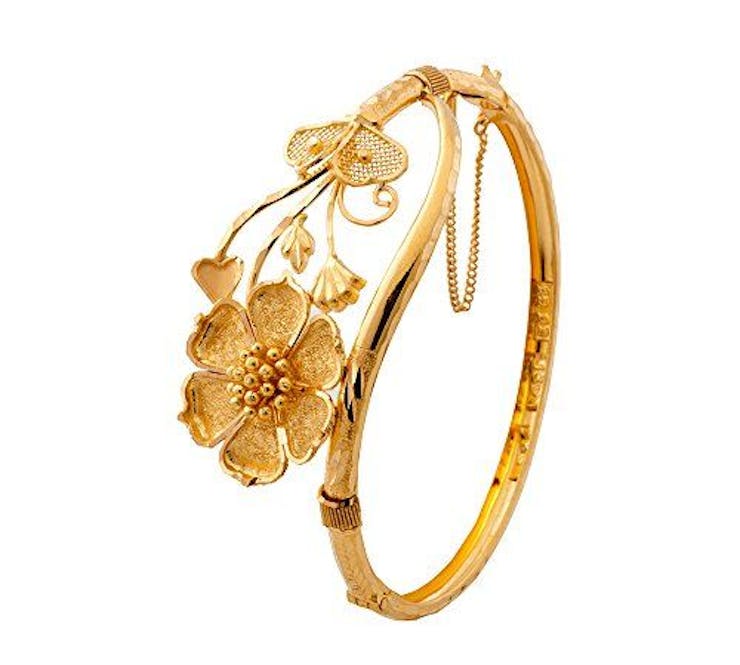 Aren't these designs a simplistic glory?
12. Socket Bala
With the rise in gold prices, there has been a significant revolution in the designs of gold jewelleries. This Socket Bala is one of the results of this. They are usually solid designed strips of gold framed in bronze sockets like bangles.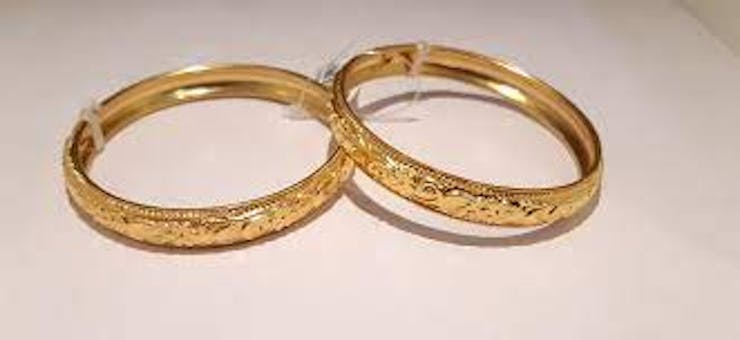 They resemble the traditional solid gold Bala but have a lesser price because of the use of Bronze.
13. Mantasha
They are simple bracelets like Bengali bridal jewellery.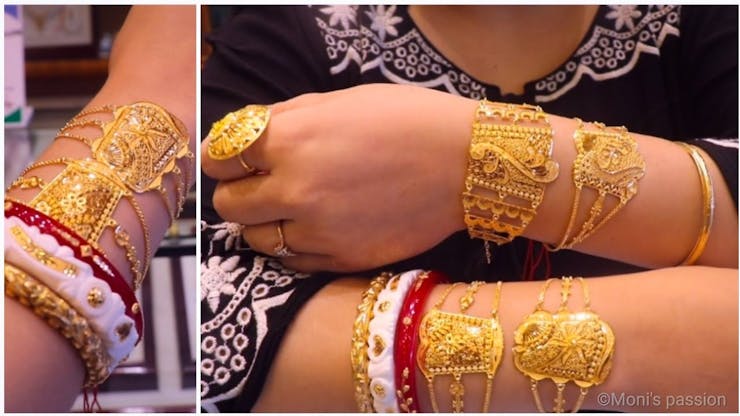 Aren`t these Mantasha designs absolutely stunning?
14. Noth
We are kind of done with the bangles for hand, earrings, neckpieces. Now let's see how to adorn your noses.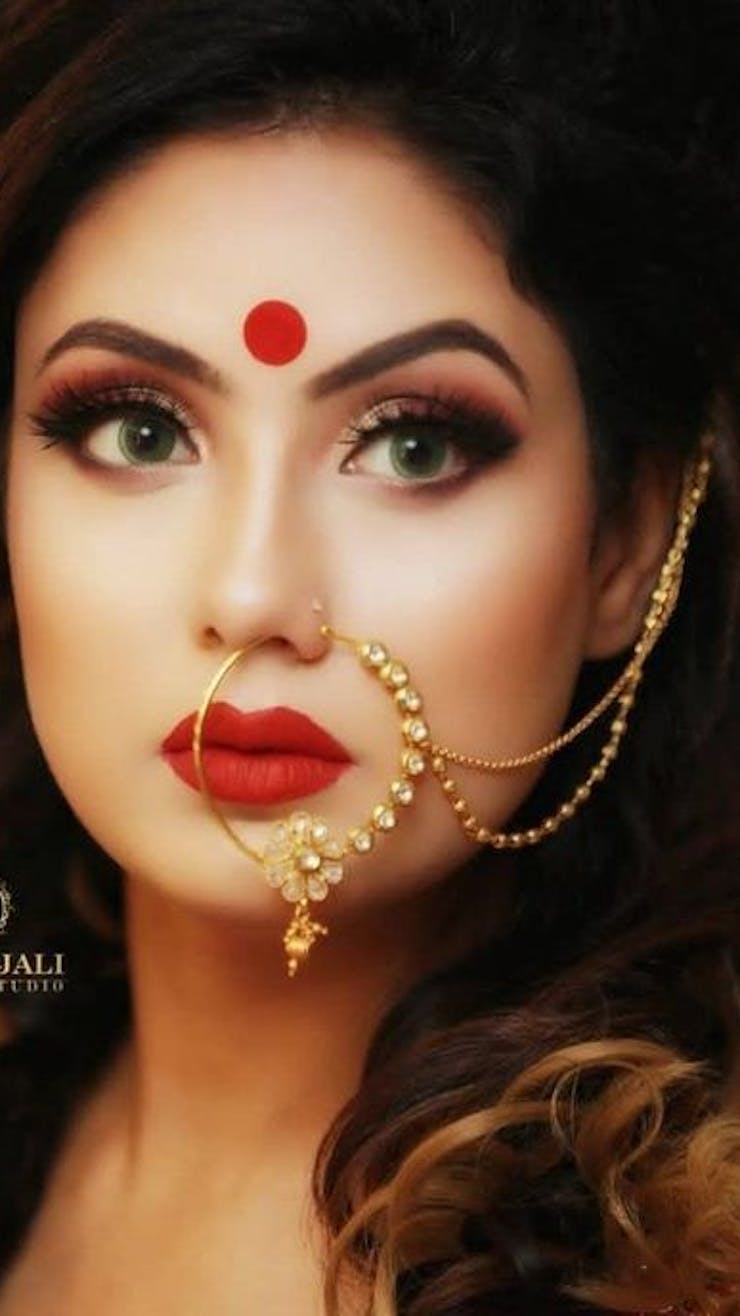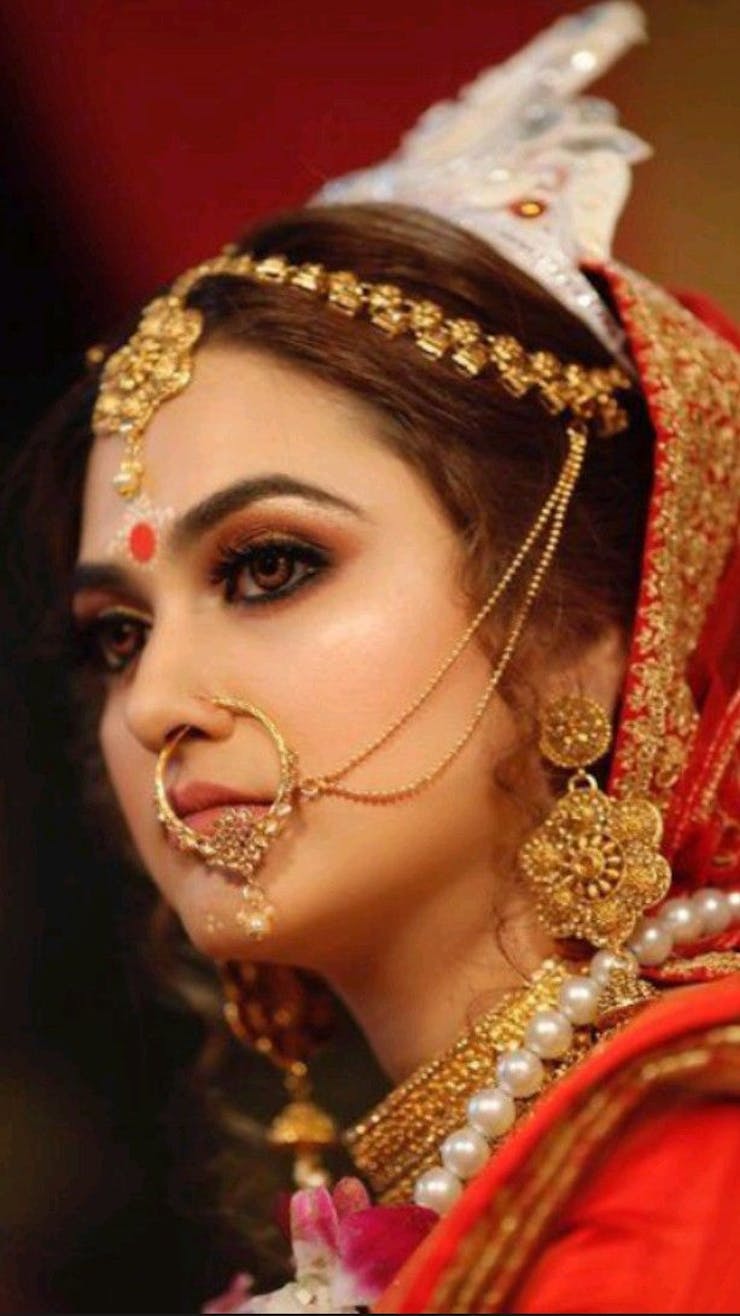 I think Noth is an ageless piece that shall always be contemporary. They are ring-like nose ornaments.
15. Tiara Tikli
Tiara-Tikli is the type of head ornament worn as a bengali wedding jewellery. Bengali bridal Tiklis are Maangtikka like jewelleries that they wear in the mid partition of their hairs.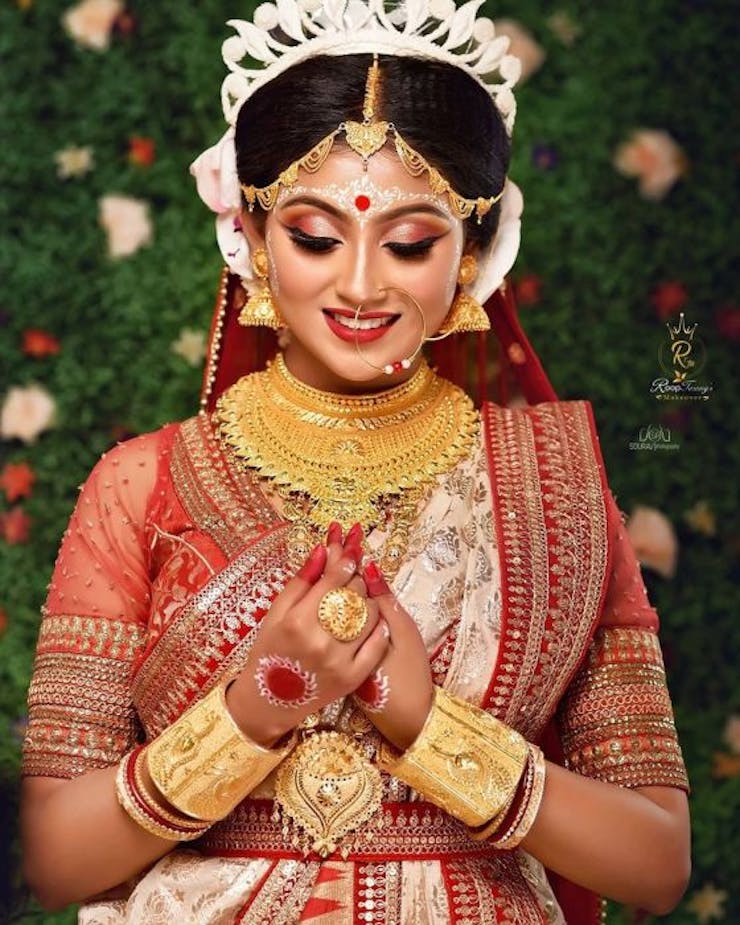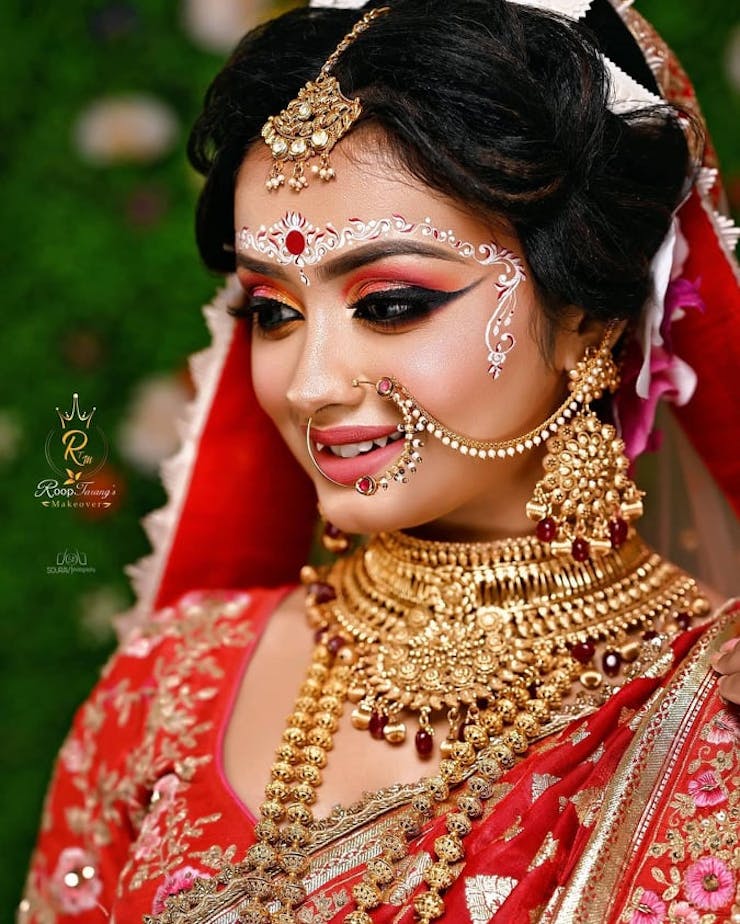 While Tiara is the Matha Patti like design that ornates the hairline of a beautiful Bengali bride.
So how did my Bong queens like this collection of exclusive jewelleries.
We`ll be coming up with more.
Till then
HAPPY SHOPPING!