Who said that it is just the designer lehengas and dresses that can make a bride look the best for her special day?
Even though I am very fond of window shopping the web for the stunning lehenga designs going viral, I am a die heart supporter of the saree club as well…. 😅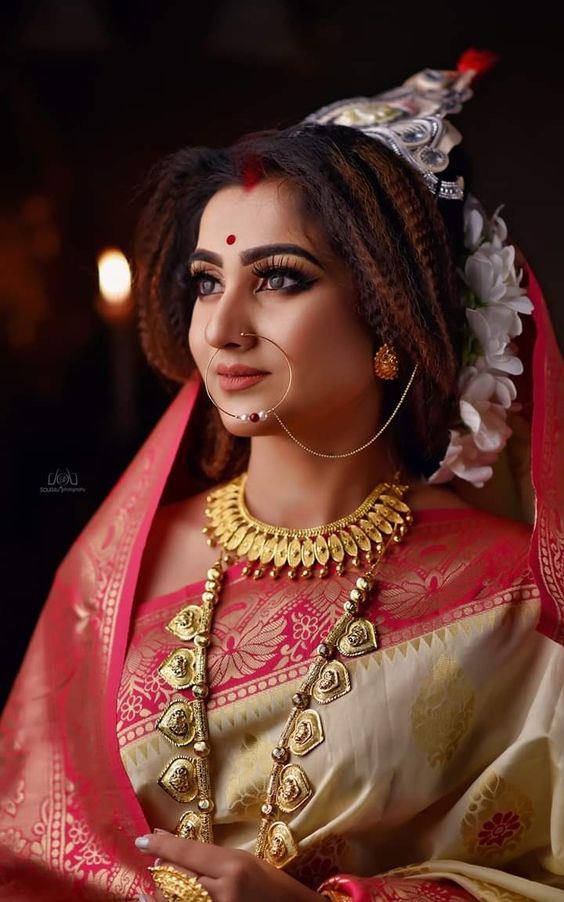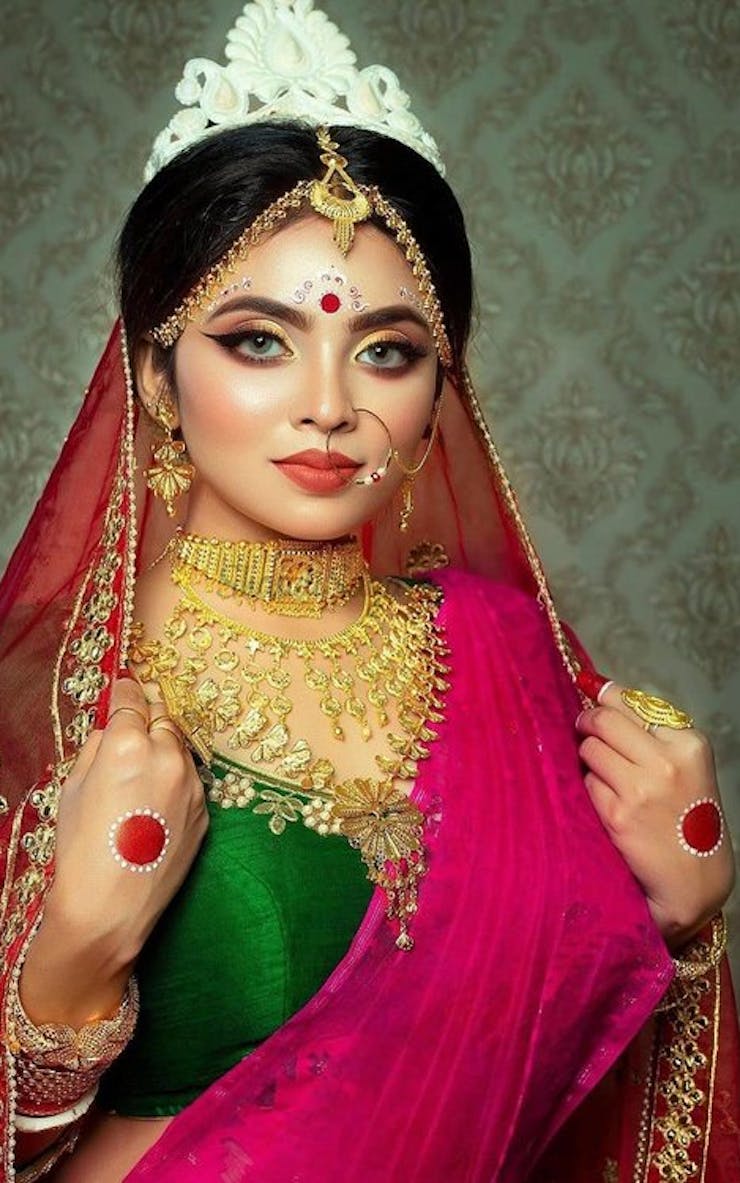 The Wedding market in West Bengal has witnessed a series of transformations, especially in terms of outfits. But I think most of you won't deny the fact that the one thing that hasn't changed is the buzz around Bengali sarees for wedding.
Though there has been a significant addition to the options. However, the saree has been the most graceful, artistic and timeless choice of all time. And the best part of saree is that you can create magic with the simple nine yards of drape with a little creativity. 
You shall be finding a plethora of saree art originating from different parts of this country. And besides all the pieces indigenous to Bengal, our bong-naris have given place to many other regional saree styles into their wardrobe. 
Today, we are going to pick an assortment of these masterpieces, and some more modern innovations for all the would-be banglar bodhu out there to choose as their Bengali wedding saree.
The Classic Bong Bride In Red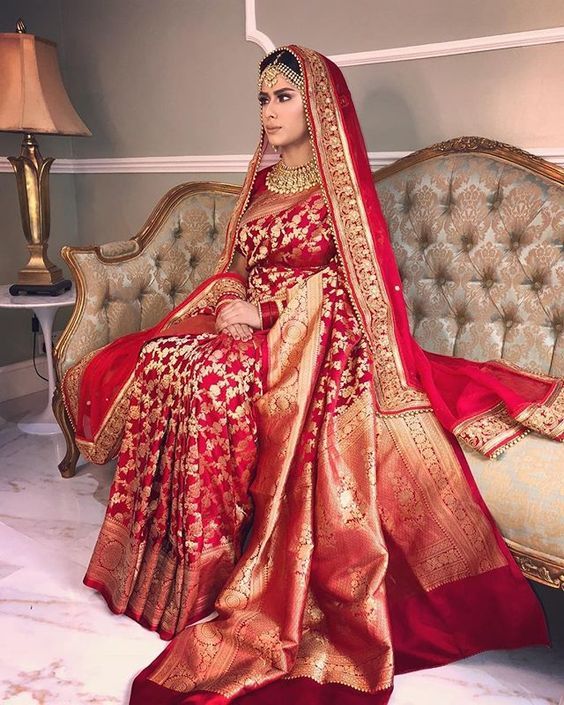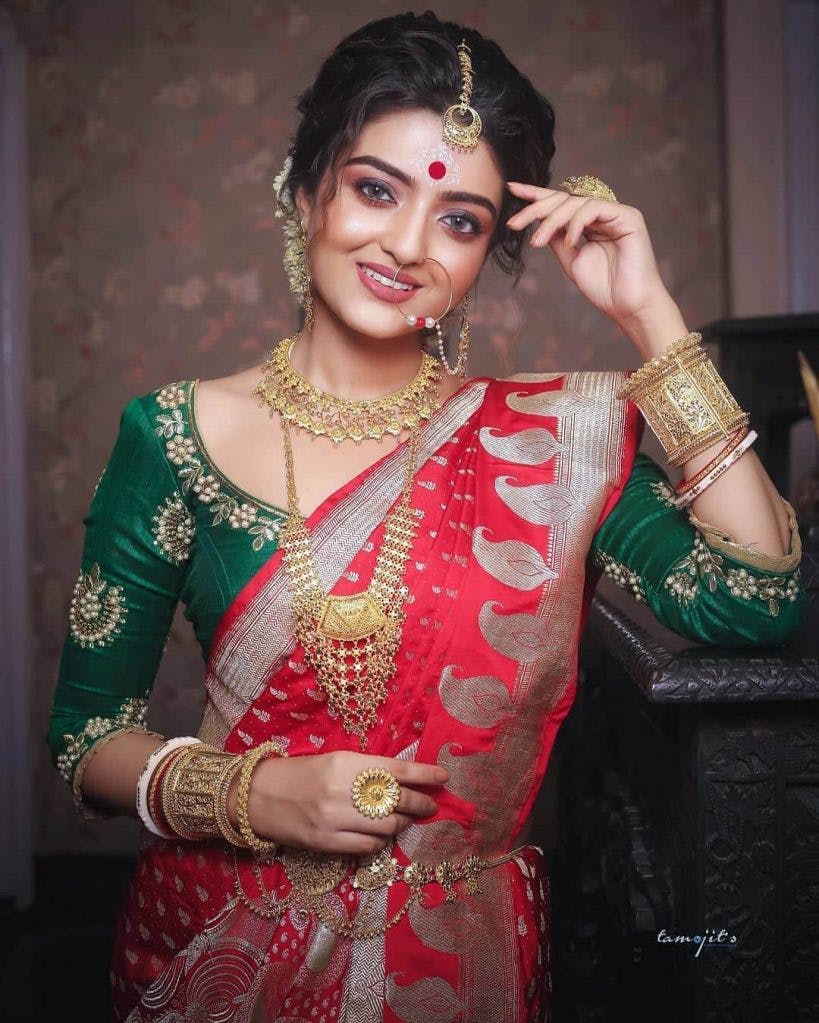 Believe it or not, nothing can beat the elegance and beauty of the traditional simple red benarasi silk saree. Yes, it has been worn by brides for ages, and shall never go out of trend as a bengali wedding saree for bride. This might very likely be because of the regal romantic vibe it radiates.
A Gem Studded Affair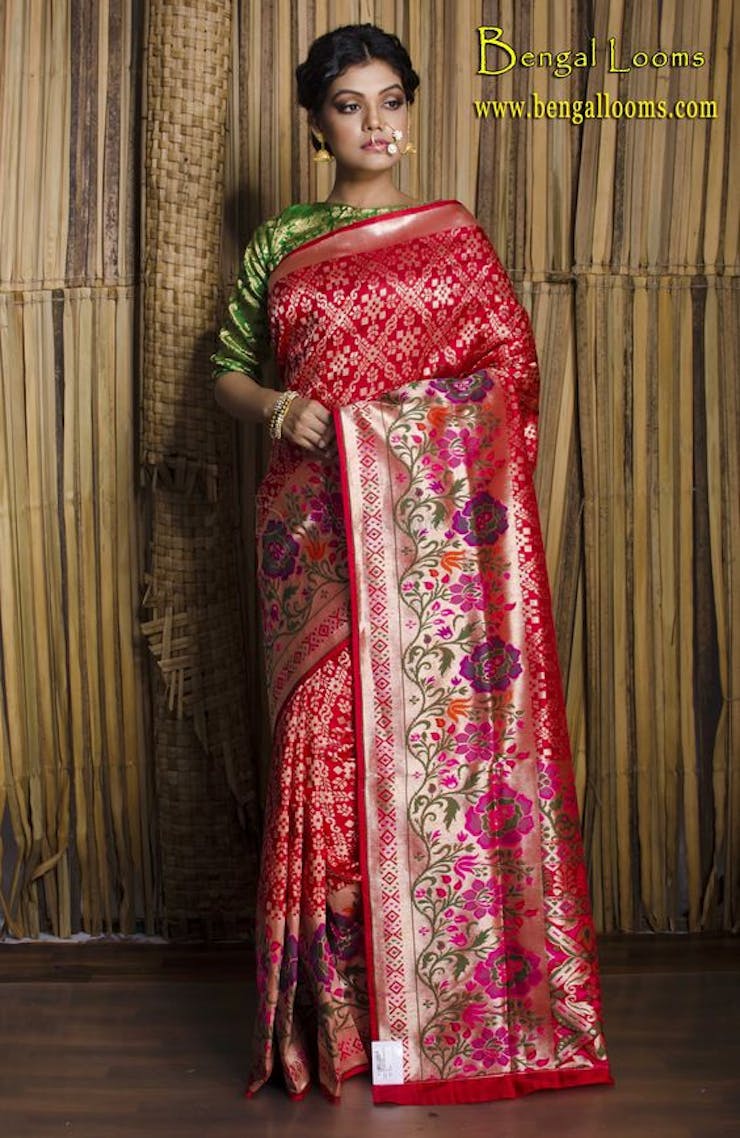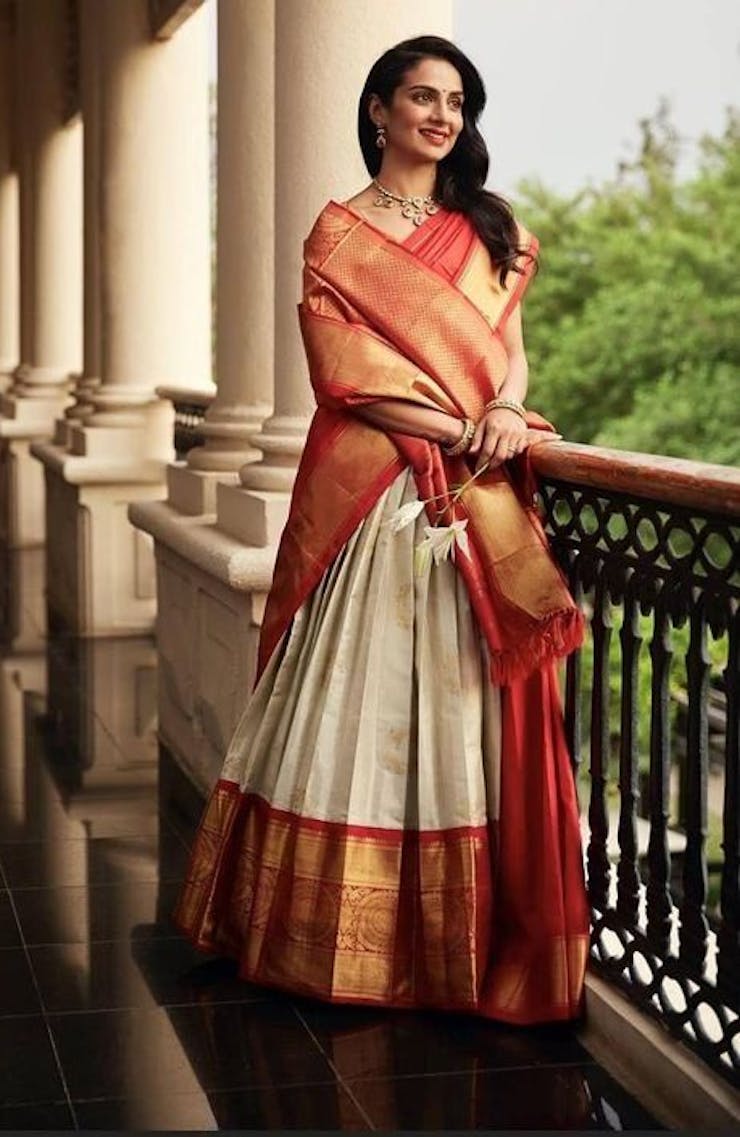 Meenakari is an art style, where colourful embellishments are done in dramatic motifs, on a golden or silver base. This art style has been adapted to enhance the golden and silver zari work on the bengali banarasi saree for wedding. I can totally imagine myself donning a similar saree like this pink benarasi with a rich meenakari border.
The Agni Kanya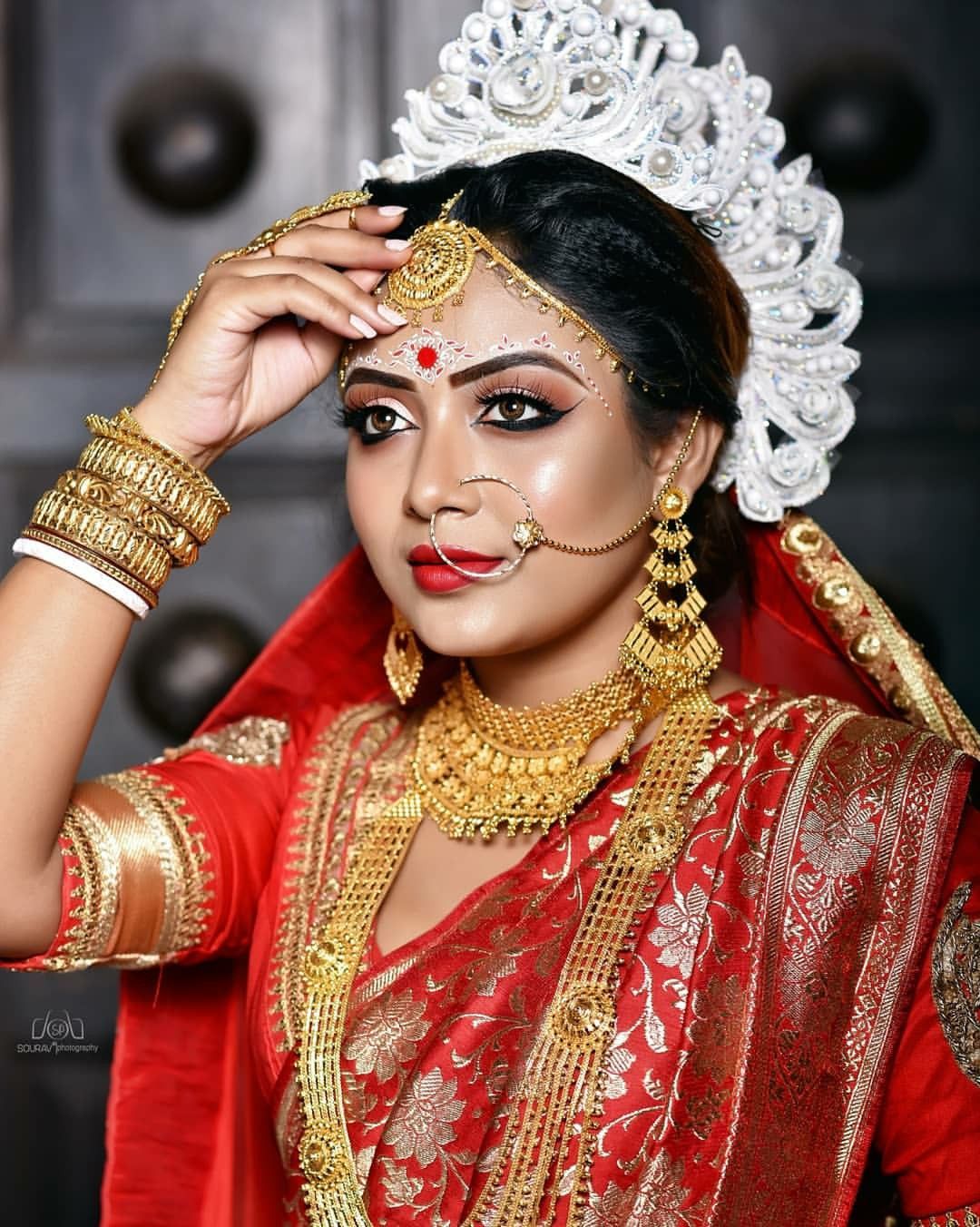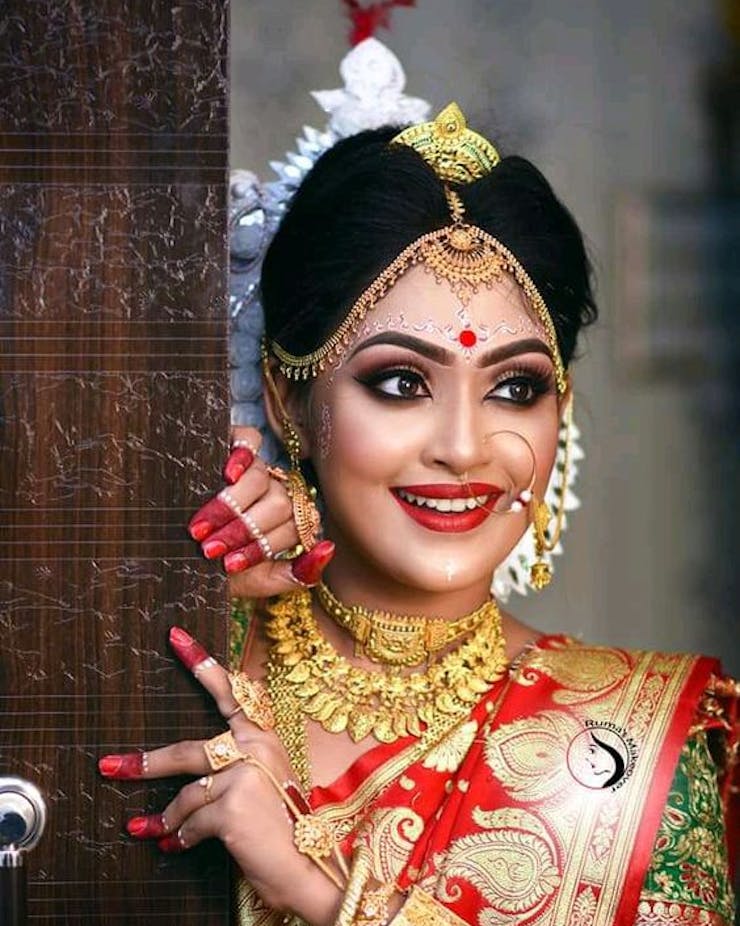 Yes, brides, these days are ditching the conventional shades of red, maroon and magenta, with some breathtaking combinations like this. Yellow is kind of a mandate for the Gaye-holud. But it has rarely been seen to be carried as a saree for Bengali wedding. But tell me, won't you give a thought of going for a beautiful yellow with red border banarasi saree after seeing this pin? Just like fire, all pure, pious and bright!
A Pastel Simplicity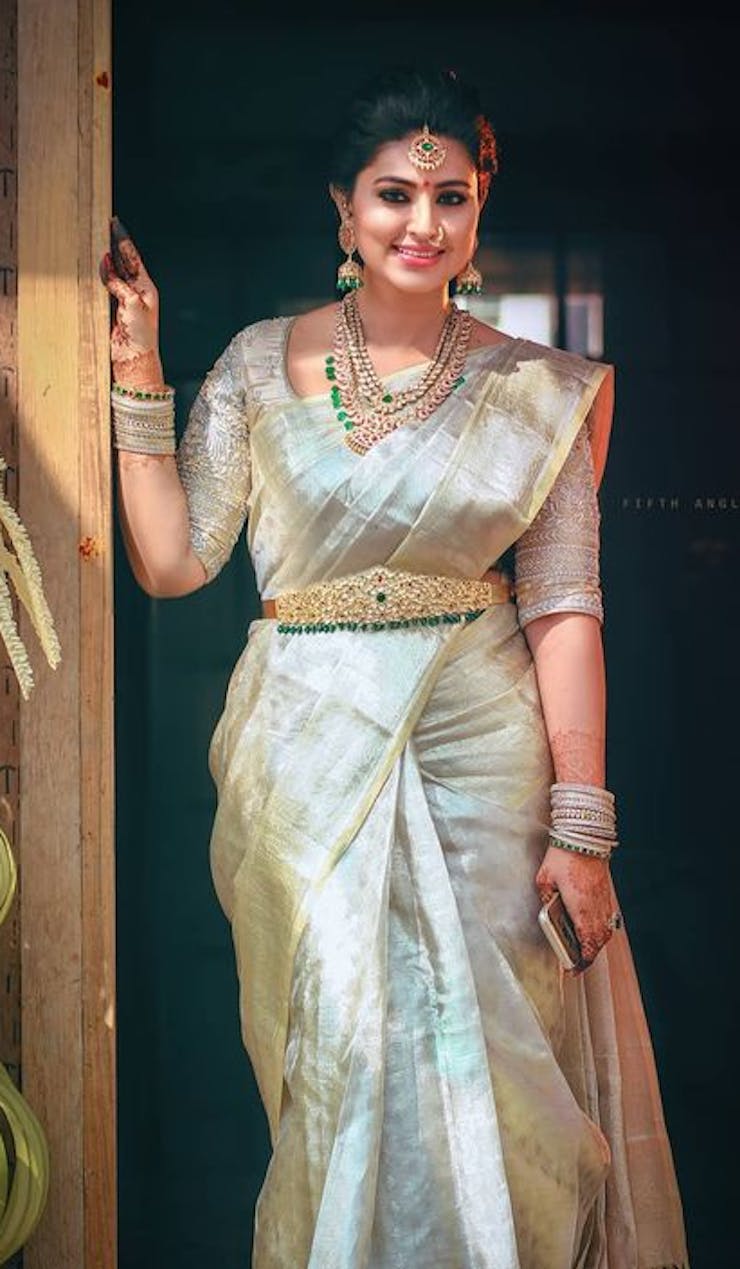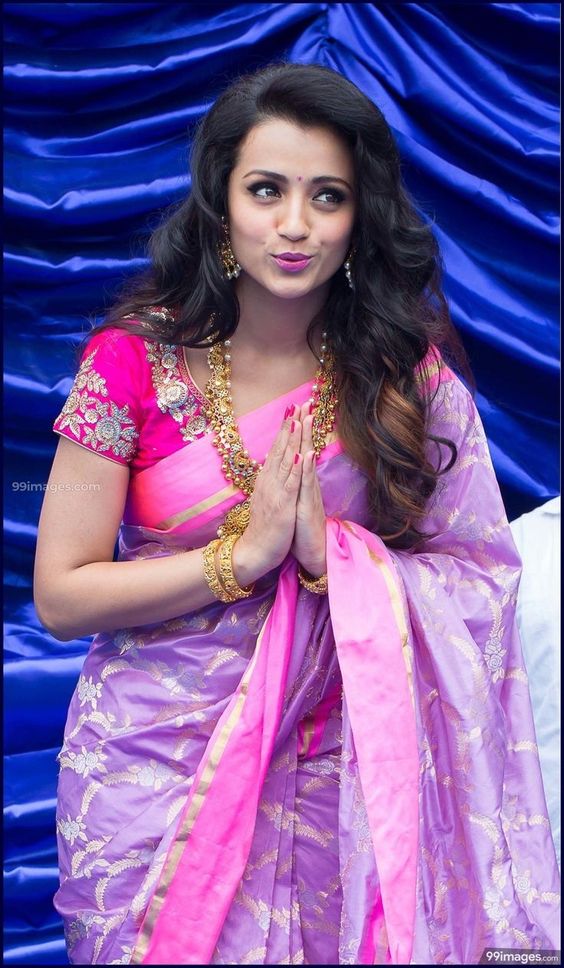 Gone are the days when all vivid shades of red and pinks were chosen for brides. You can carry a muted shade of outfit and still radiate the bridal charm. Especially if it's an exclusive pick similar to the pastel yellow banarasi from Sabyasachi Mukherjee`s spring-summer bridal collection. Or this beautiful muted coral Katan banarasi. Trust me this doesn't make it any less apt of a banarosi saree for Bengali wedding.
Black For A Fantasy Bridal Look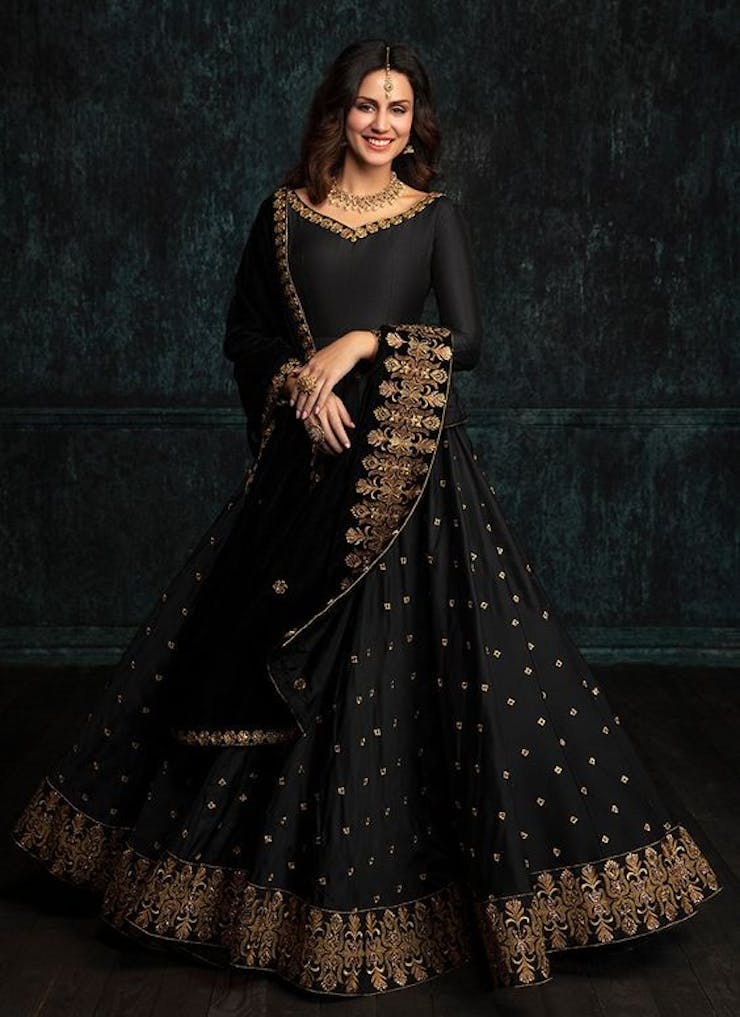 If you have read some of my previous blogs on ShaadiBooks, you must know by now, about how obsessed I am with any black wearable. And I personally feel that breaking all taboos, this shade shall make a fantasy-like modern Bengali wedding saree. And I feel that these pictures can very well justify what I say. A bold black cotton benarasi saree. I must say this looks simply divine. 
And to add a hint of colour, this black opara benarasi with purple and green borders can be a worthy Inspo!
The Monsoon Bride- Contemporary Shades Of Bengali Sarees For Wedding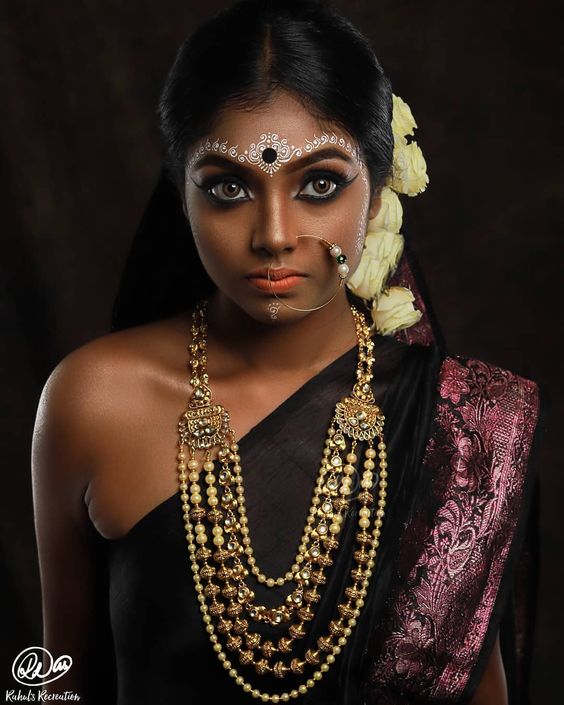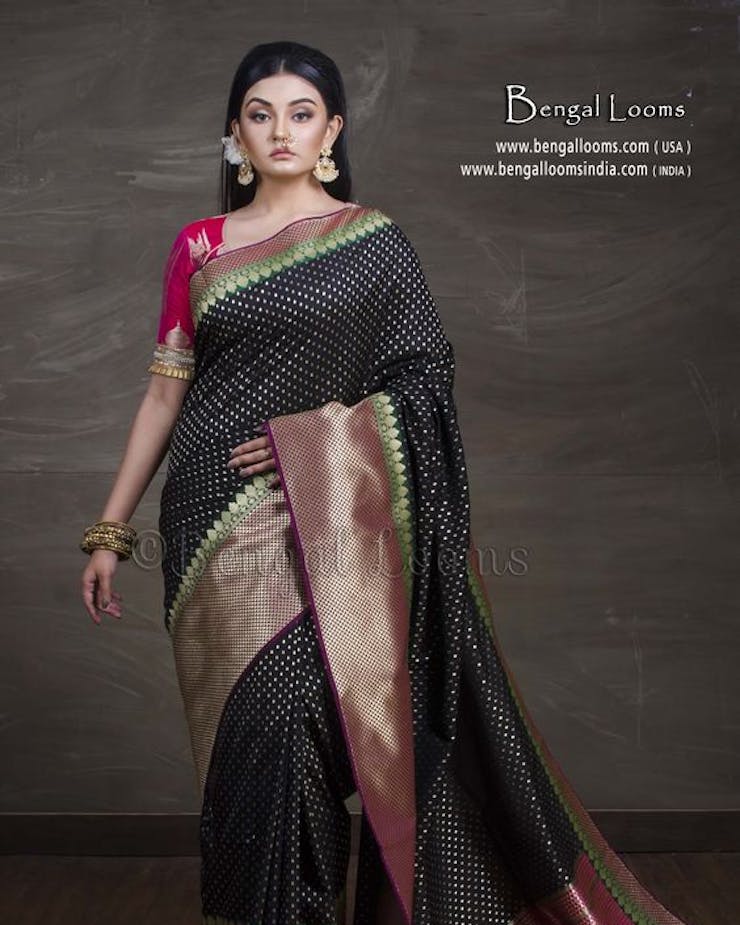 So, the monsoon has already hit the state. And the rain gets showered with a vibe of tranquil romance around. And if your 'The Day' is set in this season, you may very well go with the monsoon aesthetic, with a peacock hued Kanjivaram or this turquoise minakari piece.
The White Angel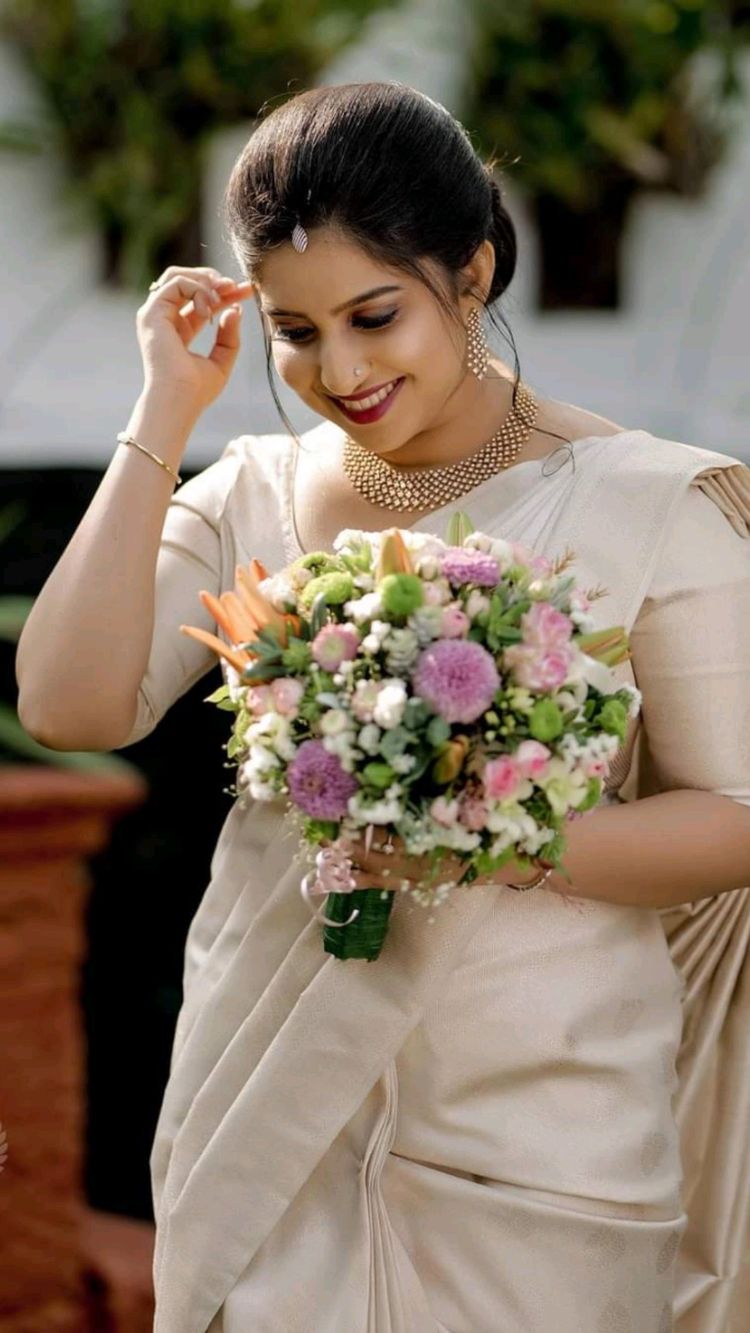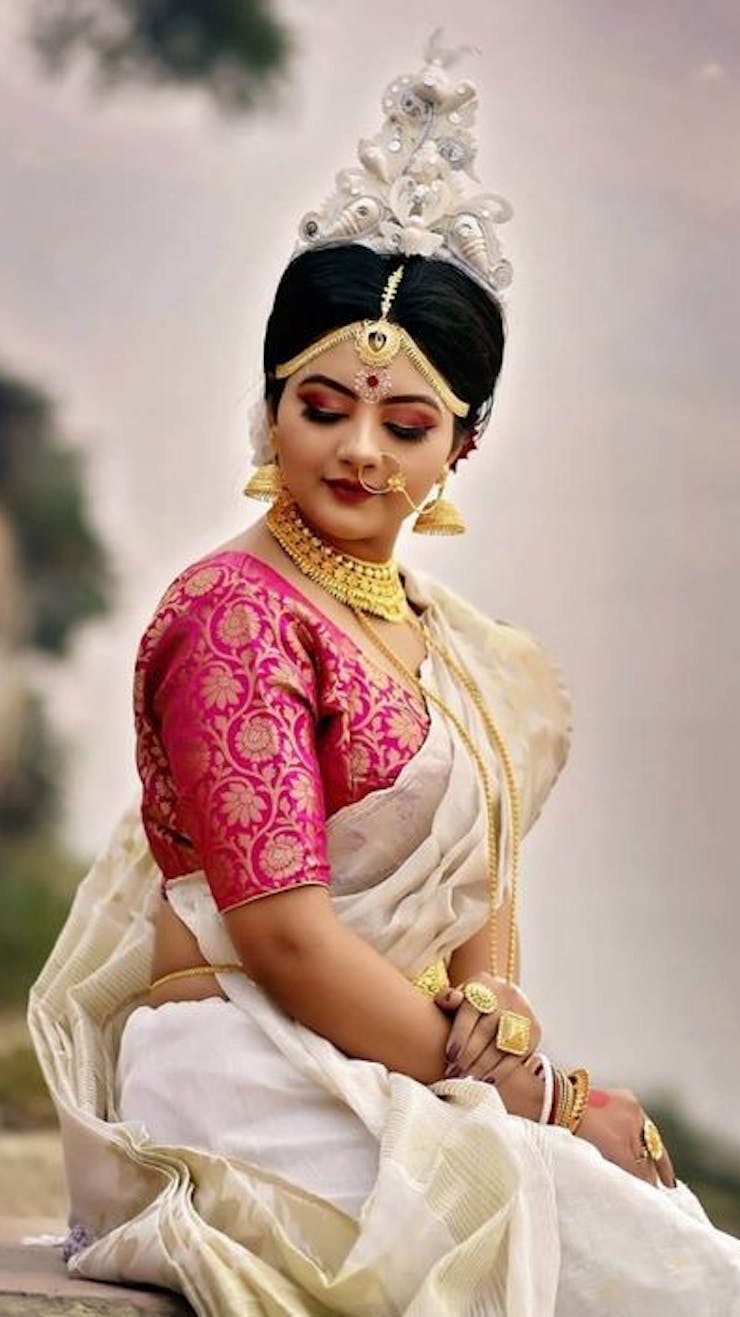 Trust me! White has been one of the most underestimated colours for Bengali bridal saree. This Keralian silk saree in plain white brings in a serene angelic look. You may also pick an indigenous white dhakai jamdani saree for a perfect bridal look. Pair it with a magenta or green benarasi blouse to add a dash of colour.
The Golden Majesty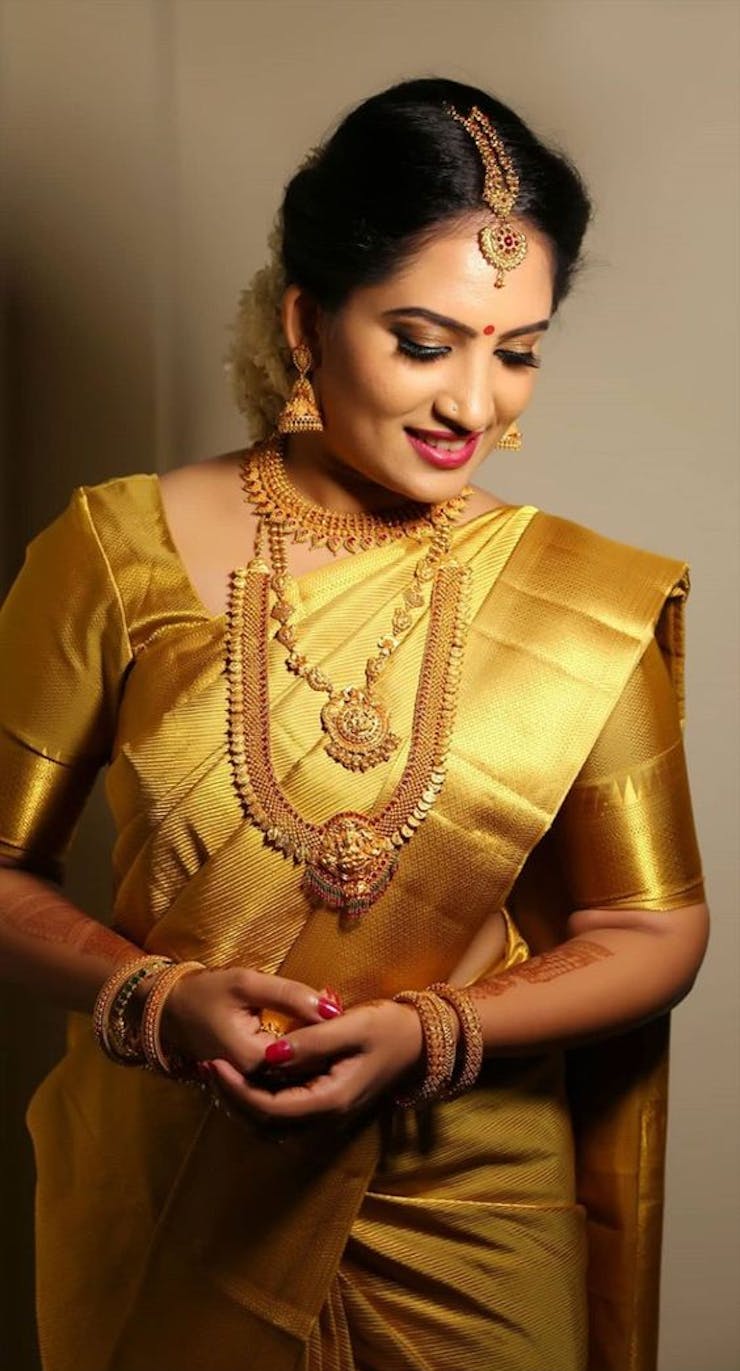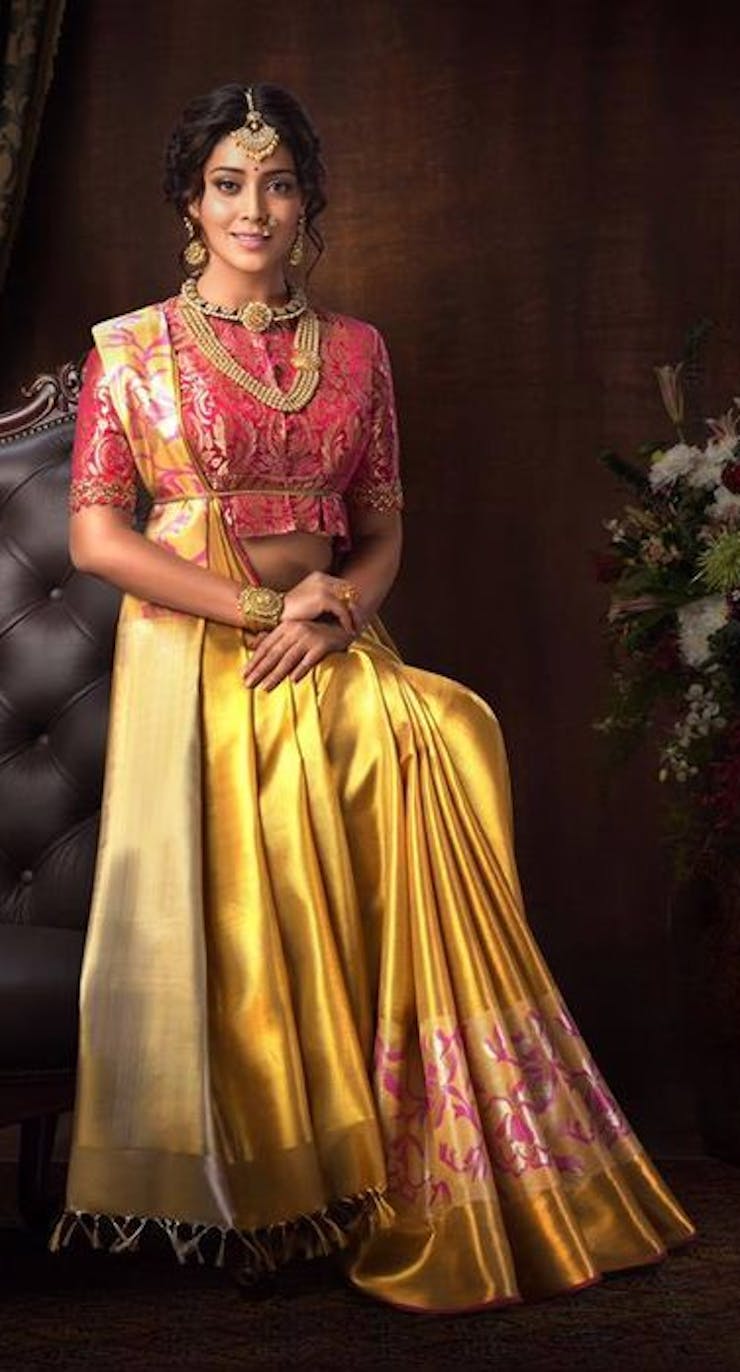 Another minimalist yet elegant pick for your bengali wedding saree style can be these south Indian inspired golden Kanjivaram silk sarees. Yes, Kanjivaram! Time and innovation have always encouraged adapting the best from diversity. So why not seek some inspiration from another saree loving community? A rich, chique and offbeat combination of Bengali sarees for wedding.
A Gown Or A Saree?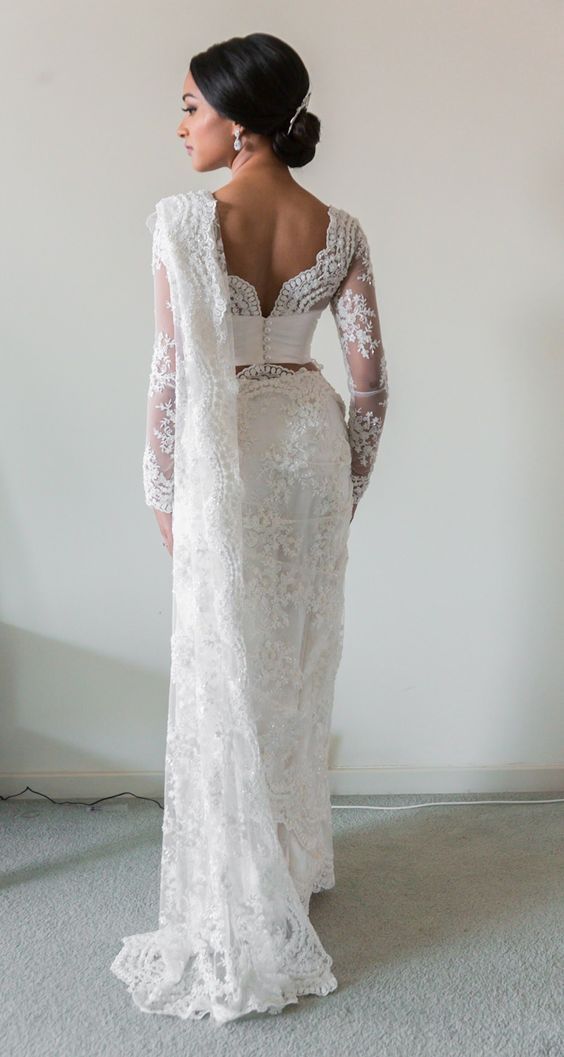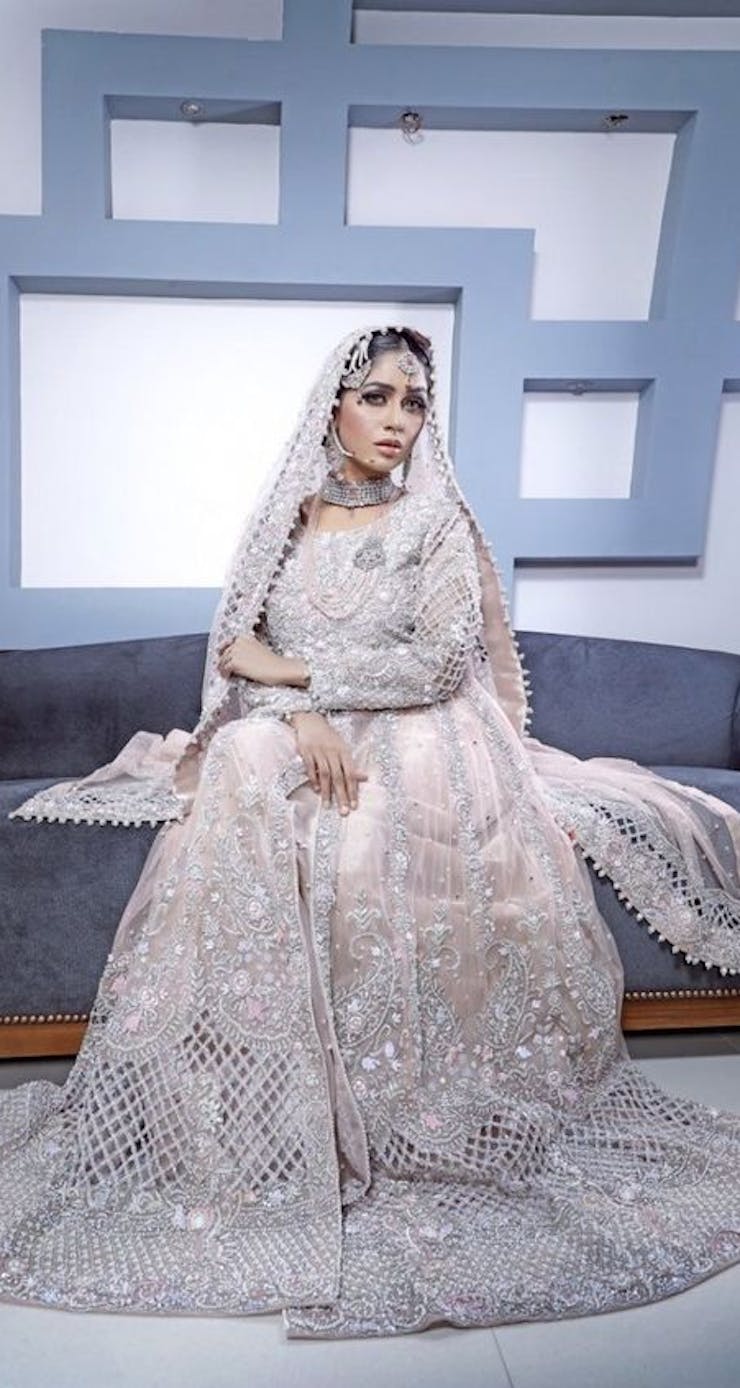 If you love wearing sarees, but cannot ditch the urge to carry a wedding gown look, this outfit can be your good samaritan. A simple lace georgette saree. You can pair it with a designer back lace blouse as well. To complete the look, go for some simple diamond jewellery. I think this can make a mesmerizing yet not so traditional bengali saree, for your reception night!
An Organza For The Bonanza Days!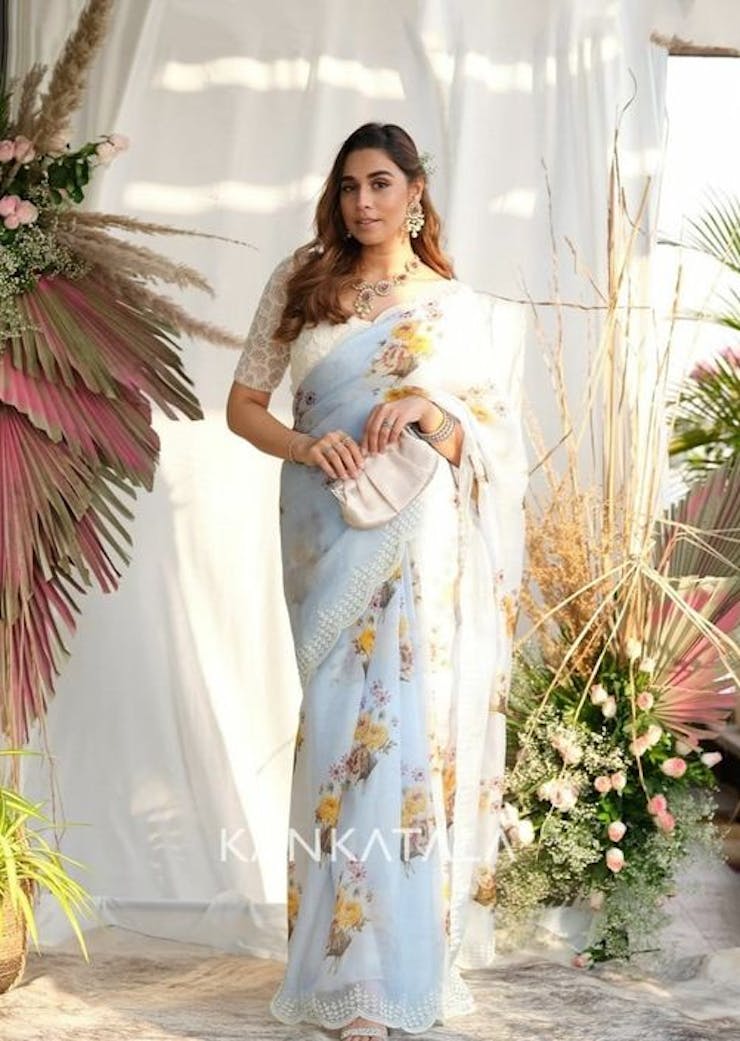 Your registry day might not be included in your wedding saga, but it is no less than your wedding day. You are legally declared as husband and wife after this day. You are very likely to have a lunch date with only your Mr or some more close family. Now, this is a real challenge. You can`t get all dolled up like a bride, but you have to look your best. Why not go for some beautiful organza sarees like these, and add some statement jewellery to the OOTD?
So these were just some of the endless list of Bengali sarees for wedding. Hope you can now be sure about experimenting with sarees on your special day.
 Do subscribe to our blog to know whenever we come up with a sequel to this.
Till then,
HAPPY READING!!😇😇