Since we have promised to make everything weddings, as easy as a breeze for you. We have also taken up the responsibility of guiding each and every moment of your special day to perfection.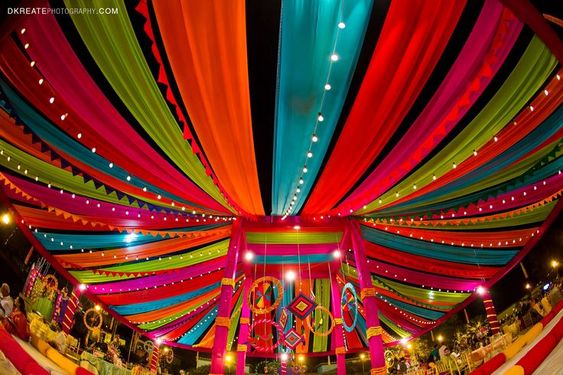 We ensure that you get the best inspiration to frame your day. From outfits to rituals, decorations, budgets, we shall cover it all.
Simple mandap designs appear stunning, easy, and oh so lovely to be a part of your celebrations. If you've ever pondered what and how you should organize your wedding, which theme to adopt, or how to go about creating a classic, we've got you wrapped. Take a look at some of the most exquisite modest mandap decoration ideas for a wedding that you may incorporate into your special evening.
Flowers are the most essential component of wedding Mandap decor. That is why you must discuss your floral demands with your event florist. They will add a touch of style to your creative designs and ensure that your simplest mandap designs are distinct. If you're planning a destination wedding, make sure seasonal flowers are accessible. For modest Mandap designs, here are a few ideas of floral mandap decoration for marriage.
1. Conventional Bengali mandap decoration with marigold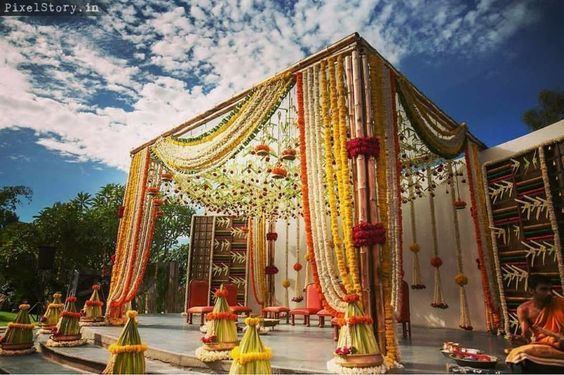 Marigolds have been one of the most associated flowers, with Indian festivities or marriages. Besides being an absolute visual treat, they are probably the least expensive of all flowers. Red, yellow or orange, you can totally use your creative soul to bring a regal aesthetic to the wedding mandap, by combining different shades of the flower.
2. A rosy romance to the Bengali mandap decoration.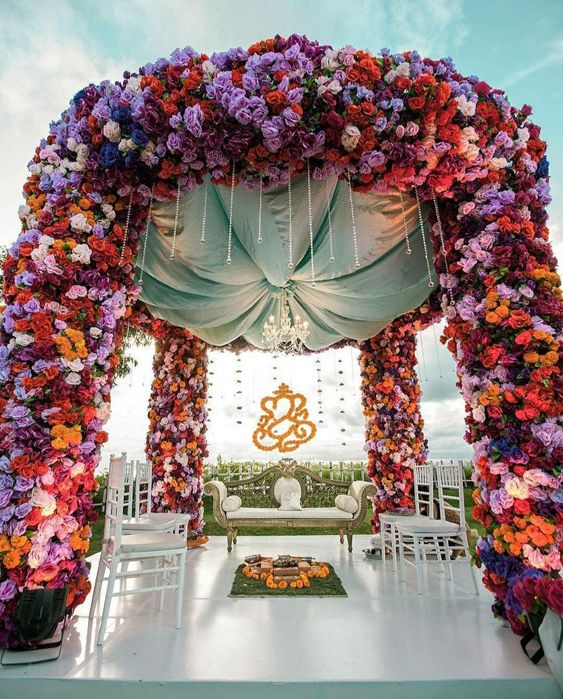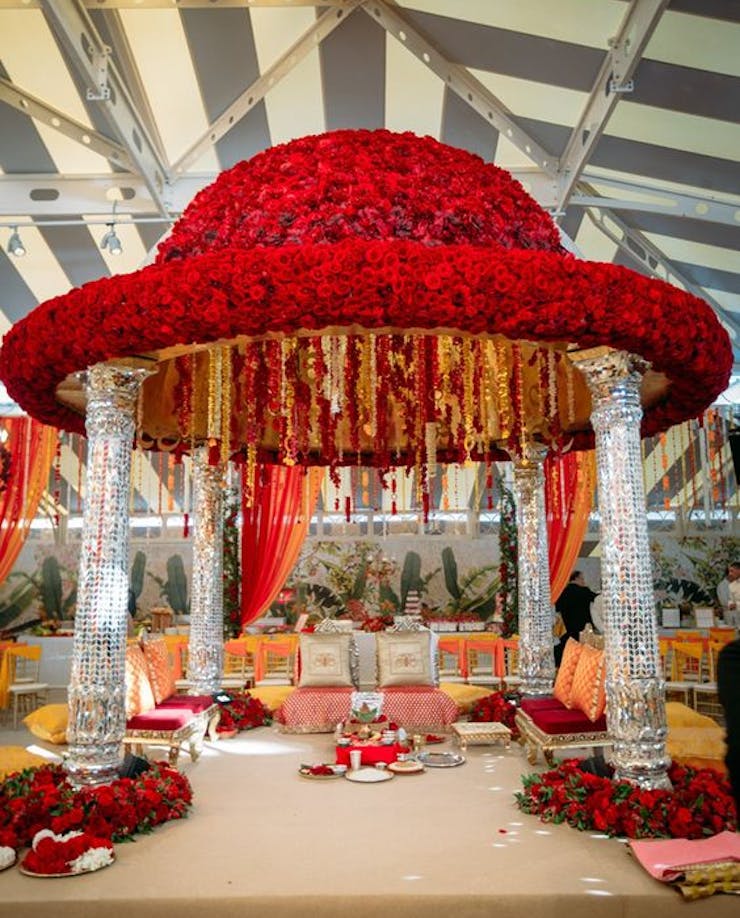 How elegant do these all rose decorated mandaps look?
Be it night or day, the red and white roses are surely radiating a blush of romance into the environment around. A simple mandap decoration for marriage, with added opulence.
3. Roses and rajnigandha
The single strands of white rajnigandha with a red rose at the end. This mesmerizing ceiling decor seems as if heaven is showering its floral blessings on the new couple. This certainly does justice to my preference for floral decor.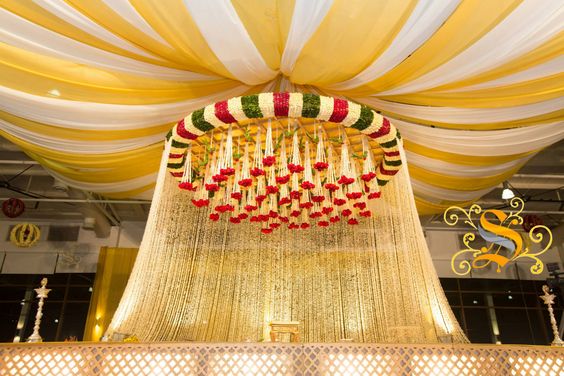 4. Juhi mogra mandap decoration ideas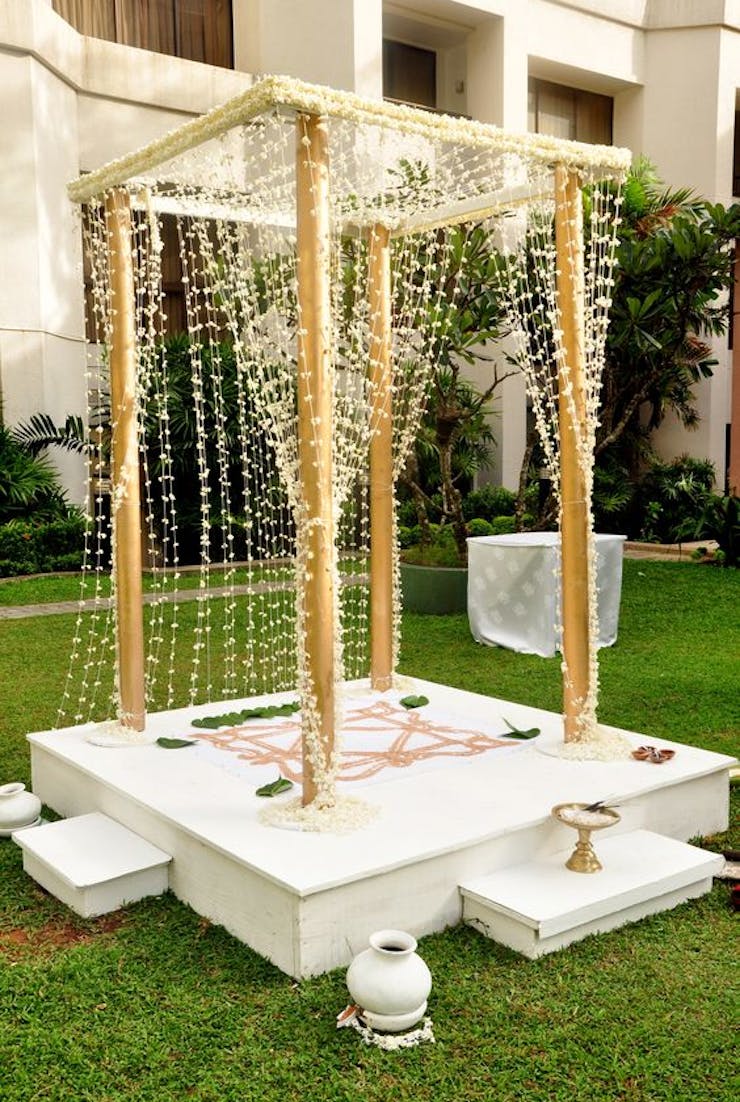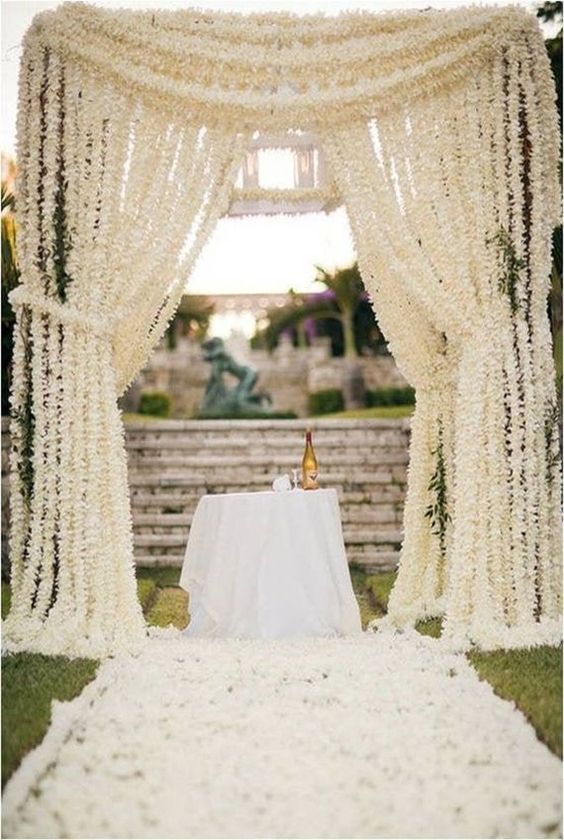 A white tranquil mandap decorated with Juhi and mogra garlands. Not only does it look soothing to the eyes and for wedding mandap pictures. It also shall spread a sweet fragrance in the entire wedding hall.
5. Assorted floral Bengali mandap decoration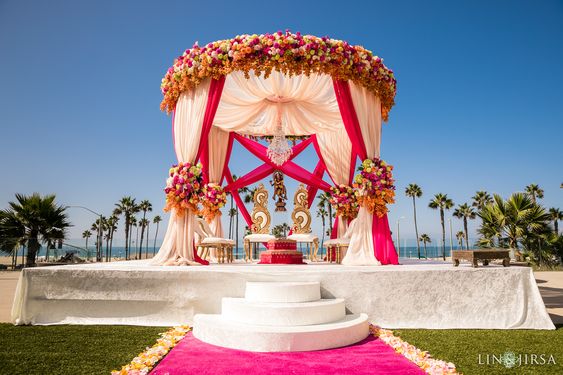 In case you are not able to choose a particular flower, you may always go for a mix and match of different varieties. Just like the one below. The decorators have used a plethora of roses, carnations, orchids etc. And the leaf detailing is worth obsessing over!
You can always go for decorating your mandap based on colour. Talk to your decorator about your outfits and ask them to pick a colour combination that complements your OOTD. However, let us look at some of the possible combinations.
6. Rust of red to your mandapam.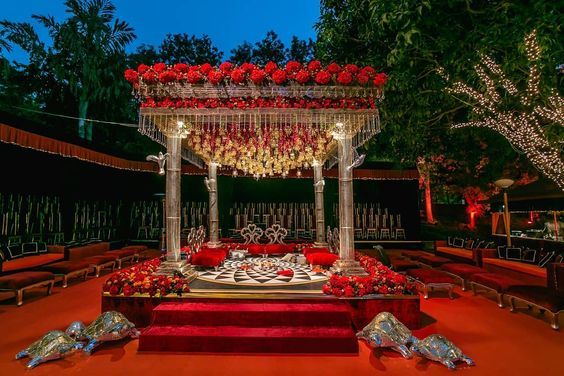 Red has always been seen as a colour of love. And what could be a better colour to pick for the decor of the epitome of love?
You may consider adding hints of different colours to further accentuate the vibes.
7. Bengali mandap decoration in white
White is the colour of peace and tranquillity. If you want to add a serene aesthetic to your mandap, you may always look at these wedding mandap designs pictures for inspiration.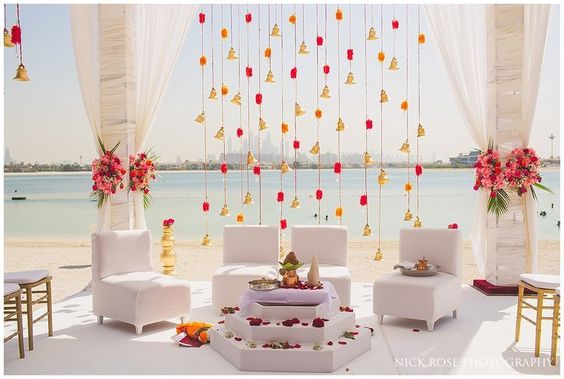 Adding some green leaves would rather amp up the white game.
8. Yellow for the limelight.
The colour of sunshine as well as prosperity, yellow can never be a failure in terms of Bengali wedding mandap decoration.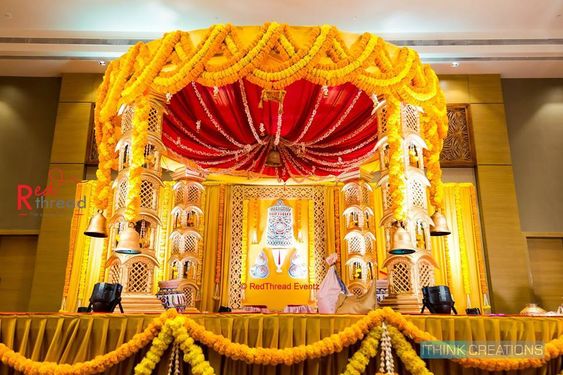 A yellow aesthetic wishing prosperity to the new couple.
A serene sunlit wedding.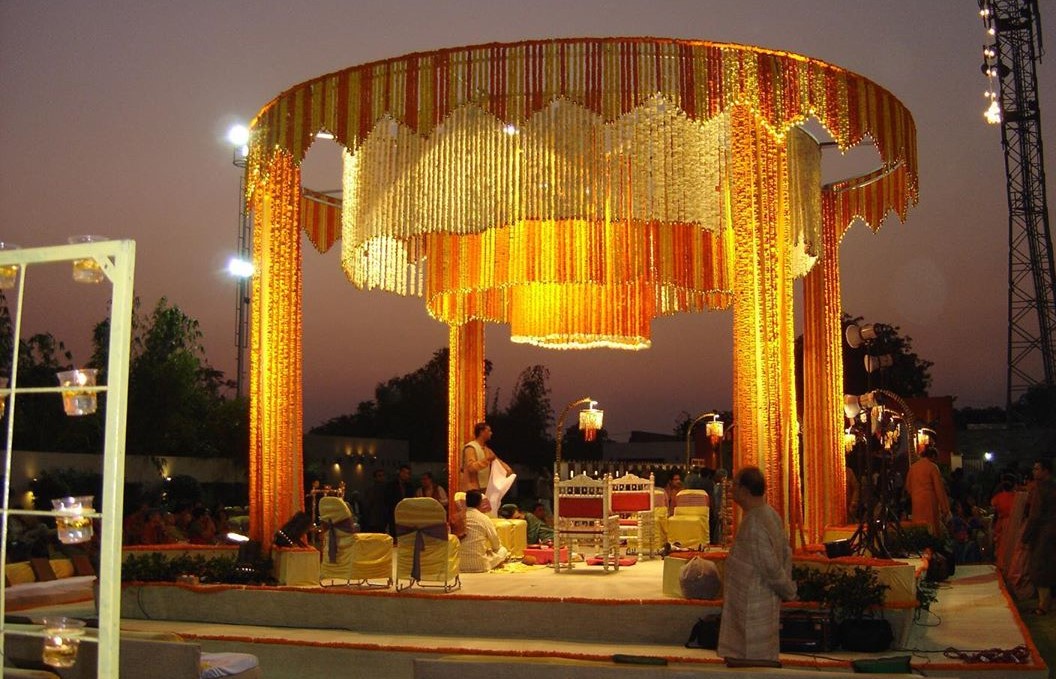 Mesmerizing elegance!
9. Pastel wedding mandap designs
Pastel shades are another option to bring up the serenity of the ambience. 
These pastel wedding mandap decoration ideas are both subtle and sophisticated.
Awestruck pink and turquoise combo.
Peaches pink and white!
10. Off the beat Bengali mandap decoration
You can always experiment with different colours. As long as it reflects a part of you, no colour shall go wrong for mandap decoration for marriage. Here are some examples.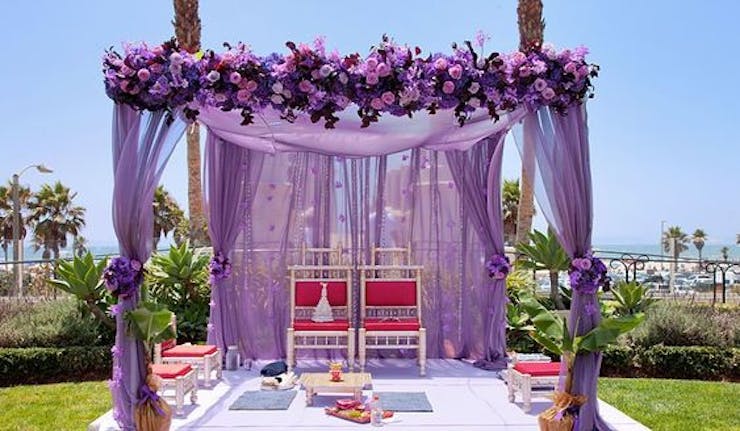 A pink and purple mandap amidst the garden greens.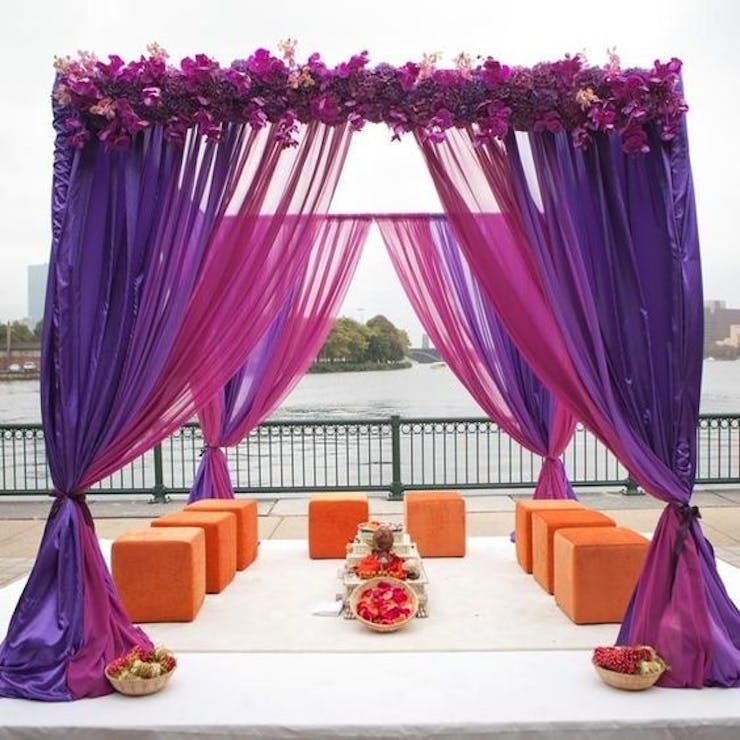 Ombre and orange aesthetic.
An all green decor.
Apart from the floral or colour theme, there is an array of different other aesthetics to choose from for decorating your Bengali wedding mandap.
Let's browse through some.
11. Traditional Bengali 'chadna tola'.
In case you are looking forward to a traditional Bengali mandap, you can always go for the flower, mango leaf and banana leaf decor called chadna tola. This shall bring a shabeki vibe to your wedding.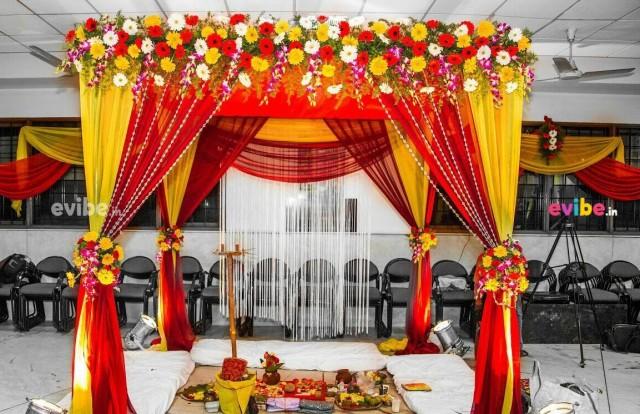 12. Bengali mandap decoration temple style.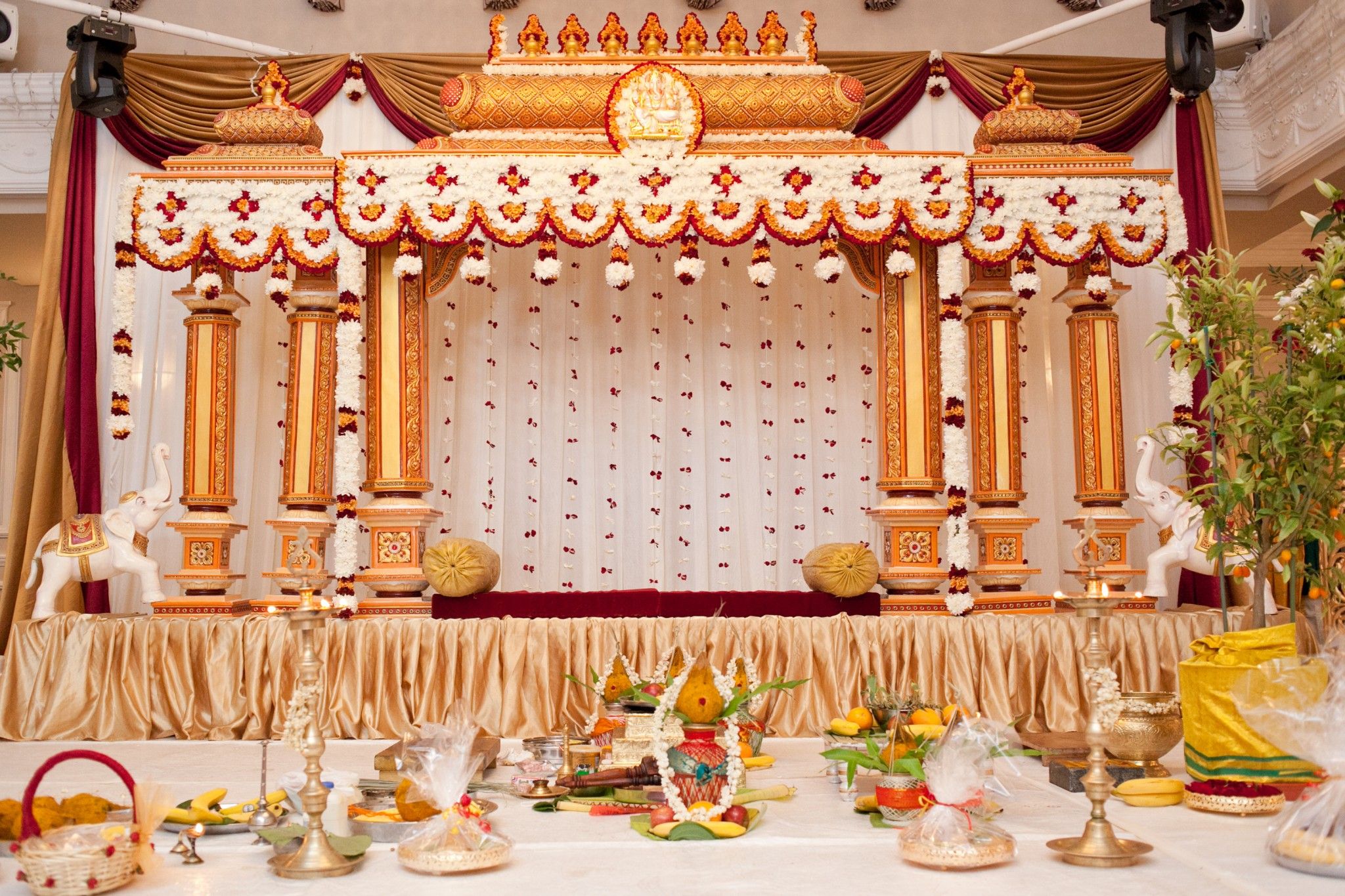 You may still be using simple Mandap designs for aesthetics if you're having a traditional Indian marriage at a temple. It would be ideal to stick to some traditional wedding mandap designs.
13. Royal and elegant wedding mandap designs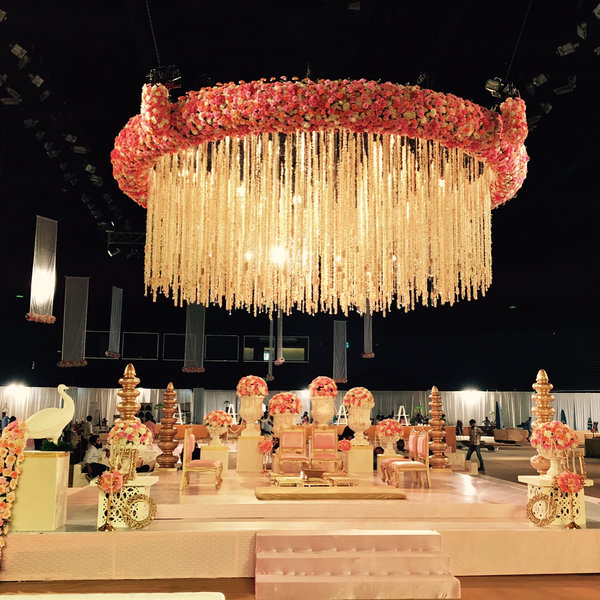 How about feeling like a king and a queen on your special day?
14. Beach wedding mandap decoration.
I have always been carried by the thought of a pic perfect beach wedding. And these pictures further intrigued my thoughts.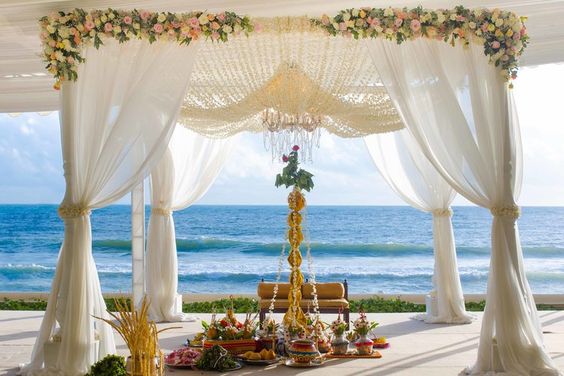 15. Bengali mandap decoration amidst the greens
And how would you like a wedding mandap within the lush greenery?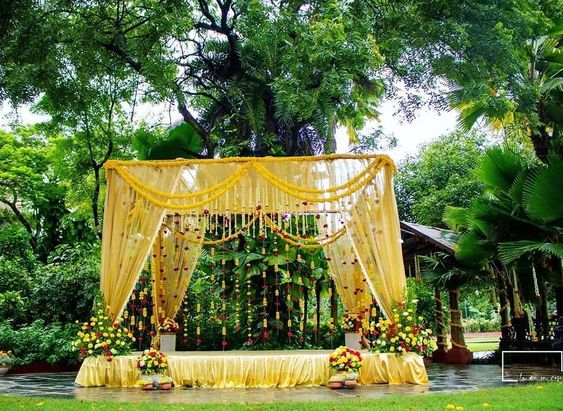 Or a hillside garden resort maybe.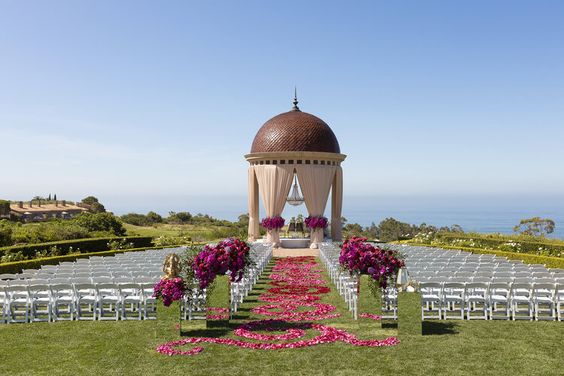 So these were some 15 awesome Bengali mandap decoration ideas for you. We shall be coming up with many more interesting wedding tips.
Till then,
HAPPY READING!