The distinct misti vibe, the colourful banarasi saree, the intricate forehead Kalka designs, and the statement gold jewellery. All this is what makes our Bengali brides special. However, it has been for the longest time that we have been talking about tips, tricks and inspirations on how brides should dress for their wedding.
But we understand that there is a thin line between the reception and wedding day. And your bou bhaat is equally important. This is the day when you get to meet and greet all the people important to your new family. So you gotta make sure that you don't miss out on any efforts of getting the best Bengali bride reception look.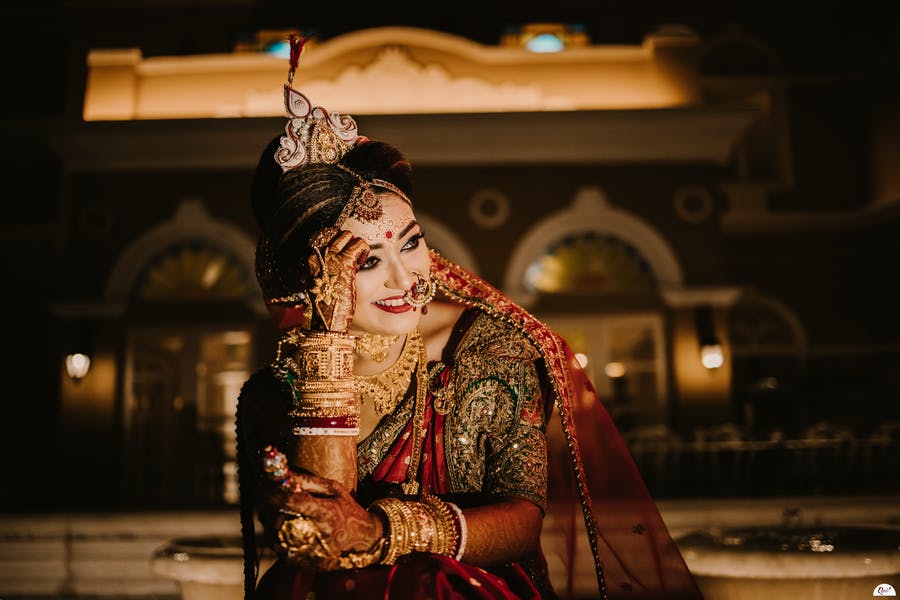 Trending Bengali Bride Reception Look Inspiration
If you are kinda clueless on what to and what not to do, our team is at your rescue! Surf through our top picks of Bengali bride look in reception, and I'm pretty sure, your all doubts will just WHOOSH away!
Recommended: Haldi Ceremony - A Beautiful Indian Wedding Ritual
1. She Chooses This Beautiful Zardozi Work Lehenga, And Her Photo Is Something That Struck My Attention At First!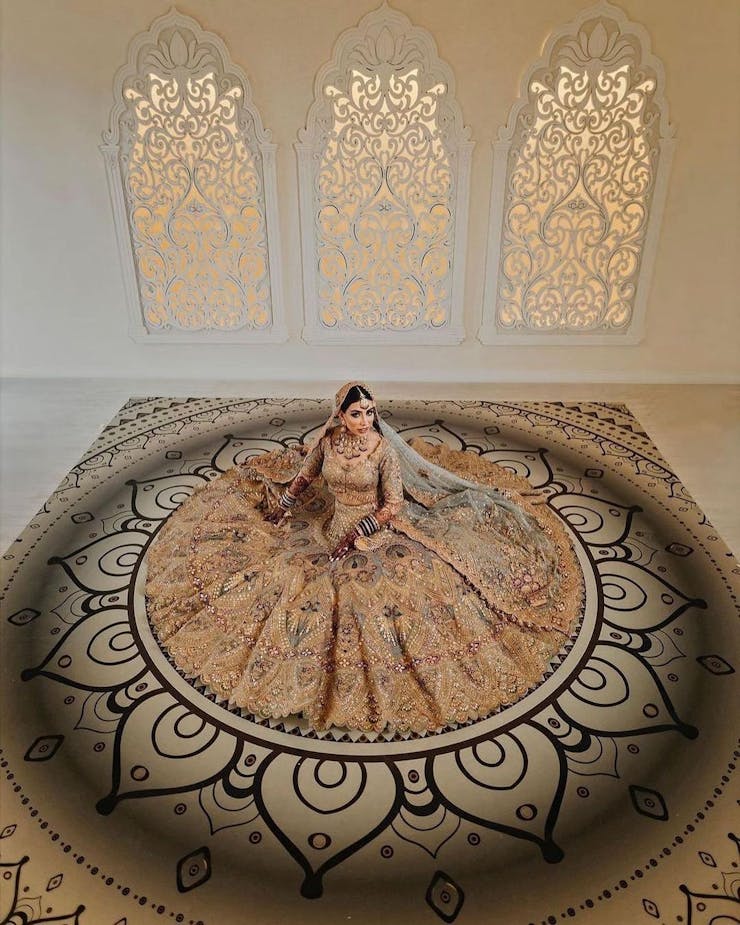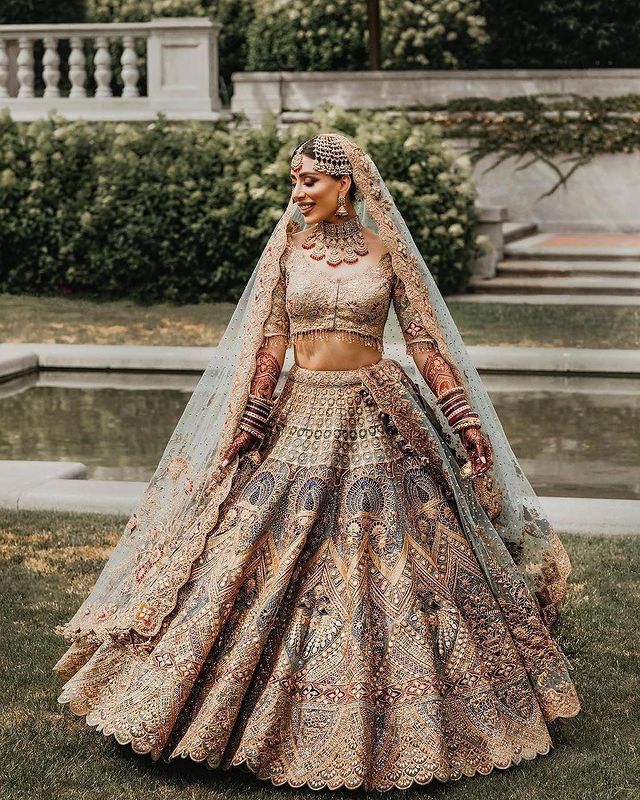 The first thing I came across in my insta feed this morning was the picture of this pretty bride donning a heavy zardozi lehenga in a combination of coloured motifs. The beautiful piece has a base of a cream colour and has intricate meenakari motifs all over its body in bright shades of blue, yellow, red and green. The way she has paired the lehenga with a statement Kundan bengali wedding jewellery set is totally the show stealer! I feel brides should totally try such a reception look for Bengali bride in lehenga.
2. A Simple And Sophisticated Red Lehenga For Natural Beauty!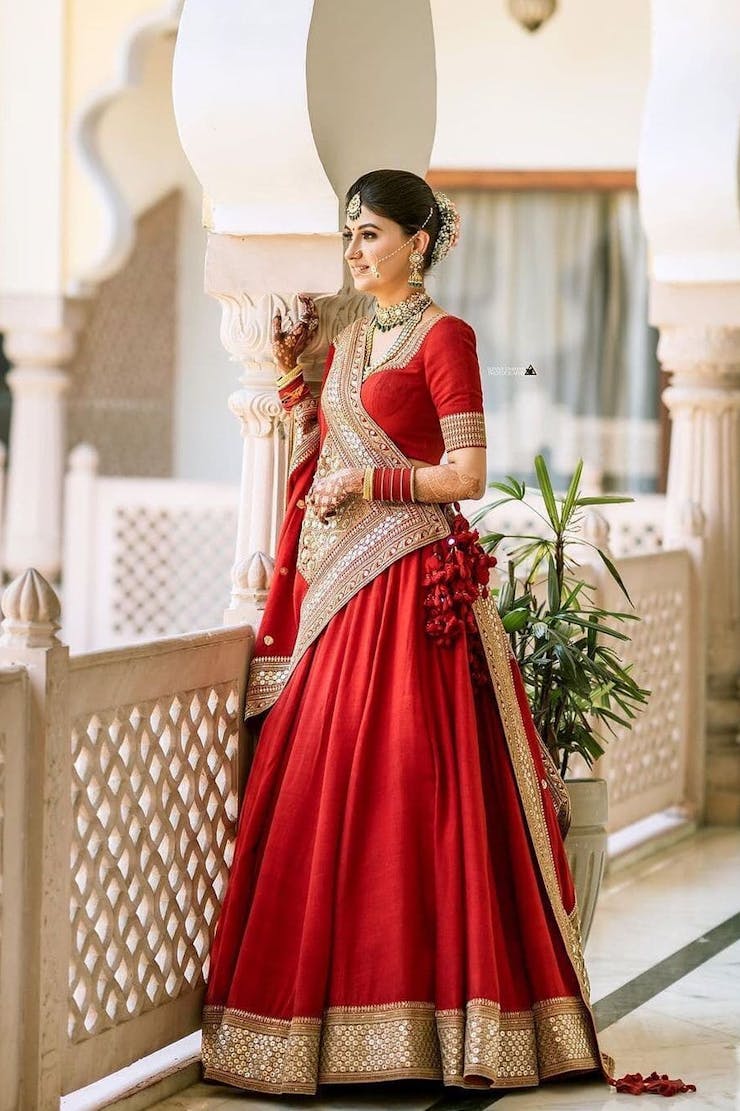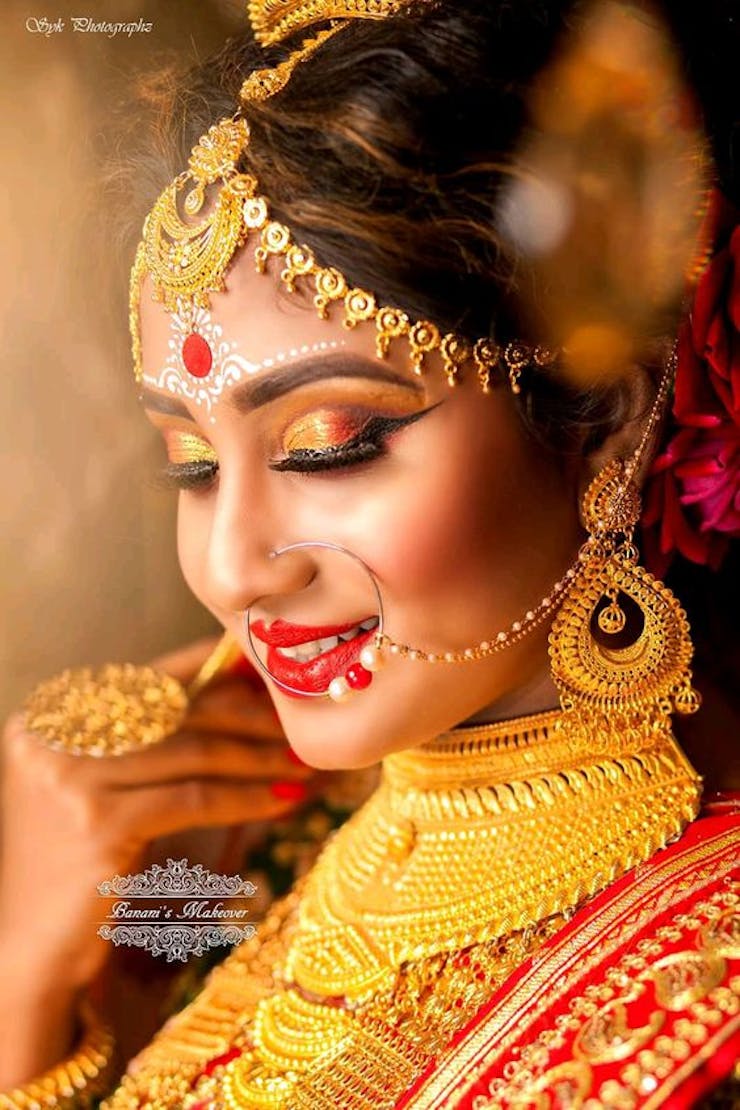 This beautiful chique Bengali bride reception look in lehenga is sure to grab the eyes of all my girls who are not much into heavy dress-ups. The staple bridal ton of red is dyed bright. And the statement mirror work border and pallu is adding the right amount of bling to the outfit. Pair it with some minimalist Kundan jewellery and a simple no-makeup look. Trust me girl you still would look bomb! Just give this a try and thank me later 😉.
Recommended: Top 10 Trending Bengali Bridal Lehenga design [2022]
3. A Traditional Bong Banarasi Bou Bhaat Look With A Twist In La Couleur !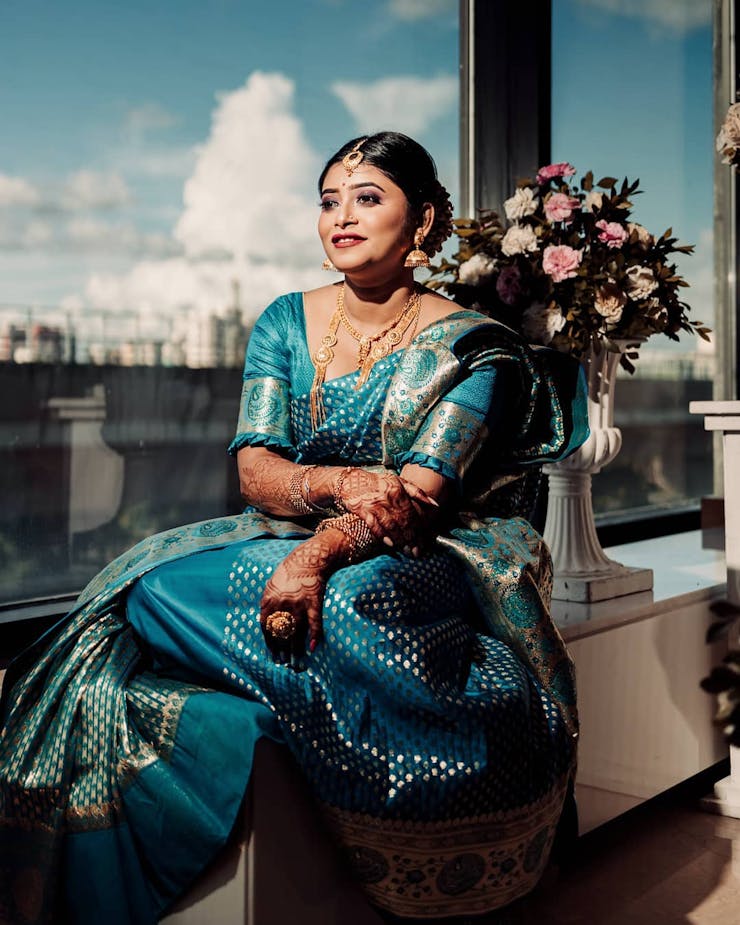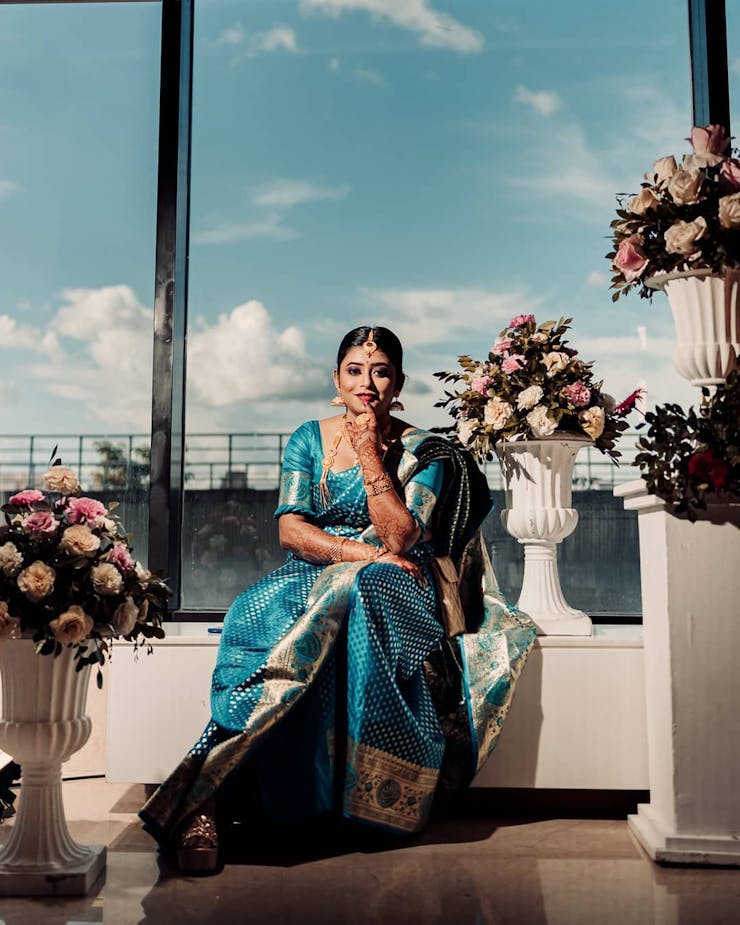 We all know how synonymous the banarasi sarees for Bengali weddings, right? Our beautiful bride here perfectly complimented that nostalgia of her through this Bengali reception look in saree. I can totally sit and adore how beautiful and elegant she is looking! The sea-green coloured saree with a hazar butti work in the body and a meenakari border is radiating bong regal vibes. This vibe is further accentuated by the simple Bengali bridal gold jewellery, and the simple makeup she has completed the look with. 
Also Read: Top 30 Pre Wedding Photoshoot Dress Ideas
4. Oh, The Beauty Queen Here Looks So Fantastic In The Maroon And Fiery Mustard Look!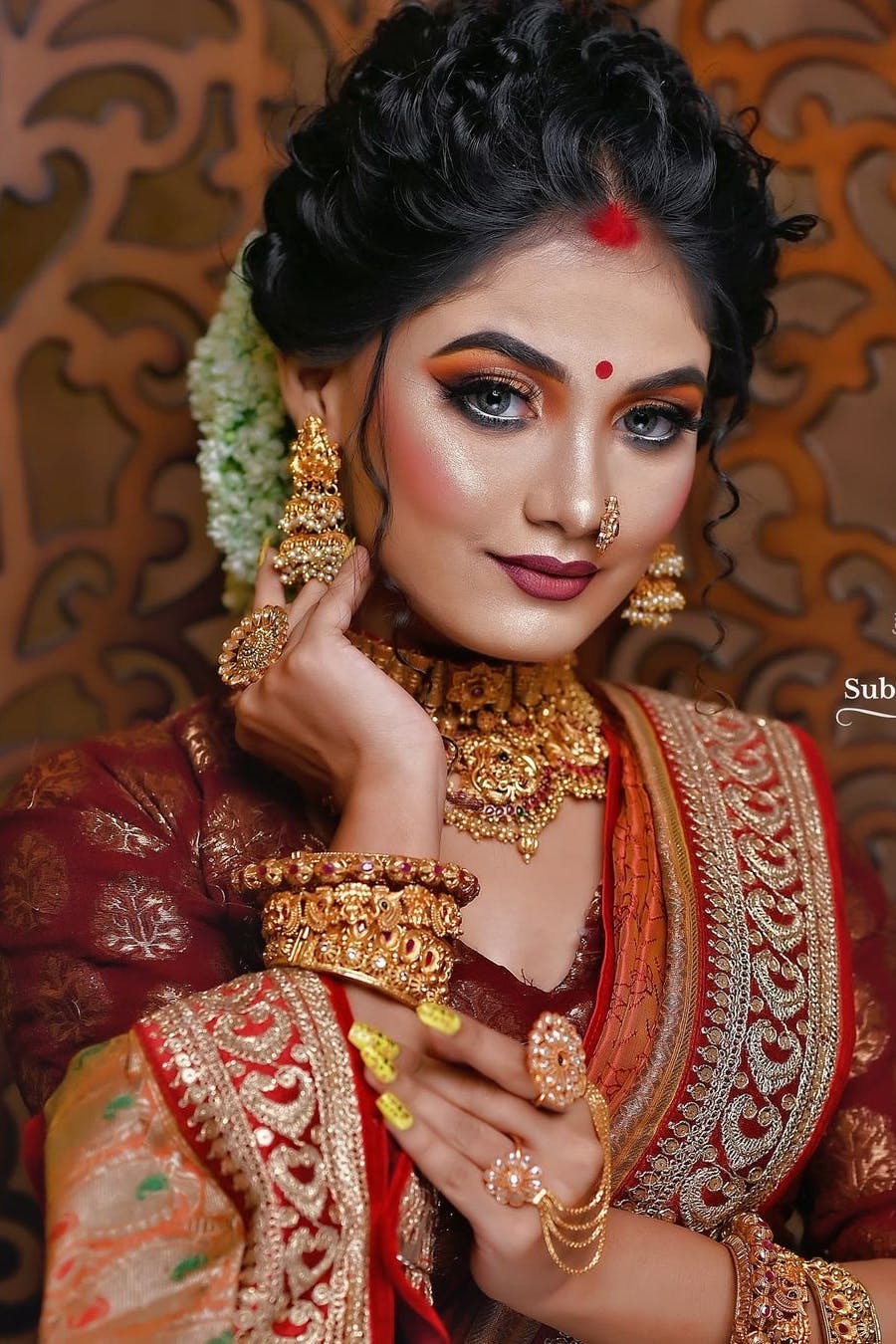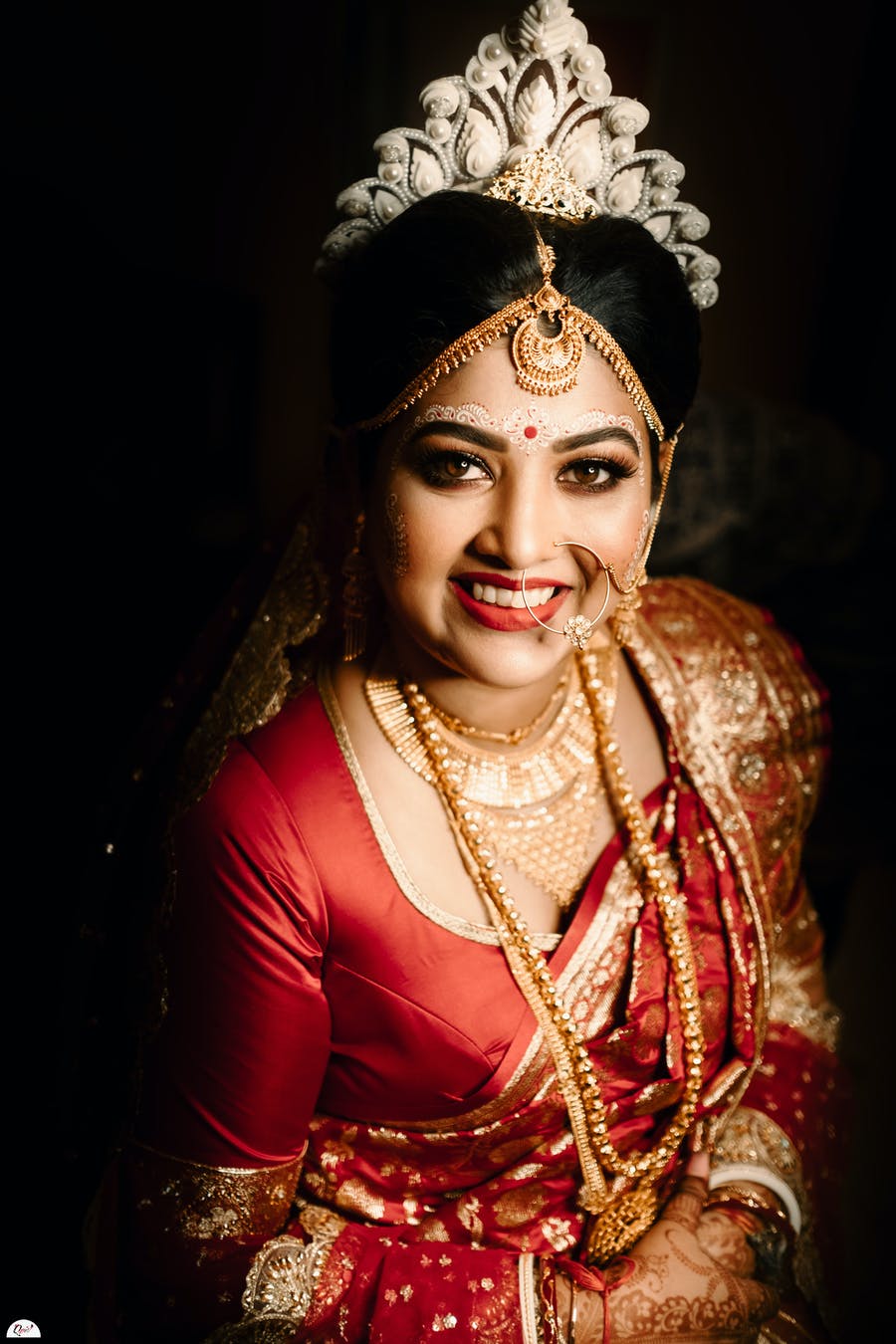 The beautiful lady here has donned a rich and hot combination of Maroon and mustard. The beautiful chanderi work blouse in maroon is perfectly complementing the mustard coloured silk saree. The thick zari embroidered border in Maroon and gold is adding the next level to the overall look of the saree. And can you overlook the heavy gold temple jewellery she has paired with the saree? Right from her Jhumkis to her hair bun wrapped in all mogra gajras is adding a regal finish to her OOTD!
Must Read: Top 25 Trending Bengali Bridal Hairstyle 2022
5. This Combination Of Shades Is Yet Another Regal Glory!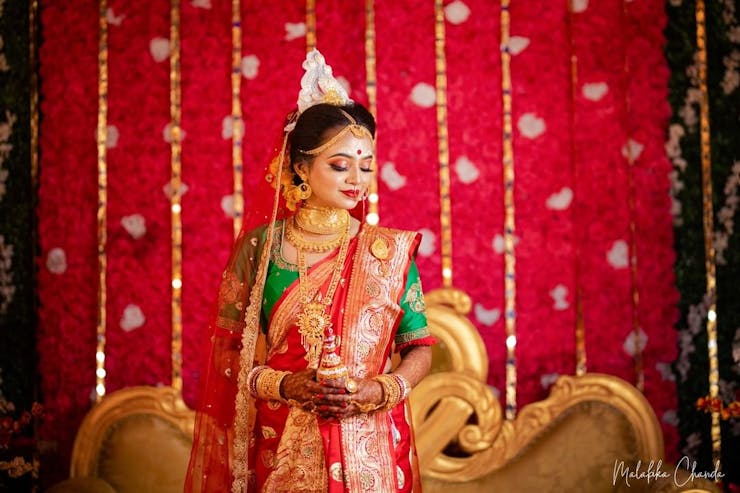 This beautiful traditional style simple Bengali bridal look reminds me of the beautiful idol of Goddess Lakshmi my Mother has in her pooja room! A stunning, divine and royal combination of Forest green and Milano red is all set to radiate a rich romantic vibe in the air.
The combination of reds and greens have been in the top picks of bridal outfit trends lately. Even though I have been kind of sceptical about the combination, I am certainly up for changing my opinion. Would definitely love to give this a shot!
6. Lehenga? Saree? Or Lehenga-Saree?
The idea of lehenga sarees and wearing sarees like Lehenga has been quite in the buzz for some time now. However, this beauty here has given a new dimension to the traditional Bengali Lal Benaroshi Saree! She has paired two different benarasi sarees of Venetian red and similar hazar buti print of two different sizes to create a beautiful ghera just like a lehenga.
The designer's deep V-neck blouse is just adding to the beauty. Though a modern style, she hasn't totally ditched her ethnicity. The traditional Bengali jewellery is complimenting and completing her bridal reception look.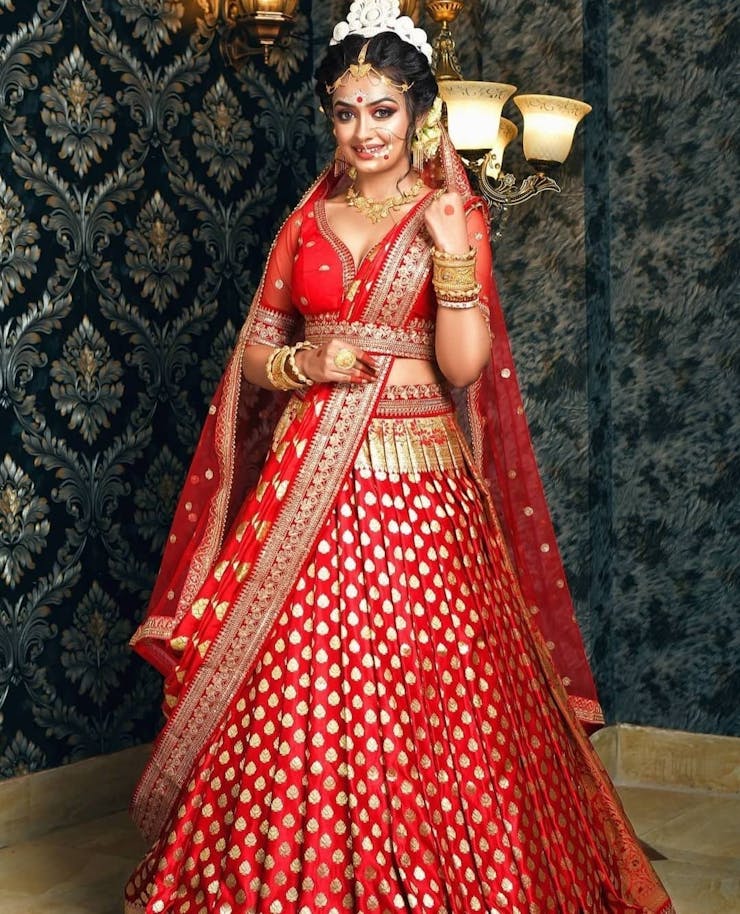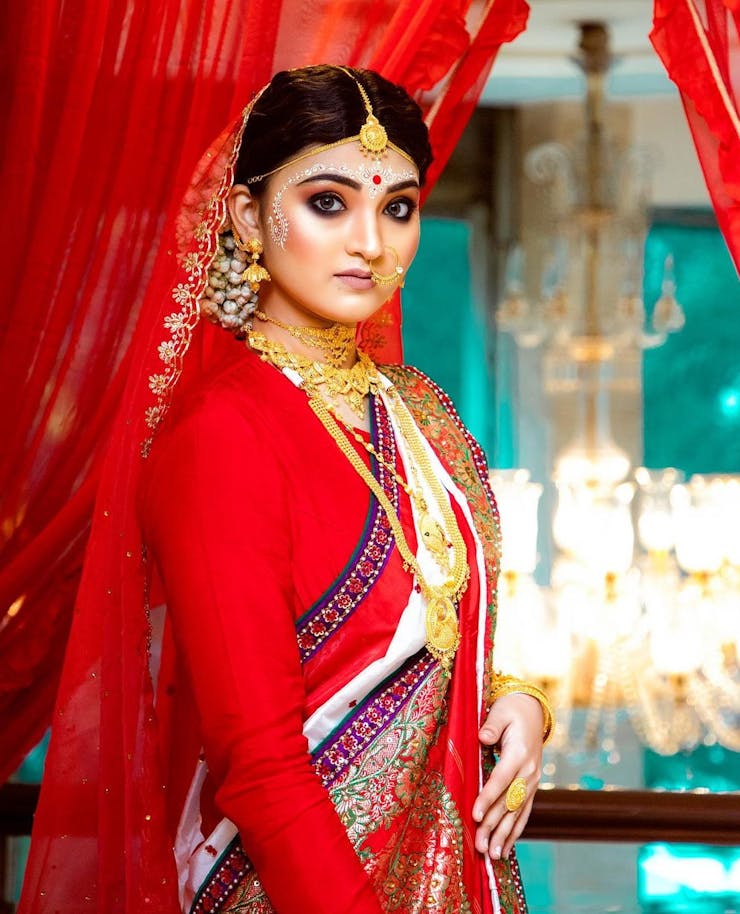 7. This Minimalist Bridal Look Has A Vibe Of Intellect That Surely Gets Everyone`s Admiration!
This pretty and simple bride over here is sure to win her in-laws' hearts with the witty eyes and tasteful choice of wearables. She has completely done herself in a Rabindrik inspired style of draping the saree. A simple white and red silk saree with a sleek blue embroidered border, and meenakari work in the pallu area. The look is further enhanced by the bold eye makeup, nude lips and chique intricate Kolka art on her forehead. The simple Bengali style golden jewellery is completing the Bengali bride reception look.
Also Read: 15 Bengali mandap decoration ideas
8. This Beautiful Bengali Bride Reception Look Here Is Sure To Convince Us To Get Over Only Reds For Brides.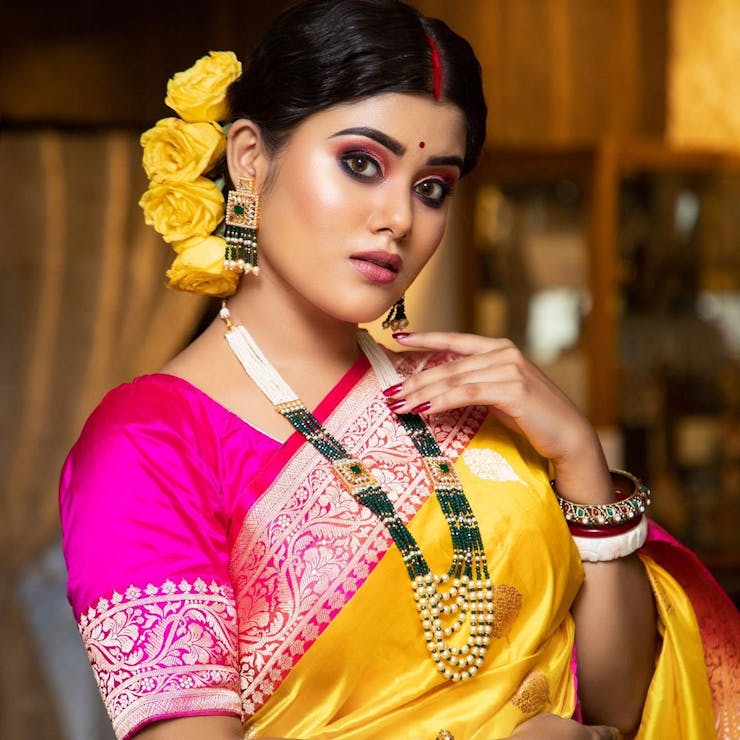 Who said that red is the only colour that completes the Bridal Look? Do you still feel the same after seeing our beautiful bride here? The eye-catching combination of Yellow and pink is sure to make any, to-be bride wanna try the combination for her bridal reception look. The pretty yellow chrome Katan Silk saree with a hot pink border and blouse doesn't look any less bridal. And the yellow rose decorated bun is not to be missed 💓.
9. Our Beautiful Mastani Bride Is Leaving Her Prince Charming All Deewana!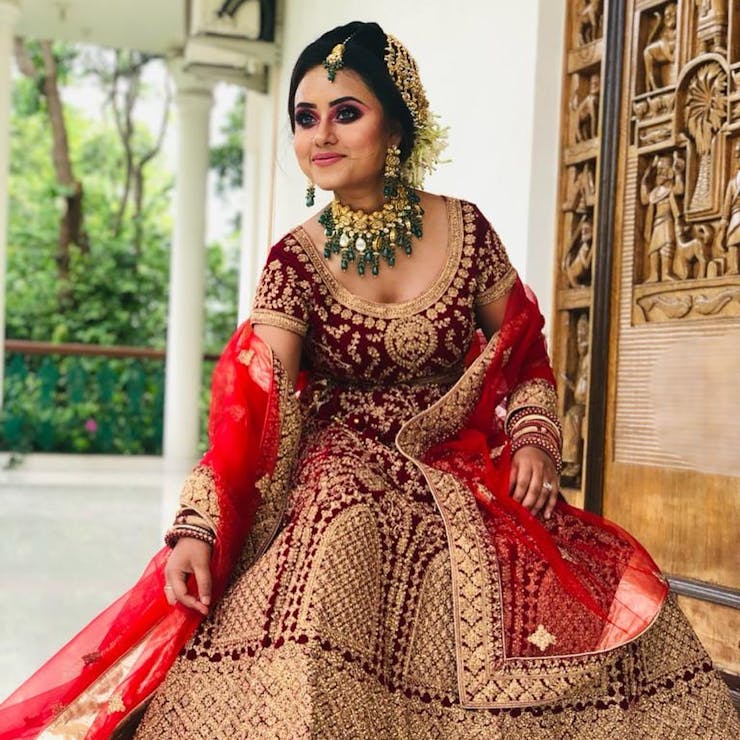 WOW, What a beautiful outfit of Islamic inspiration! This beauty here is carrying a perfect flawless blend of cream colour and burgundy through her outfit. The heavy zardosi velvet lehenga in Burgundy with golden needlework all over the body.
This is a beautiful double dupatta style lehenga with one red net zardosi dupatta and another off white dupatta for the ghoonghat. However, for jewellery she has chosen a heavy Kundan neckpiece, teardrop style earrings and the royal mujra on the side of her head is not to be ignored.
10. A Modern Yet Ethnic Blended Bengali Reception Look For Bride.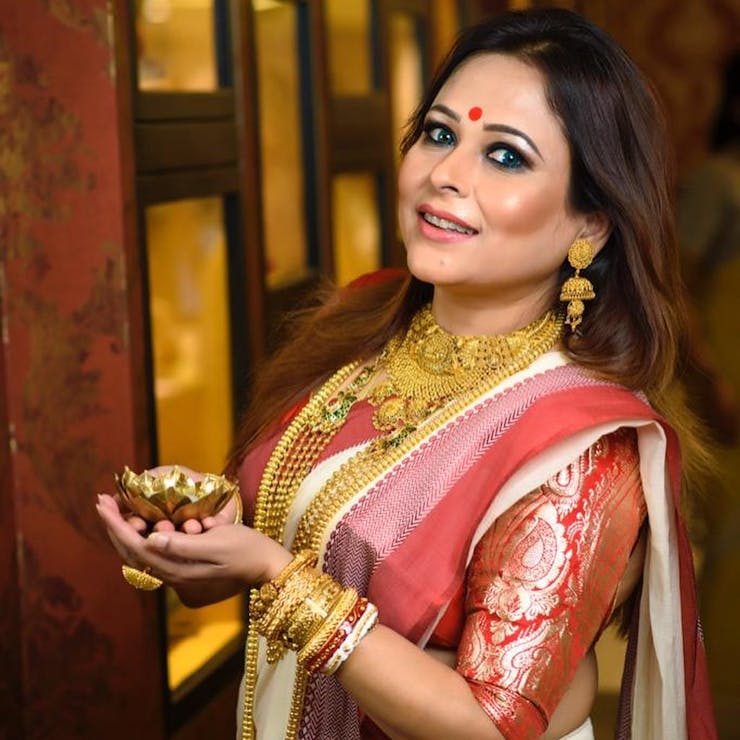 This pretty Bengali bridal look image inspires to flawlessly carry the bold and chique modern Bengali bride look, with hairs all open. The simple Tant Lal pere Sada Saree (white saree with red border) paired with a beautiful red chanderi blouse and beautiful layered Bengali jewellery is taking the insta by storm.
The beautiful makeup with bold blue eyes and nude lips and the statement Bengali red bindi is sure to steal anyone's heart. Also who needs a ghoonghat when you got such beautiful tresses?
11. A Queen Padmavati Inspired Bride Is Sure To Be The Heart Beats Of Her Maharawal Ratan Singh!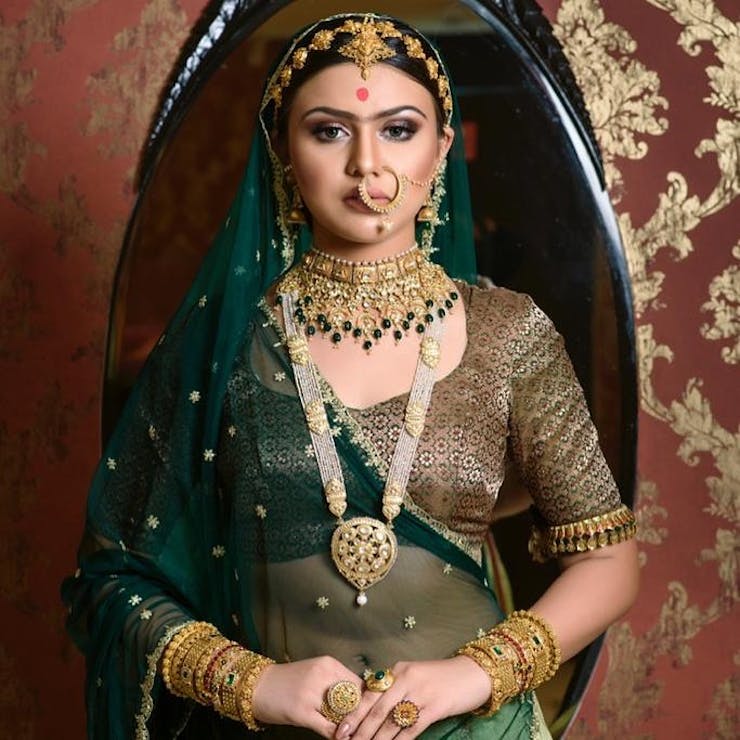 The beautiful bride is carrying a bold and regal look inspired by Queen Padmavati of the movie Padmavat! The simple makeup with a unibrow and a high bindi is amped up by the exquisite brown banarasi zardozi lehenga. The beautiful bottle green dupatta perfectly contrasts with and complements the lehenga. I can see myself try the look at some point in my life.
12. A Modern Chique Benarasi Look Which Has Been A Very Much Sought One Now!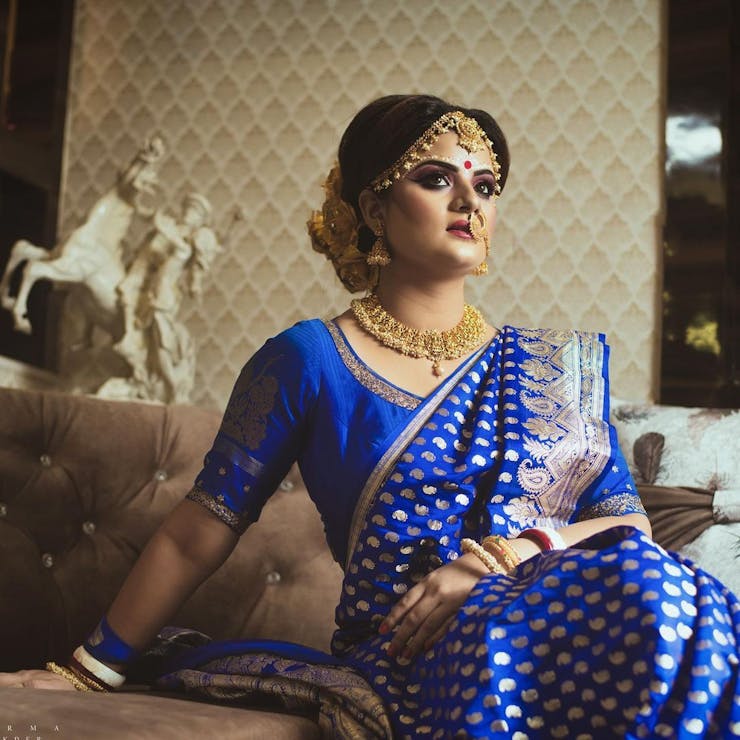 There has been a very popular trend of wearing a colour different from red in benarasi sarees, for the reception. This bride has taken the trend to a level of perfection. The beautiful electric blue saree with faded gold banarasi work looks simply stunning. The simple bridal jewellery set further added to the beauty.
13. A Beautiful Angelic White Gown Look Can Be A Dream Of Many Little Girls!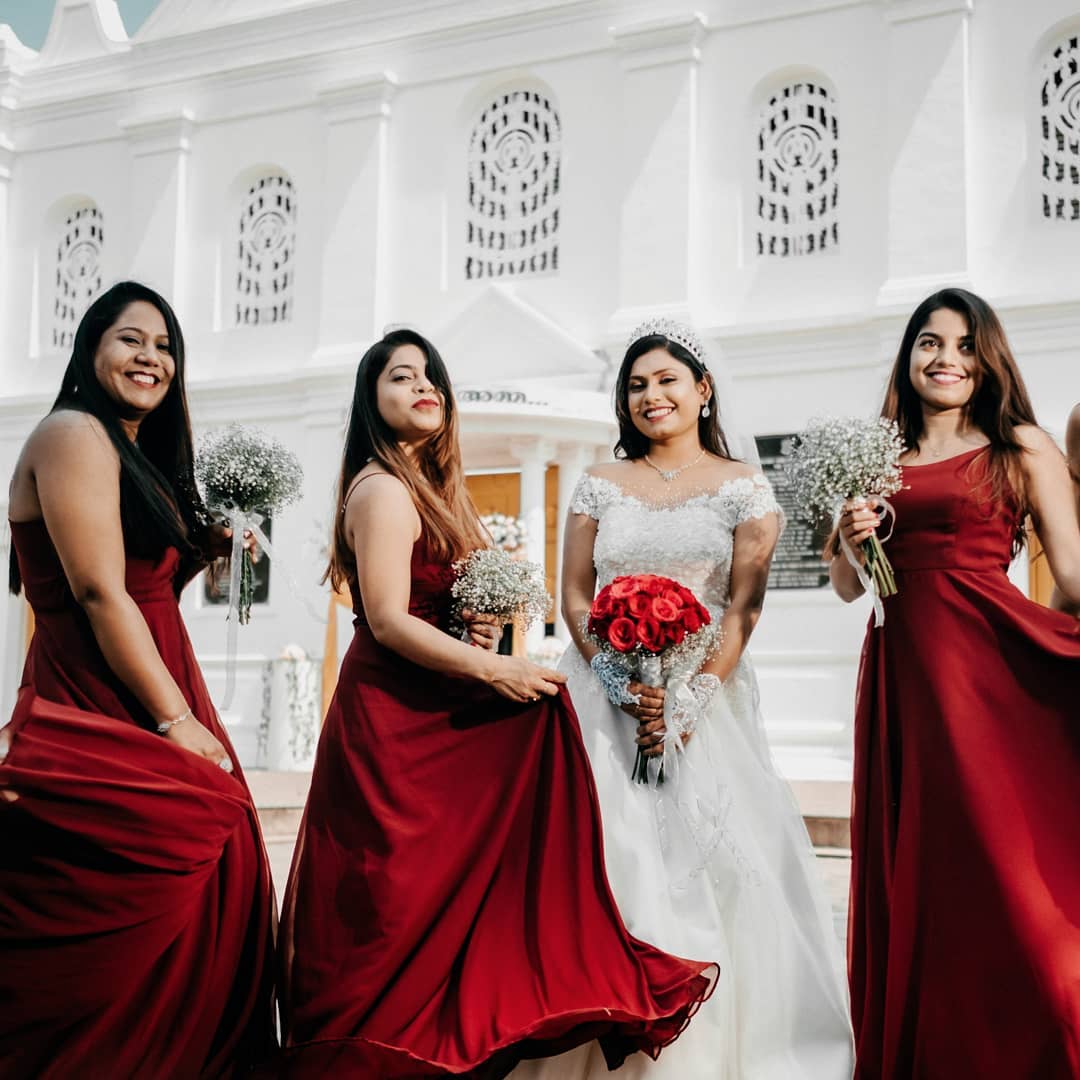 I have always dreamt of wearing a beautiful all-white wedding gown. This can be your perfect pick for the reception look of Bengali bride. With the off-shoulder lace motif in the blouse area and the long veil, the bride looks no less than an angel on earth! You may literally go for any colour gown that you dream of for your reception.
14. A Beautiful Carefree Lehenga Look To Awwe The Show!
This pretty Lucknow chikankari lehenga is another thing that caught my attention this morning! It's simply awestruck how beautifully the bride is carrying the look. The chique yellow lehenga choli with a plain green bordered dupatta is further complemented by the Floral jewellery. Though looks like a Haldi ceremony look, this shall be as apt as a bridal reception look in lehenga.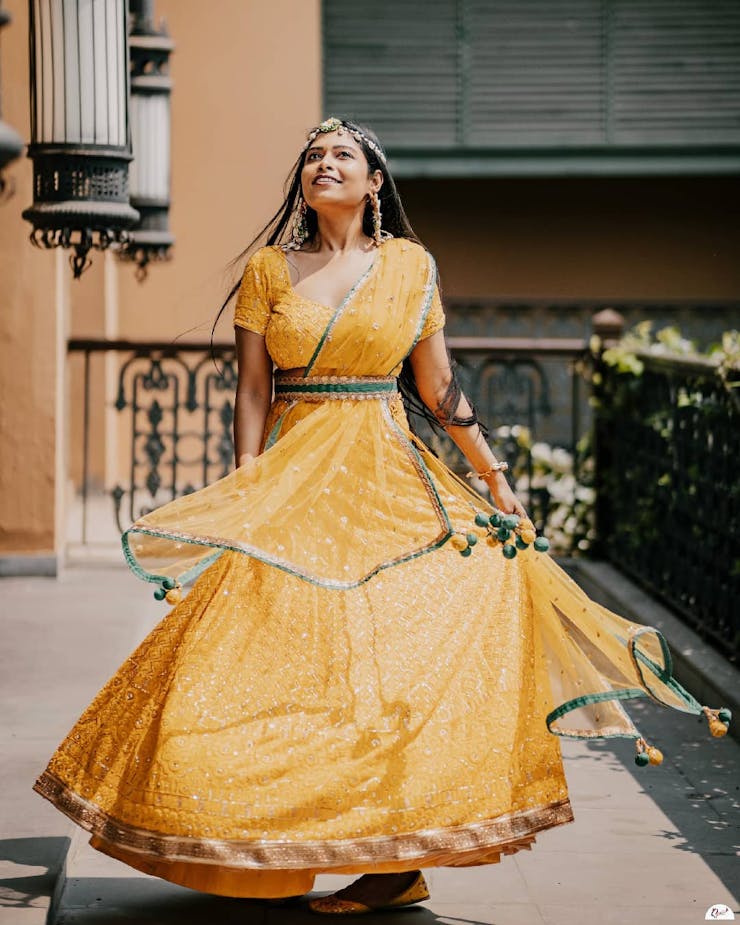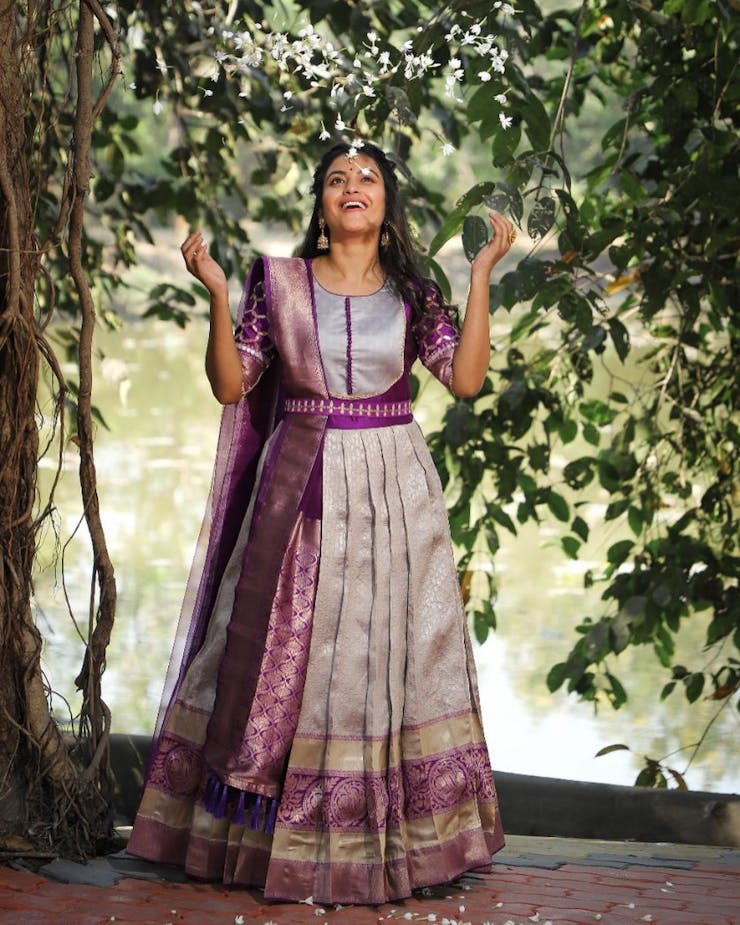 15. A Beautiful Kanjivaram Affair!
This beautiful simple Anarkali style gown of kanjivaram material can be your perfect pick for a small intimate reception. The embossed zari motif in the grey skirt area of the suit adds that extra bling to the outfit and is making it a perfect fit for Bengali wedding reception look. I would really soon take this design and get it custom made at some boutique, even if I am not getting married any soon 😋!
16. When I Say A Wedding Gown In Any Colour Can Make Wonders, I Mean This!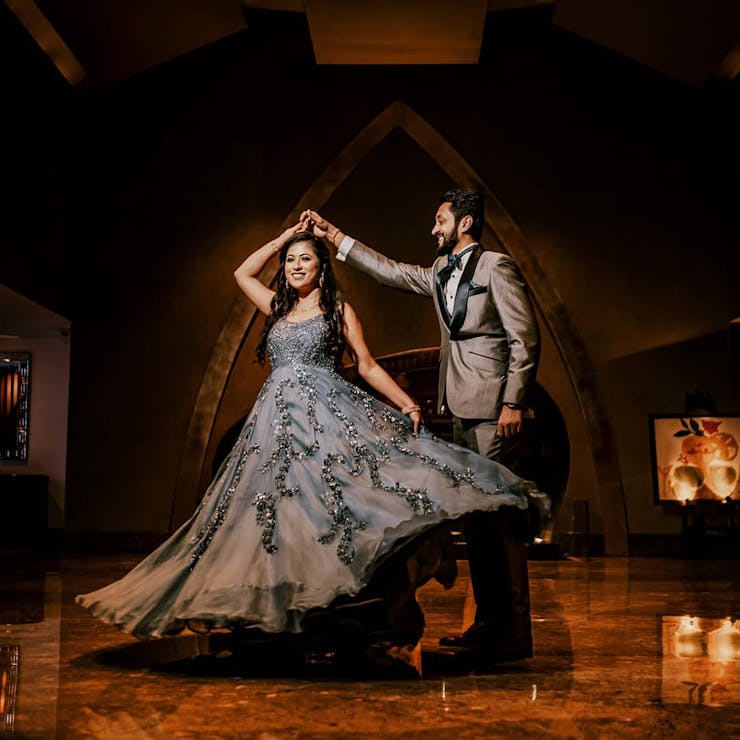 How happy and beautiful this bride looks in the grey gown! The pretty A lined flared dress is further enhanced by the embroidered blouse portion. A masterpiece of the almighty`s art!
17. A Royal Dressy Bride Who Just Looks Like A Queen!
This Beautiful bride here is acing her look with a peach fishtail gown with a really looooong trail. The beautiful bright pastel peach colour is complemented by the golden motif on the body. Our lady here has gone for a pretty smokey winged eye look, with peach lip colour. The elegant updo is not to be overlooked. Also, you may go for a simple pearl earpiece and bracelet, like the bride here, or maybe some diamonds. A perfect Bengali bride reception look.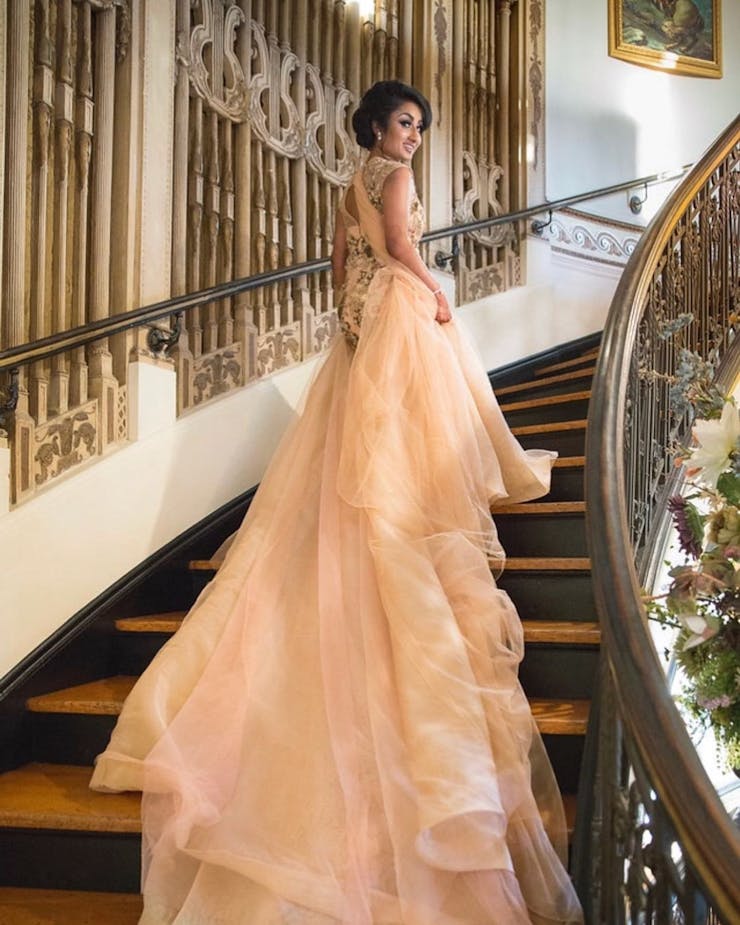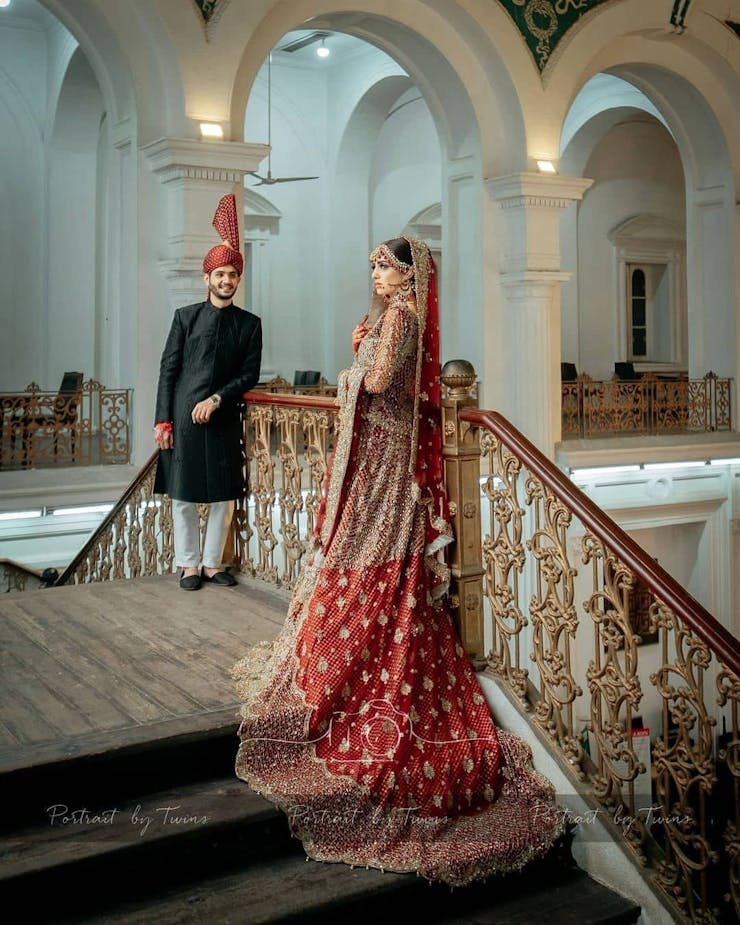 18. A Beautiful Punjabi Inspired Bridal Reception Look In Lehenga is sure to not go wrong with!
Though the image is of a beautiful Punjabi bride on her wedding day, I feel that the look can easily be carried out by a Bengali bride with equal perfection. The beautiful scarlet red lehenga with floral embroidered motifs in golden zari work. The sheer gotta Patti veil in red. The beautiful Kundan bridal jewellery. All of this makes the perfect Bengali wedding reception look.
19. Yet Another Mesmerizing Gown Bridal Look That Stole Our Hearts!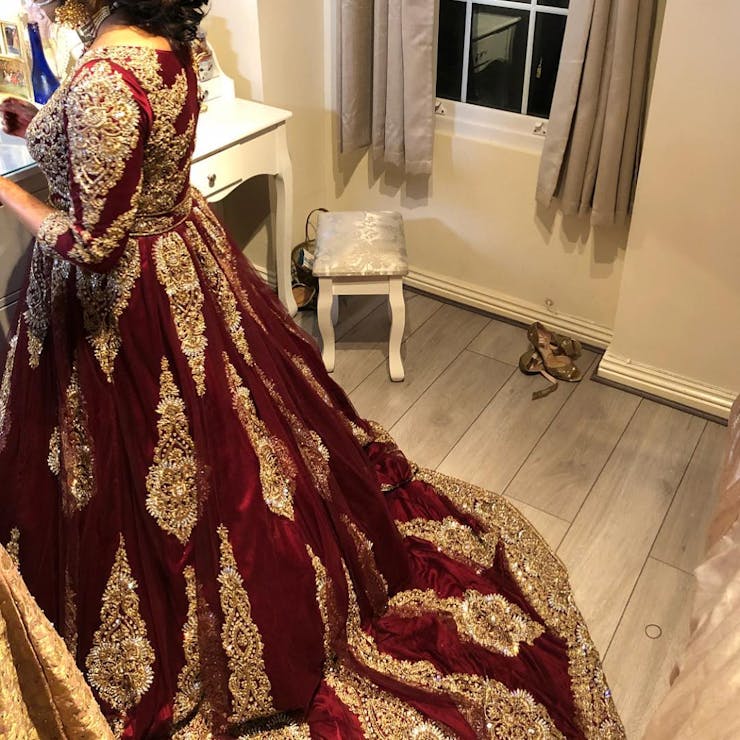 This beautiful maroon Indo-western style lehenga can be the OOTD for any bride for her reception! Isn't it always best to let your in-laws see, know and adore the queen you are? And what's better than an outfit that coddles the royalty in your personality?
This beautiful maroon Anarkali style gown with long zardosi embroidery patches all over the body is certainly a visual treat. It is especially praiseworthy how the bride is carrying the long trail and heavy gown with utmost perfection.
20. How About Finding The Banarasi Intricacy On A Lehenga!
This beautiful outfit of a bride donning a stunning banarasi lehenga is sure to woo all those girls who want a banarasi and lehenga at the same time. The patched combination of two different shades of blue, cobalt and sky looks jaw-dropping.
The rose-red dupatta and blouse are further complementing the work through contrast. The banarasi zari work is sure to make you direly want this modern Bengali bride look.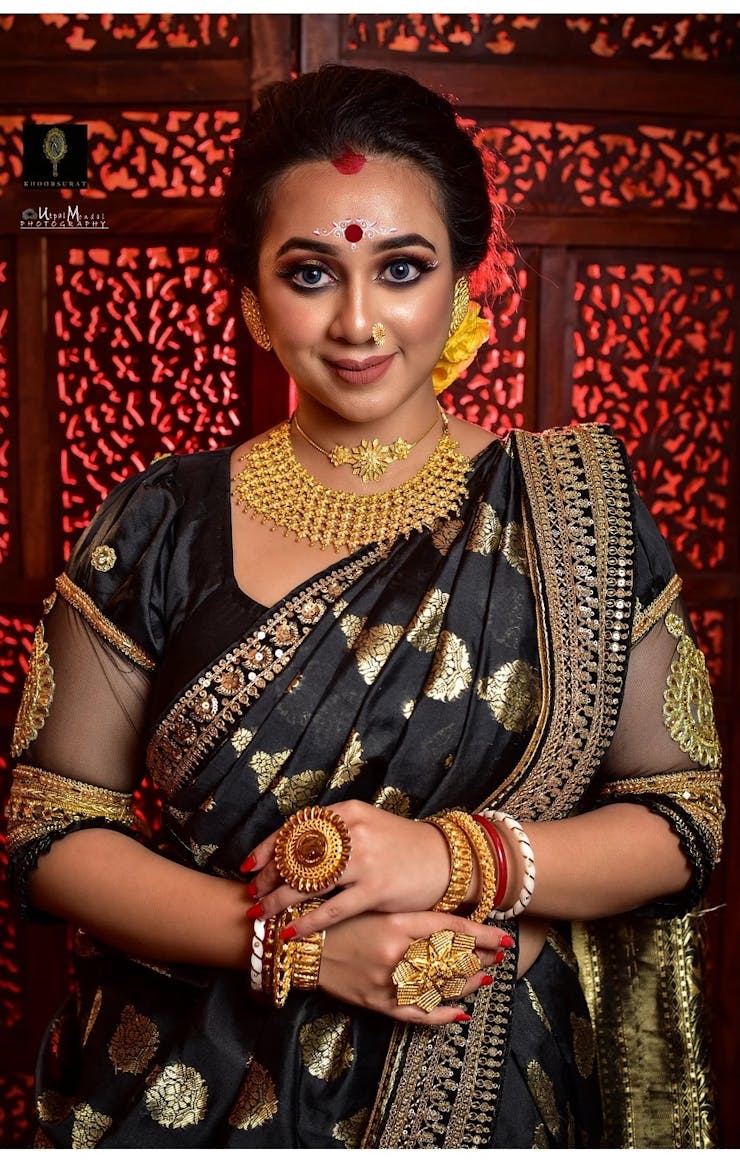 21. Do You Believe That Black Is A Colour Inappropriate For Brides? I Would Say You're Wrong!
This beautiful and gorgeous black Bengali reception look for bride in saree, is sure to kill your taboo around the fact that black isn't a suitable colour to pick for any of your wedding events. This beautiful bride is simply acing the beautiful black and golden embroidered banarasi saree look. The neat pleats of the entire pally and the sheer sleeved velvet embroidered blouse just complete each other.
She has done a simple floral bun with golden faux flowers, a minimalist kolka bindi and wearing some authentic Bengali gold jewellery. If you are a black lover just like me, you can totally go for a similar look!
22. Must-Have Heard About White Gowns, But How About A White Lehenga?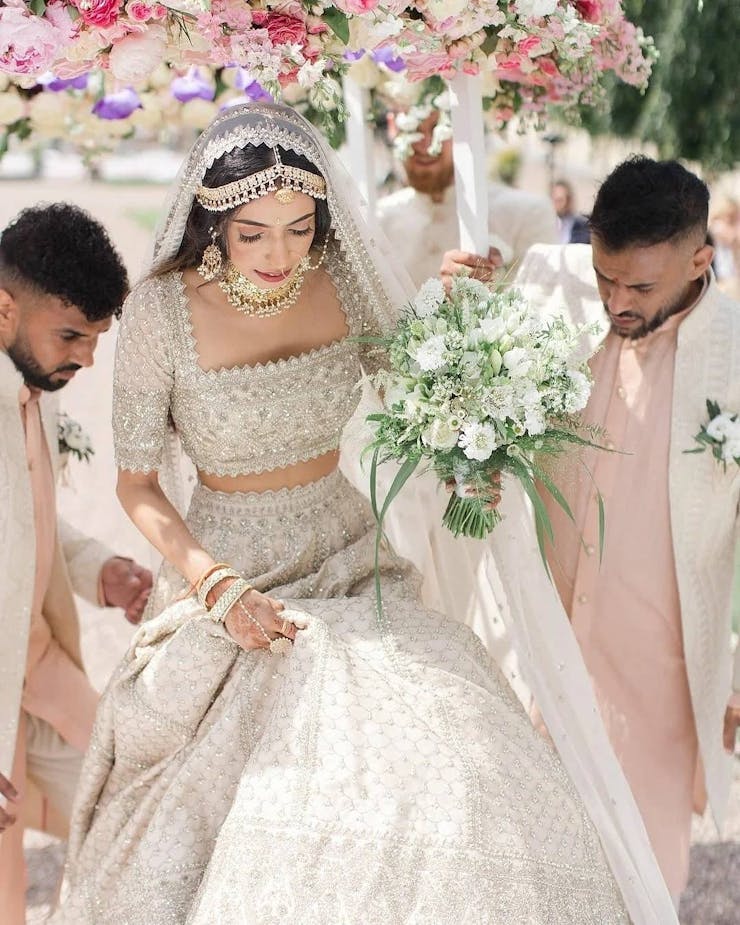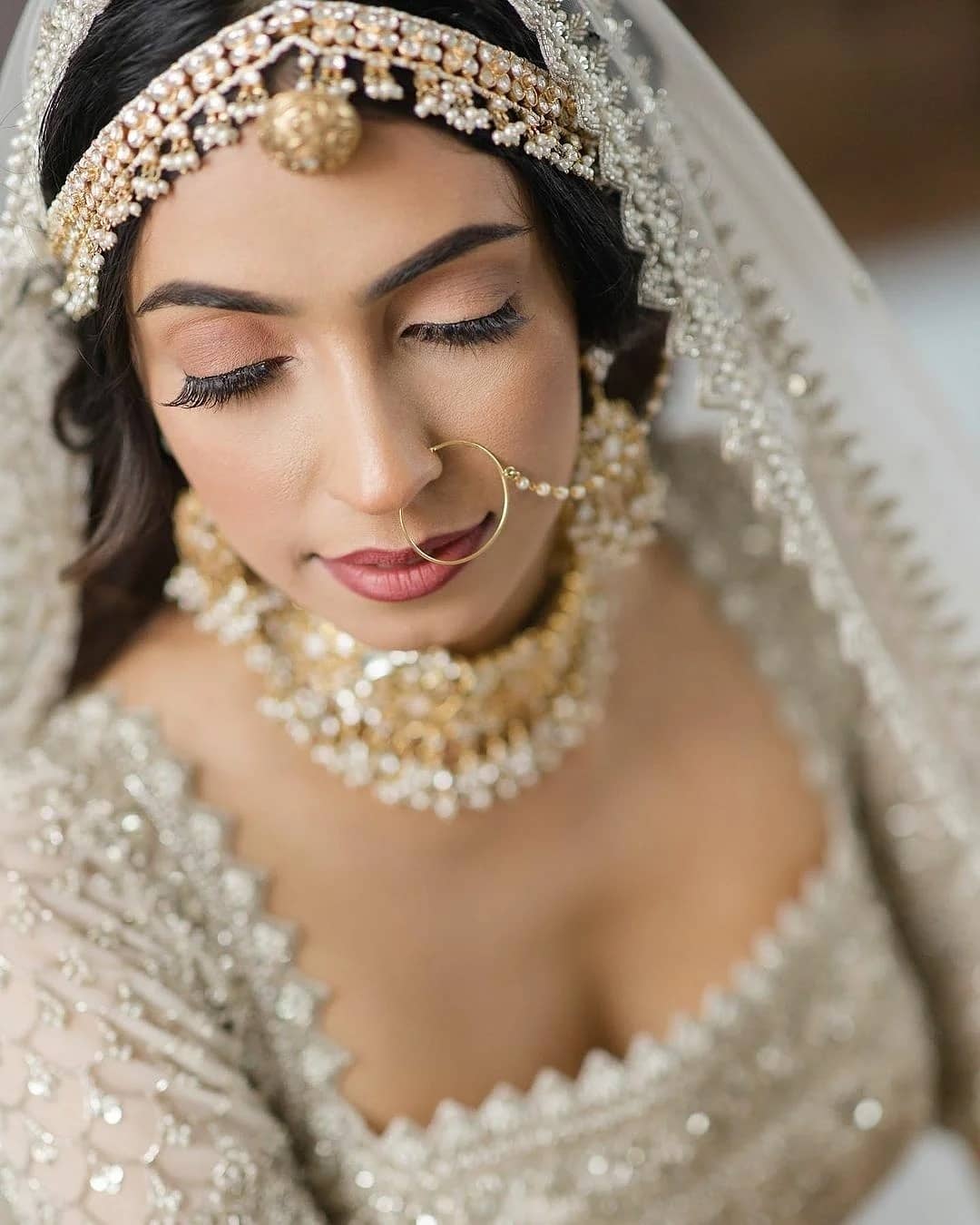 This beautiful bride here is rocking her bridal look in a beautiful ivory Lehenga choli. The aesthetic lehenga has a full body of chikankari work in the same shade of thread, and some silver threads for that extra bling! The bride here has perfectly paired the look with a carefree hairstyle, matching ghoonghat and very simple and chique Kundan jewellery in white stones on a golden base. The Gujarati style maang tikka is another attraction of the look. She has also kept her makeup simple by accentuating her lips simply with an ombre of burgundy and nude. A perfect modern Bengali bride look.
23. Yet Another Saree Lehenga Look That Is Getting Viral With Time!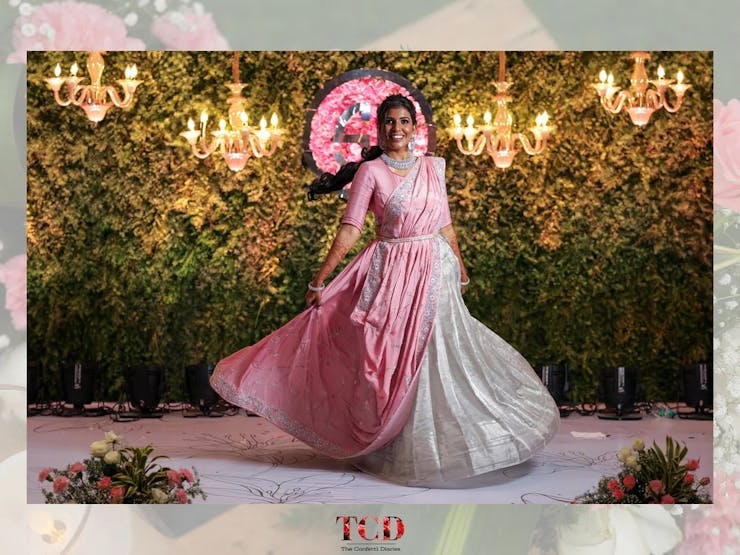 We have been looking at the lehenga style of wearing sarees for a long time. In fact, we have shared a beautiful all red saree lehenga look in a preceding part of this blog as well. But there is something special about this particular bridal attire here.
She has clubbed two different sarees of contrasting colours and draped them like a lehenga. A beautiful white and baby pink coloured lehenga saree. The Pink part has been artistically draped as the pallu, while the white saree is a ghera lehenga. The statement diamond necklace and bangles are adding to the regal aesthetic.
24. What Do You Have To Say About This Dreamy Colourful Lehenga Look?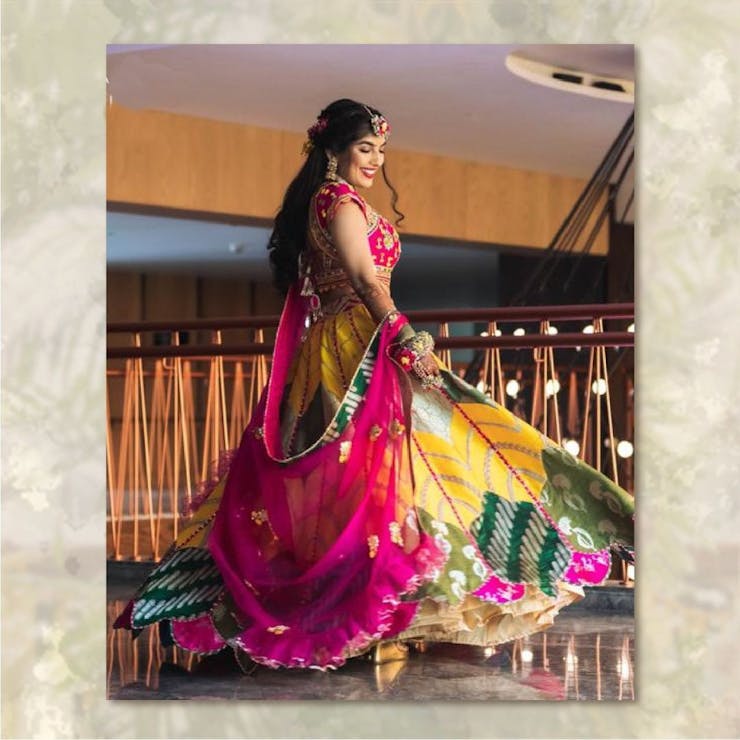 This beautiful bride here has dressed in a quirky multicoloured lehenga, that pairs with a rich zardosi pink designer choli and Dupatta. A very light and morning-y look perfect for the daytime reception party. However, you can always go for wearing the wonder at a nighttime event as well. A perfect Bengali bride reception look.
25. When You Wanna Wear A Gown But Don't Wanna Ditch Your Saree, Go For A Saree Like This!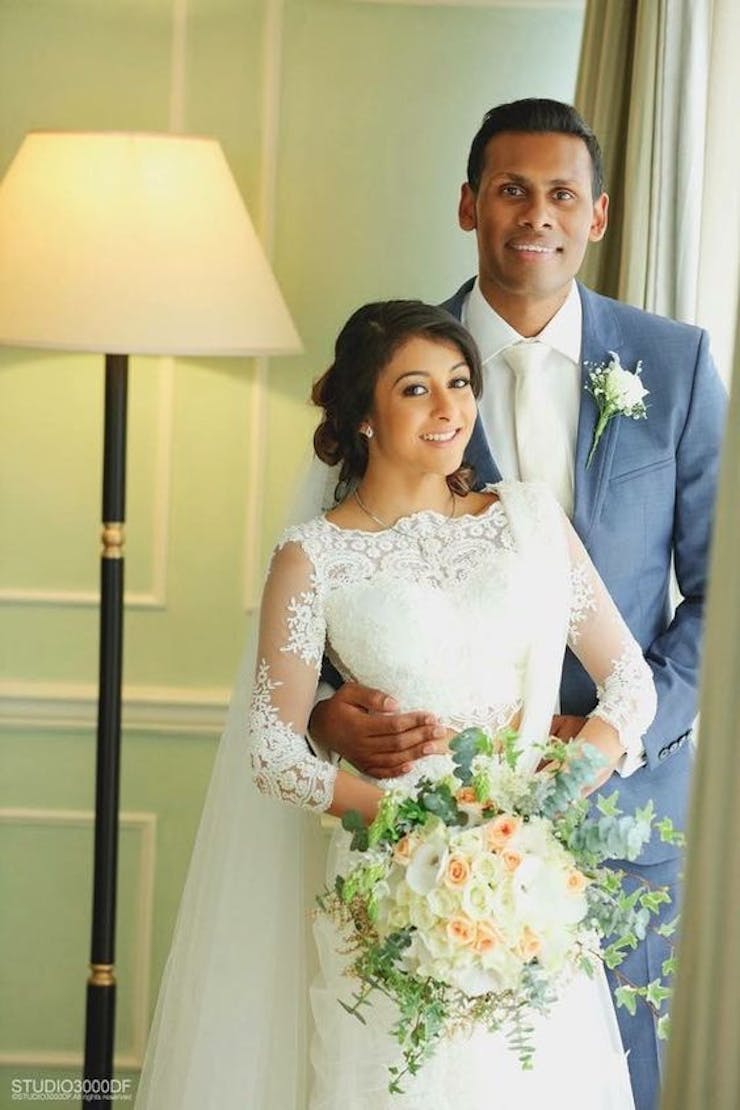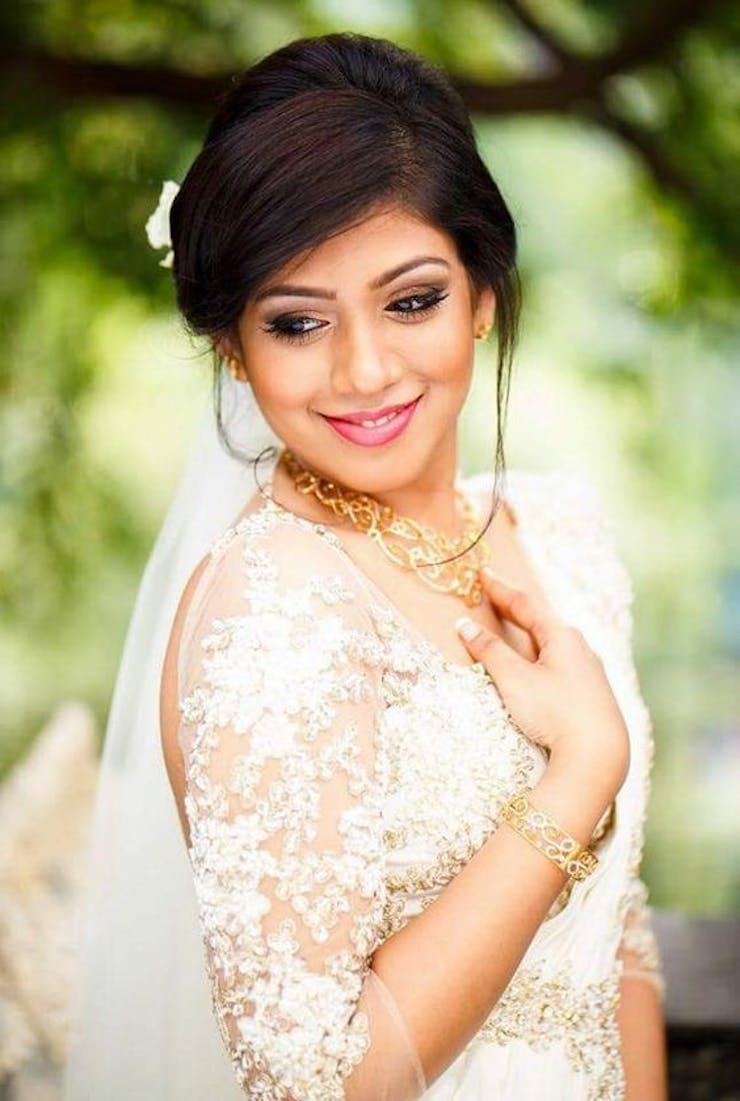 The beautiful Sri Lankan Brides here are giving us some major inspo about dressing up for our Wedding Reception. A unique, subtle and very gorgeous reception look for bride in saree. Do you see how divine and pretty they are looking in the designer lace blouses and the wedding gown like sarees? I can totally try this for my wedding!
26. What If You Are Not Very Fond Of All The Flares And Gheras? Will This Do?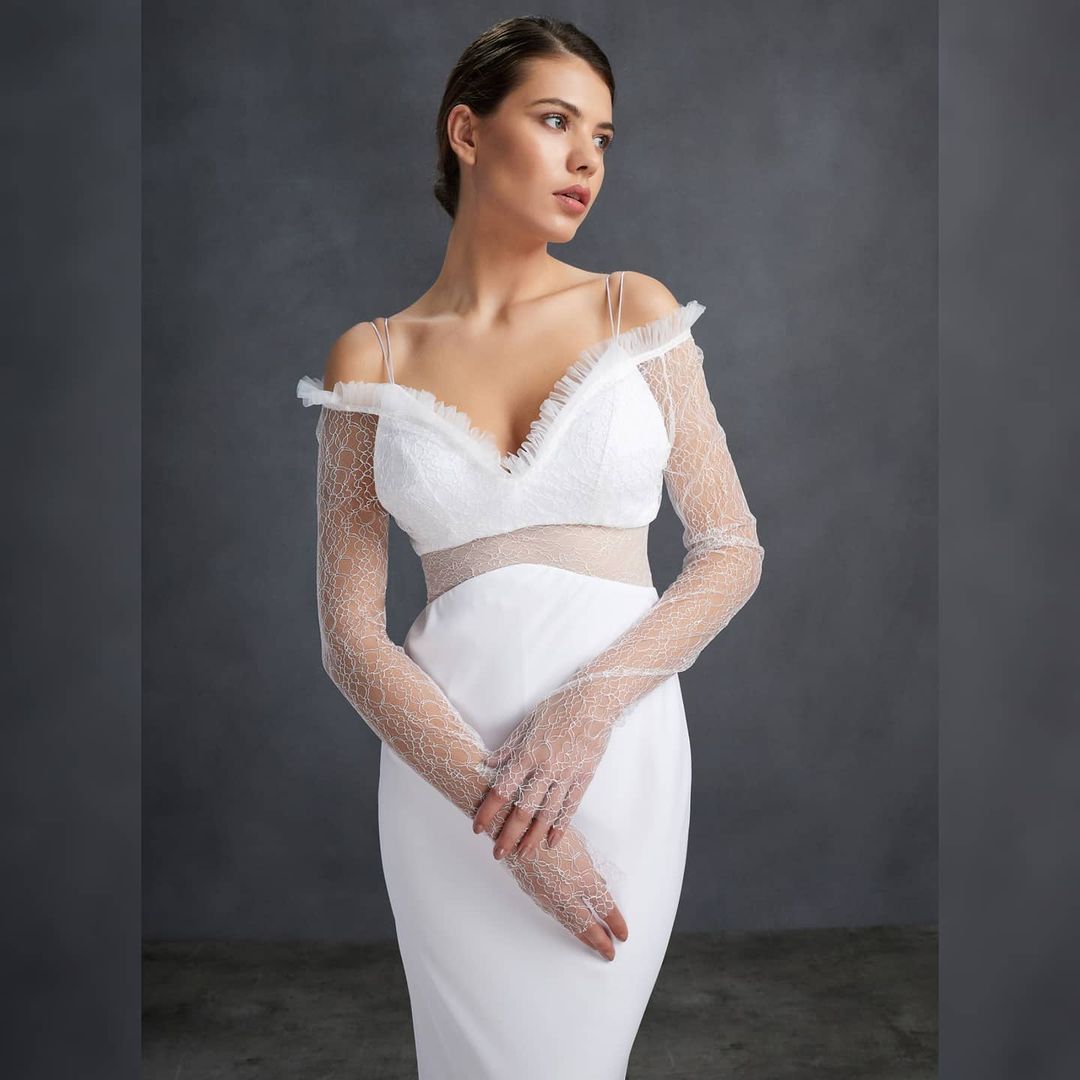 Now, what if it's a cocktail reception and you don`t wanna wear a very flary or Indie outfit? This chique bodycon bridal dress can make your look. This ivory off-shoulder dress is perfect for the reception your hubby organized for her close colleague group back in the city where he works. Pair it either with a similar bun hairstyle or sleek mid partitioned hairs. And trust me you shall be more than good to go!
27. A Boho Outfit Of Lehenga Paired With Shirts!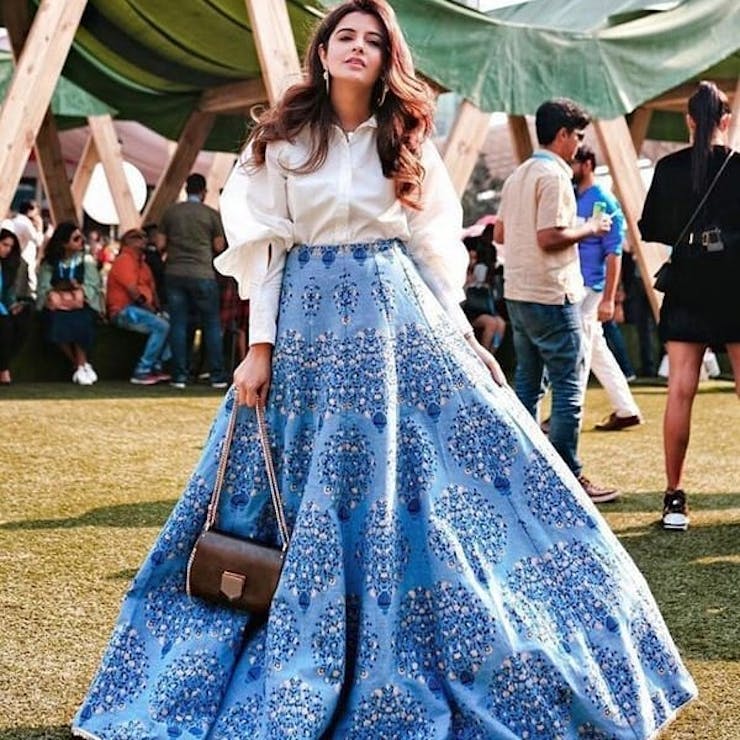 I can't ever get over this outré combination of wearing a shirt with a lehenga. The oversized cream shirt style blouse is adding that zing to the otherwise ordinary A-line flared lehenga. She has kept the look simple with open hairs, and some minimalist hoops in the ears. This is what I call bombdiggity dot com.  
28. Now, How About This Traditional Bengali Bridal Look, With A Twist?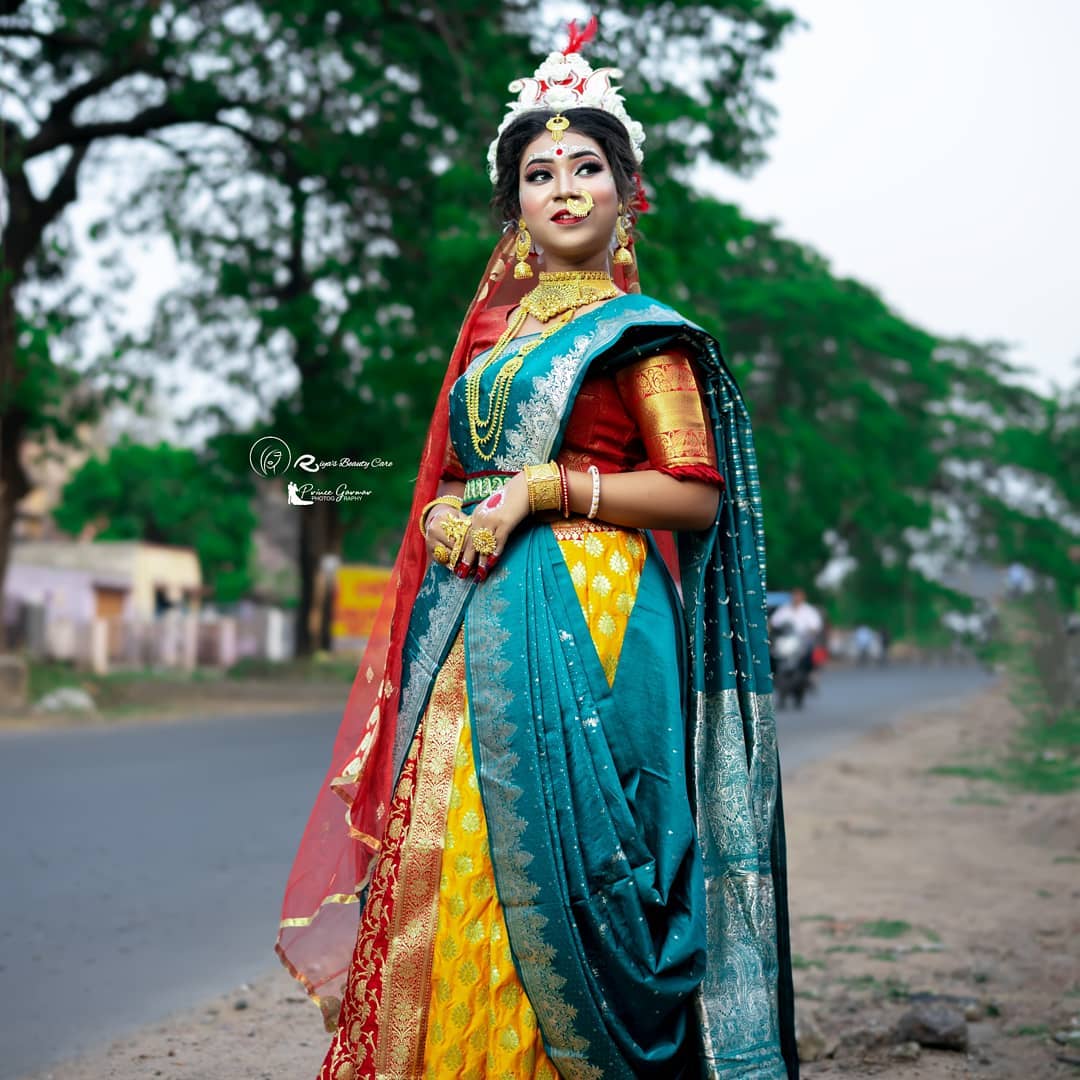 I am just stunned by how creative humans can get? The makeover artist here has not left any stones unturned to make two simple banarasi sarees look from drab to dayumm🔥🔥🔥. A simple bumblebee yellow banarasi for the skirt, a turquoise shade banarasi for the pallu, and a brick-red banarasi choli! Seems to be a work of Ariel!
29. What Do You Have To Say About How These Modern Bengali Bride Look In Kanjivaram?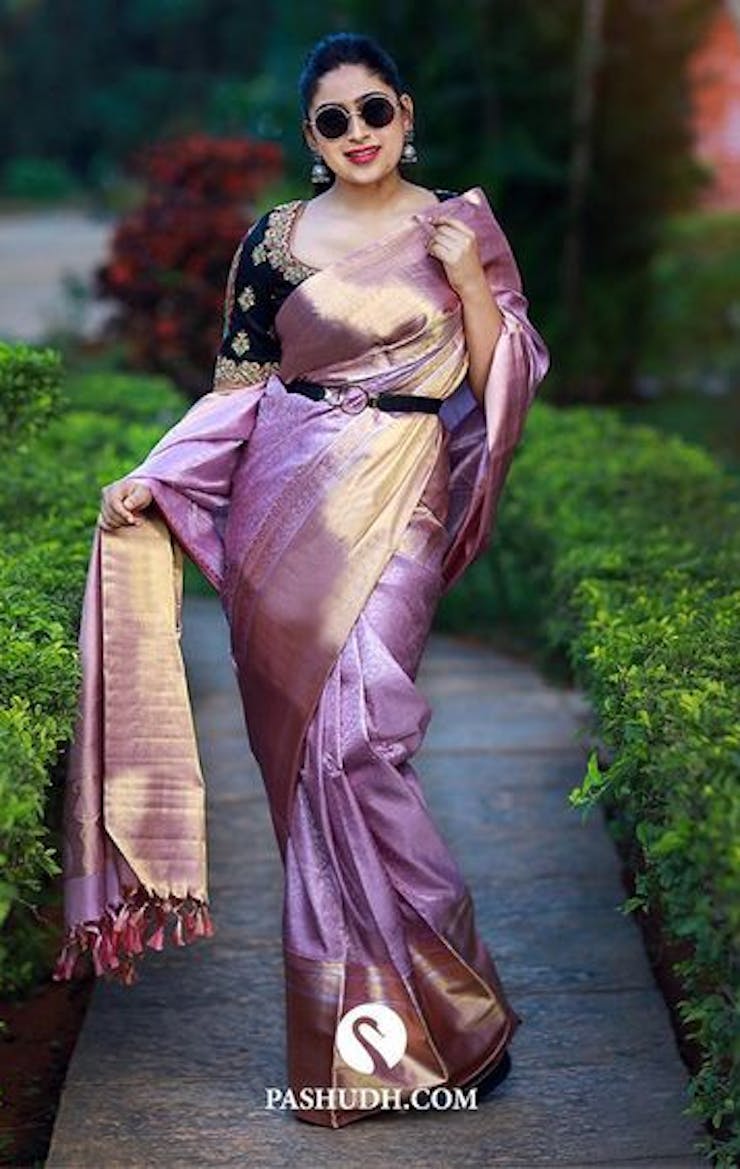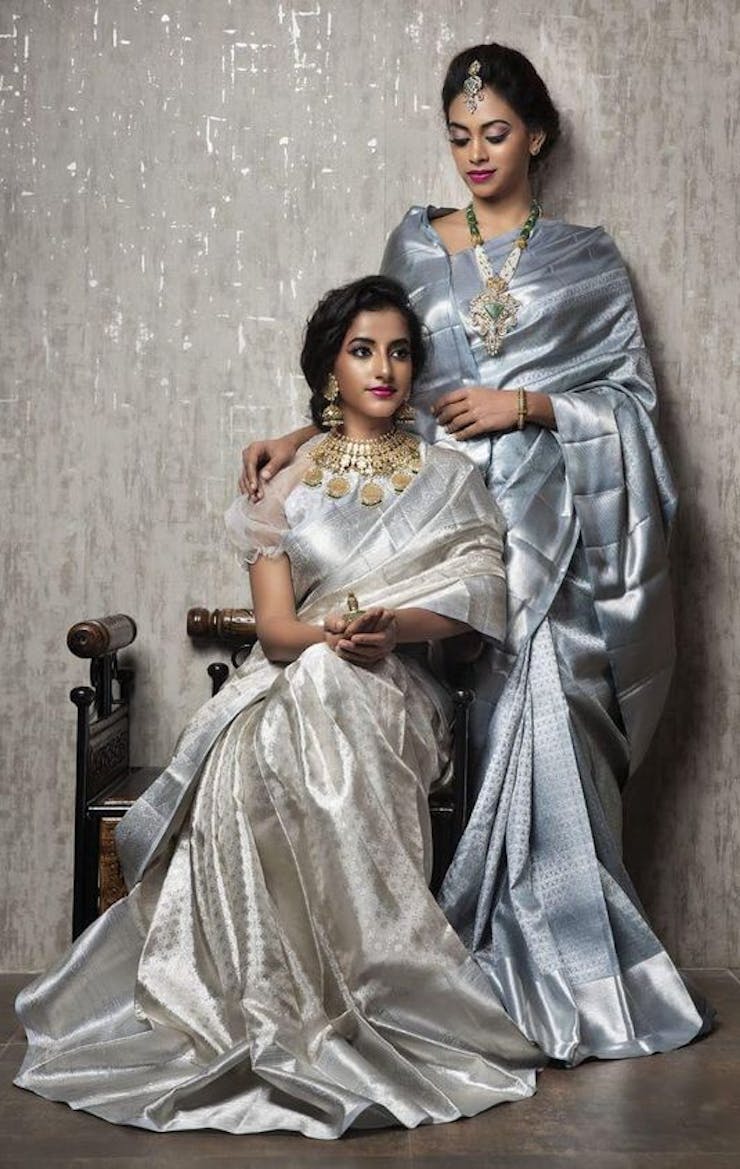 Next to Banarasis Bong brides are obsessed with Kanjivaram silk sarees. And these beautiful pastel kanjivaram sarees definitely shall give the brides a subtle yet goddy look! You may pair the saree with contrast or the same coloured blouse. And to further finish the get-up, go for some light diamond or pearl jewellery. A chique and royal look!
30. How About Incorporating Some Gujju Vibe Into Your Bengali Bride Reception Look?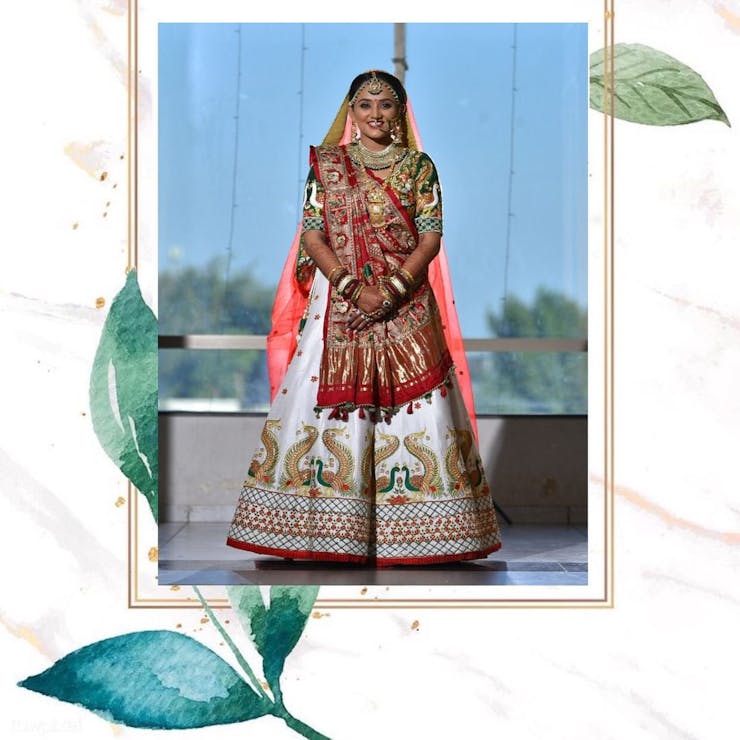 The typical red and white shade of a Gujarati Panetar can surely woo the attention of Bong Queens. So why not wear it as your reception dress? This beautiful bride here is simply rocking her look with the Panetari lehenga, and the regal Kundan bridal jewellery! How many of my girls are already adding this to their Pinterest?
So How did you like our assortment of some of the Bengali bride reception look?
Stay tuned to our blogs for more inspo!
Till then
HAPPY READING!