Won't most of my girls out there agree over the fact that the one thing every bride is totally obsessed with is her wedding outfit, be it her banarasi saree, gown or Bengali Bridal Lehenga. Yes, this literally tops her priority list, and everything comes after this. By everything I mean everything! (Maybe, not even the groom...😜). In fact, there are girls like me, who have been fantasizing about their wedding outfits ever since they were little (though the idea of the perfect OOTD has evolved with time…😏).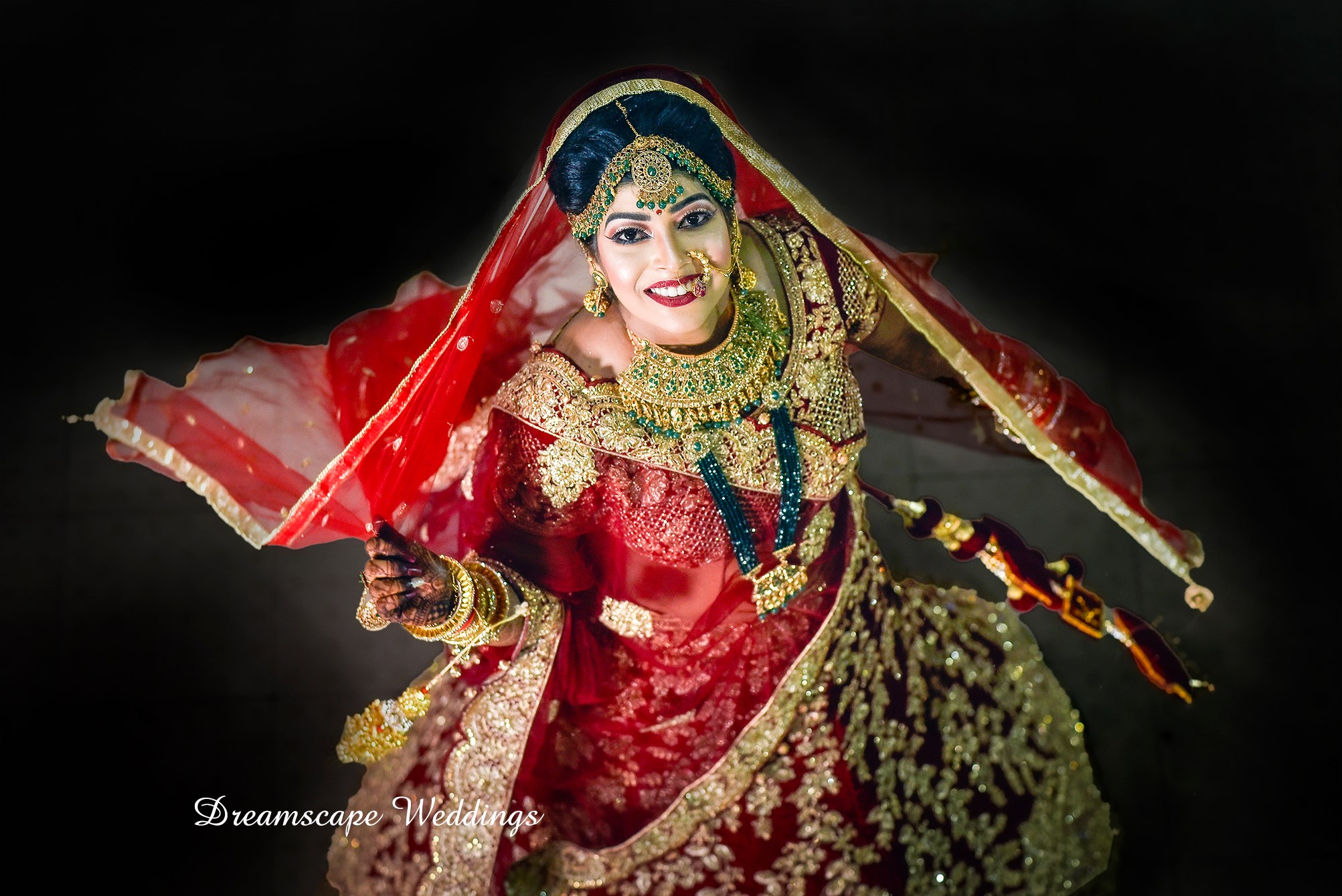 Being a Bengali, I have grown up seeing brides wear beautiful banarasi sarees for bengali bride, and also for the bou-bhaat. Gone are those days! 
Bengali brides today love adorning themselves in the latest bridal lehenga designs.
Choosing your Bengali bridal lehenga look is like defining your destiny, because you will be staring for hundreds of photographs in that dress, and it will undoubtedly be the day`s most discussed buzz!
With all of the advances and constantly evolving fashion, finding the right lehenga for the bride may be difficult, so we've put together a list of some of the most recent Bengali wedding lehenga to make it easier for you!
1. The Forever Trendy Red Lehenga.
Be it the 21st Century, hundreds of years before, or thousand of years from now, the colour red shall never be out of the bridal fashion book. This elegant Red Gota Patti lehenga can be a top pick for our Bongo Nobo-Bodhu. Pairing the lookup with some traditional Kundan jewellery and a thick Matha Patti just brings out the regal vibe.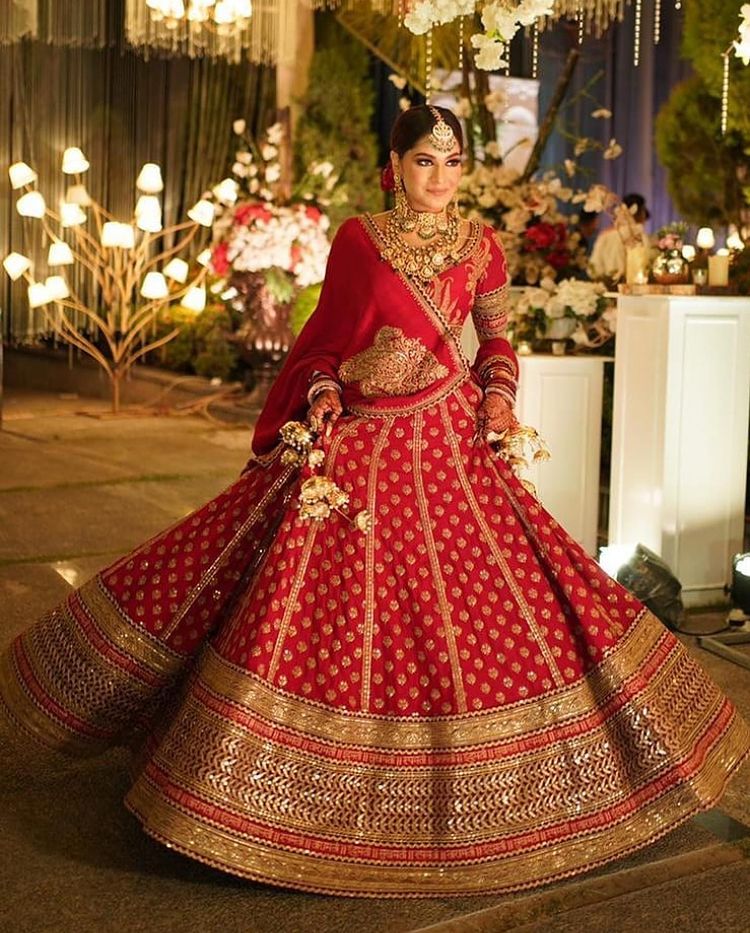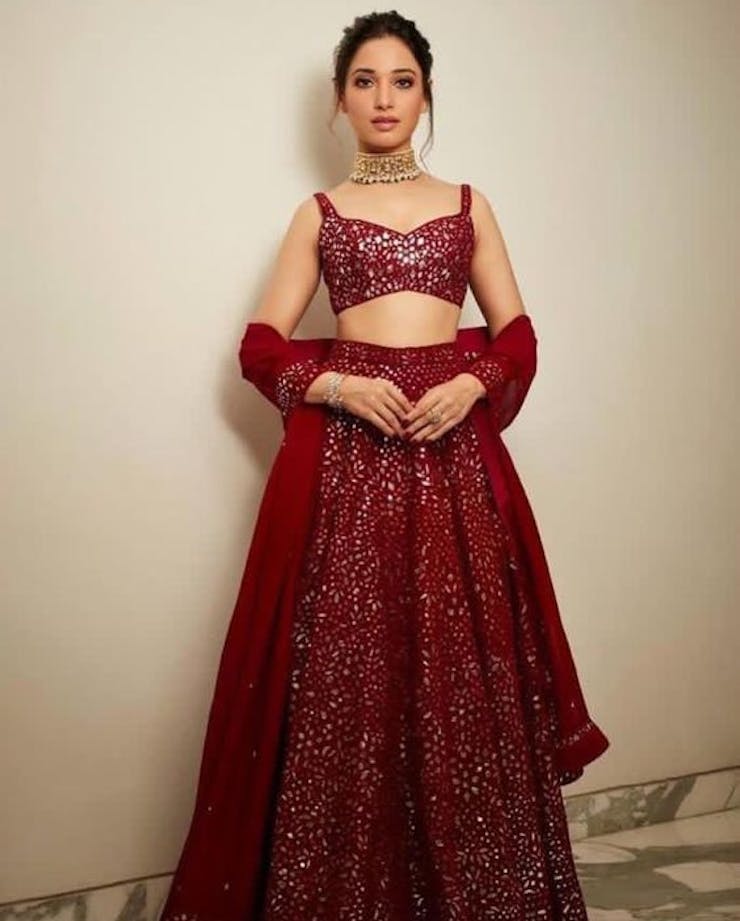 A more contemporary look out of the red lehenga can be made with this rich mirror workpiece. An absolute chique royal delight!
Must Read: Top 10 Bridal Lehenga Shops In Kolkata
2. Angel in a White Bengali Bridal Lehenga
Many Bengali brides have the fantasy of donning a white wedding gown and a lehenga at the same time. Well, if not exactly, this white mirror work lehenga may emanate a similar feeling. A serene, tranquil piece of elegance. Nothing is as ethereal as a bespoke lehenga in white. It is pure and clean, the colour of humility. While there are many beautiful and unusual colours to select from, nothing compares to a bridal lehenga in white.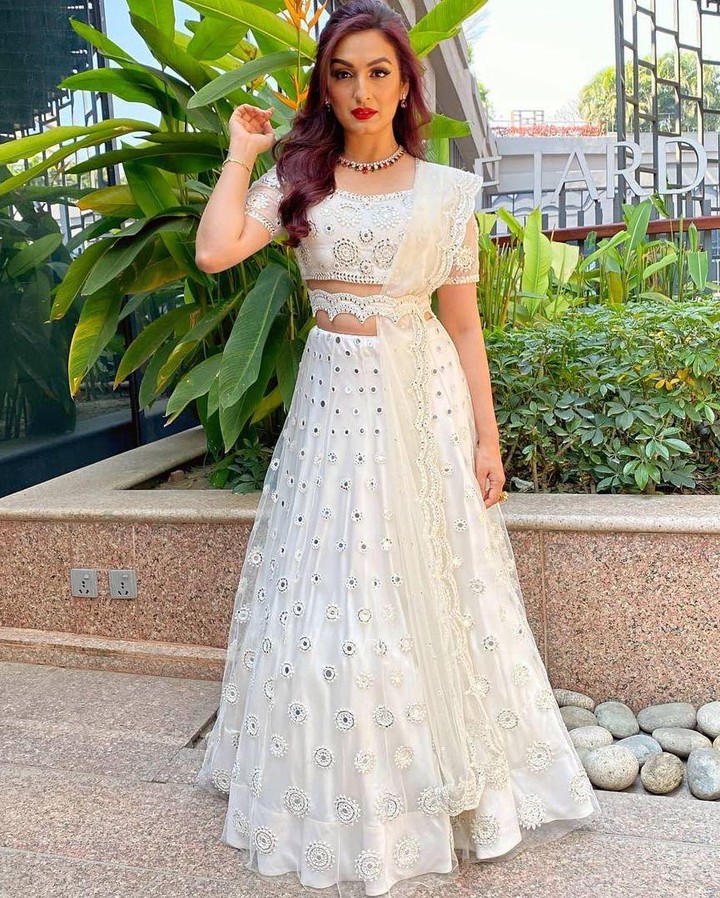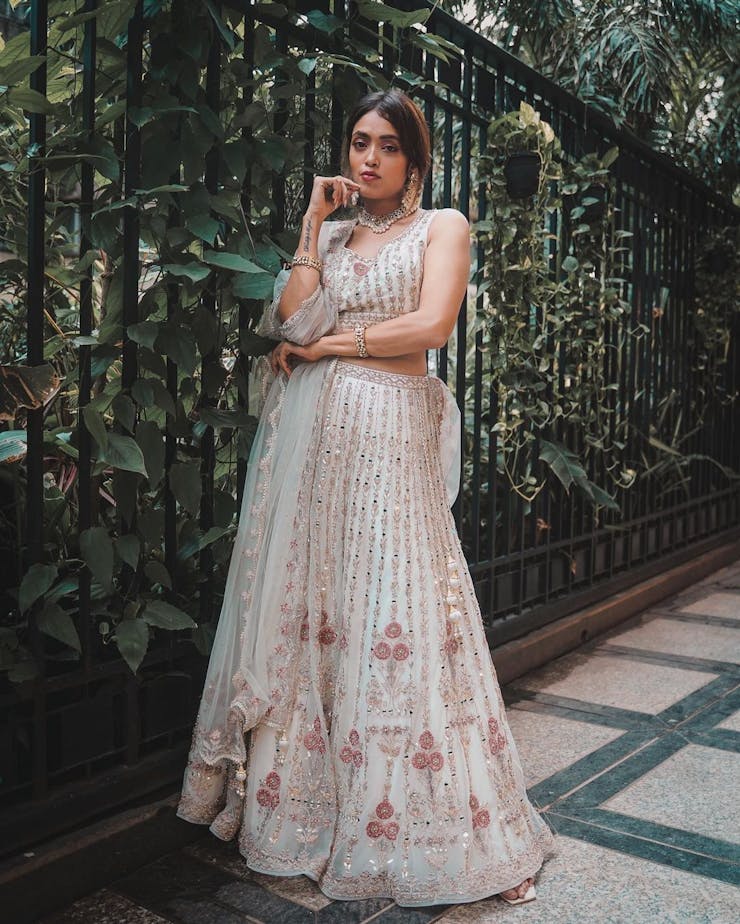 Recommended: Top 15 Places For Wedding Shopping In Kolkata
3. Purple Palacial Vibe
Not just Red and white, but there are some more shades that may look equally majestic as a bridal lehenga. 
This purple velvet lehenga with golden floral and leaf work looks as royal as the Red brides.
A perfect pick for the evening of your 'Bou-Bhaat'. Try to keep the accessories simple to keep the balance of the look.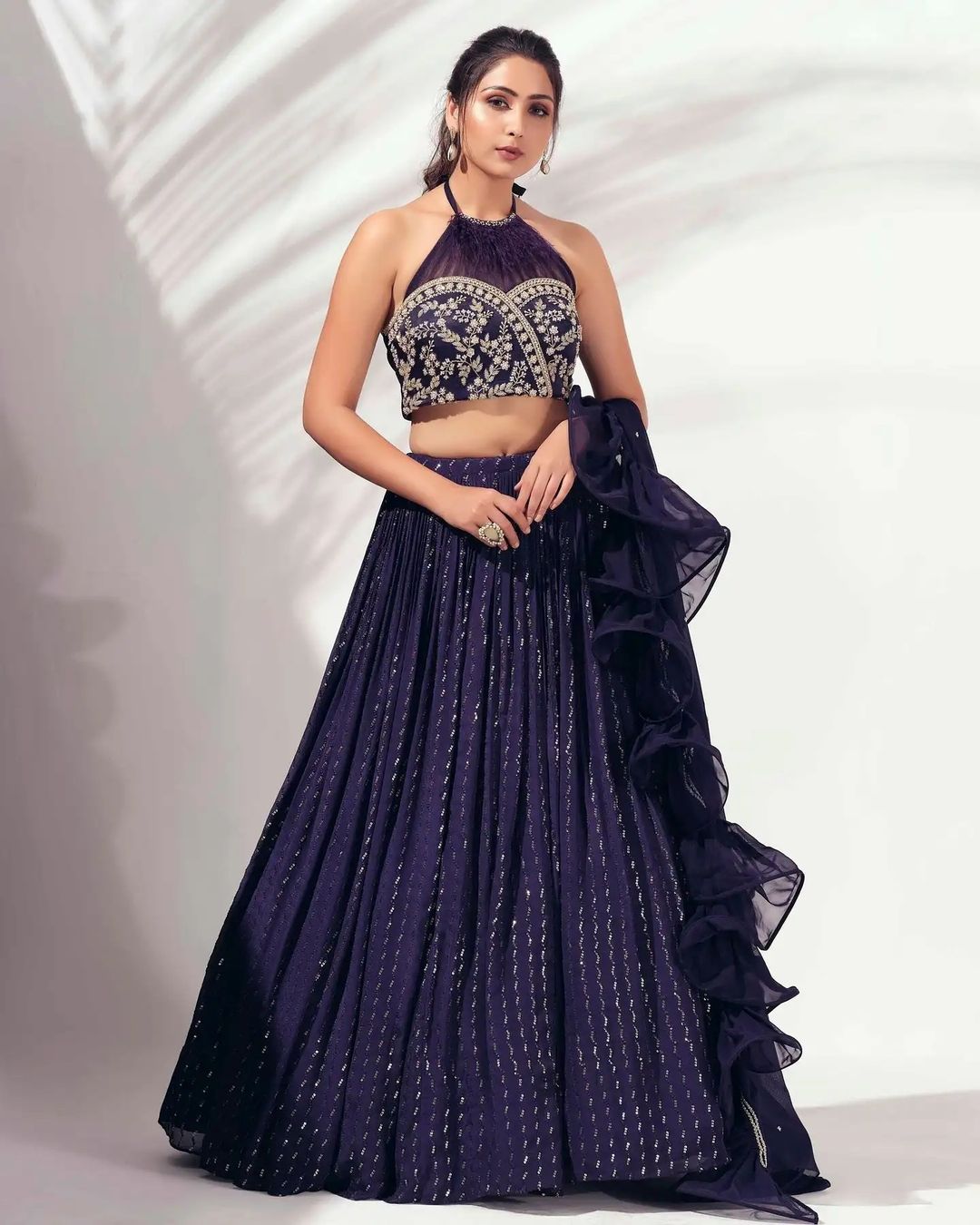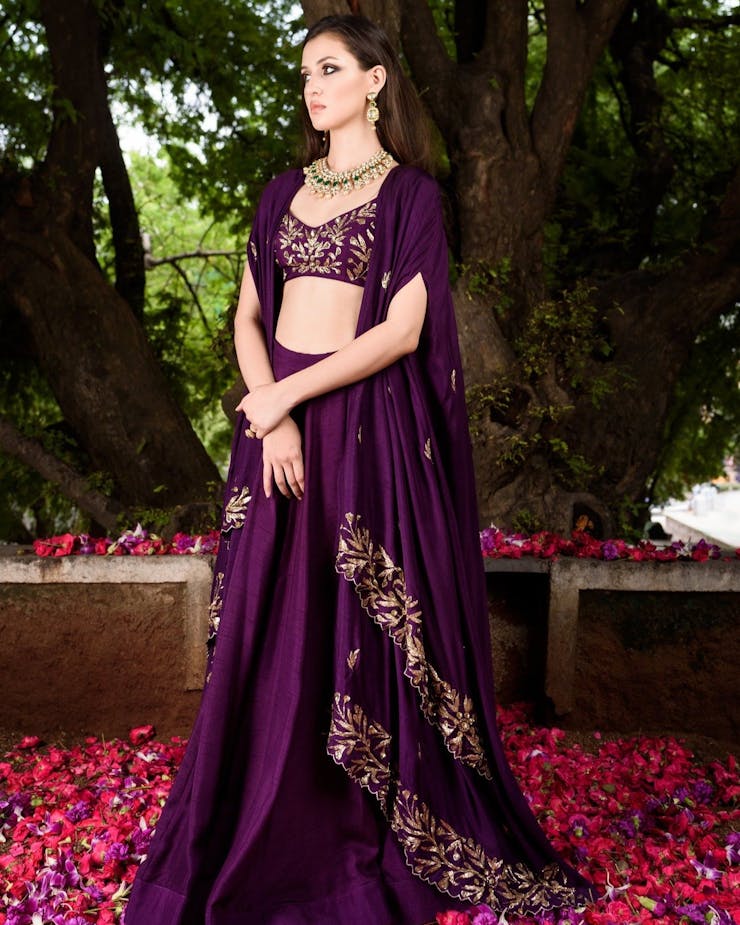 This Purple silk lehenga with golden choli also makes a toned down royal outfit of the latest bridal lehenga designs.
4. Breathtaking Pastel Simplicity
Pastel lehenga patterns have been a popular trend for a few seasons now, and we know they're here to stay. Passion and femininity are being resurrected in the most creative ways possible through these pastel lehengas.
The first thing that comes into my mind with the thought of a pastel lehenga is the one styled by Anushka Sharma for her wedding ceremony. The blush pink coloured Sabyasachi lehenga can for sure be loved by every simple loving Bengali bride.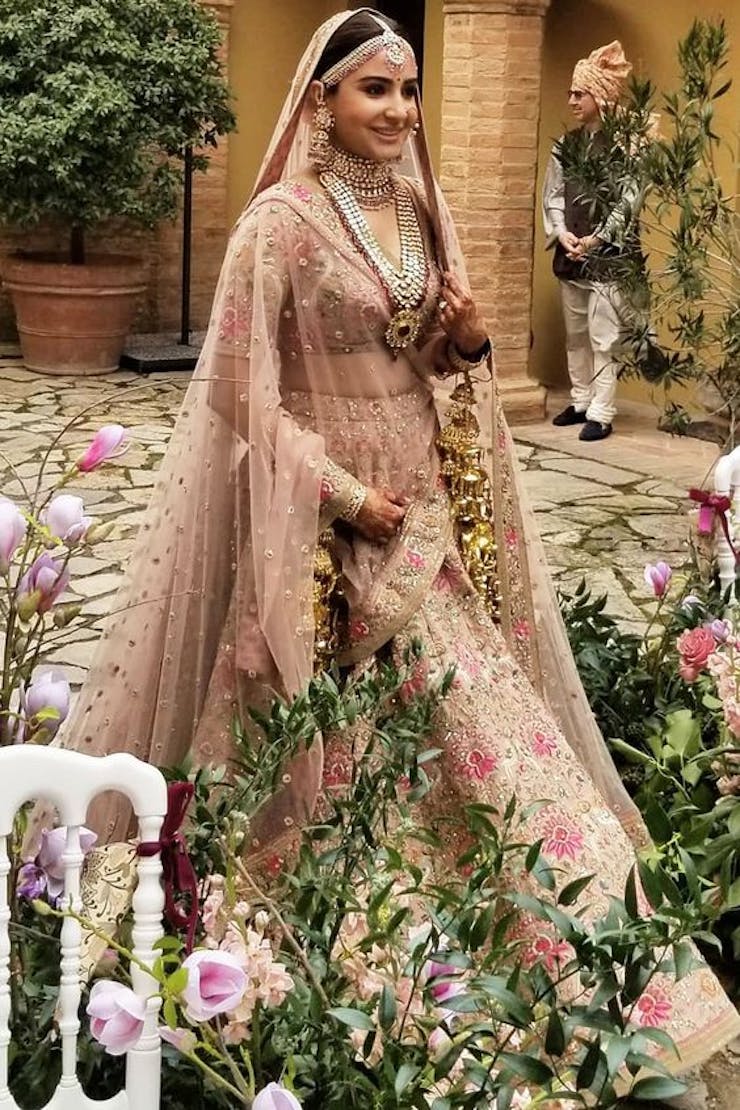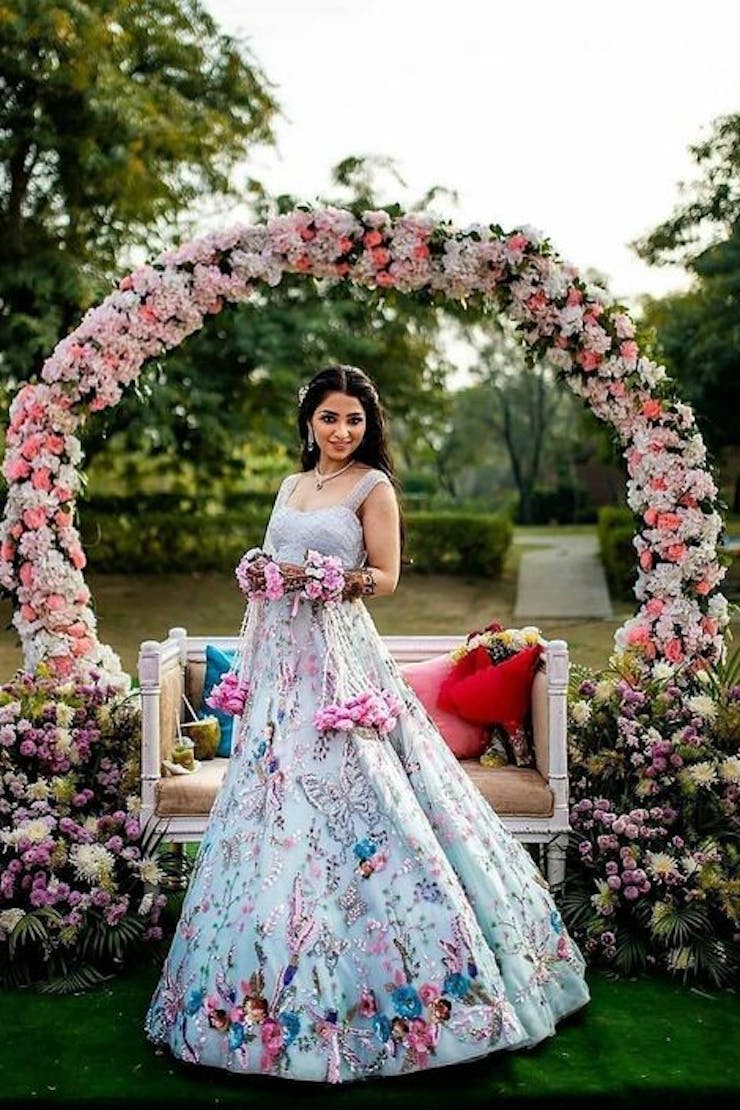 This beautiful turquoise floral design lehenga certainly makes the bride look like a freshly bloomed flower amidst the garden greens.
5. Ombre that blends perfectly with the Bengali Bridal Lehenga
Ombre lehengas are a trend worth highlighting since they are colourful, soulful, and vibrant in every sense. Brides keep stunning the internet with their wonderful clothing selections for their wedding festivities, wearing the most breezy but royal gradient hue lehengas.
This ombre lehenga can conquer hearts everywhere with its beautiful mix of pastel pink and Fuschia pink. The champagne gold needlework gets bonus stars!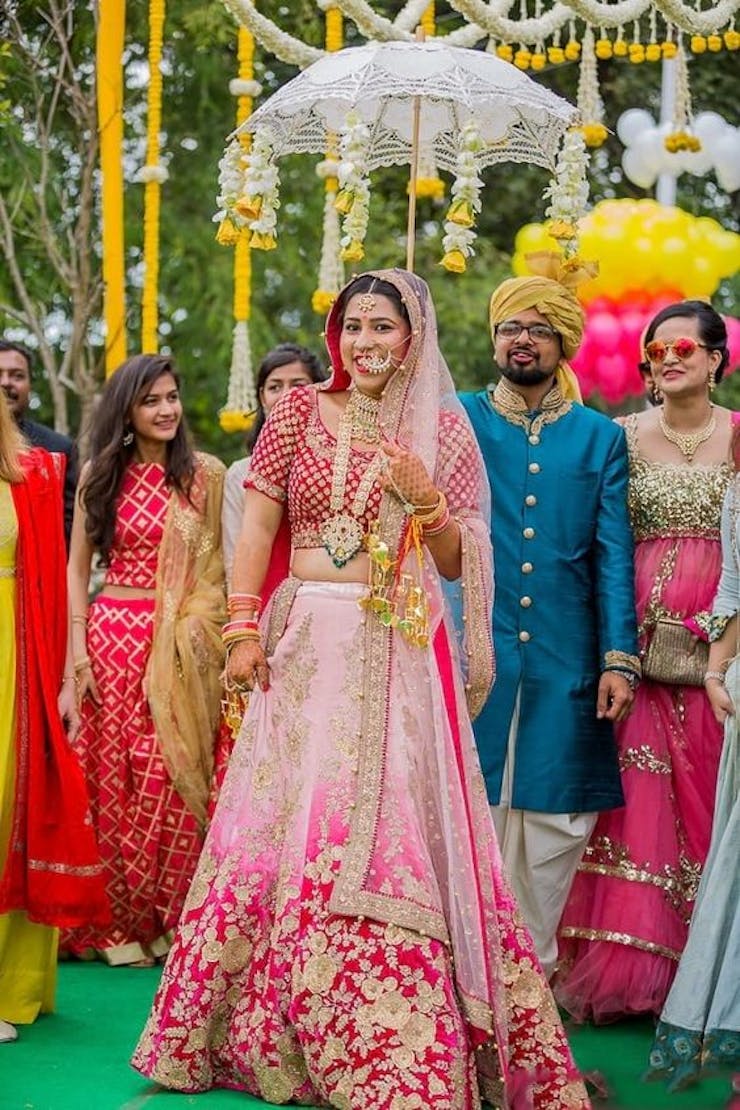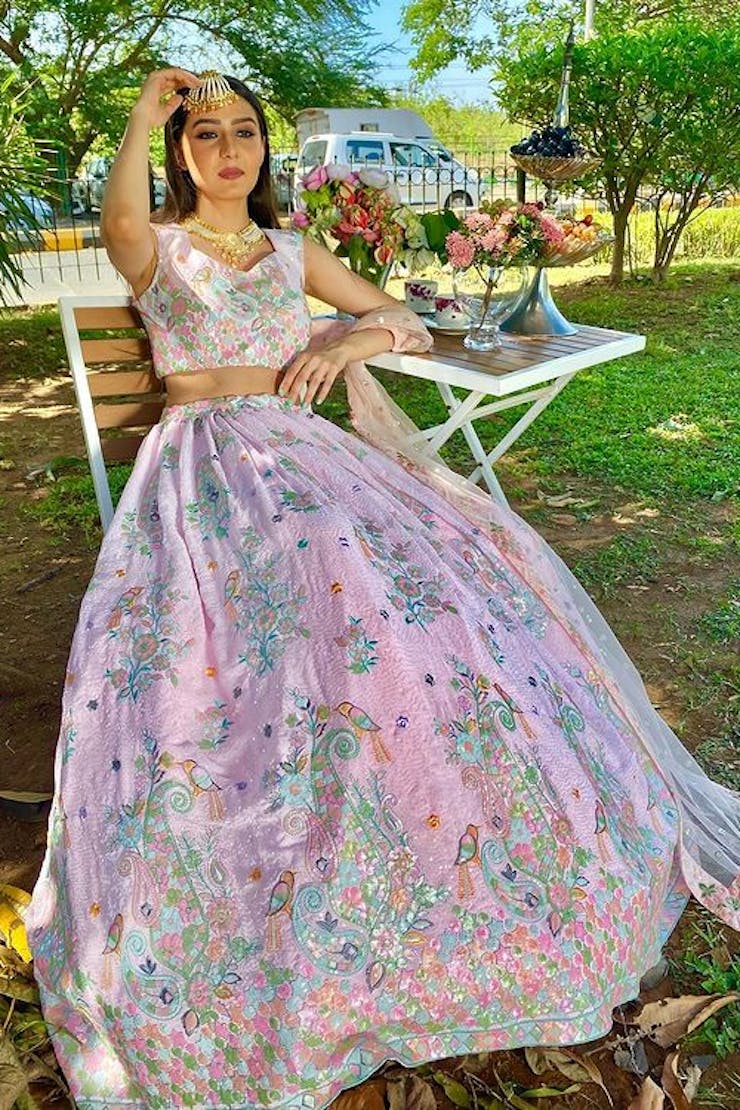 With her grey and yellow ombre lehenga, this bride gives us full-on breezy, beachy vibes!
 6. Shirts and Lehengas
Among the very few wedding lehenga trends that can last for ages, is the combination of Lehenga and Shirt. For all brides who would choose futuristic attire, this design is the ideal blend of trendy and classic.
A white shirt like this, and a heavily embroig=dered lehenga is all you shall be needing for your Sangeet and Mehendi night.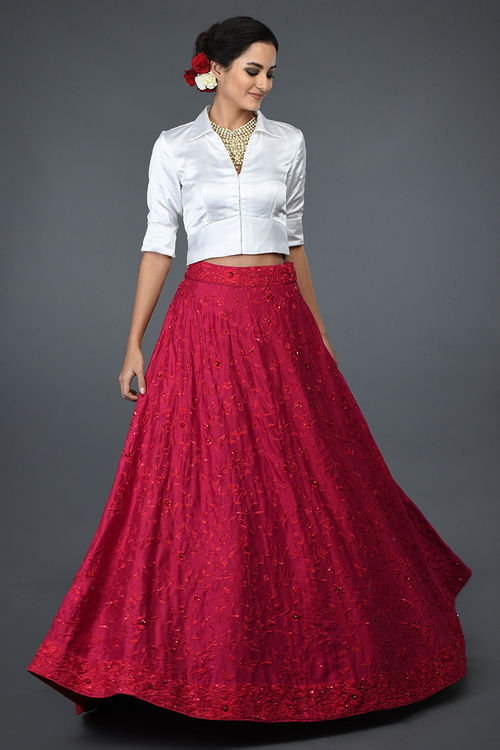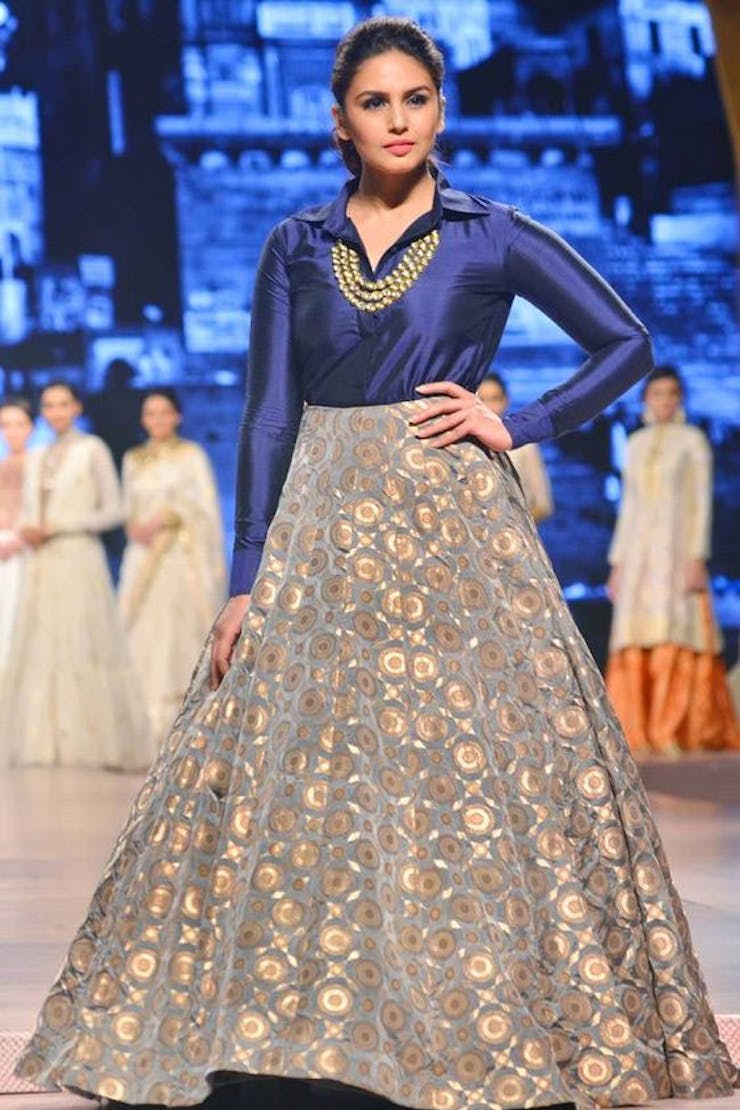 And what do you say about donning navy blue with this magenta lehenga? This reminds me of a very viral ad film by Snapdeal.. 😁
7. Gilded Elegance
Golden lehengas are getting a massive trend for all the right reasons, despite being a bit bold and a tricky effort. It has all the glitz and glam of a Bengali bridal look. And nothing blends more perfectly with every Indian skin tone, than the golden colour.
Doesn`t the bride look like a personification of pure liquid gold?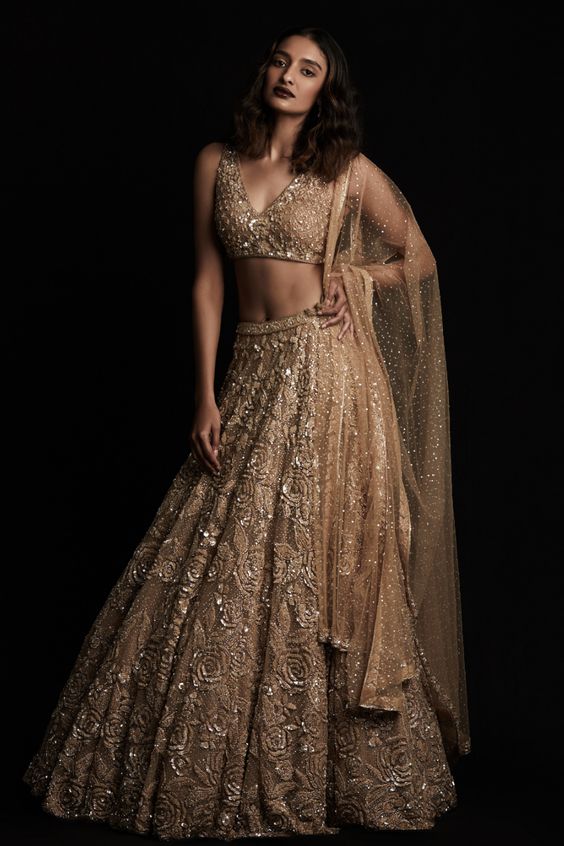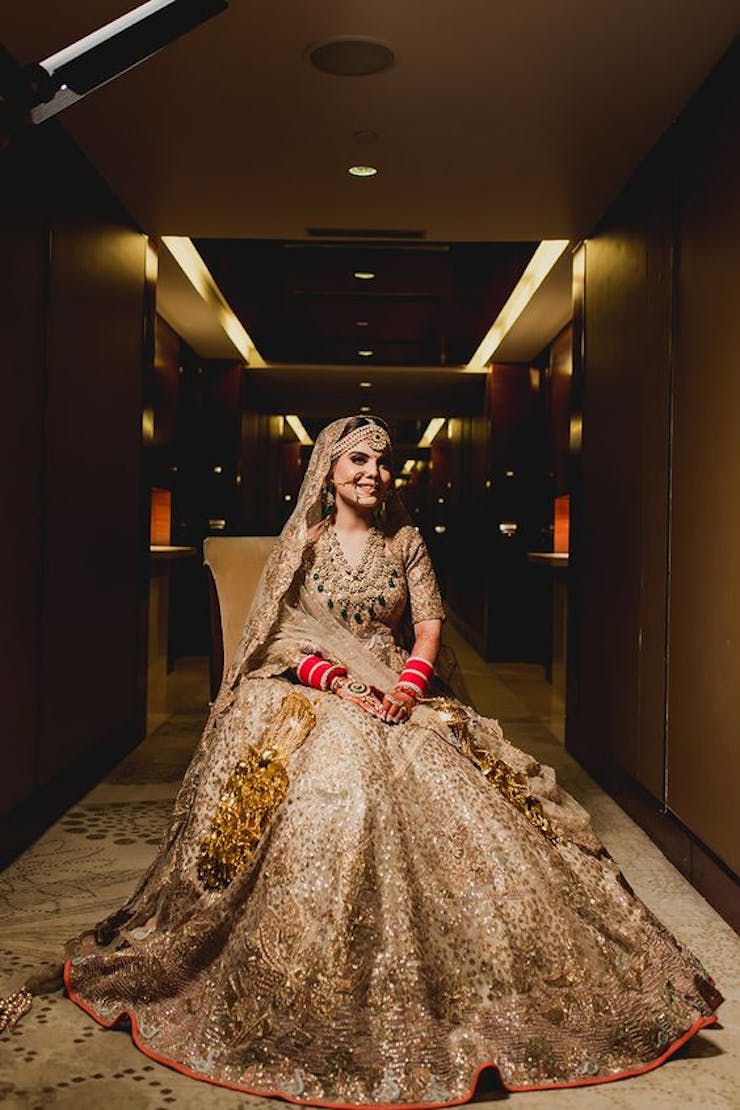 This simple orange border to the gorgeous golden lehenga is to die for!
 8. Bengali Wedding Lehenga With Anarkali
Another stunning way to do your bridal lehenga is by pairing them with an Anarkali jacket.
This stunning Chikankari yellow lehenga set can bring in simplicity and royalty at the same time.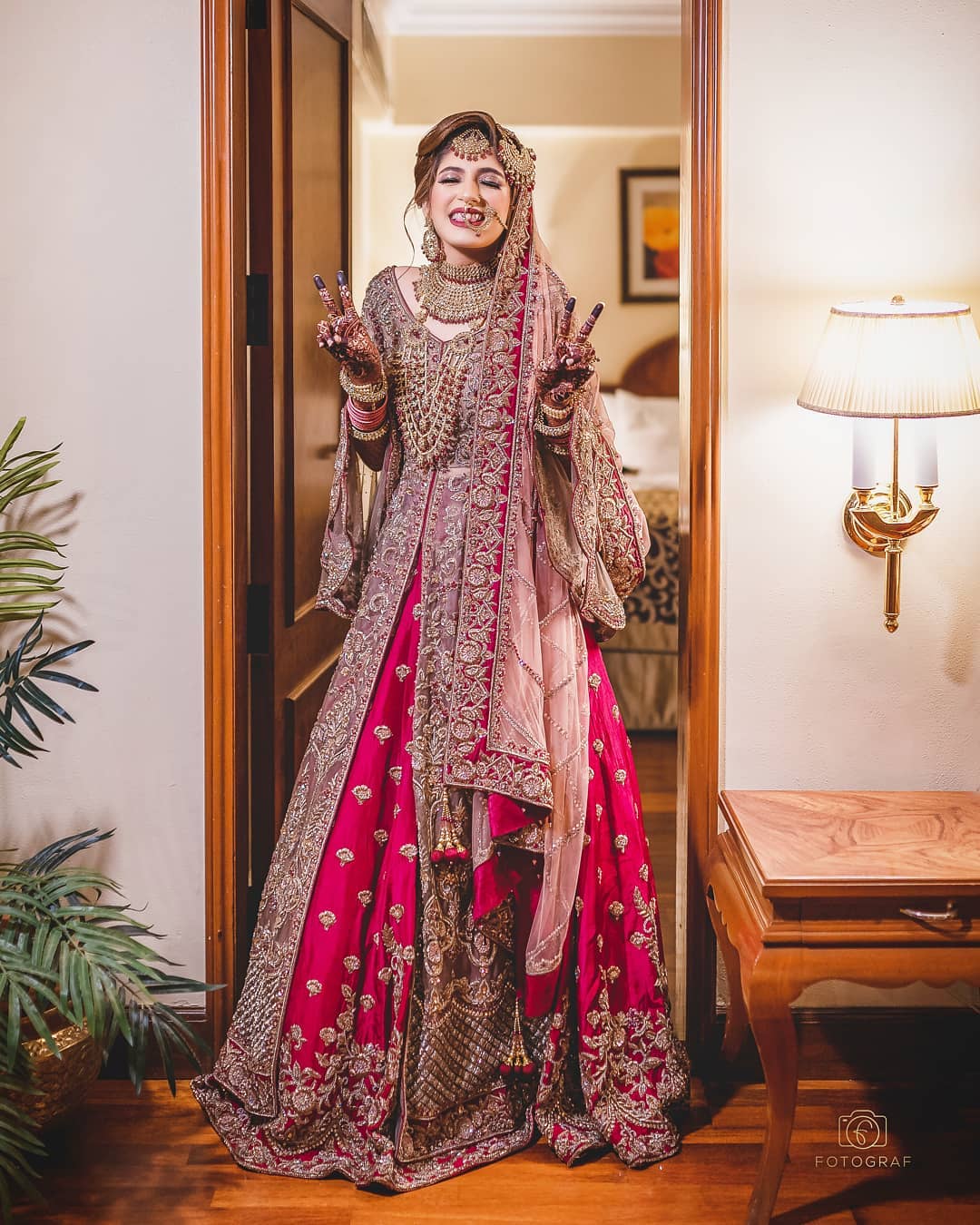 And how about this absolute regal outfit?
 9. Jab Banarasi-Met-Lehenga
If you are a bride who can`t get over the nostalgia of the Bengali benarasi saree but want to wear a lehenga for your day, this might be your pick.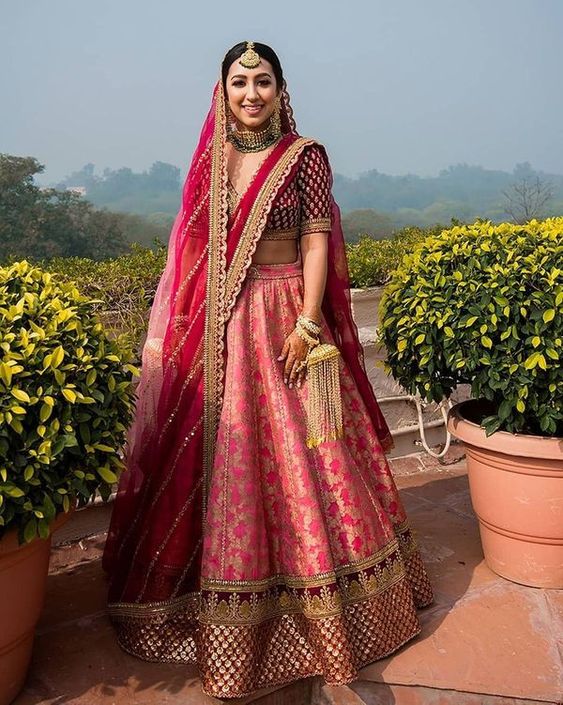 This beautiful banarasi silk lehenga can`t go wrong with any Bengali bride.
10. The Magic of Black
Who said Black can`t be worn at your wedding?
In fact, this underestimated shade can bring the next level to your bridal lehenga game.
This quirky black lace choli with geometric black and candy print lehenga is sure to break the taboo.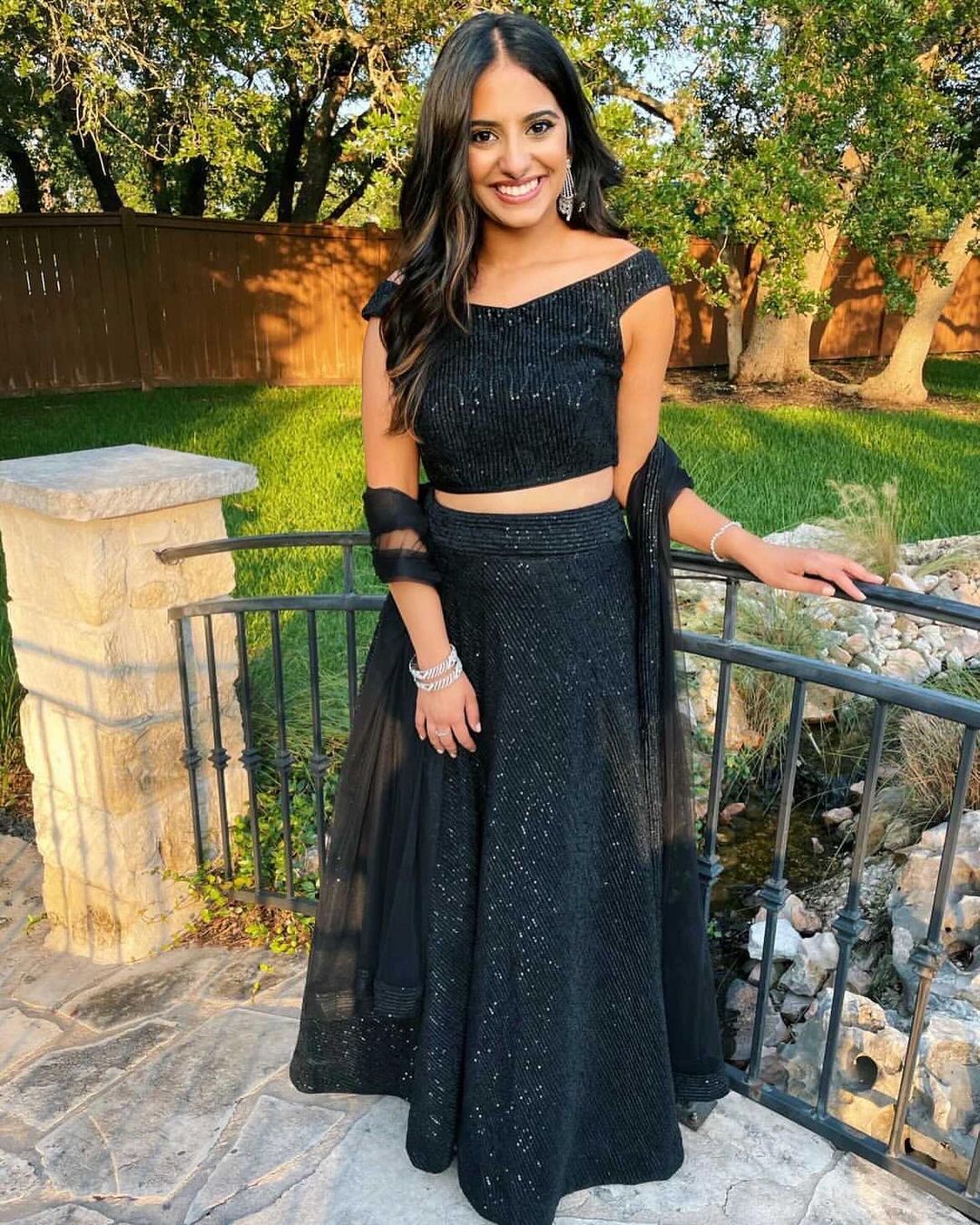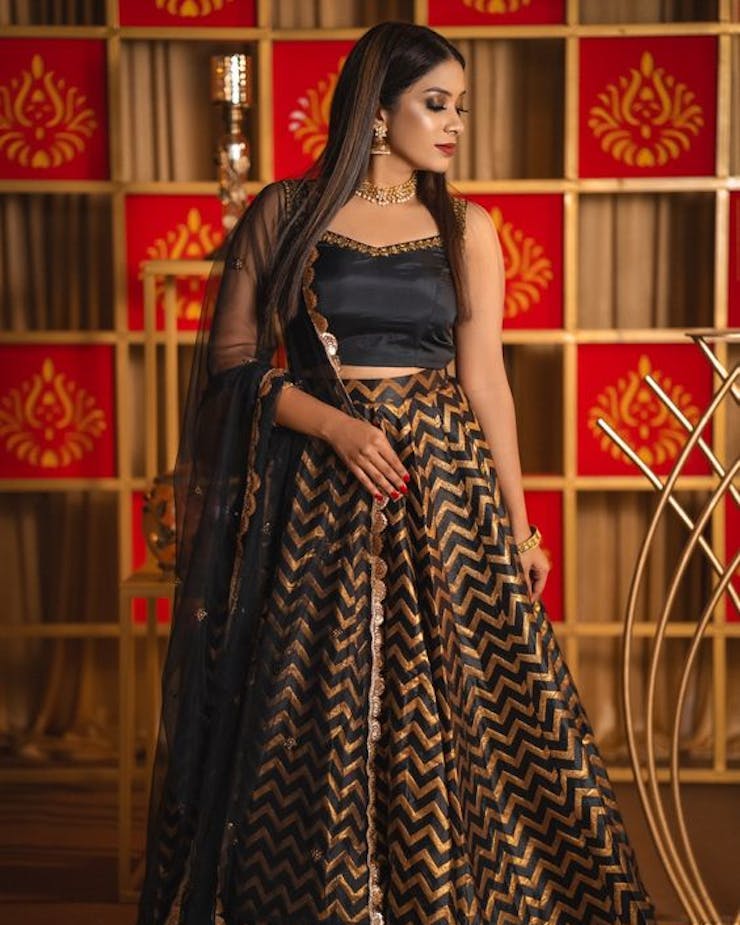 And how about the black deep neck choli and sequinned golden lehenga adorning Deepika?
These were just a few drops from the ocean of bridal lehenga designs. However, the perfect Bengali Bridal Lehenga for you shall be the one, you feel the best in. No matter how unconventional it is.