You are very likely to be soon done with planning your wedding. Maybe, the shopping is done, you are all sorted with the venue, decor, and catering. In fact, you have also appointed your bridal makeup artist. Are you sure that you are not missing something? 
Ekdum sure?🤔
Pakka??!!🤔🤔
SURE?😳😳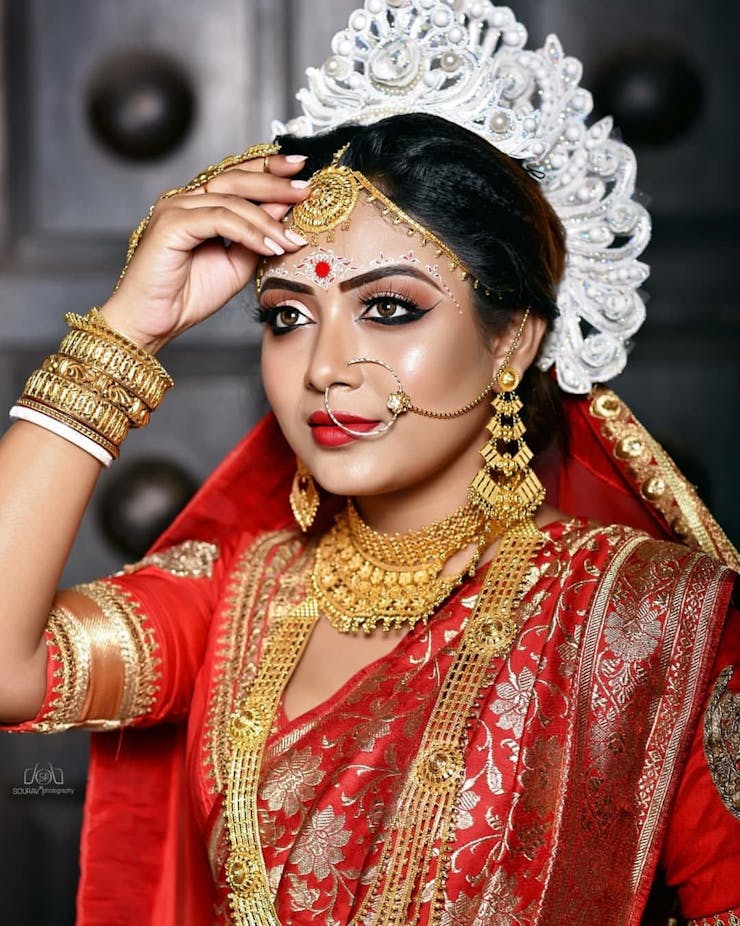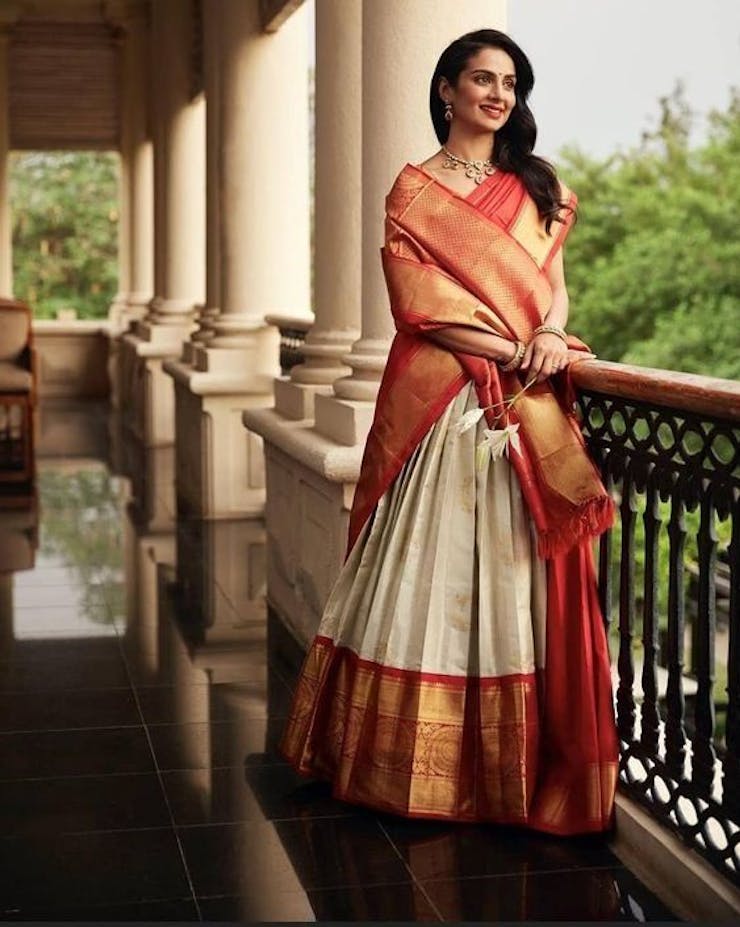 Have you decided which Bengali bridal hairstyle the bride's gonna pick?
See, I told you! You might be missing out on something.
Never mind, this blog is gonna help you get sorted with this too!
But before all, you might think that
What Makes The Hairstyle Of Bride So Important?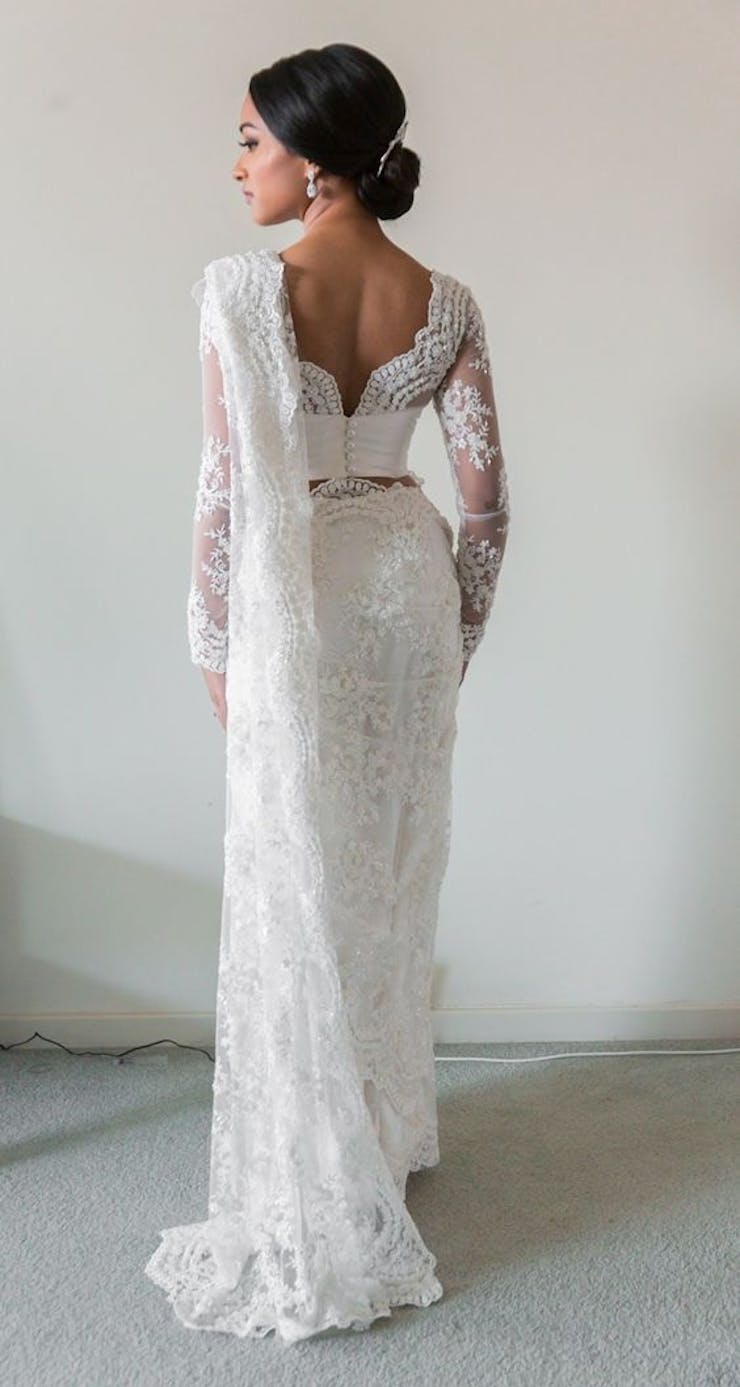 Some people simply overlook the hair part and just move on with doing a dress and some makeup. As long as it is too bad, most people don't find it worth paying special attention to the hairstyle for bride. They are okay with just any hairdo. While a decent hairstyle is just okay, you may miss out on adding the special vibe into your look, by overlooking the hairstyle part. Because.
Bengali Bridal Hairstyle Has The Power To Break Or Make The Look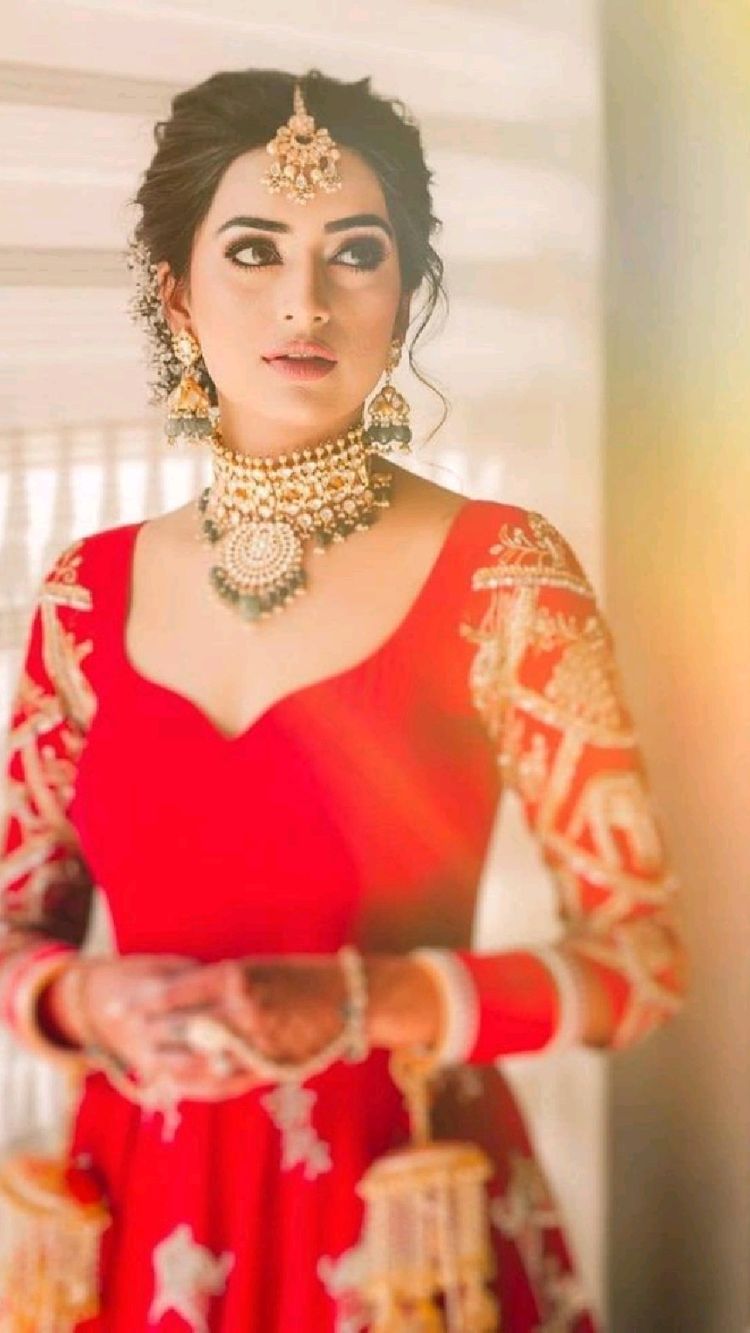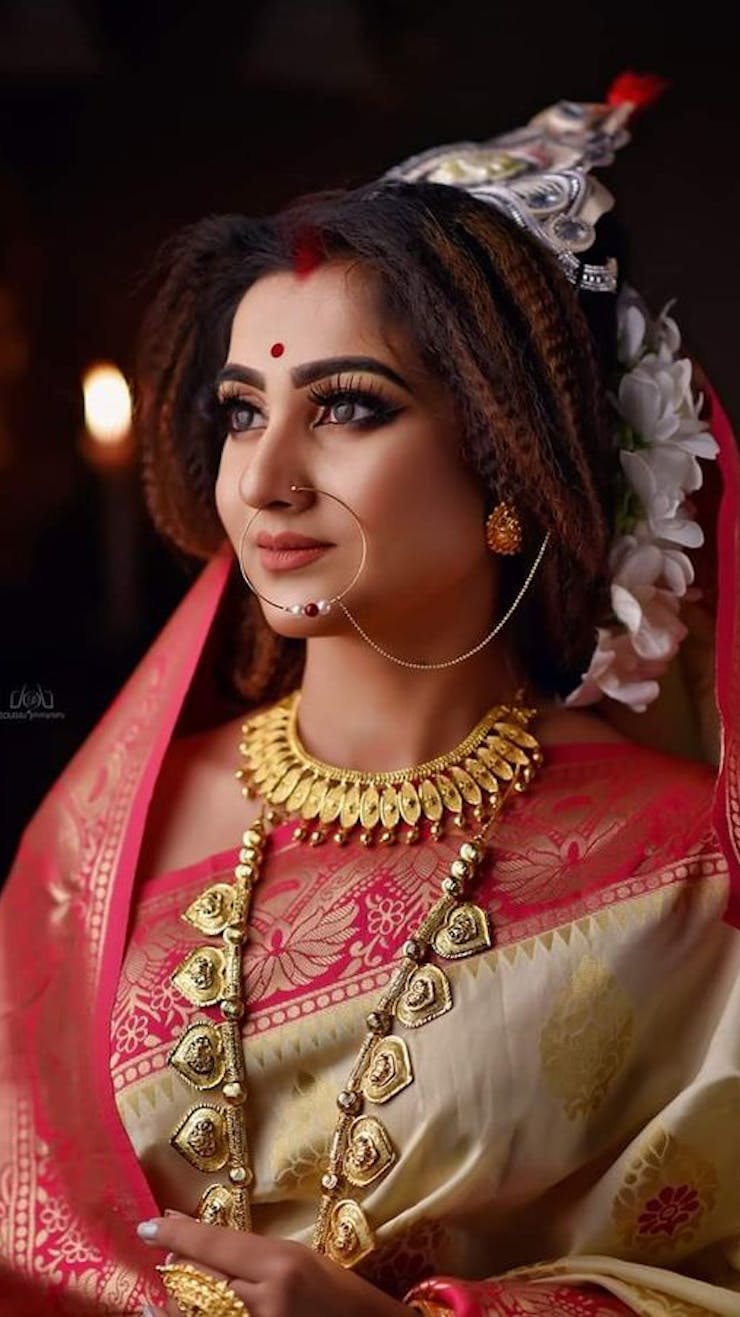 Since this is a once in a lifetime event, you wouldn't want to leave any stone unturned. Besides, your Bengali bridal hairstyle can make the simplest of get-ups look WOW! Similarly, if you end up messing up with picking your style, you may end up with a disaster. 
A Hairstyle That Matches Your Face Shape, Can Add A Factor That Makes You Actually Feel Like The Queen Of The Event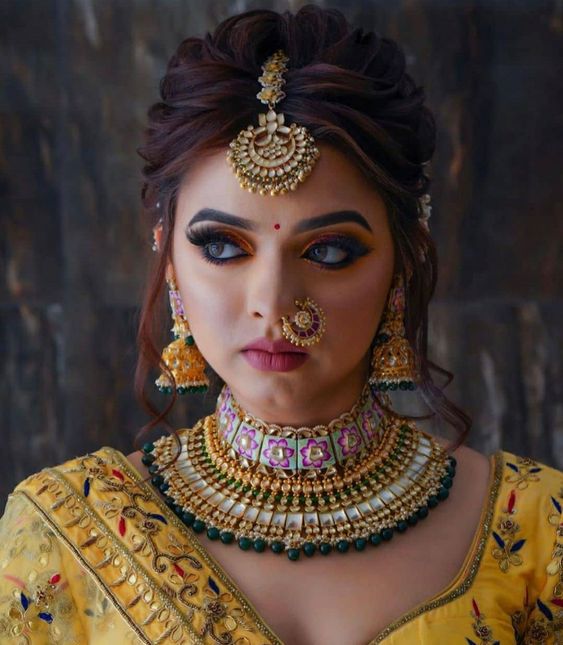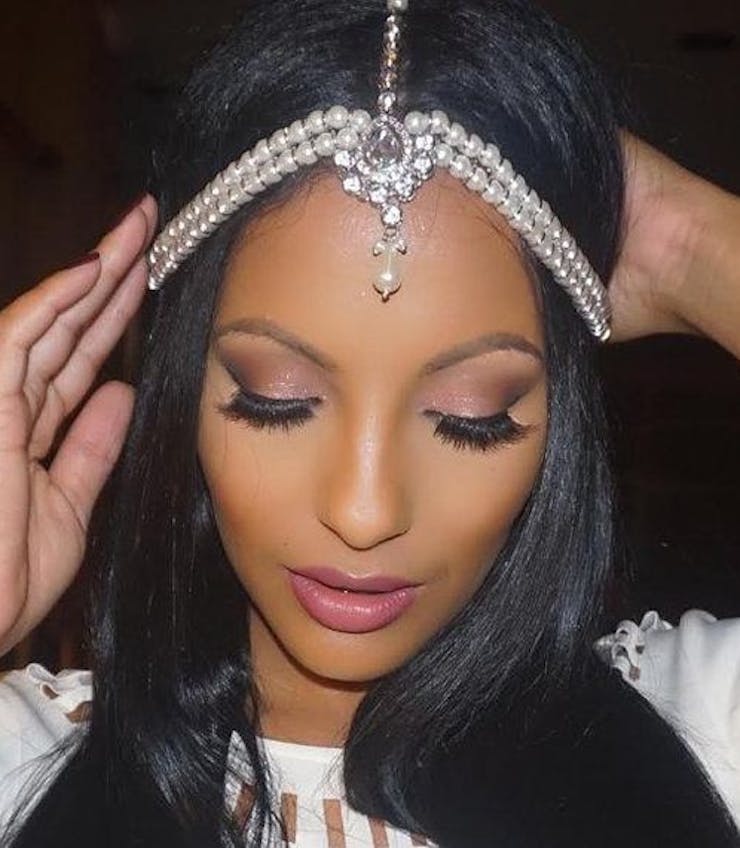 Before you go with choosing just any hairstyle for your special day, you need to know that there is an array of shapes of faces. From oblong to round, square, diamond, heart and many more. You need to ensure that the wedding hairstyle you choose should at least go with the shape of your face.
This Might Make You Be Remembered!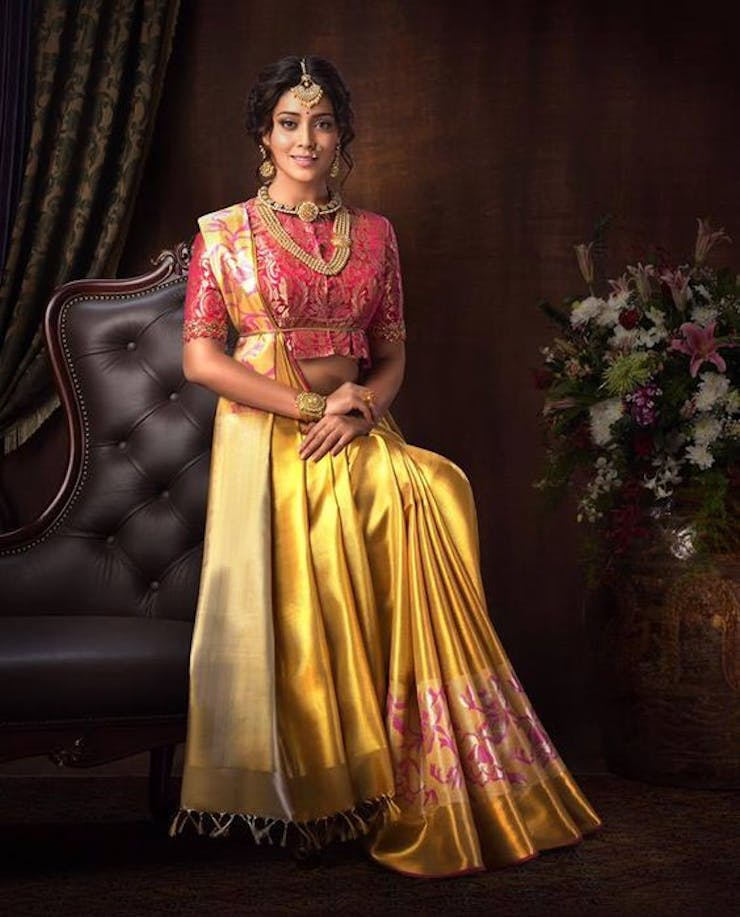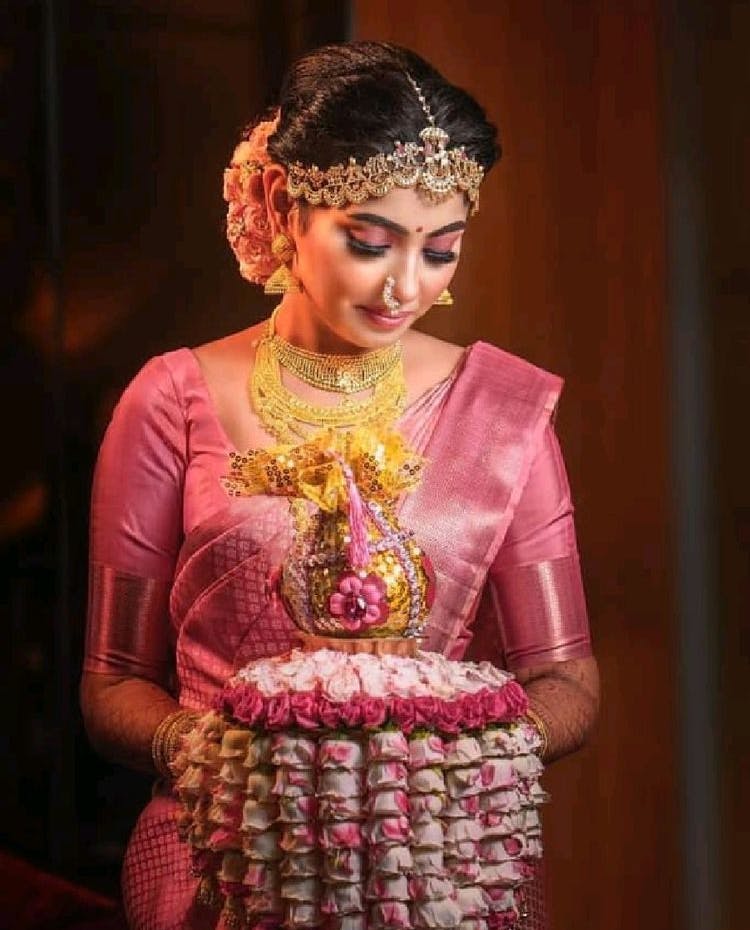 The decor, hospitality, and food are definitely what people`s judging ground of a wedding is. And these factors carry the reputation of the family collectively. But do you know what influences the impression people have on you, as an individual? Yes, your demeanour is definitely it. But what is it that people know about you, even before they speak to you? It is how you have dressed up and how you have done your Bengali wedding hairstyle. And since it's your special day, wouldn't you want to be the centre of everyone's attention in the venue?
----------------------
So you know why you need to shed light on the selection of your hairstyle.
And now you might be wondering
How To Select The Perfect Bengali Bridal Hairstyle?
So here is a checklist of steps you need to take while selecting the hairstyle for your wedding.
Ponder Upon Your Overall Wedding Theme And Outfit and the Shape of Your Face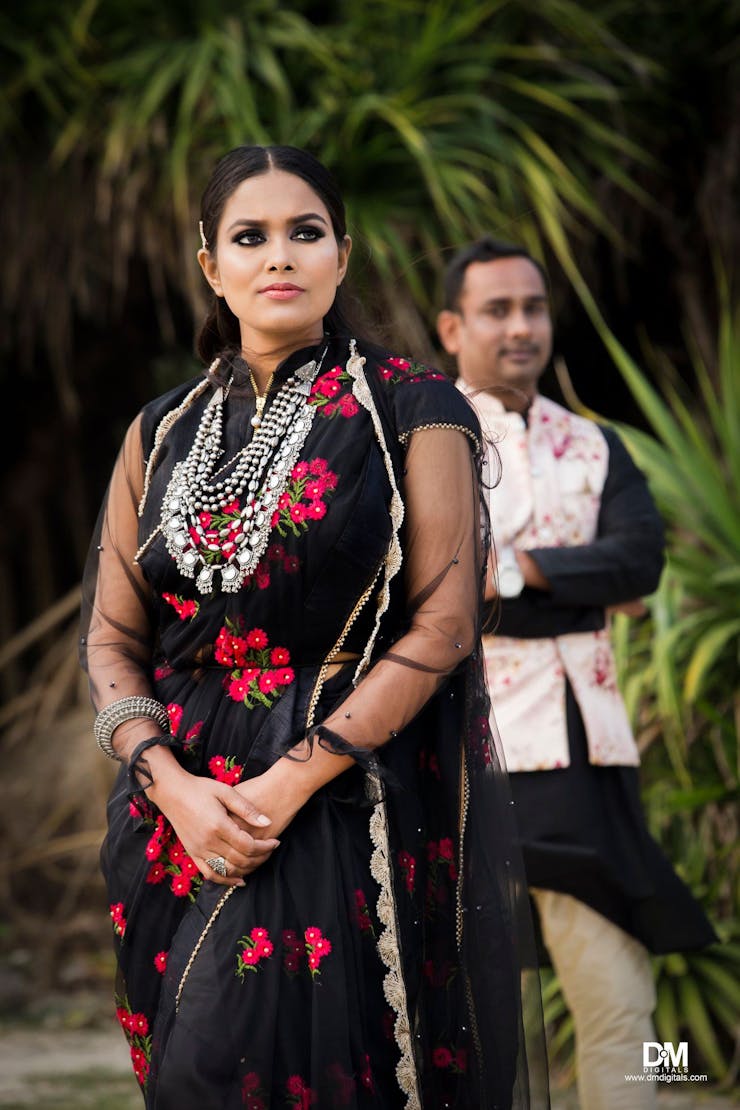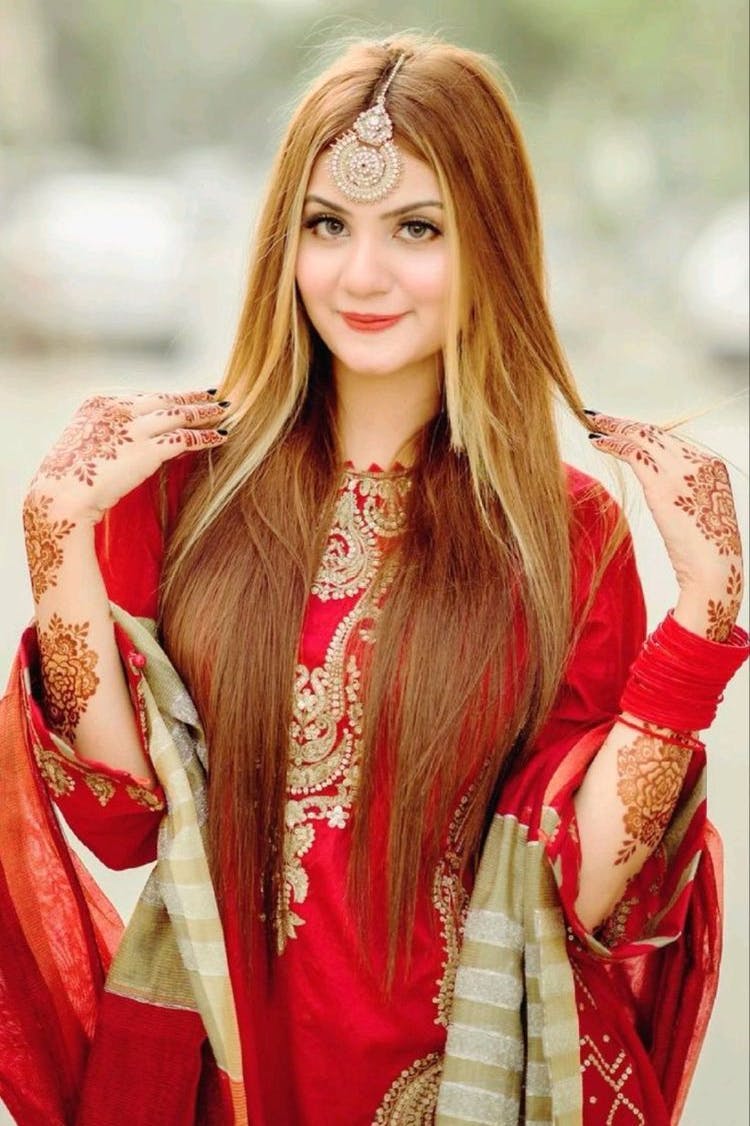 The first thing you need to consider while choosing your hairstyle is what your dress is and the type of wedding you are having. Whether it is a minimalist one, Royal, Traditional, Modern or anything else. You need to ensure next that your hairstyle enhances the look of your outfit, rather than affecting it. For a minimalist modern event, where you are wearing a bodycon gown, you may go with neat mid parted hair or a ponytail depending upon the shape of your face.
Think Of The Kind Of Headwear You Have To Carry
The next thing to consider is the type of headgear you are wearing. Whether it is a veil. Or a stone studded tiara, a floral crown or the traditional Sholar Mukut. If you have wavy or curly hairs, loose and open set hairs can be capable of holding your tiara well, in place. But in the case of sleek and straight hair, you need to go for tying them up into buns or braids, for a better grip.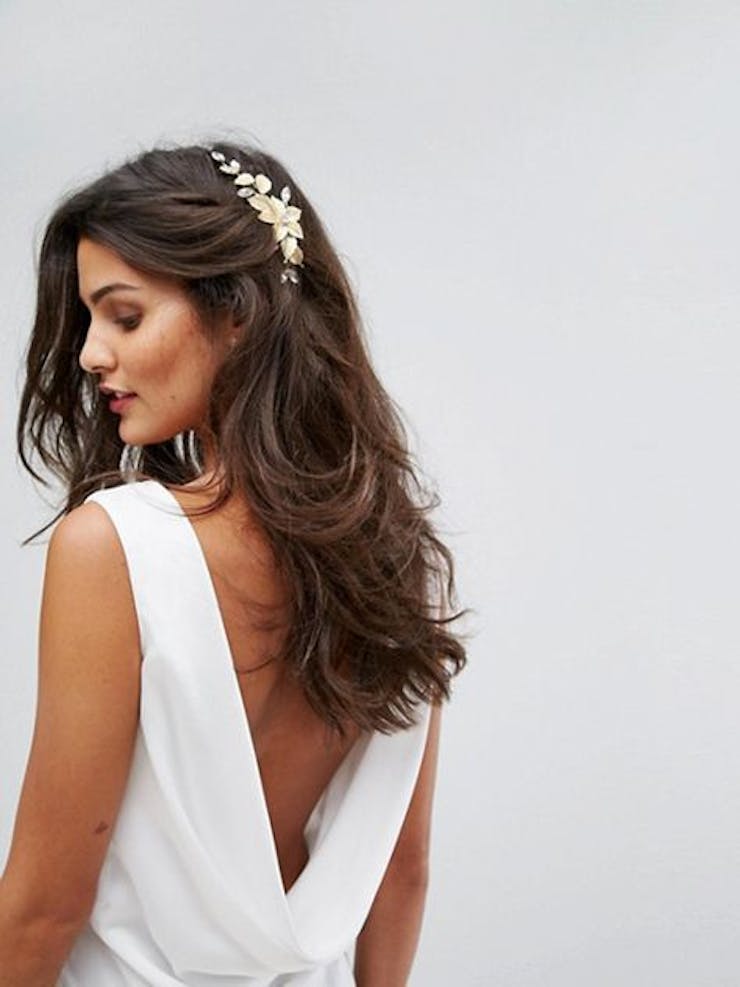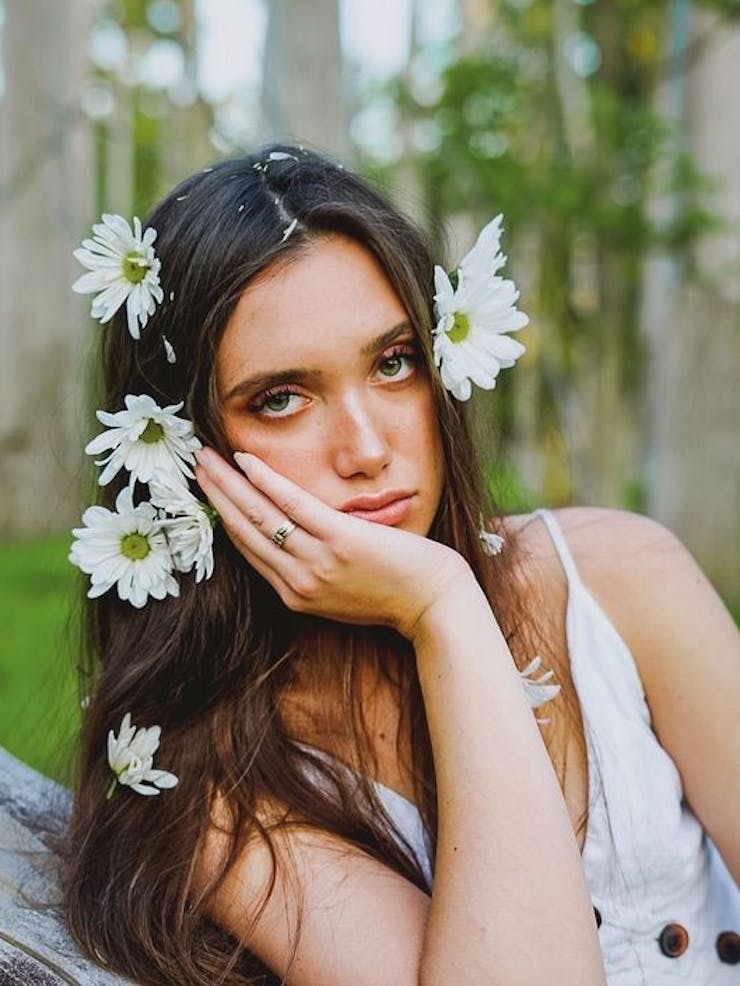 Look Out For Examples
The best ideas come from days and months of detailed research. So, before you finalise a style, go through as many inspirations as you can find in terms of the Bengali marriage hairstyle. There are plenty of options to look at on the internet, be it Instagram, Pinterest or google images. In fact, you are going to find some top picks in the latter part of this blog. Another good place to seek inspiration is keeping your eyes open when you attend any other wedding receptions, just a few days before yours. Who knows, you might end up with an inspiration for your perfect Bengali bridal hairstyle there?
Pay Attention To The Shine
Now, would you like to feature a drab looking frizzy hair in your wedding photos? 🤔🤔 No right?!
So you need to make sure that your hair looks healthy and shiny on your day. Make sure to wash your hair and condition them with some anti-frizz product. Also use a generous amount of serum before you let those heated tools like dryers, straighteners or curling rods touch your tress. You may even go for a professional hair spa treatment a day or two before your wedding day. This shall nourish and add to the health of your locks from within.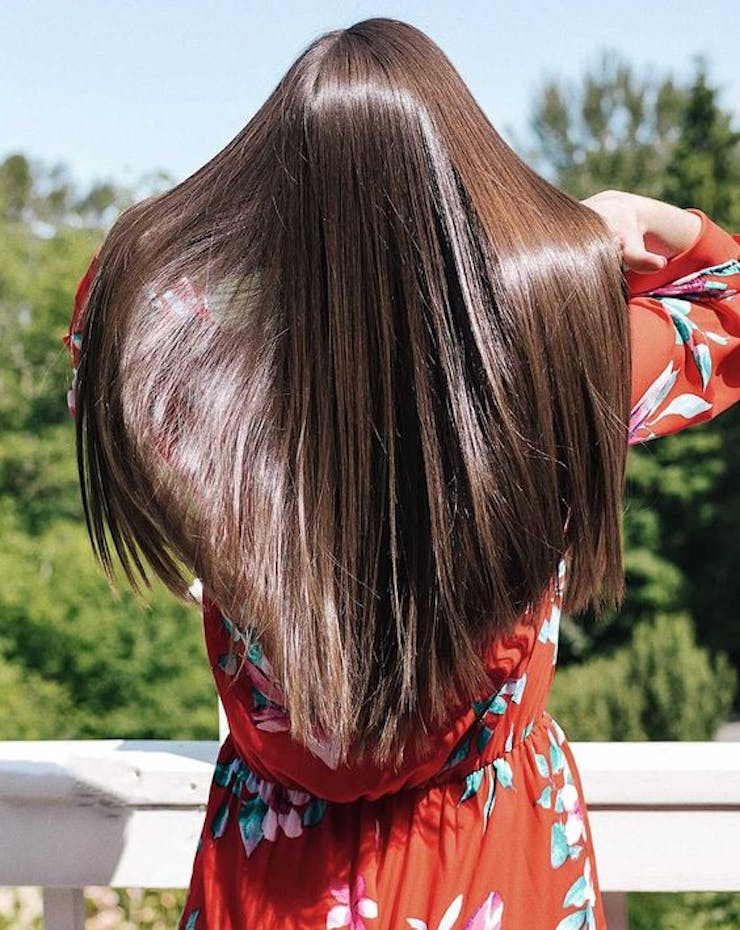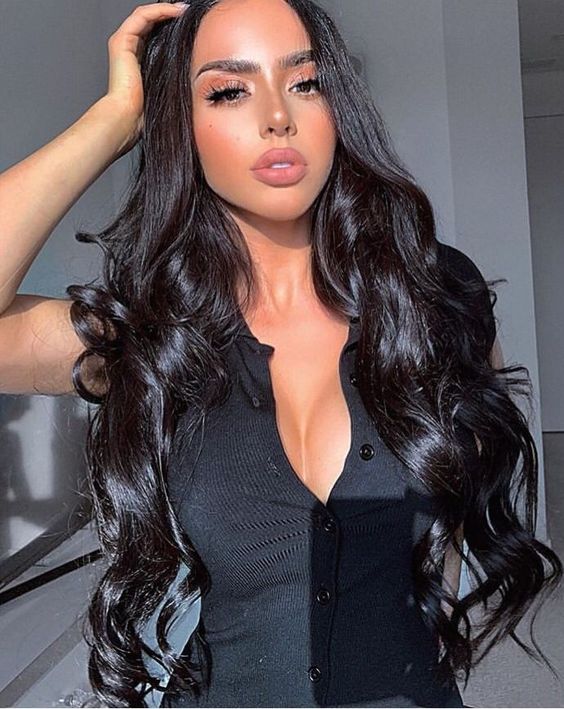 Add To The Length If Possible
You are the queen of the event! And you would definitely want to feel the regal and elegance of one, at least while you carry your bridal look. Your hairs shall play a frontline role in the scene. The longer your hairs are, the more options you get to unlock for your Bridal tresse. There are definitely hairstyles for shorter hairs, which are equally good. But with longer hairs, you can go for a wider range of buns, braids or even half updo styles. Haven't got much time to grow your hair? No worries, you can always get your hands on some good quality hair extensions. Match your hair type and colour and have those perfect long hairs for styling your special day!
---------------------
Now that we are aware of the whys and hows of bridal hairstyle, let us look at some of the 
Trending Bengali Bridal Hairstyle
1. A Beautiful Half Tied Design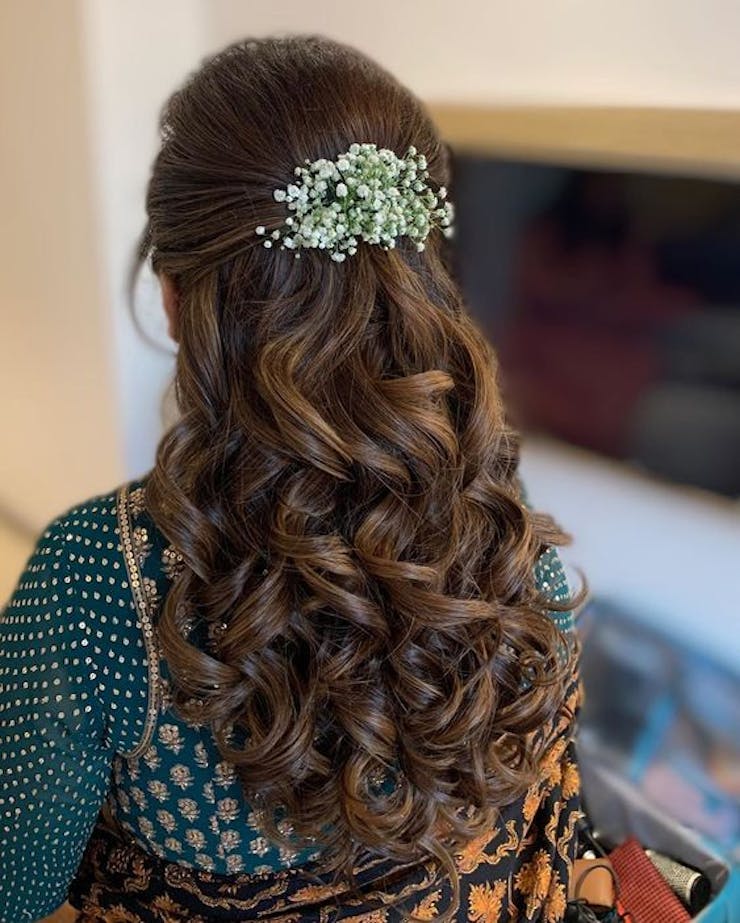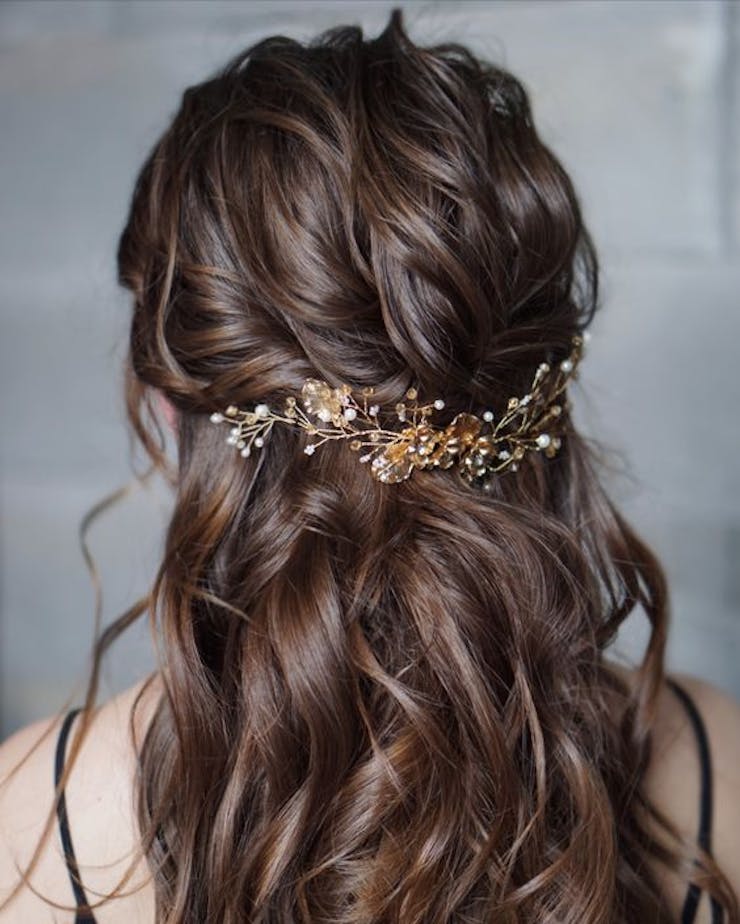 Now, before we jump straight into the mainstream wedding hairstyles, let us get you sorted with the hairstyles for your engagement, and registry. This bae out here is a masterpiece. The soft curls, half tied with the fine white flower brooch, made the hair look like a shower of goodness.
2. The Tranquillizing Braided Half Up Half Down Style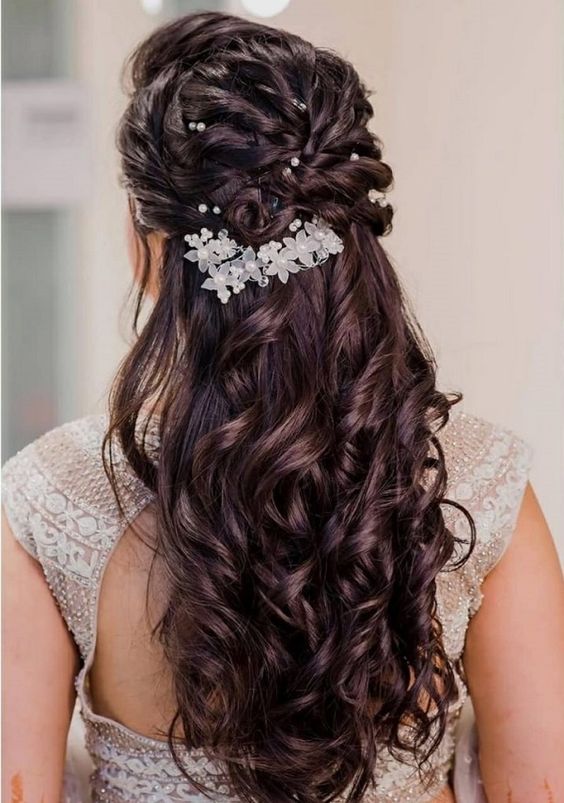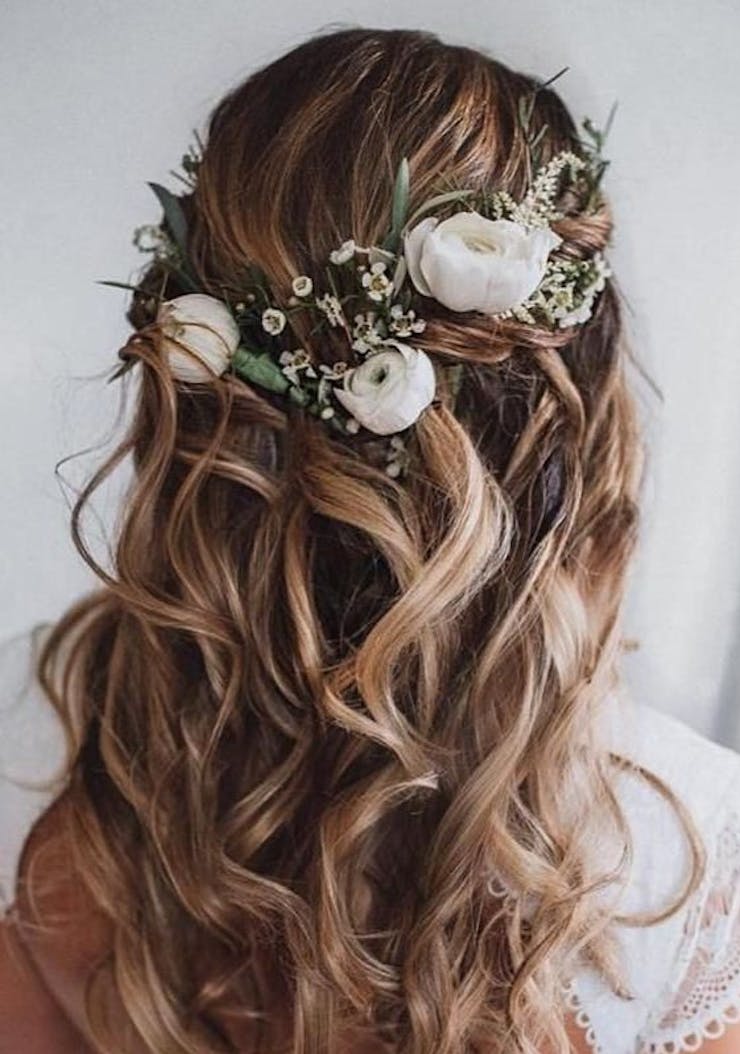 The simple half up half down style is further accentuated by the twisted braided situation. The beautiful statement brooch of white floral motifs is indeed the centre of attention in this hairstyle. You may also go for highlighting the twists and twirls with some chique pearl or stone studs. Good for your Engagement or reception party.
3. The Puffy Crown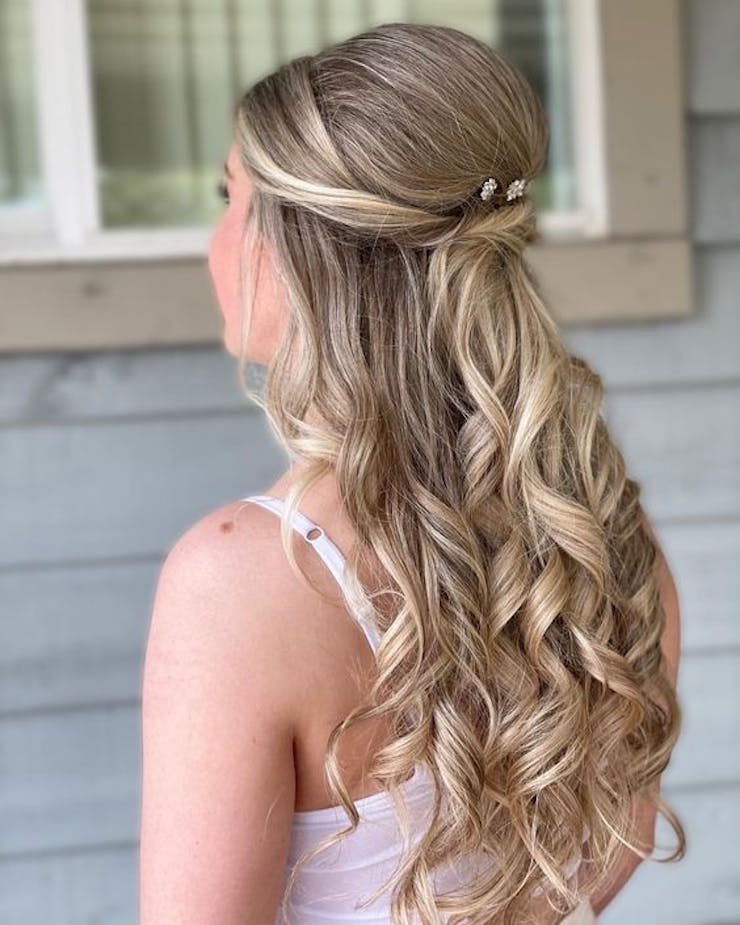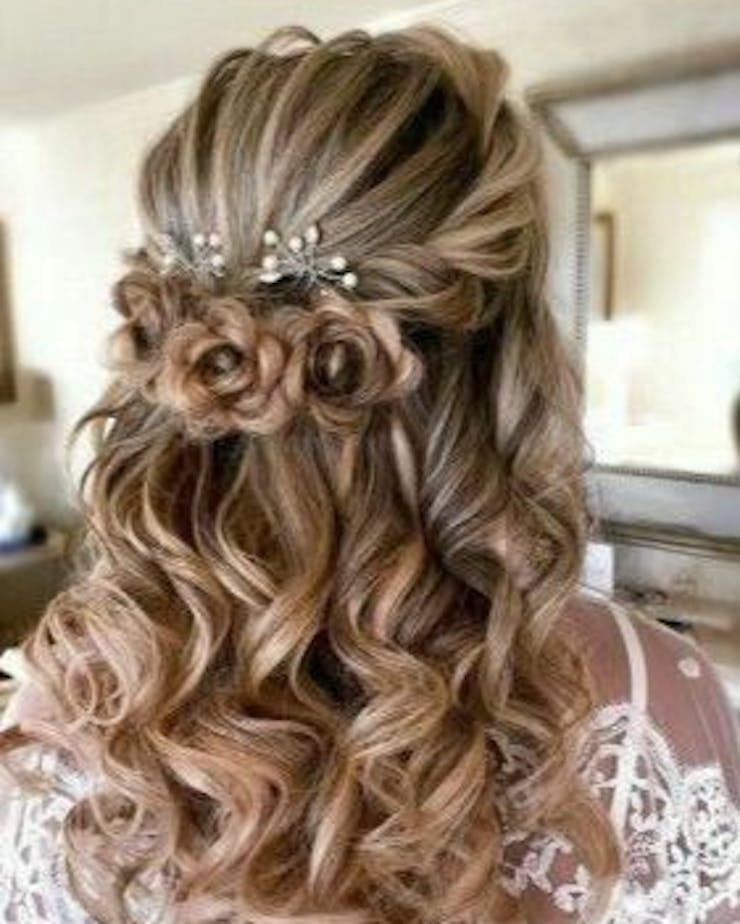 How about this beautiful half up done hair with the puffed crown? This gives an elegant, and simple vibe to your hair. You may highlight your pouffe lining with the small flower pins. And oh! The soft beachy waves aren't to be forgotten.
4. Something For The Sleek Straight Hairs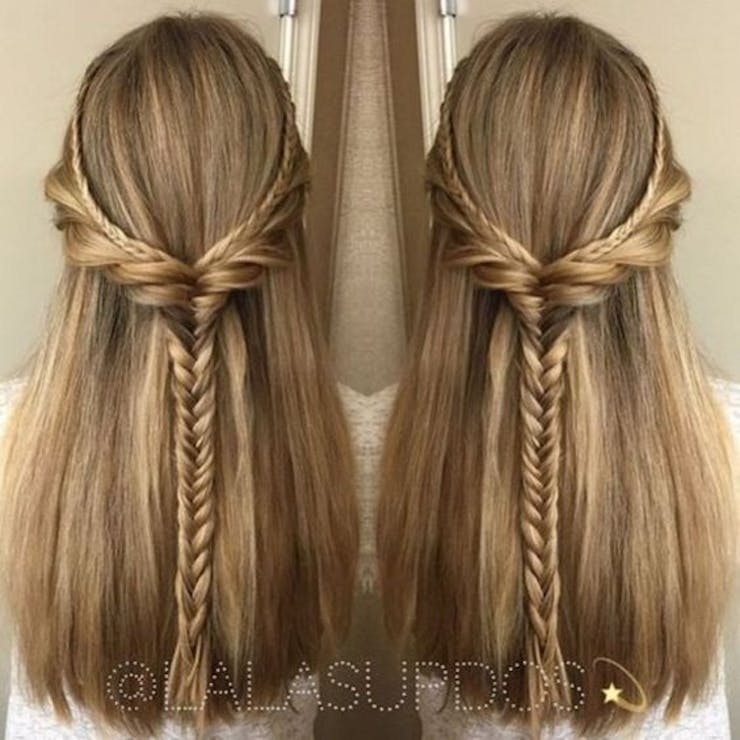 Finding a half updo style for your steep straight hairs can be a daunting task. But no worries! This minimalist waterfall fishtail motif can add an apt amount of texture to your half up half down hairs. And you may slay the look, even with straight hairs. Why should only curly hairs have fun?
5. The Simple Half-Pony Hair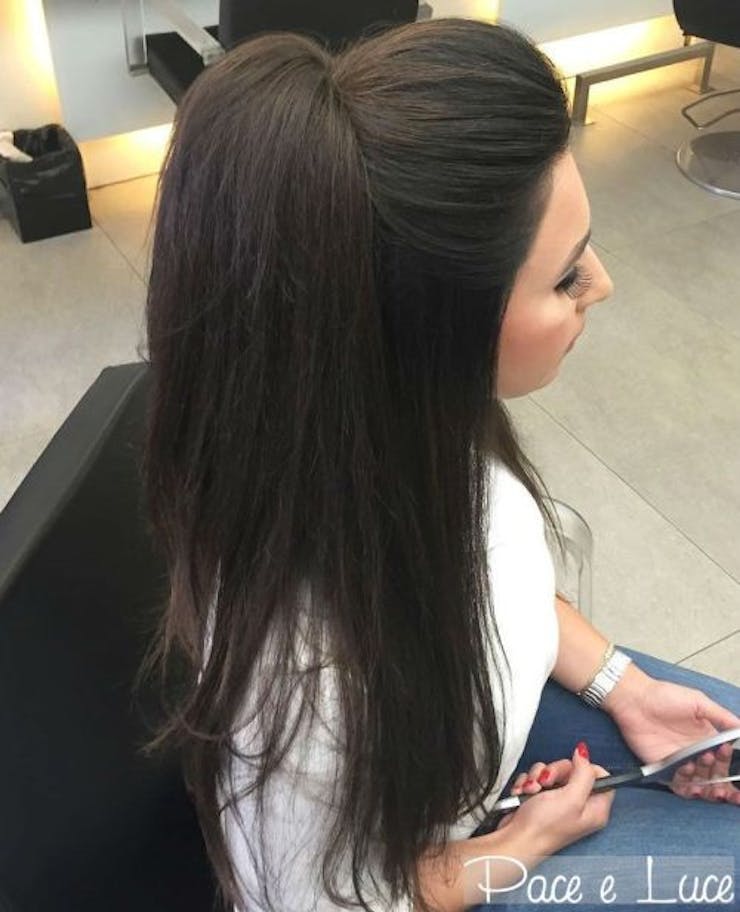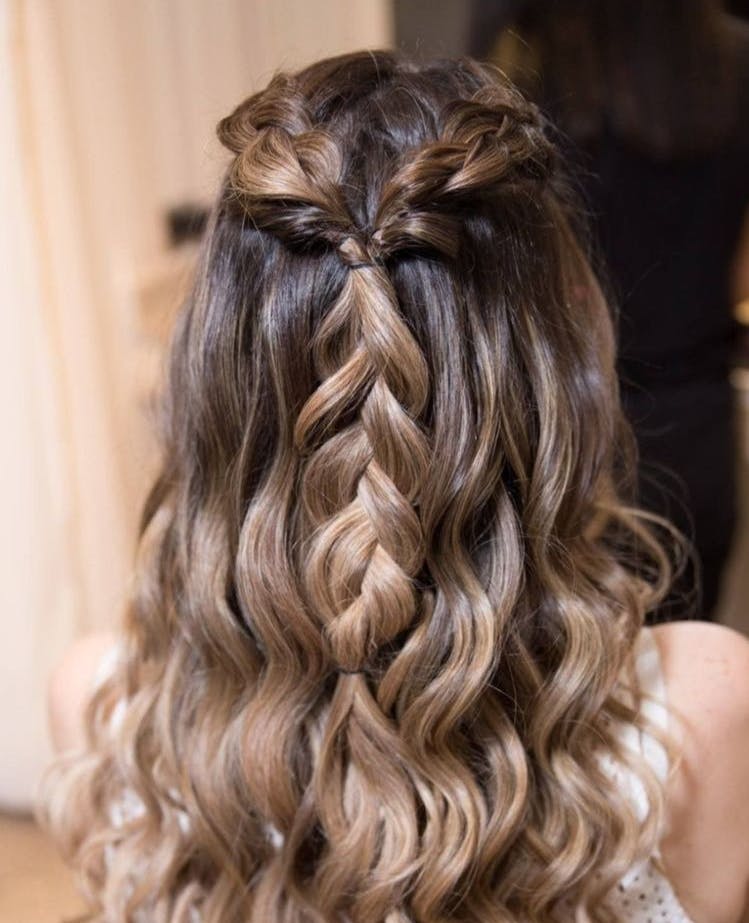 This simple pompadours half updo can be your pick for straight hairs. This hairstyle is one of the most elegant yet simple styles I found today on the internet. You may even add to the glam of the design, with a statement tiara or floral headband. A perfect Inspo for a bridal hairstyle with a crown.
6. The Floral Fishtail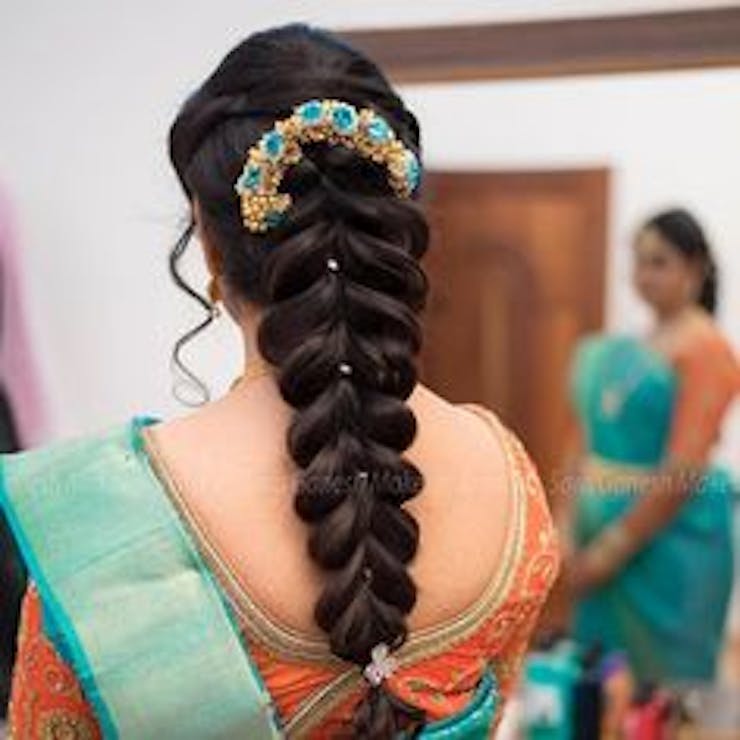 In case you have not got very long hair, but still wanna ace the braided style, the beautiful fishtail braid can be your pick. You can line a floral garland in the crown area, and add a small flower tip to the braid. To accentuate the look by highlighting the braids with some stone clipped in the mid reef. A beautiful yet simple hairstyle for a Bengali bride.
7. The Flower Creeper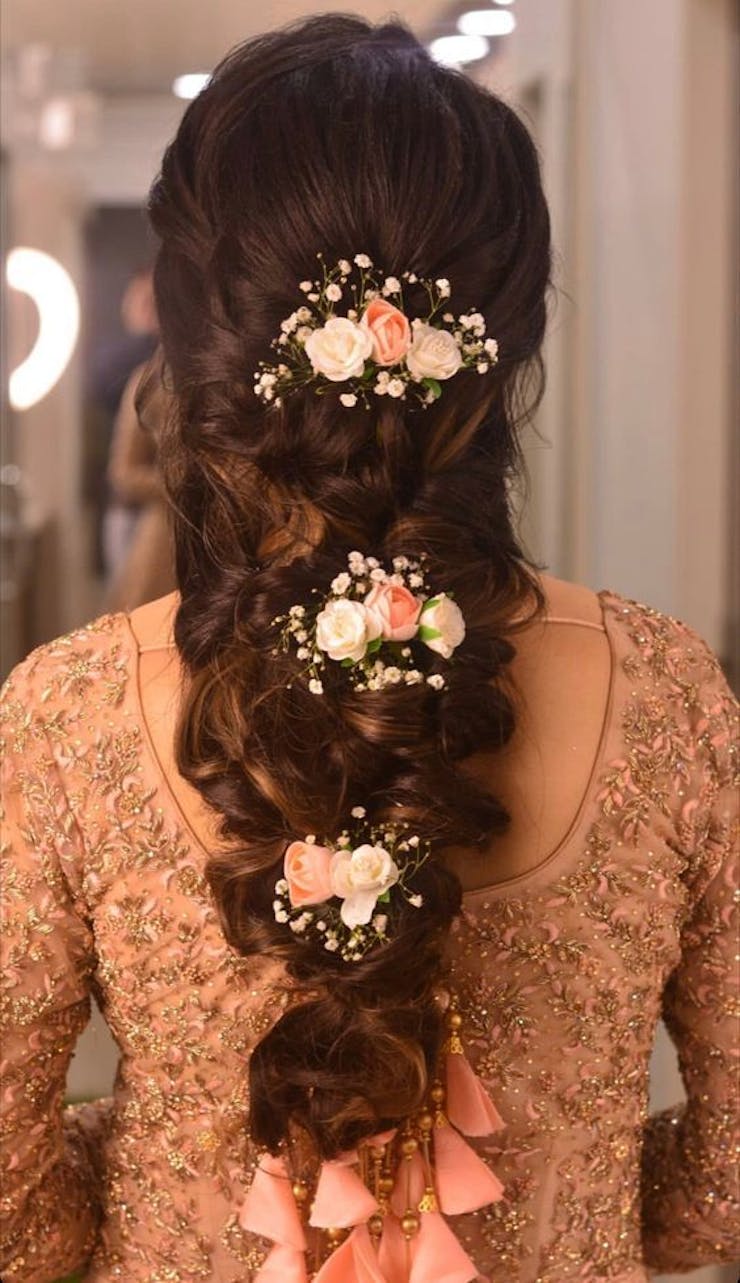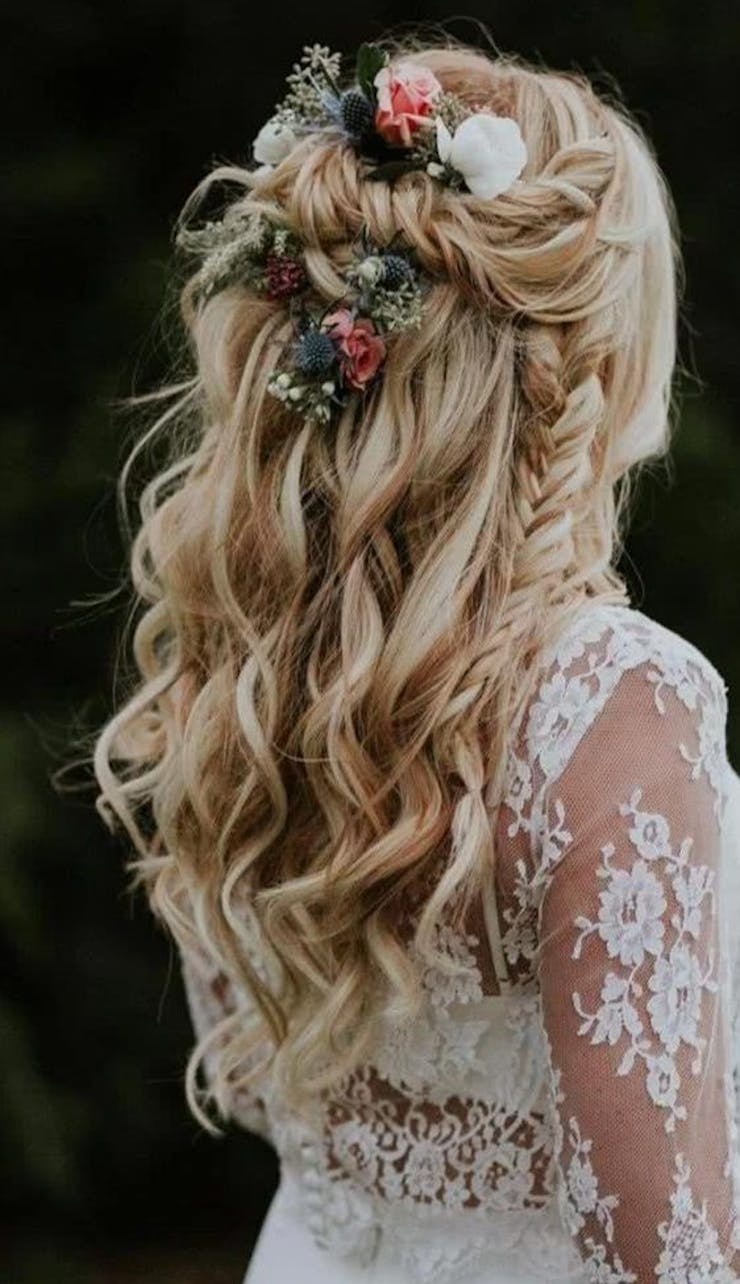 This segmented braid is a very beautiful and full looking style to pair with your pastel coloured outfit. The beautiful rose and weed corsages pinned to the segments are further adding to the beauty. Isn't it looking like a bouquet of roses and twirls?
8. A Jewelled Anuradha Braid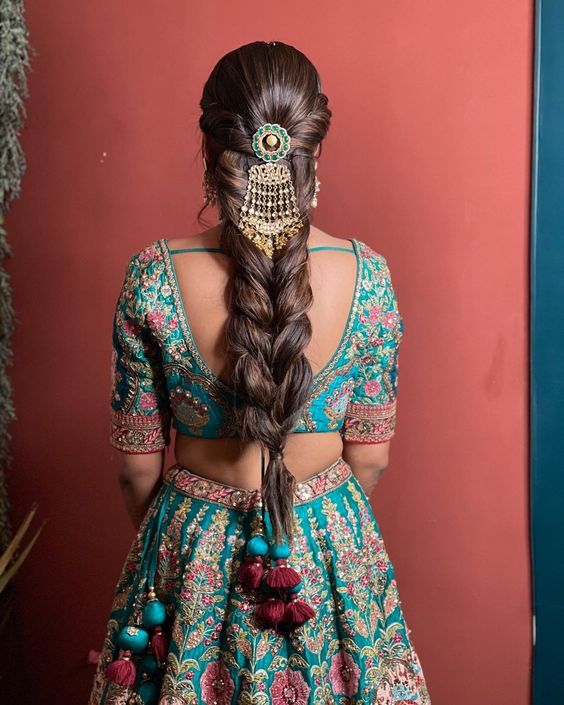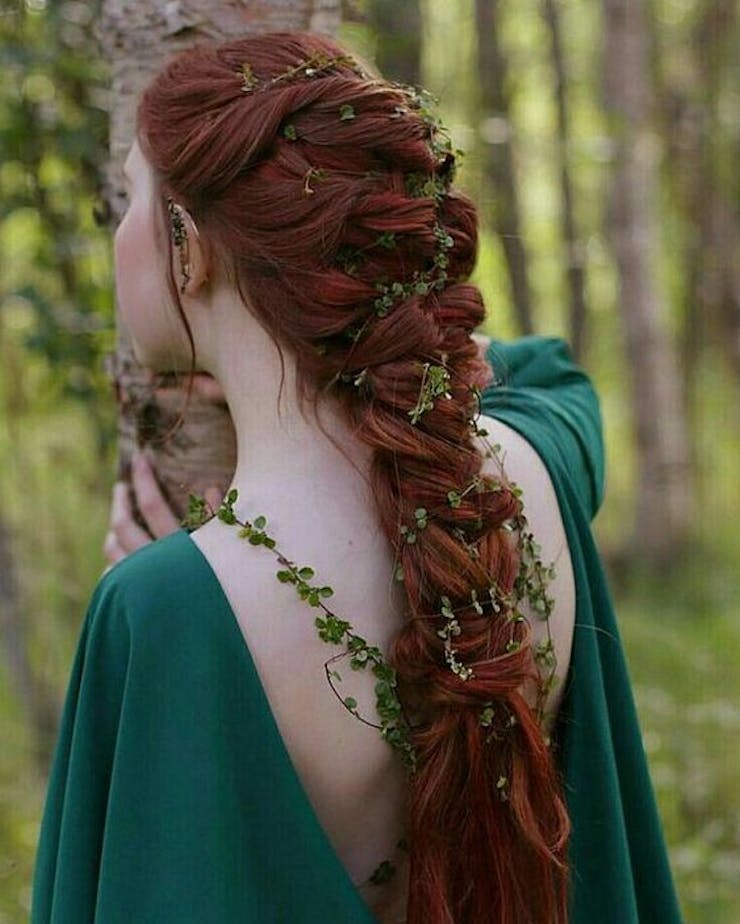 How is this simple loose khajuri braid looking with the long trail of mujras adorning it? This can be the perfect hairstyle with your wedding lehenga, and even with your saree. A perfect fusion Bengali bridal hairstyle. Won`t this look beautiful on some long wavy hairs?
9. A Thick South Indian Design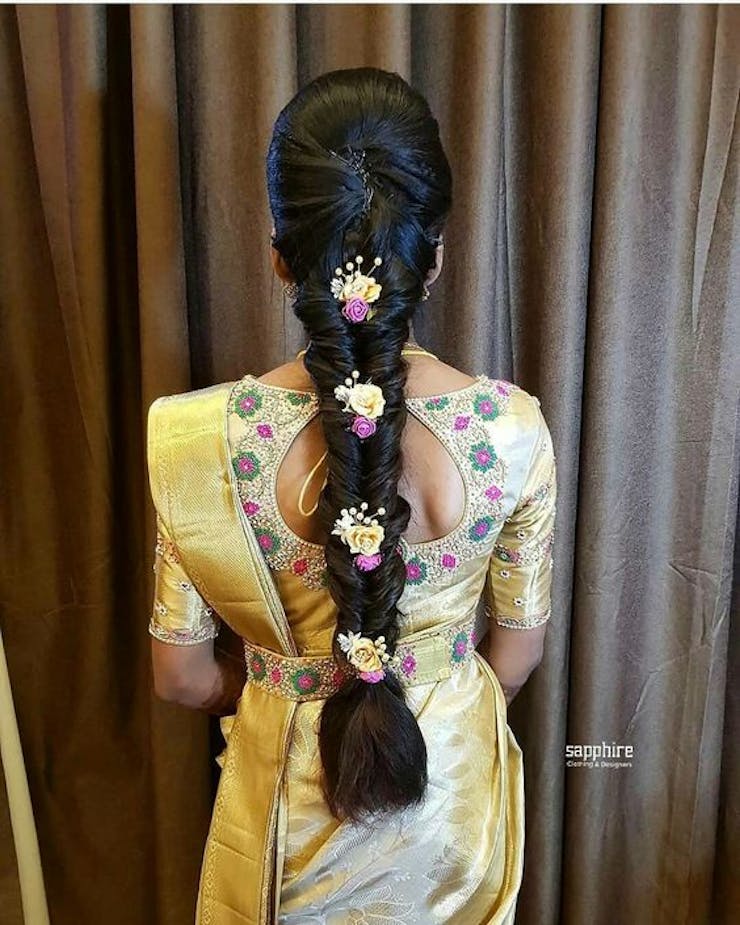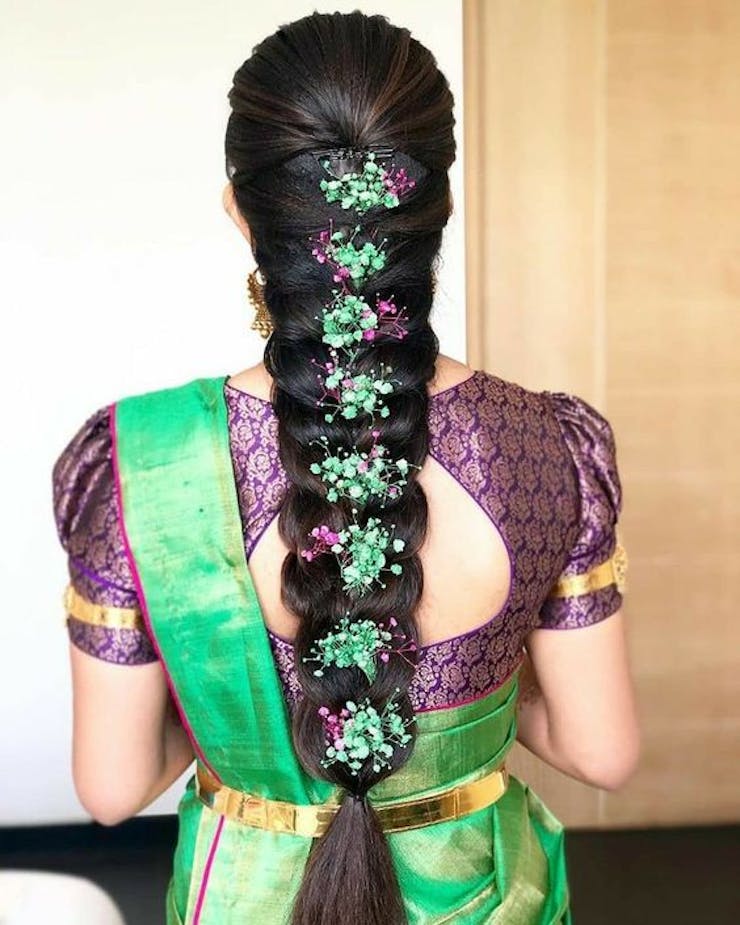 This beautiful Malabar inspired fishtail khajuri chotee is pure elegance. An apt go with your wedding saree and lehenga. You may pair this up with your sheer bridal ghunghat, or leave it open. A perfect bridal hairstyle with a veil. Oh! And don't forget to donne it up with some statement gajra or floral corsages.
10. Desi Princess Jasmine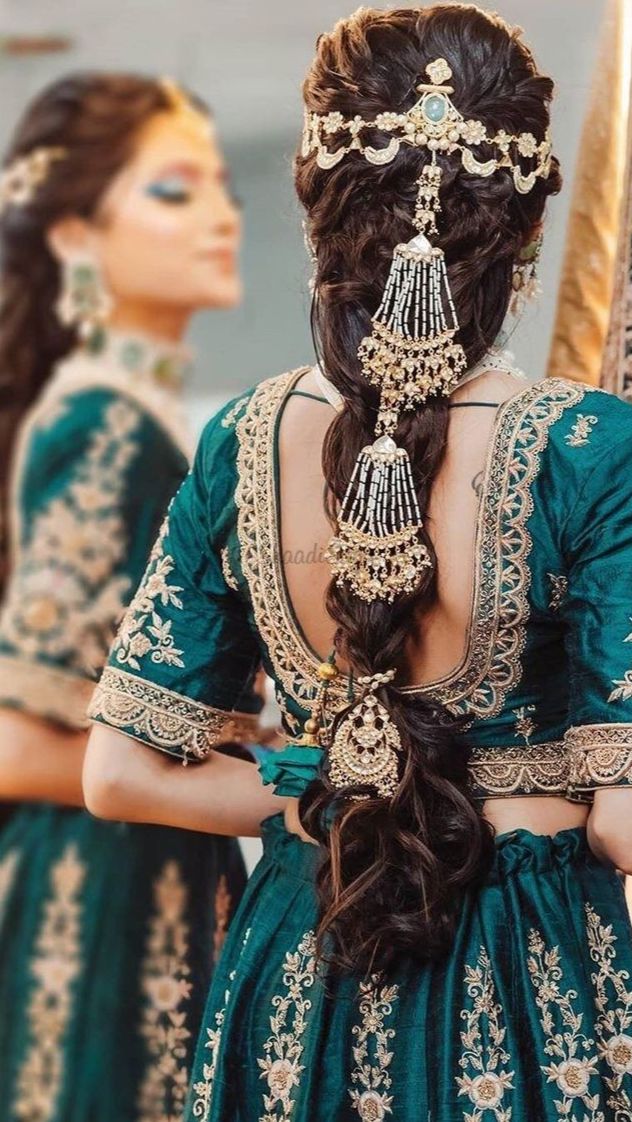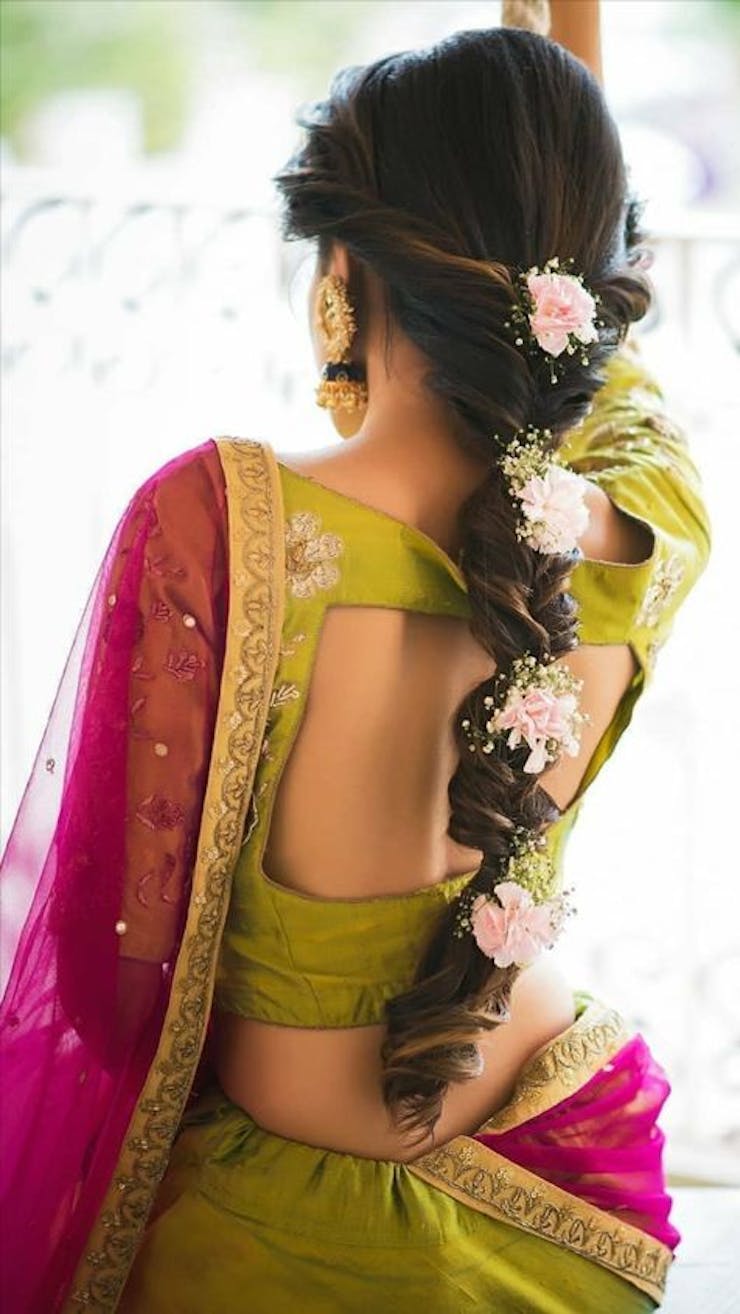 How many of you remember the beautiful black tresses of Princess Jasmine from Aladdin? I very certainly do! And the first thing that came to my mind after seeing this pin today was her. Doesn`t this quite resemble a desified version of her hairstyle? I can totally see myself carrying this style in one of my wedding functions!
11. The Loosely Braided Bangs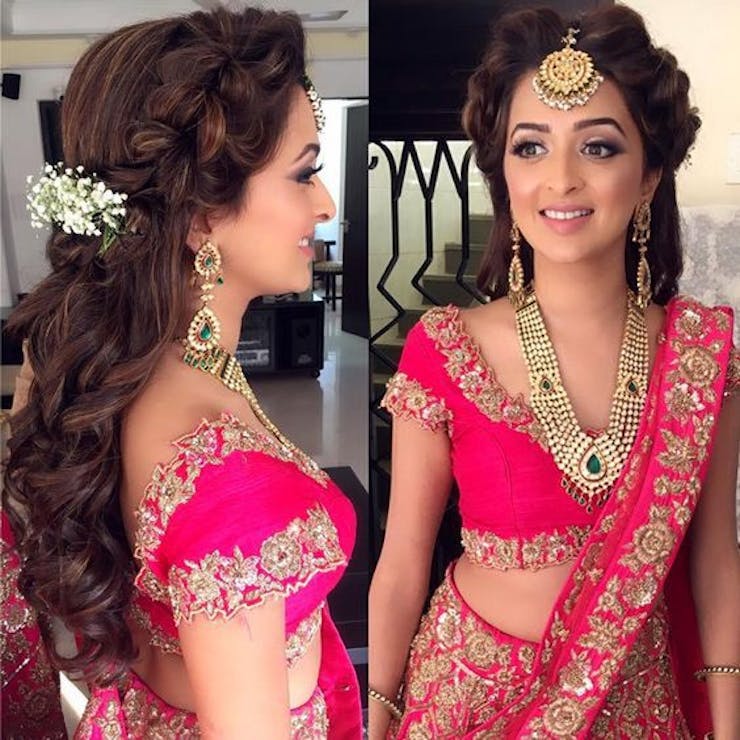 I have always been fascinated by an open hair bridal look. This simple hairstyle is perfect for the reception or engagement party. The mid partition with simple braided bangs brings out an elegant sweetness from the look. Complete the look with a statement maangtikka! And if you got those beachy curls, tabh to kya Kehna!
12. Simple French Romantic Curls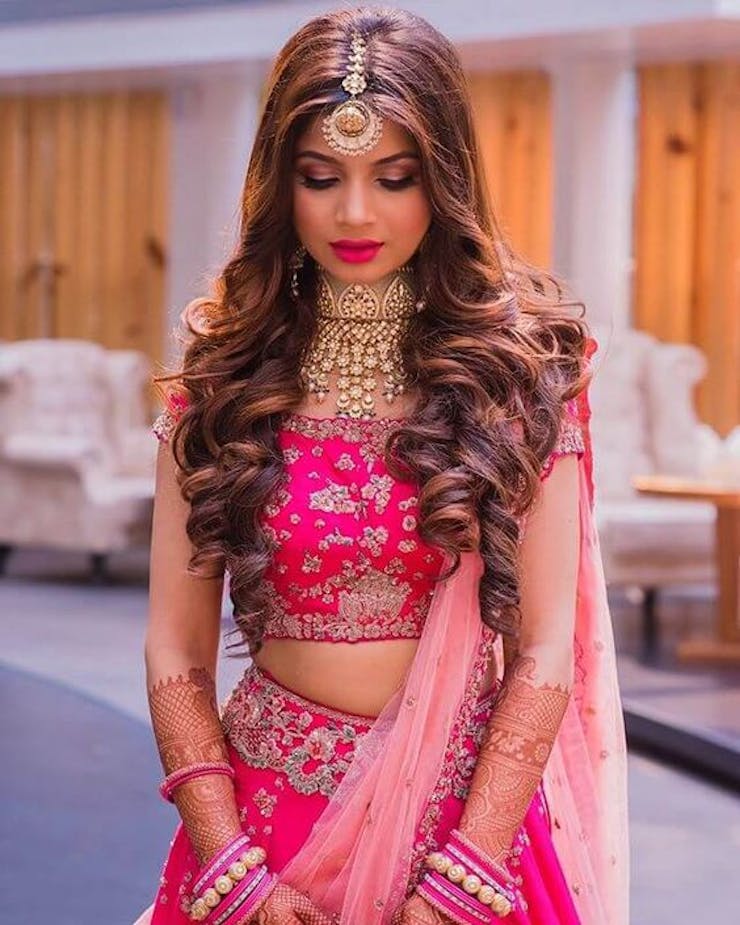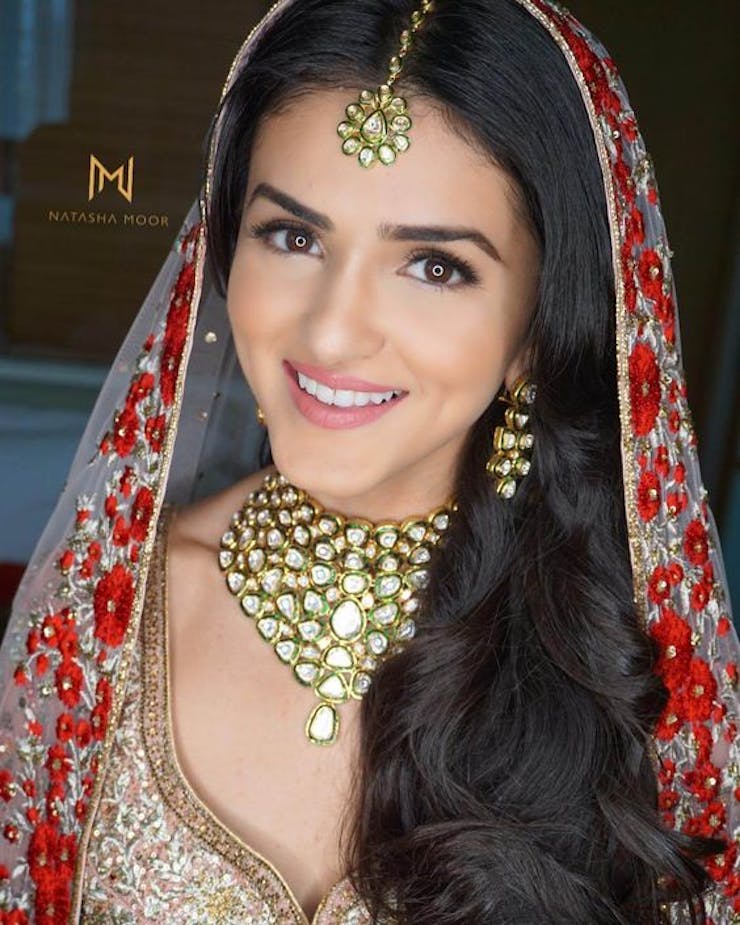 How do you like these romantic french curls? A very simple, and careless beauty style look. Do this hairstyle either with a mid partition or side partition. Finish the look with either a statement Maangtikka, Matha Patti or even a side mujra. This hairstyle for a Bengali wedding party shall look best with a flared gown or a lehenga. However, you may always choose to carry the look with a saree as well.
13. A Divine Goddess Like Crimped Hair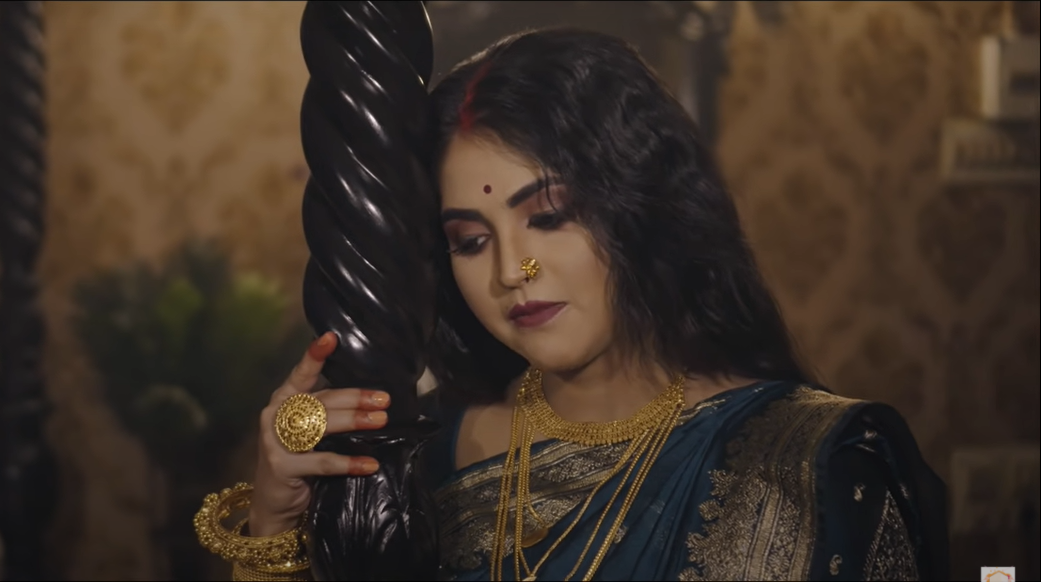 Doesn't she look like a Bong goddess in the red and white saree and those dark black crimped hairs? You may carry a similar style for a more swabeki Bong bridal look. Trust me, you're gonna not look any less than a goddess! Most importantly, wear your hair in a mid partition and if it's your reception, don't forget to get your mid partition full with vermillion. Nothing can stop the divinity within you from reflecting!
14. The waterfall braid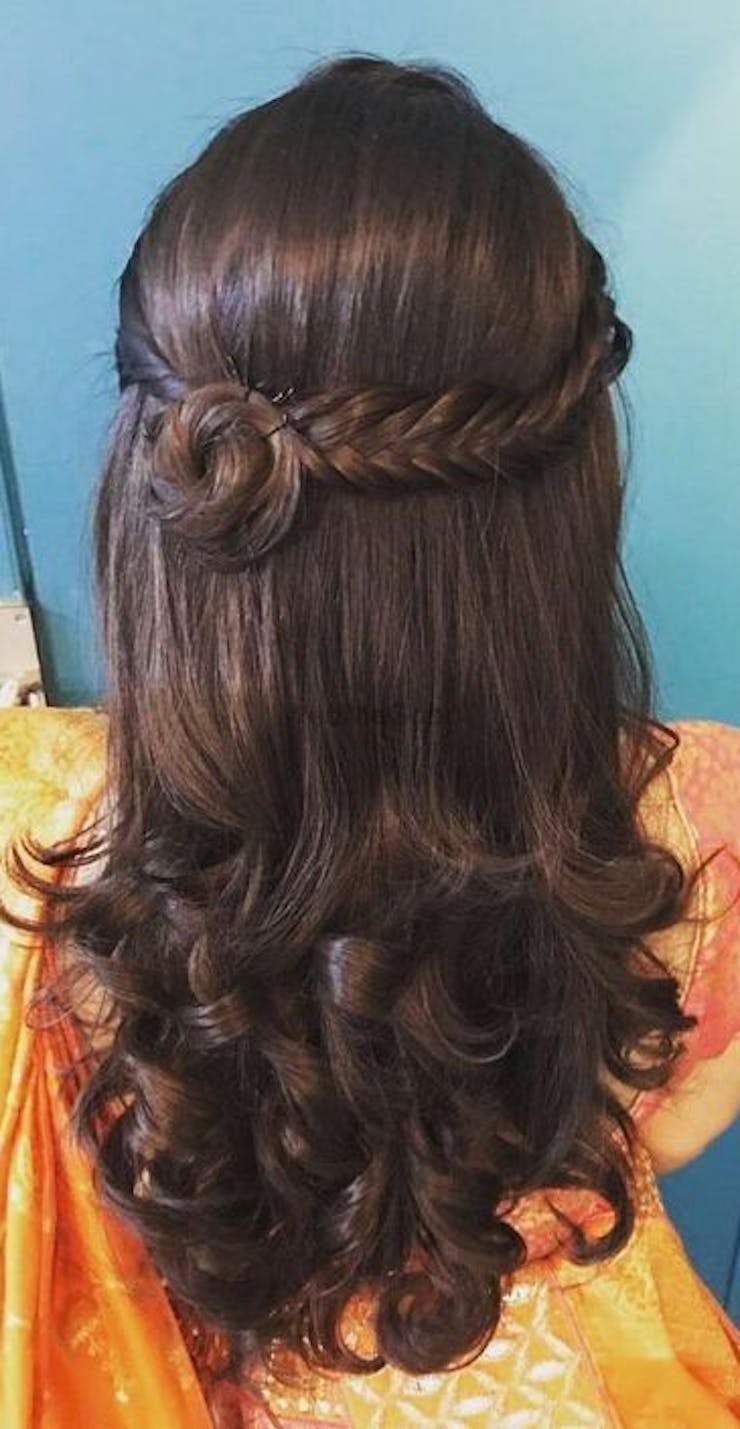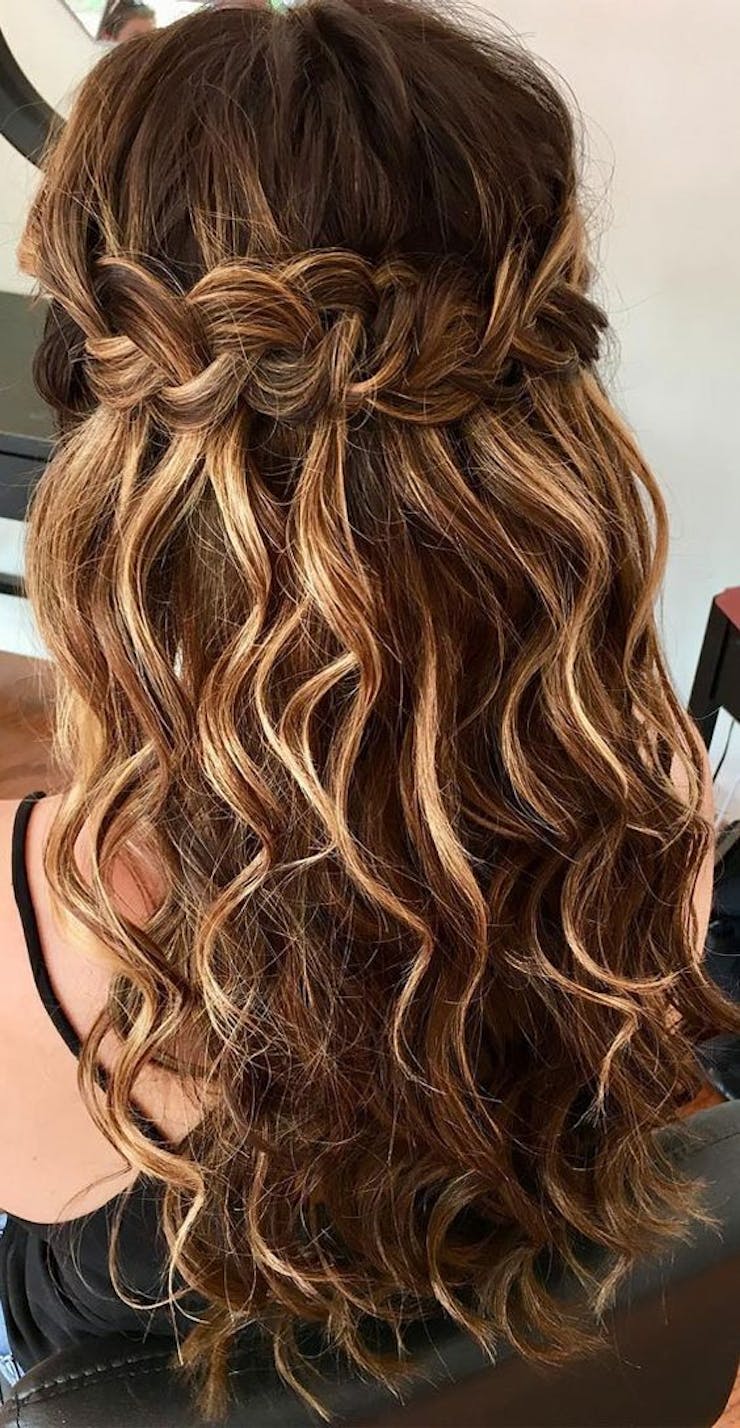 The beautiful open hairstyle is as beautiful with straight hairs, as it is with wavy hairs. This waterfall fishtail like bang is looking absolutely gorgeous yet very minimalistic. And oh! Look how beautifully they have twisted the end of the bangs to look like a rosette. Perfect Bengali bride hair style.
15. A Simple Side-Swept Arrangement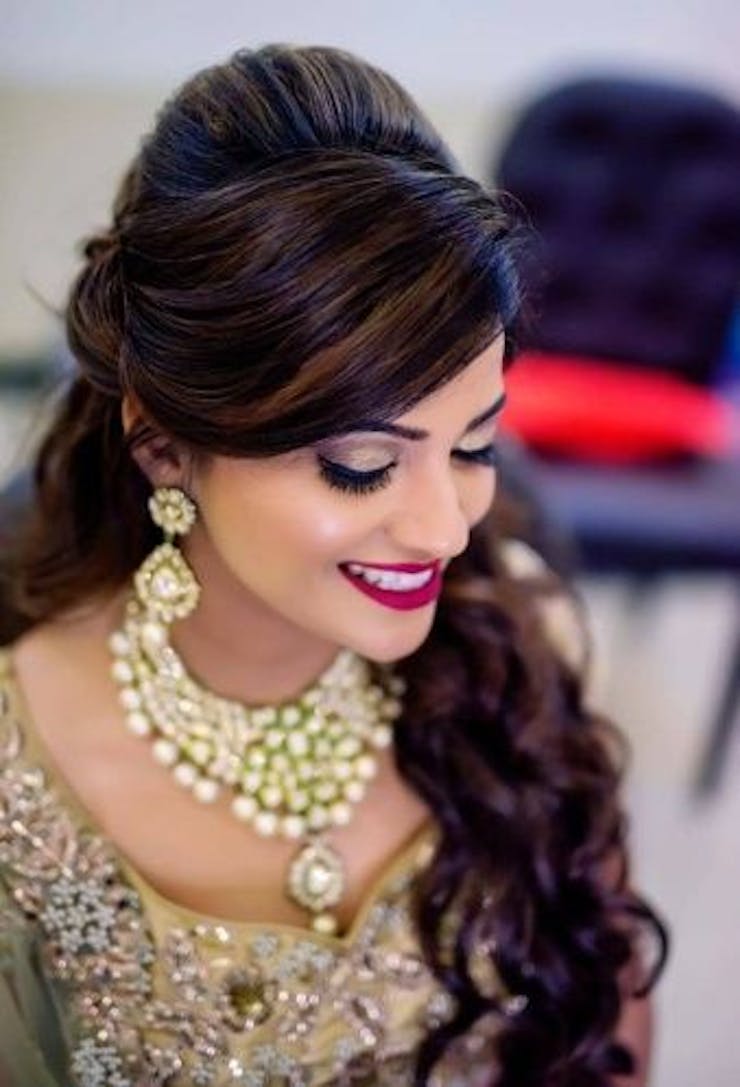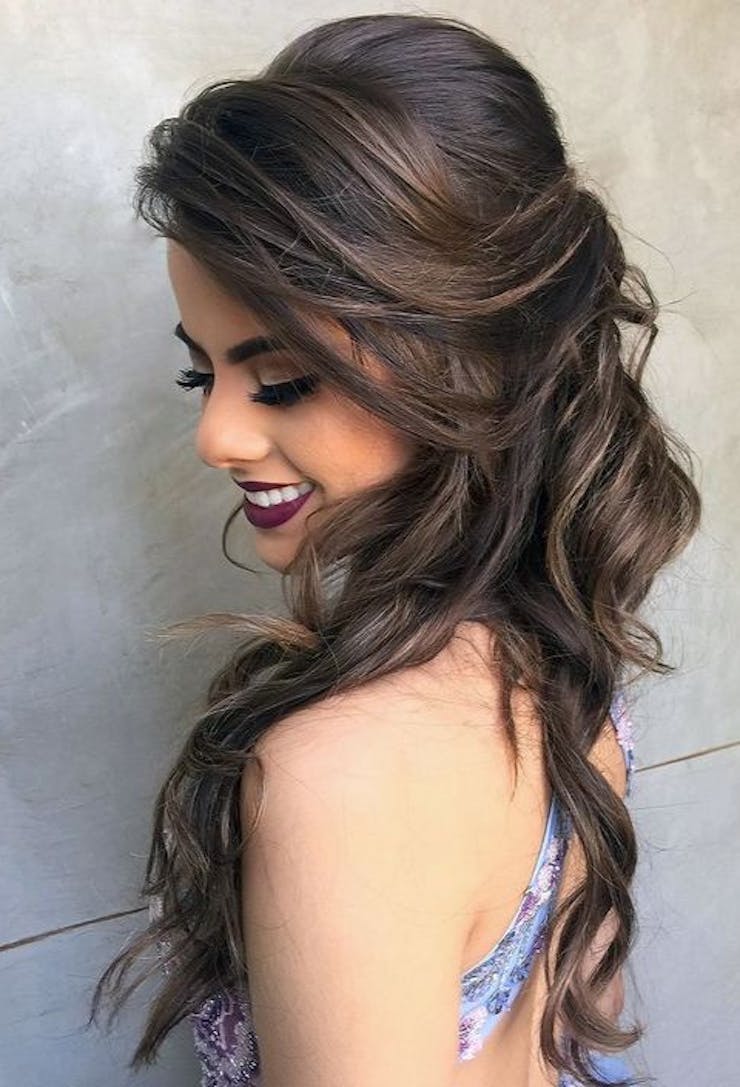 This pretty bride is just slaying the side-swept curls along with the crown pouffe. The side bangs are falling on her face like a waterfall, and are very neat and stylish. This is indeed a stupendous Bengali bridal hairstyle.
16. The Conventional Doughnut Bun Hairstyle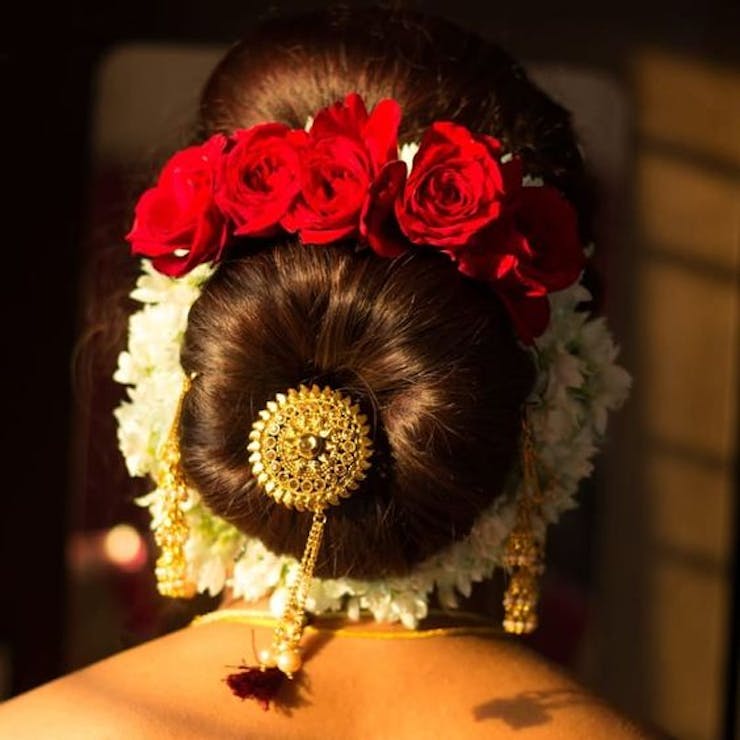 This particular doughnut bun is a very conventional style in Bengali tradition. Decorated with white jasmine and mogra flowers, and some red roses! I have literally grown to watch brides doing this style at their weddings. However, it hasn't ever felt outdated yet! A classic Bengali bridal hairstyle with flowers.
17. The Braided Messy Side Bun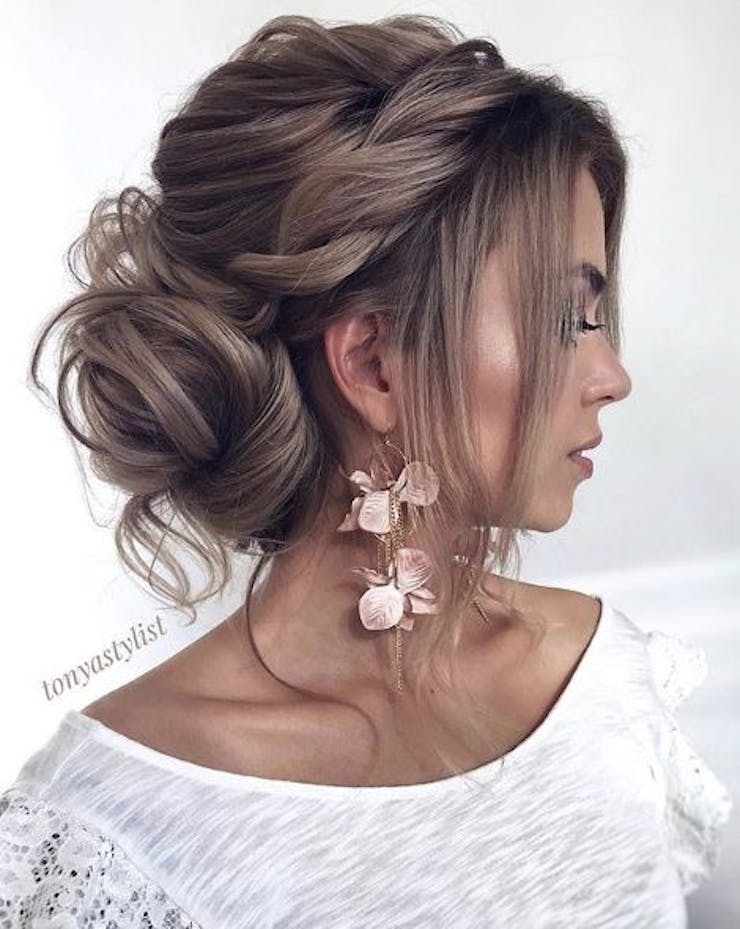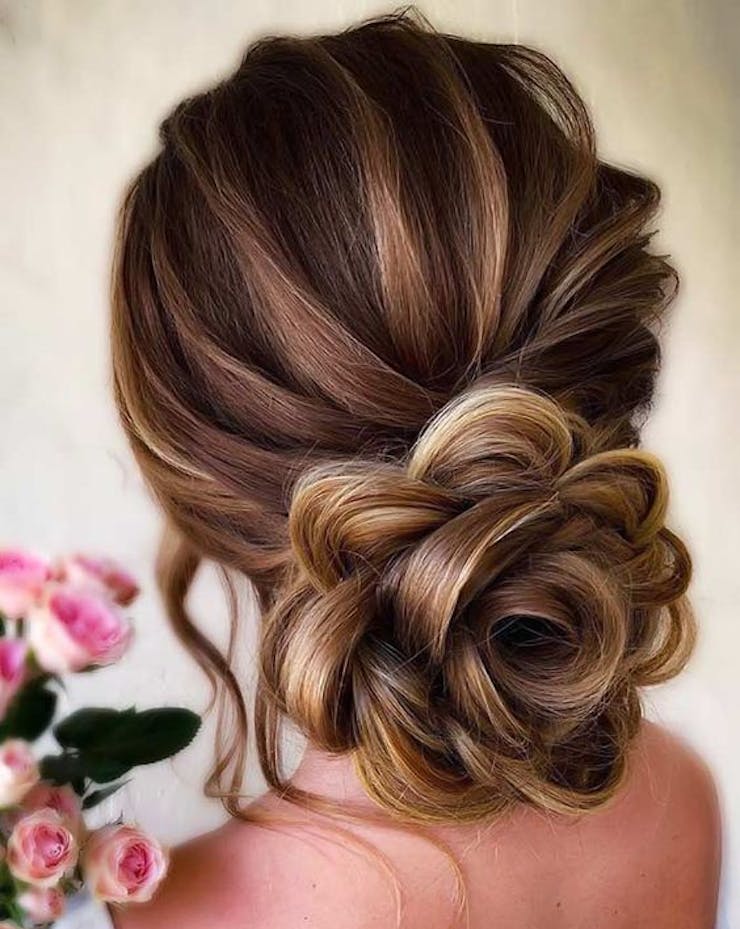 This modern side-swept messy bun is added with the twirls of the loosely braided bangs. Another example of callous beauty. You may further adorn the hairstyle with small flowers, pins or a tiara. Goes best with any piece you pick- saree, lehenga or gown. I shall definitely keep this on my list!
18. The Bun - E - Guldasta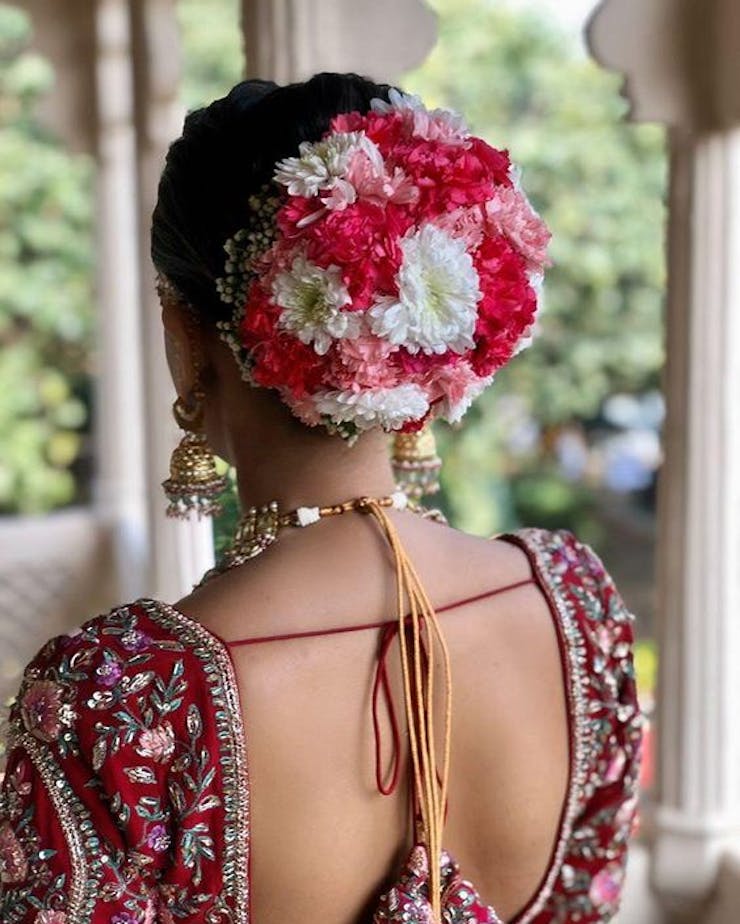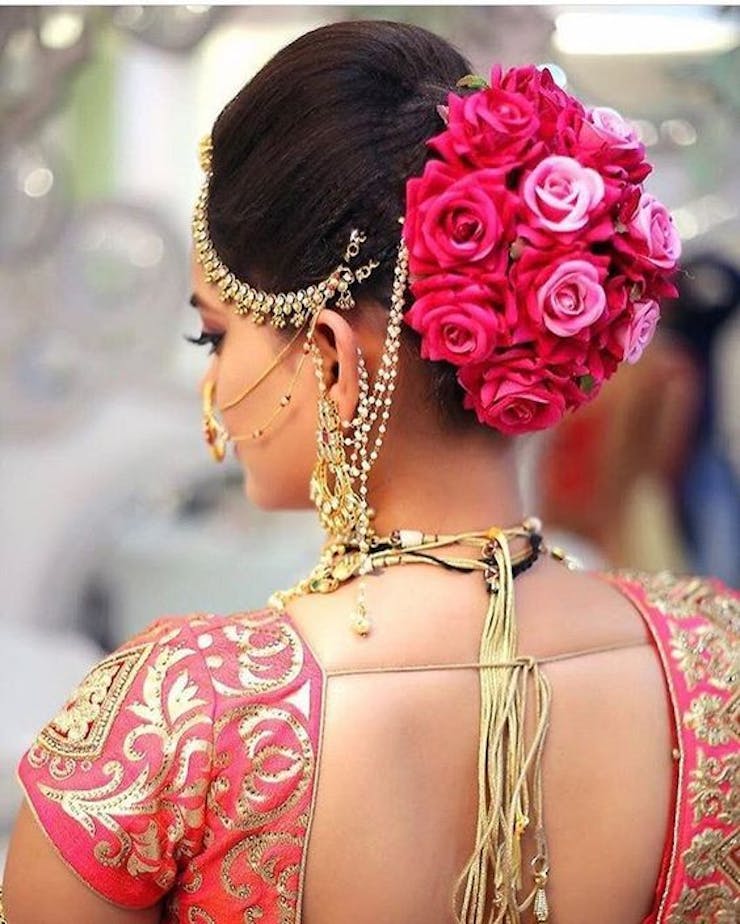 Got not very long hair, but still wanna do a fuller-looking bun hairstyle? This can be your saviour. Put your hair into a pouffe and small bun. Add to the volume of the thin with lots and lots of flowers. Make sure that the flowers match the colour of your dress. This is a saviour like Bengali hairstyle for short hair.
19. The Waterfall Bun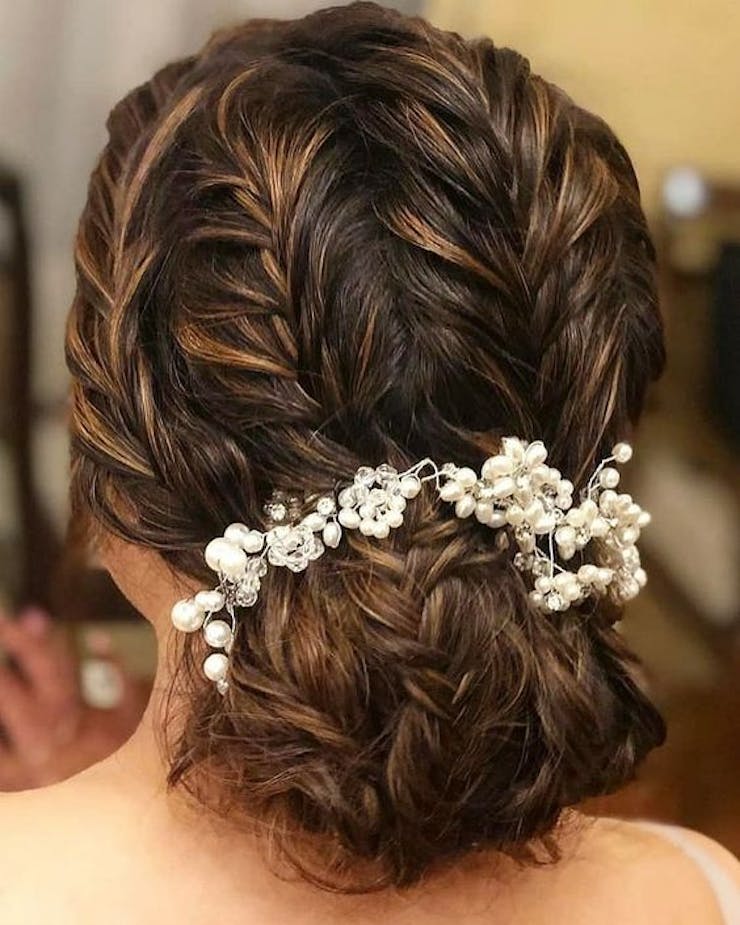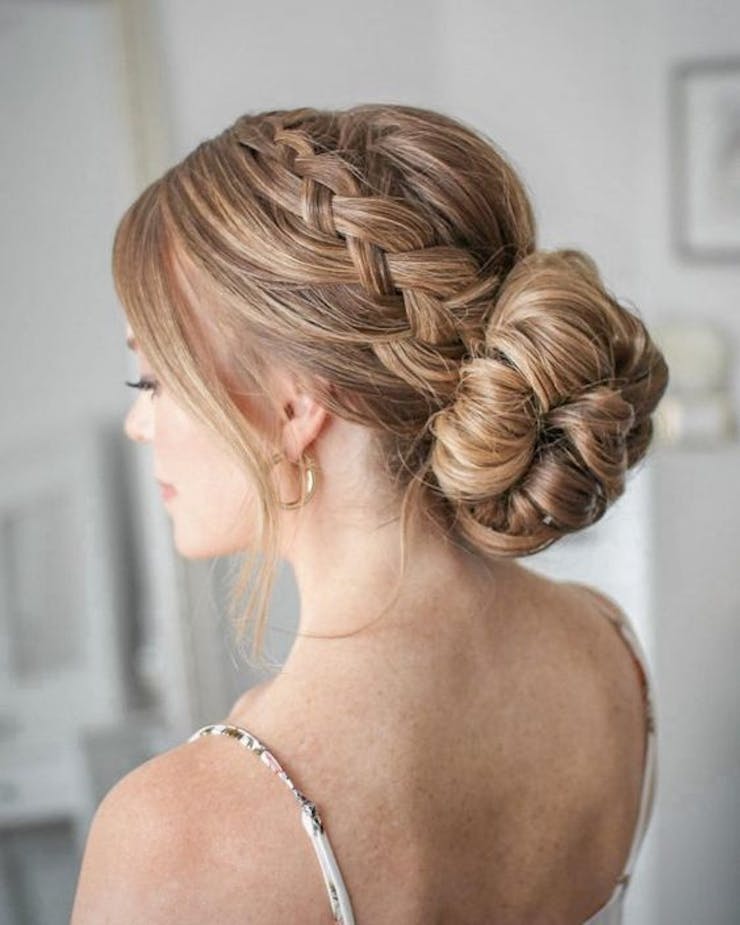 This messy waterfall bun shall be the showstopper of your day! Goes perfect with sarees, dresses or lehengas. Doesn't this look like a stream of waterfalls flowing down from a divine habitat?
20. A Chique Messy Bun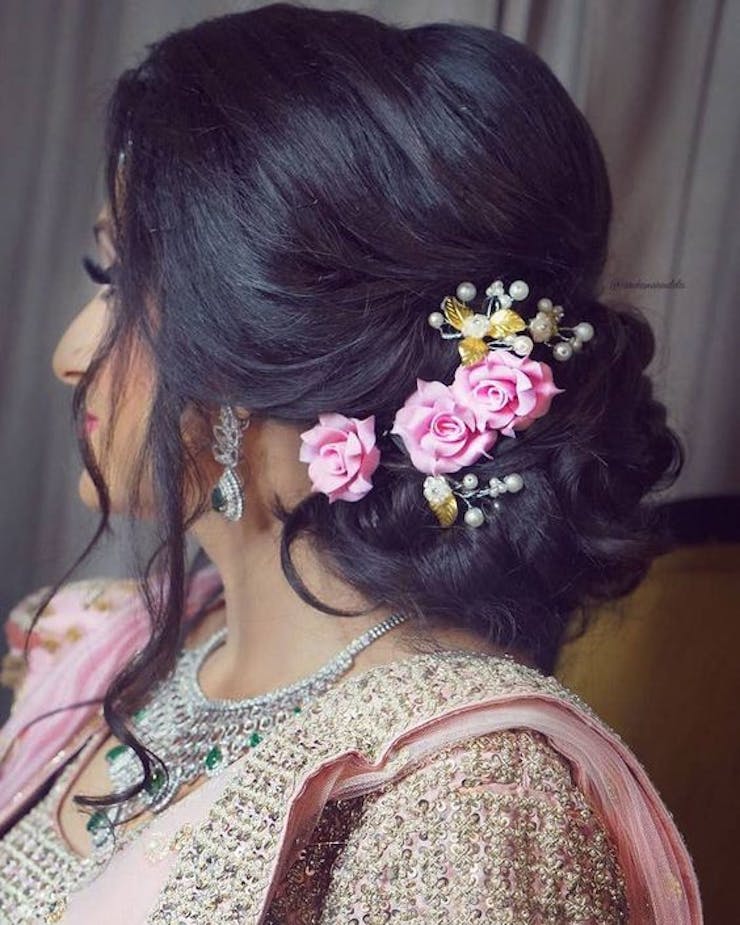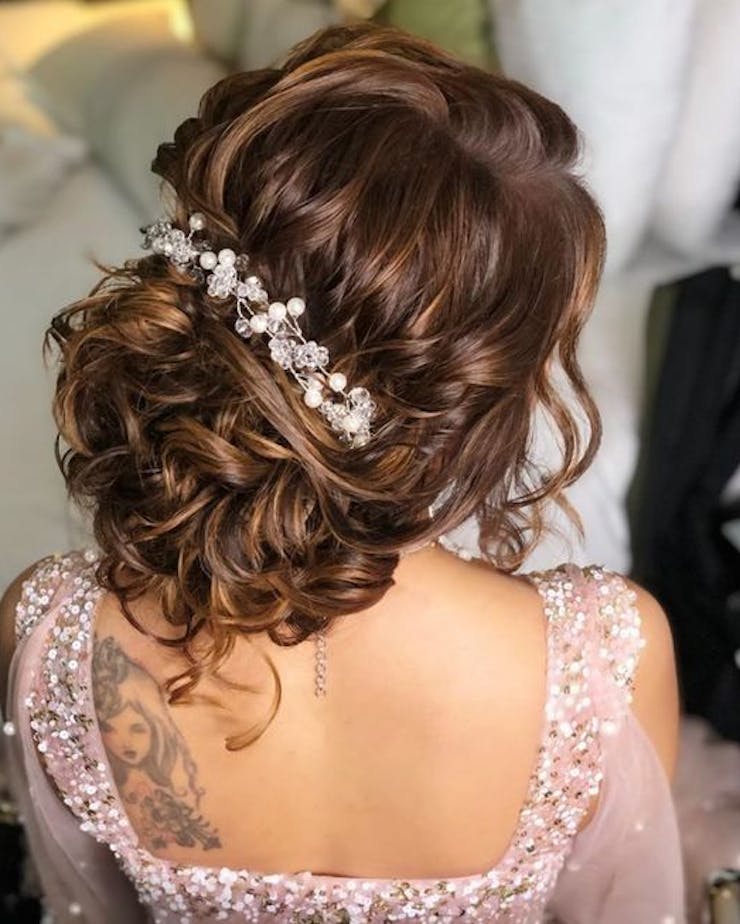 This simple messy braided bun is yet another piece of art. A very simple, not so complicated hair arrangement. The small flower detailing adds a hint of detailing to the crown area as well. So, how do you like it?
21. A Messy Ponytail Braid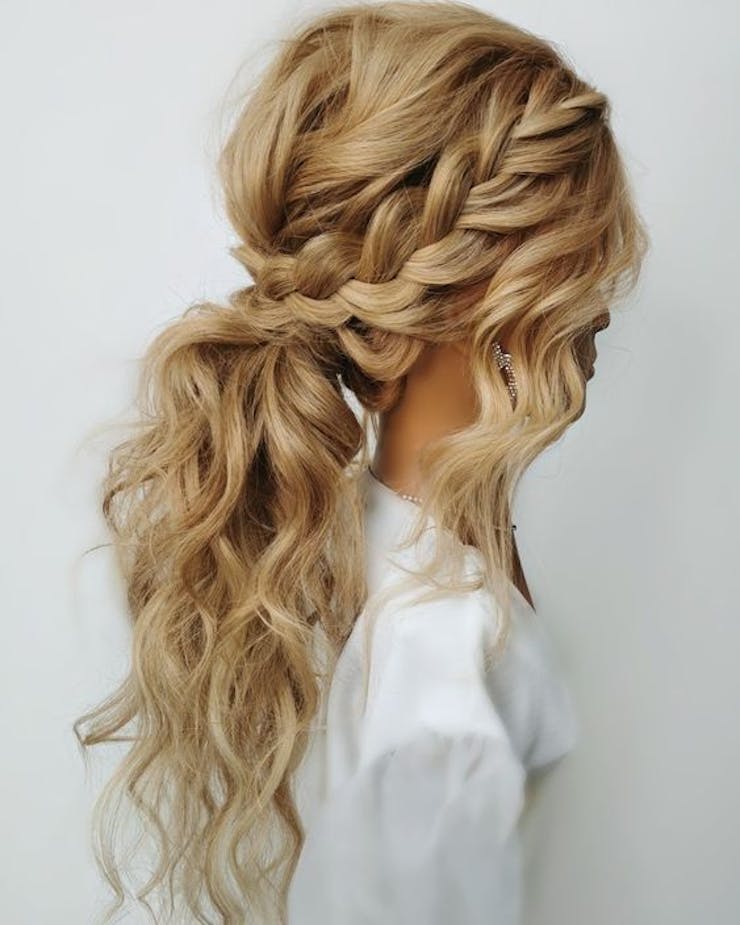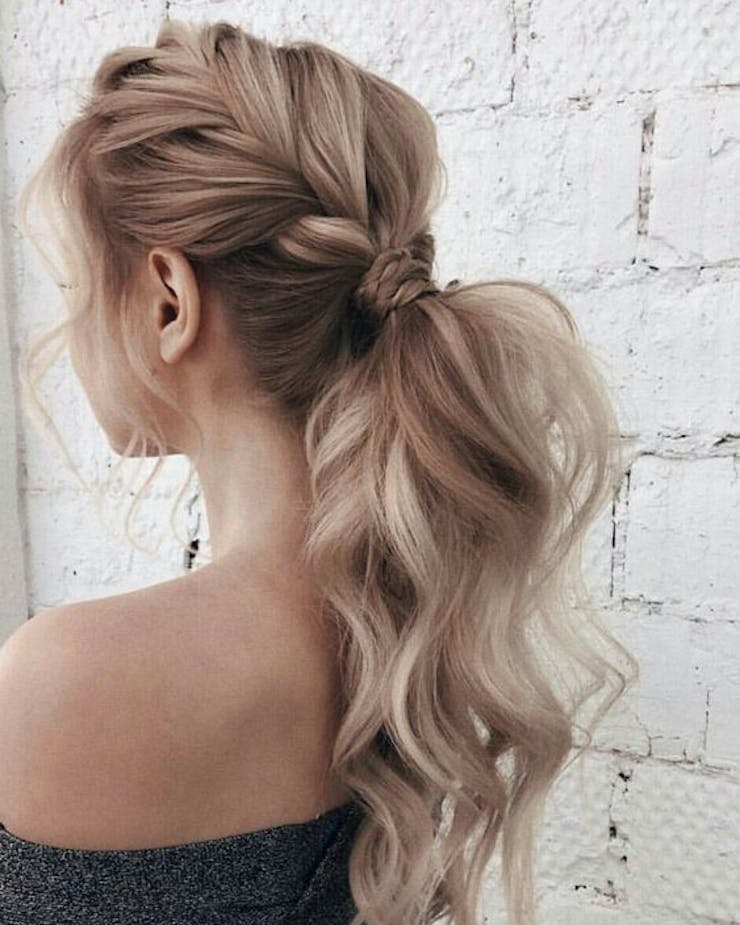 This bohemian braided ponytail is a go with any Indian gown or lehenga. Whether it is a daytime function or a night reception, if you pair it up with the right dress, nothing can outshine you in the event! Just don't forget to amp the style up with some pearl studs on the braid, or some floral corsage in the tie area. An Indo-western bride hairstyle wedding.
22. Simple Low Hung Wavy Ponytail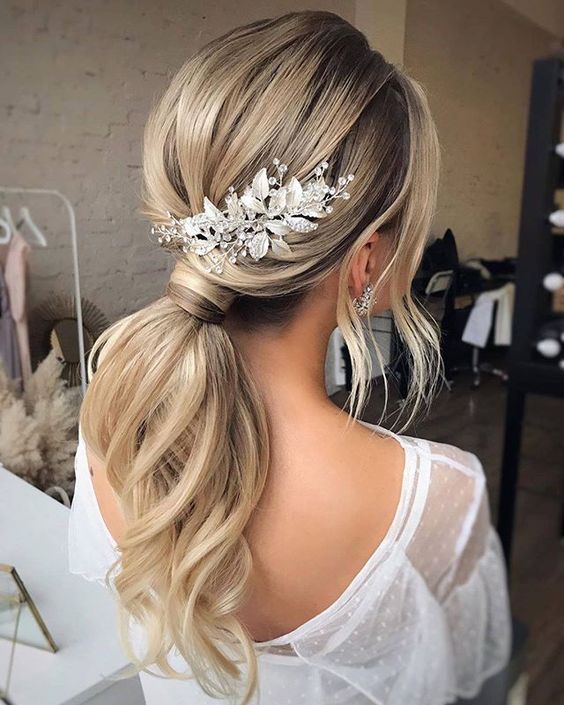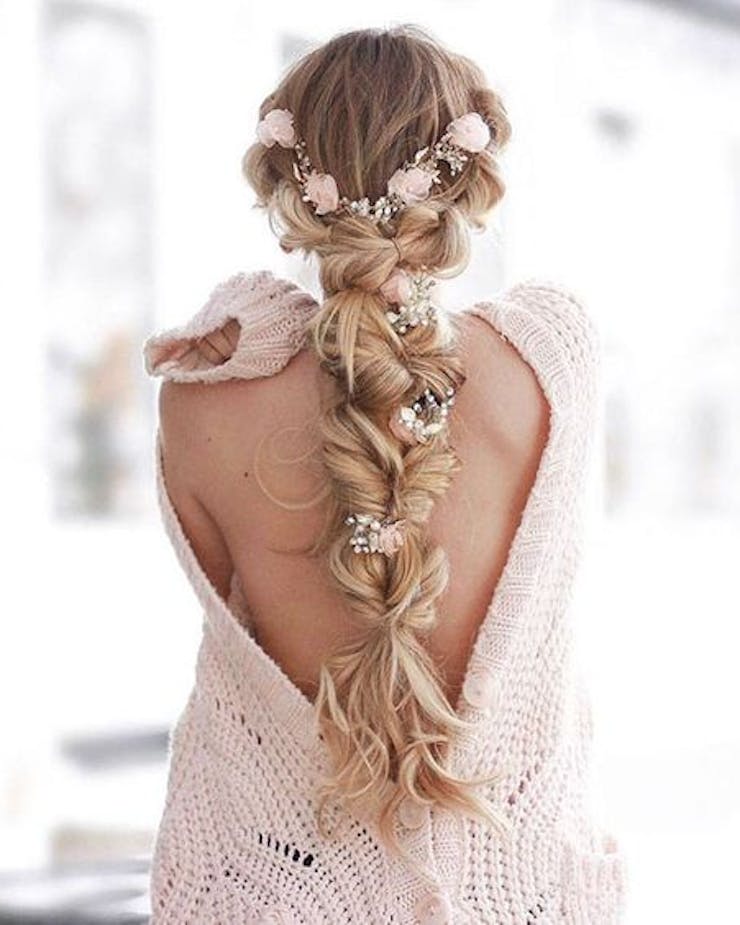 This is another simple west inspired Bengali bride hair style. Perfect for a low wavy or straight-haired person. An artistic yet simple style. If you are the type of girl, who hates too much heavy hairstyle or makeup, this is definitely your kinda pick!
23. Neatly Braided Hair Tie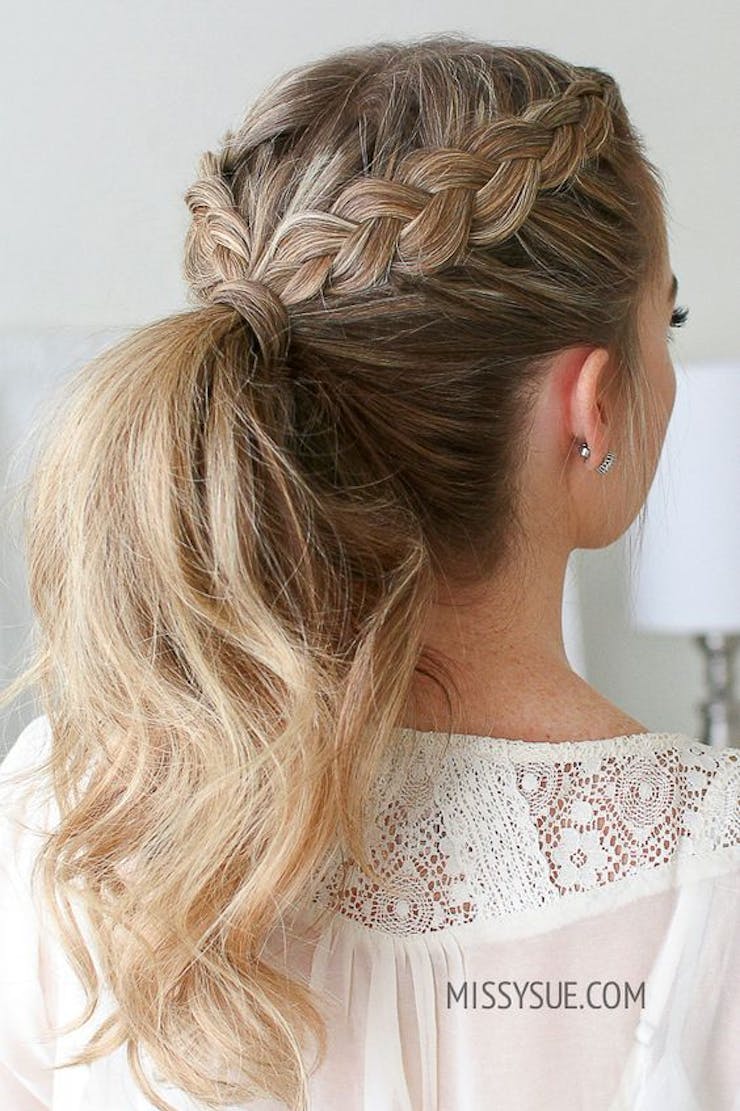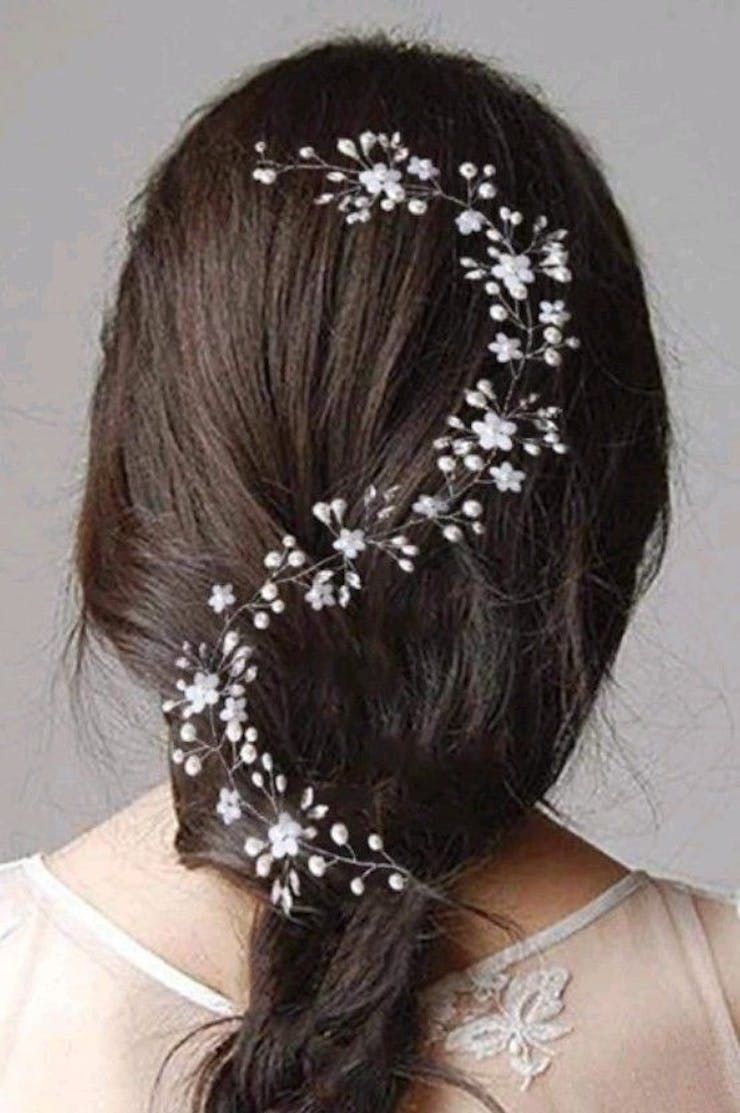 This dutch braided ponytail is another simple and boho style. This is another minimalist option to pick. With a little selection of accessories, this shall make the perfect Bengali bridal hair.
24. Barbie Style Pouffe Hair Tie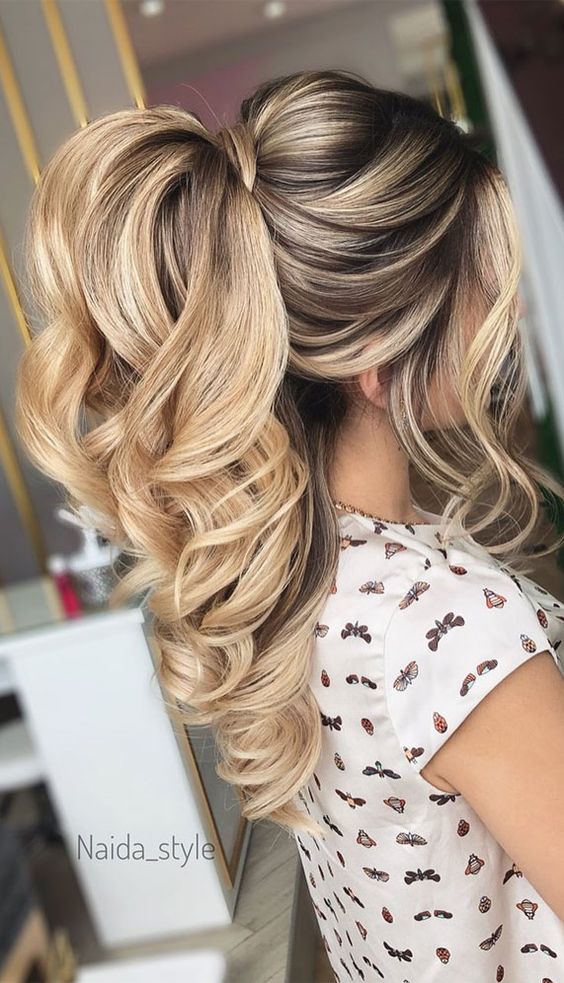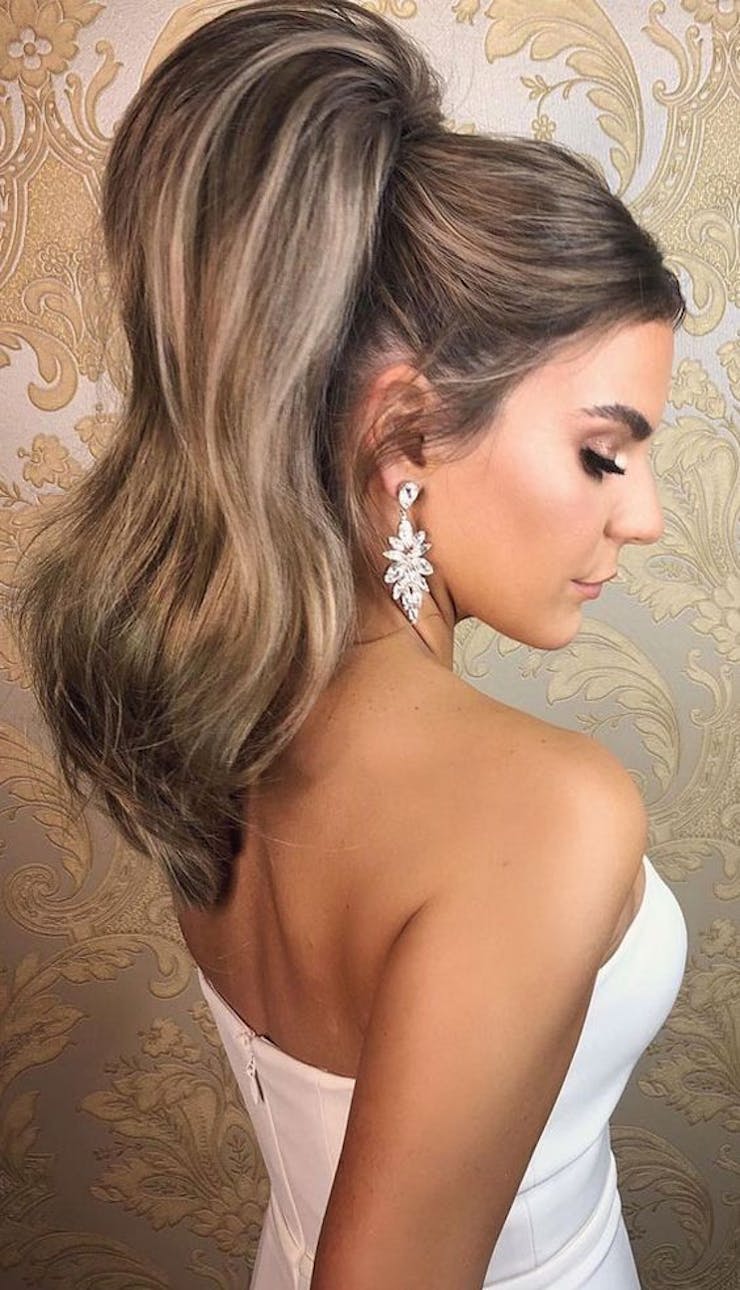 The first thing that came to my mind on seeing this pin was a Barbie doll. I still have it vivid in my mind. My doll had exactly the same hairstyle. And who would say no to her hair looking like Barbie, on the wedding day with her real-life Ken?
25. Simple Milkmaid Braid Ponytail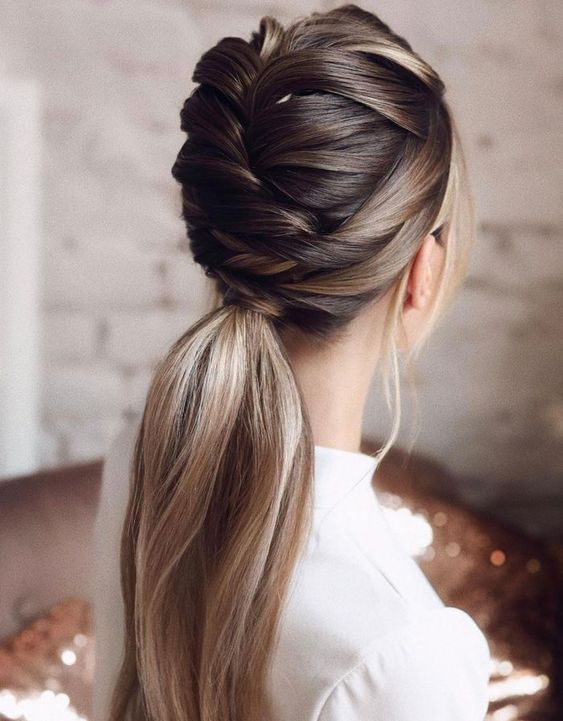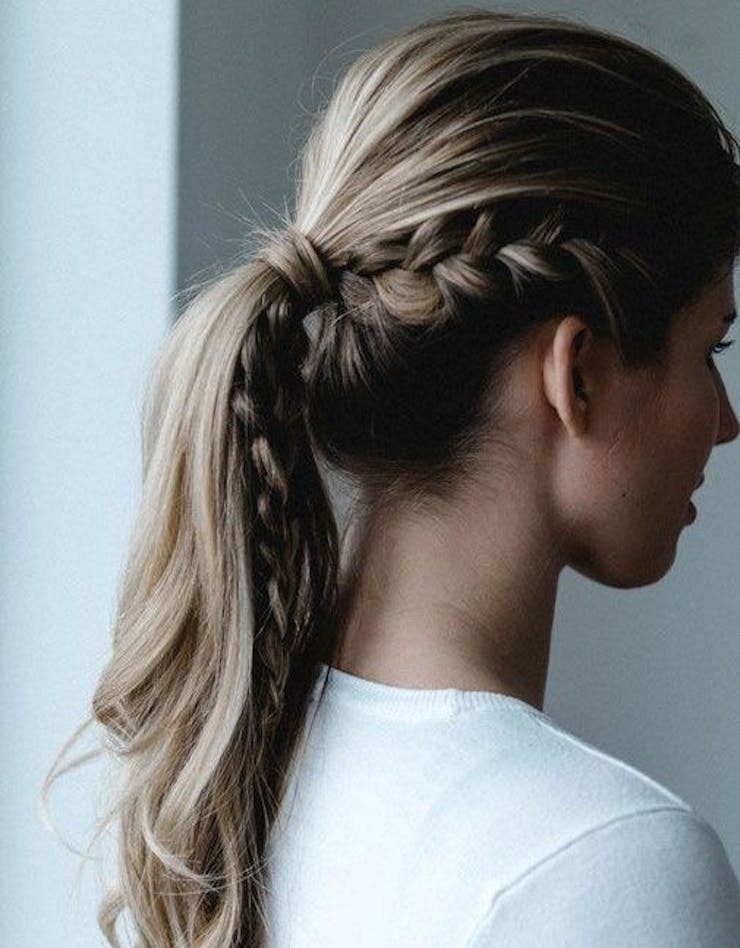 The milkmaid braid on the crown portion, and the ponytail flowing low on the shoulders is a perfect west inspired Boho bridal hairstyle Bengali.
--------------------
Now that you have selected the hairstyle for your wedding events, remember that you need to keep your hair prepped and nourished before your wedding day!
You may follow the following
Pre Bridal Hair Care Tips And Tricks
A Hot Oil Champee😁
Galzz! If you are lucky enough to have your Daadi amma around now, thank her. And if possible, get her to do her khandani hair champee nuskha on your hair. You wouldn't love her antics more than now. A good garam champee with some coconut oil, castor oil, ghee, olive oil can provide the perfect moisturization to your scalp, and condition your hairs.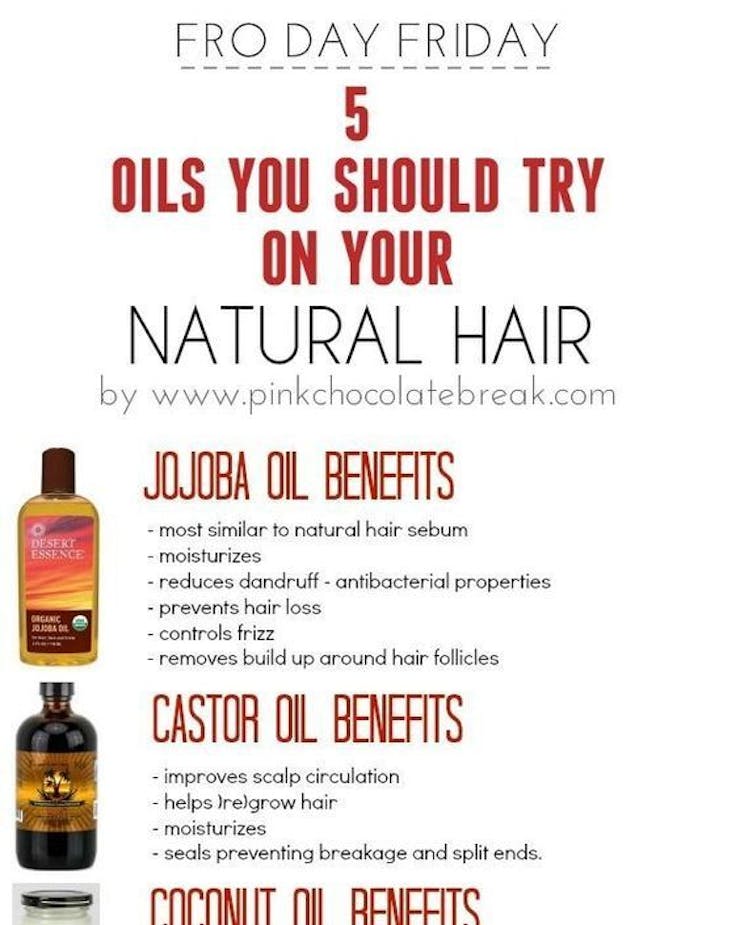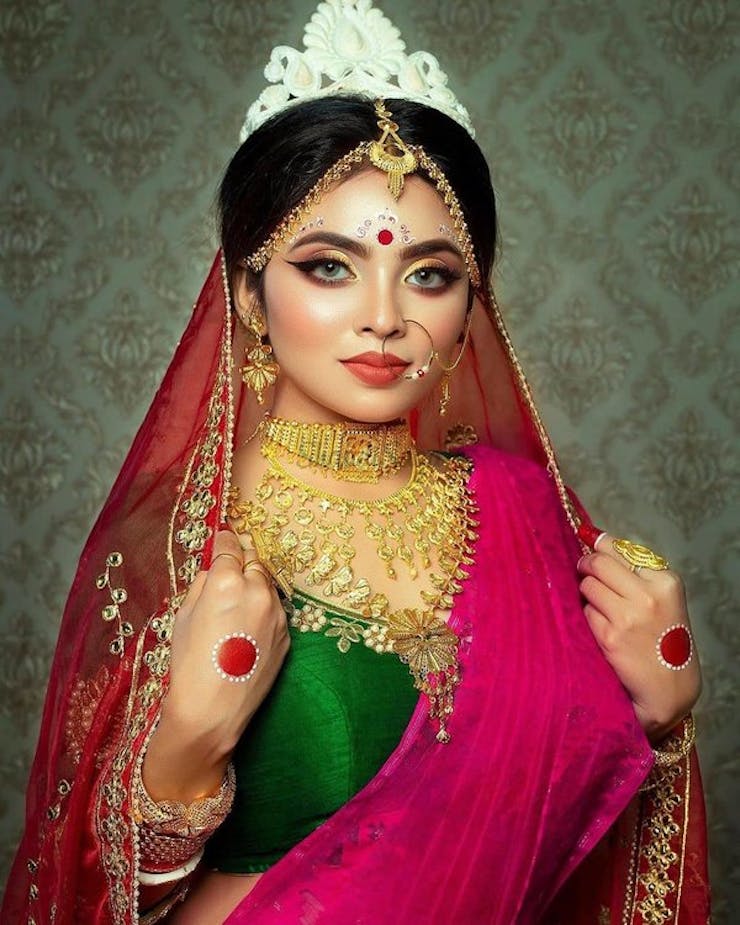 Egg- Wala Hair Mask😬
Sounds yucky, right?! But trust me, they are your hair's best friend. Just pop in one egg white, into your hair mask. The egg mask is rich in Vitamin B. Apply this two days a week for the best results. Some dahi and nimbu juice just adds to the magic.
Don`t Leave Your Hairs Akela, Without A Kela😜
Banana is excellent for hair and nail health. They are proven to increase our hair's volume and sheen. Bananas are high in nutrients, natural oils, sugars, and antioxidants, all of which condition and retain the original suppleness of our hair.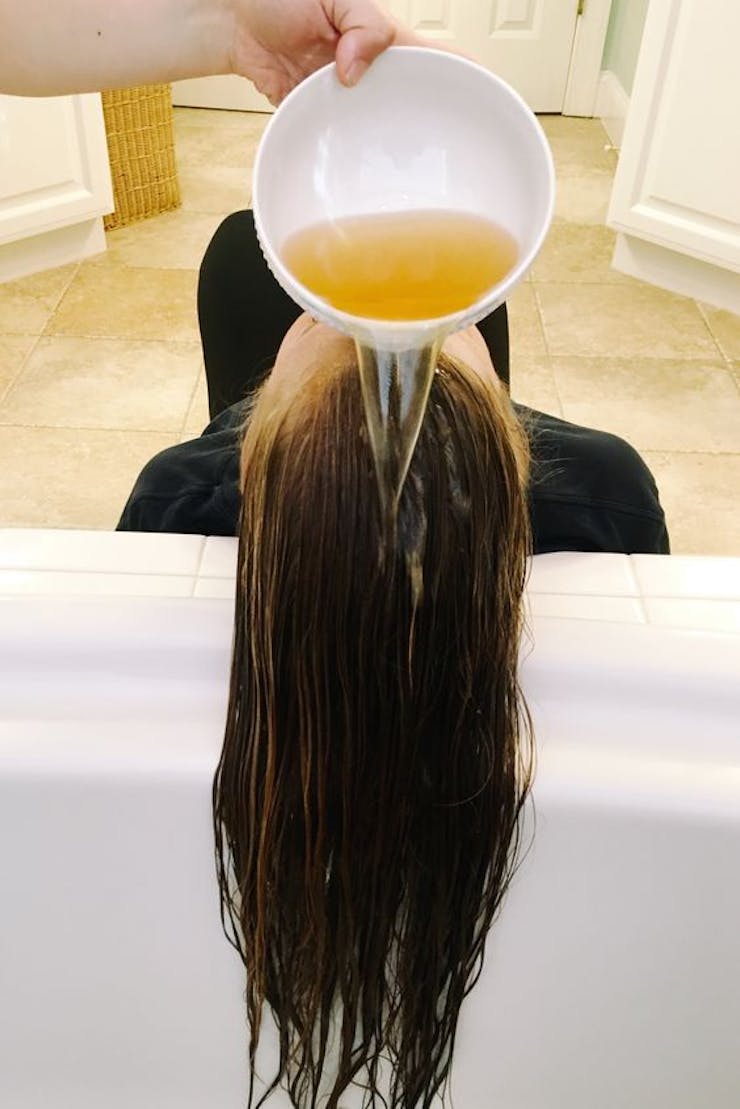 Beer For Hair, And Not For Booze 😈
Beer has the property of repairing and conditioning hair. Not just that, but it also enhances and defines the colour. Many use it to boost hair growth and as a frizz therapy. So the next time you buy a bottle, instead of chugging the whole bottle in, have a beer wash!
Some Rice Water, To Make Your Hairstyle Hotter🙈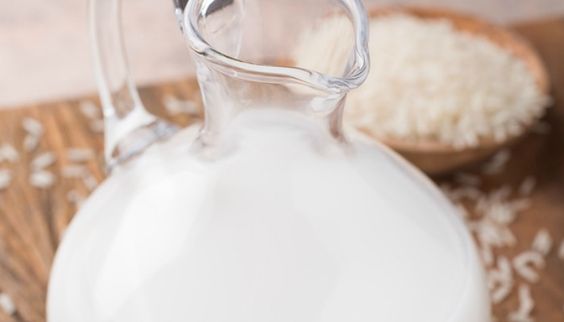 Prepare some rice water spray at home, and use it as an overnight conditioner. With an apt Vitamin B, E and C content, it stimulates hair growth. After shampooing your hair, you may even use it as a conditioner wash.
Say Bye-Bye To Itchy Scalp, With Some Onion Pulp
Onion juice is a magic cure for dandruff and scalp infections. With its anti-fungal and regenerating properties, it adds to the growth and health of your tresses. But please don`t forget to wash with a mild shampoo, to avoid the smell!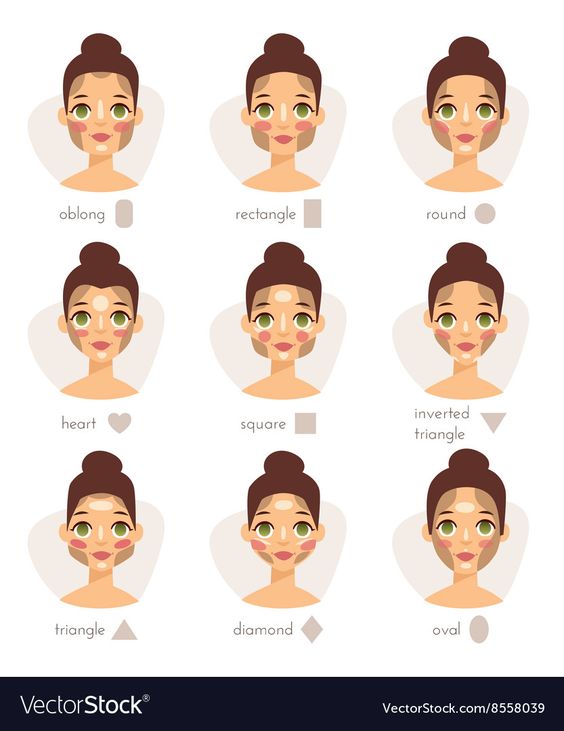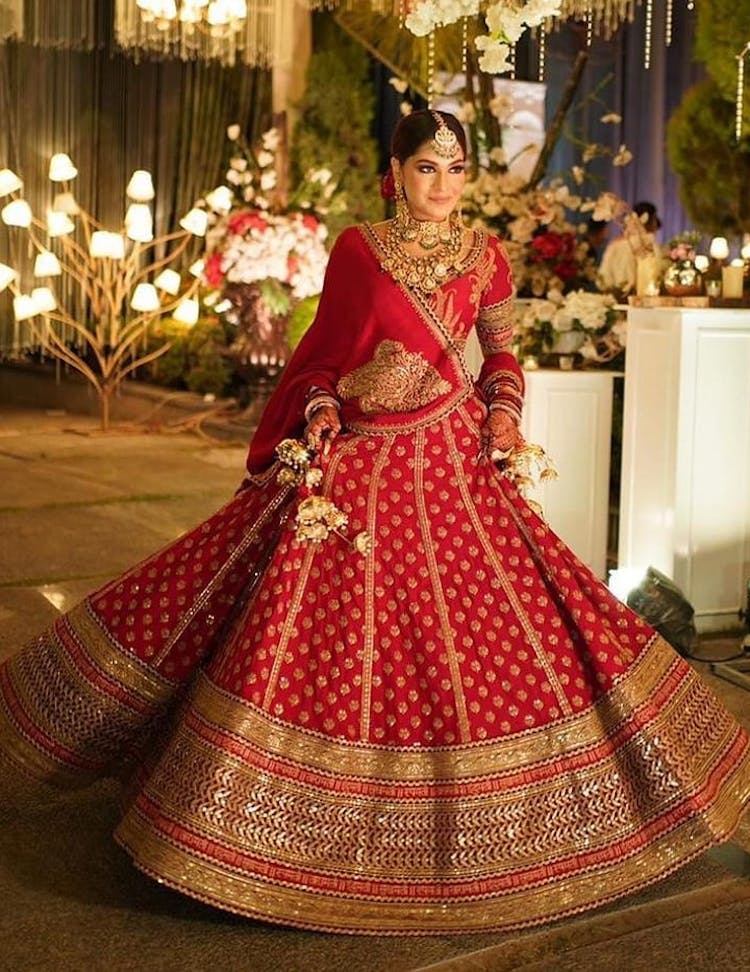 I guess you are confident enough now, on what to do with your hair, and what to not.
Hope you find the best Bengali bridal hairstyle, for yourself. We will soon come up with more useful tips and tricks for your wedding. Till then…..
Subscribe to our blog, and
HAPPY READING!