Starting right from their engagement or ashirbad to their Bou bhaat or the wedding reception day, Bong brides mostly love wearing sarees to date. The beautiful banarasi sarees with rich thread work all over, are sure to make any money prane bangali crave for it!
The love for banarasi saree for weddings has been ageless for Bong women. So today, we are opening up in front of you an entire pitaara of banarasi sarees for Bengali wedding that have a special place in any bong women's closet for their marriage.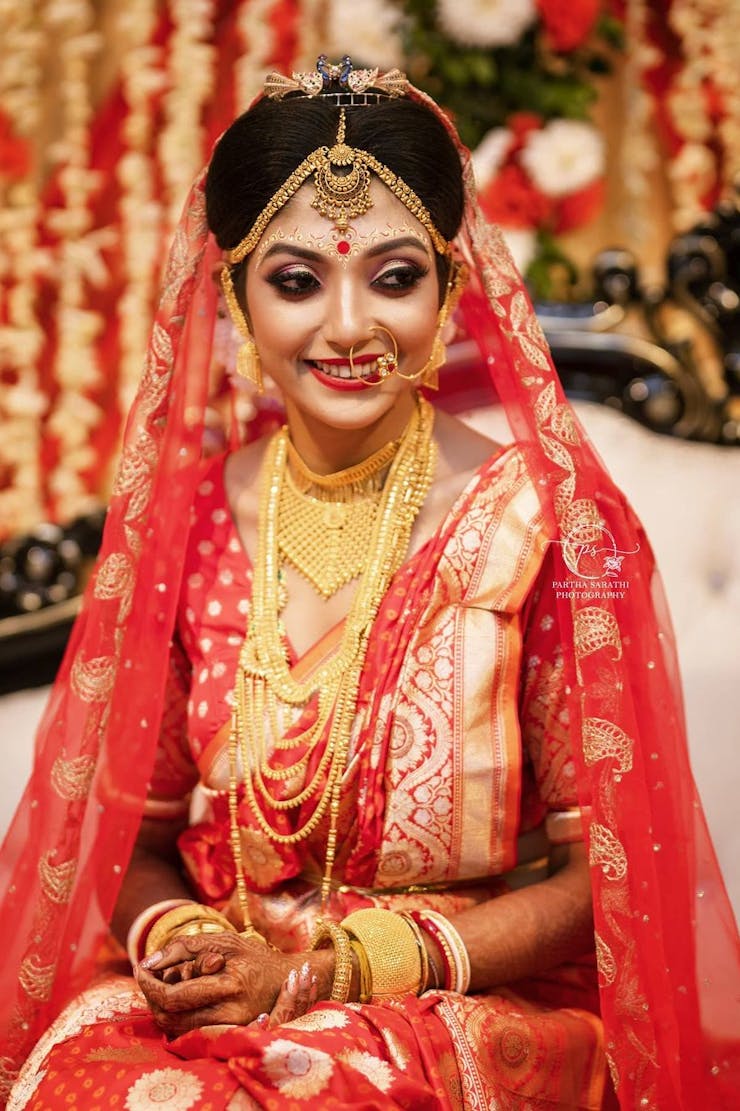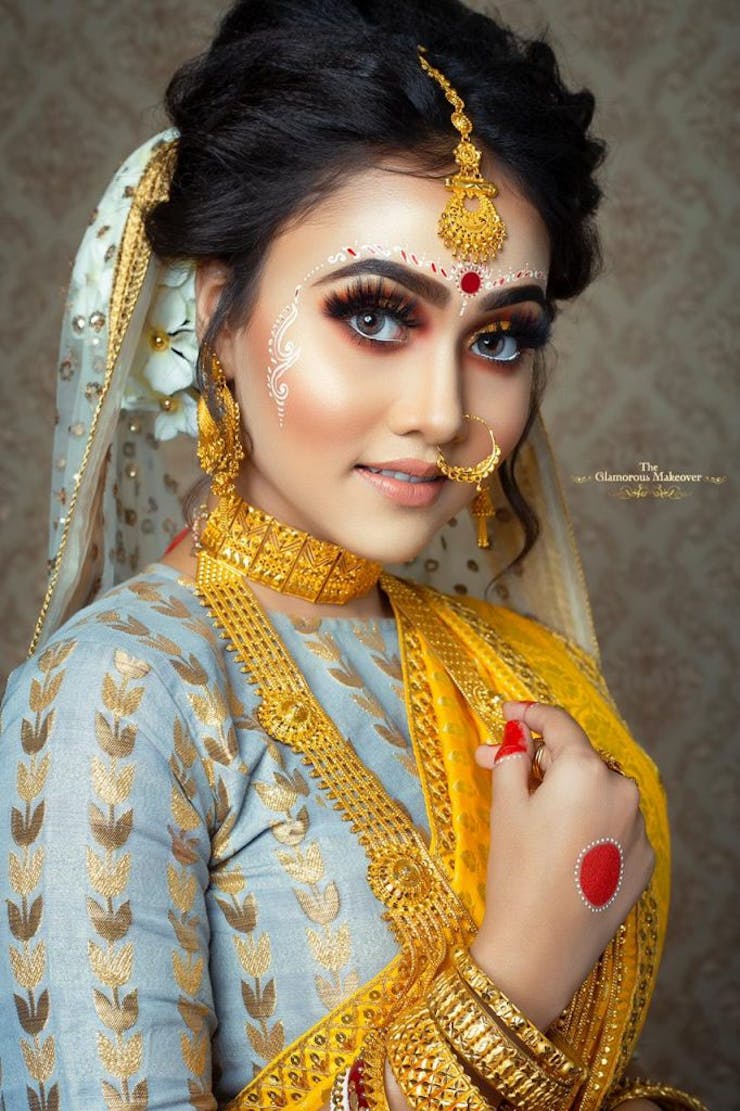 1. The Traditional And Conventional Design Of Banarasi Sarees For Bengali Wedding!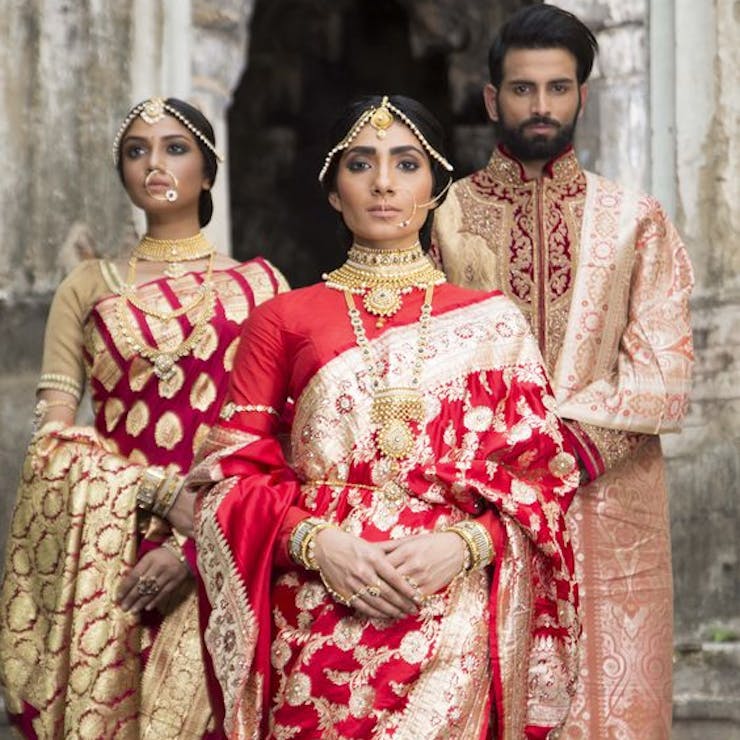 The all red and maroon ones make the staple and most common Bengali bridal banarasi saree. In fact, bong girls grow up with the dream of doing a Lal Tuk-Tuke banarasi saree on their wedding day. This is probably one of the most ageless choices!
Recommended: Top 30 Pre Wedding Photoshoot Dress Ideas
2. A Beautiful Zardosi Benarasi Saree With Designer Blouse!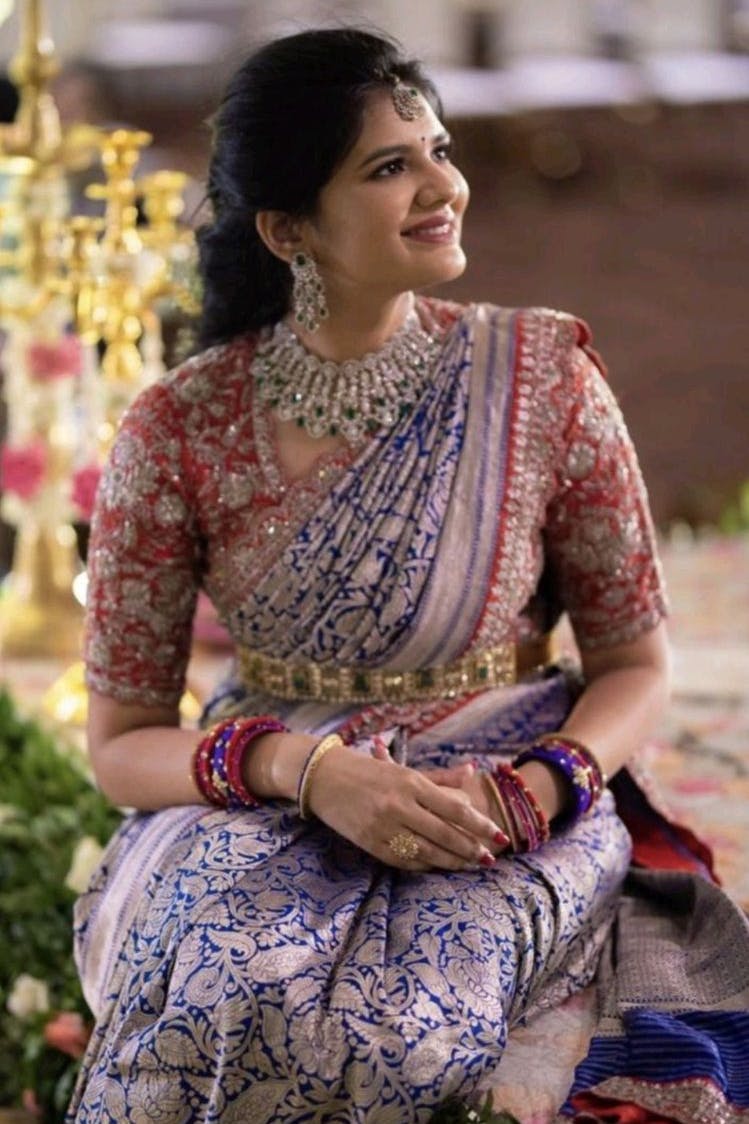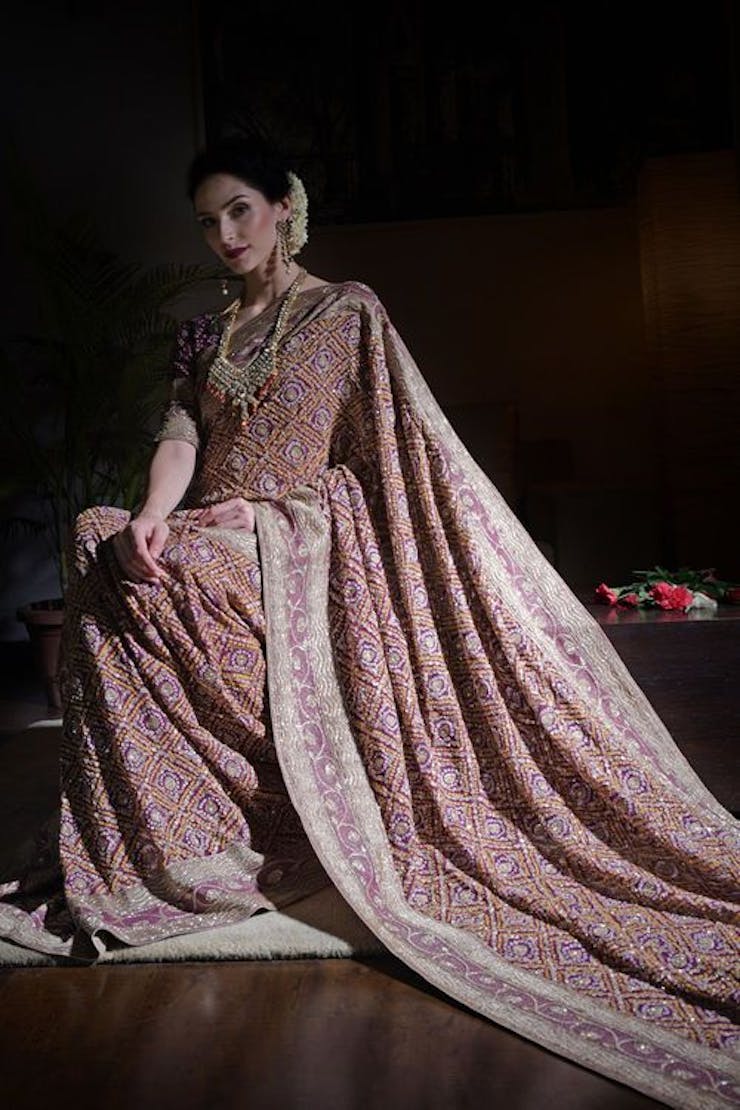 This beautiful blue banarasi with intricate zardosi work in silver colour is bound to catch the eyes of any Bing queen. A perfect wedding saree for Bengali bride. Oh and the pretty red designer blouse that compliments the saree is definitely not to forget!
Must Read: Top 15 Bengali Wedding Jewellery Collections 2022
3. Oh, So Pretty Blue Bride!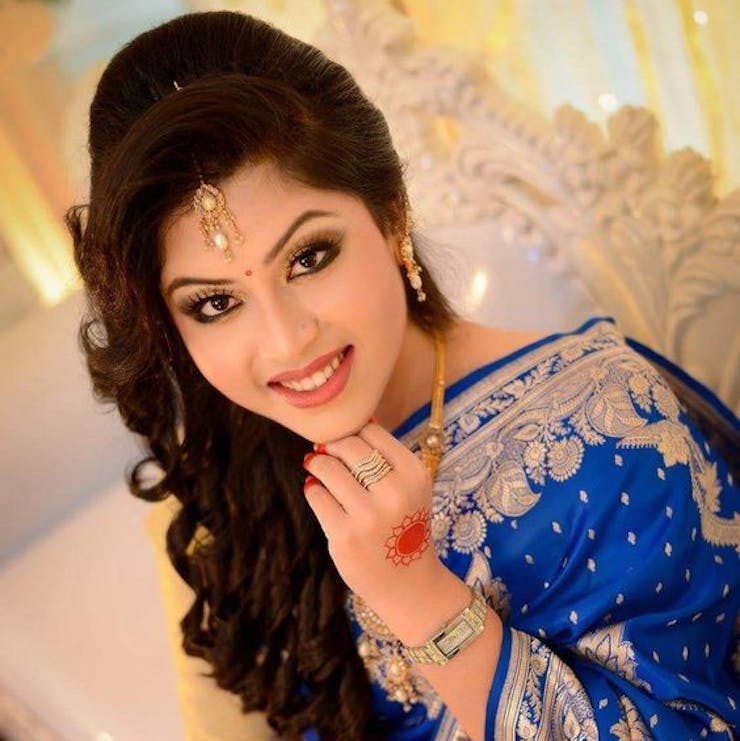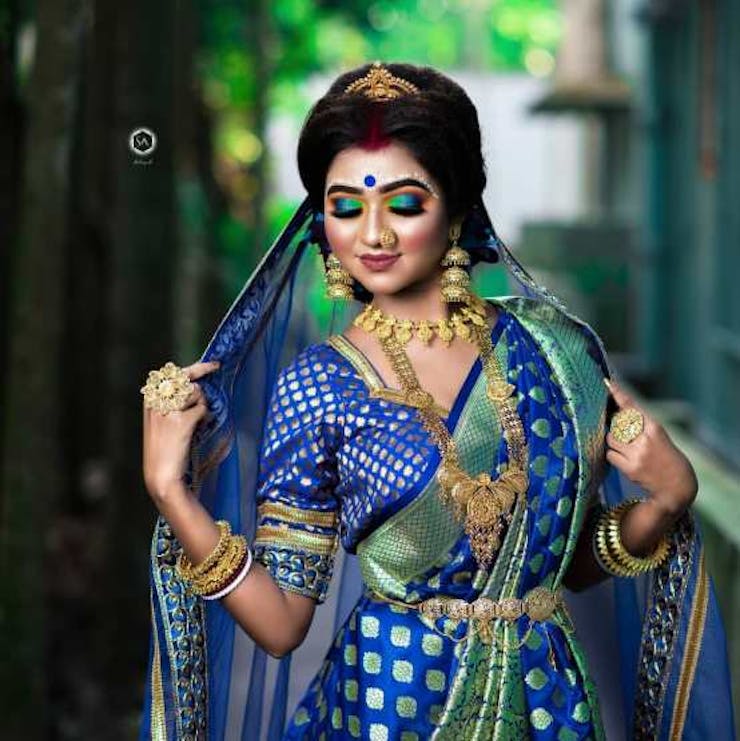 This is yet another pretty combination of an electric blue banarasi saree with hazar buti work all over the body! The net sleeved blouse adds a special elegant vibe to the overall look. A very beautiful Bengali bridal saree wearing style.
Also Read: Top 10 Trending Bengali Bridal Lehenga design [2022]
4. What A Pretty And Exquisite Reception Banarasi Saree For Bengali Marriage!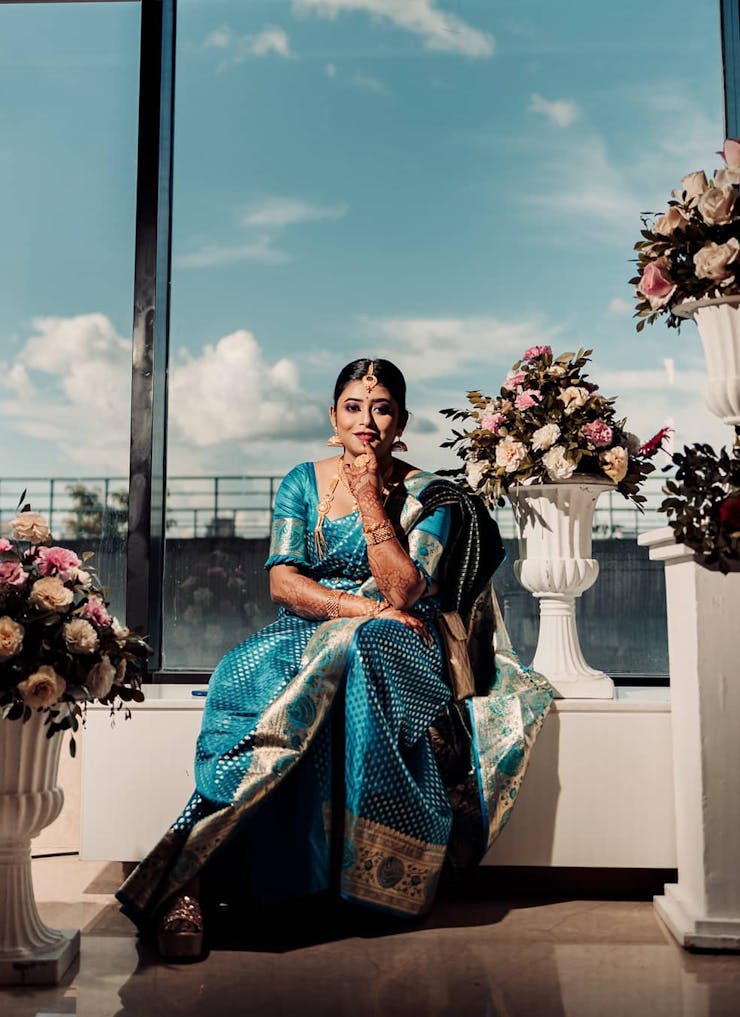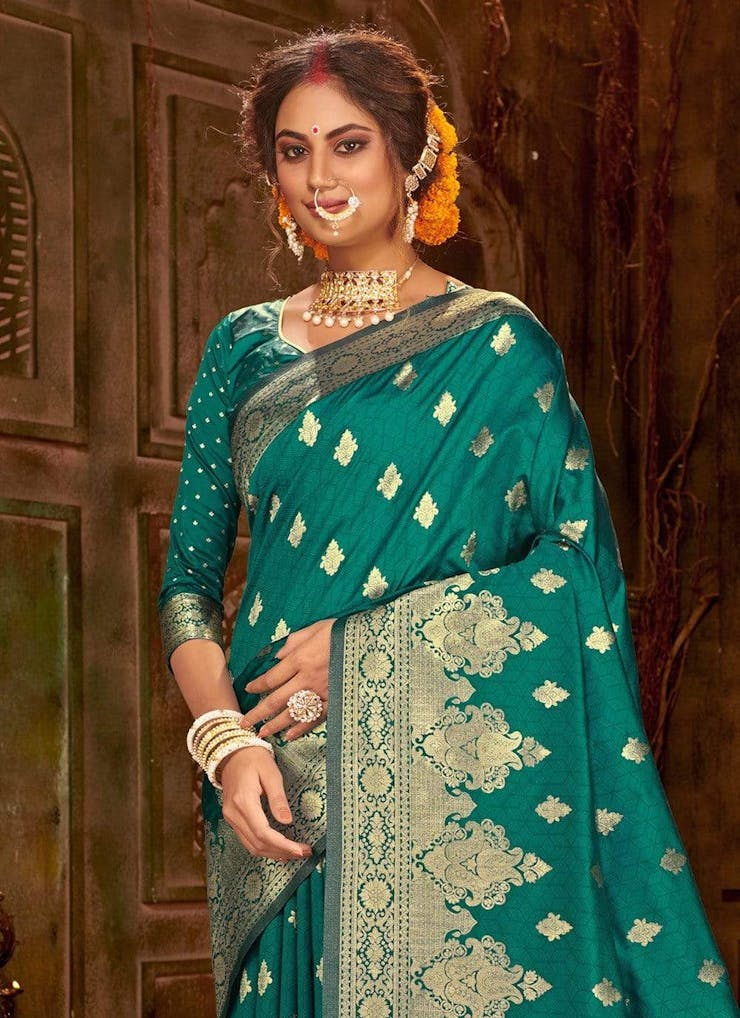 This is yet another unique and very beautiful colour of a sea-green banarasi saree! Yet another beautiful modern Bengali wedding saree. The simple makeup and accessories of the Bride is a perfect example of minimalist splendour.
5. The Beautiful And Sophisticated Grey!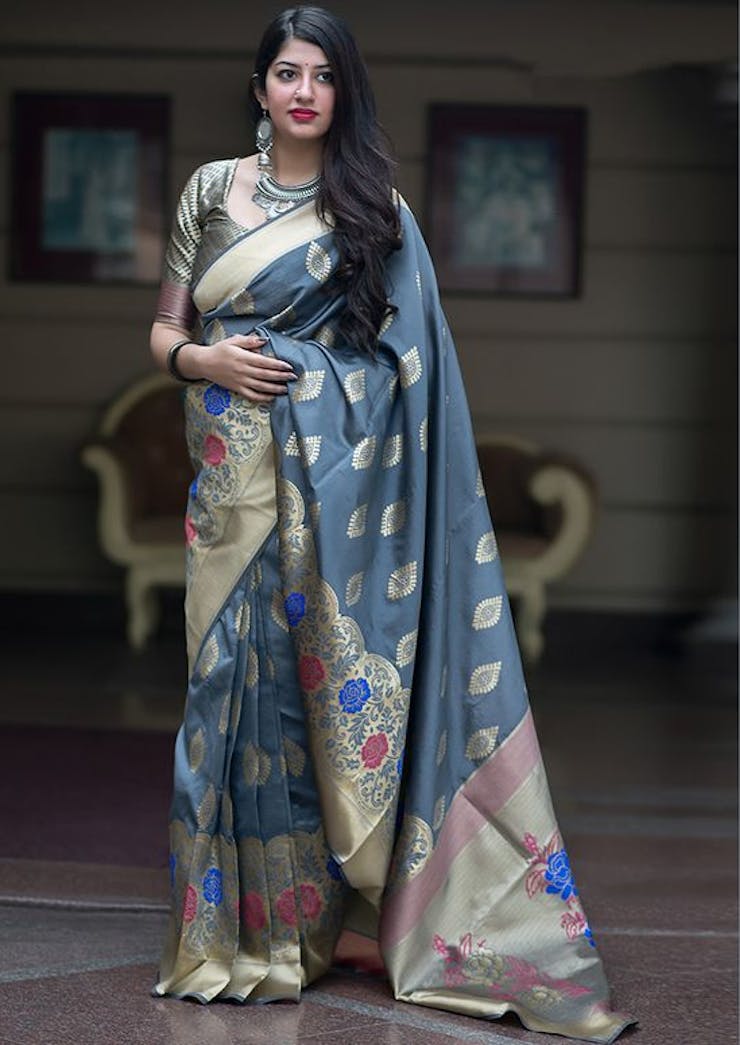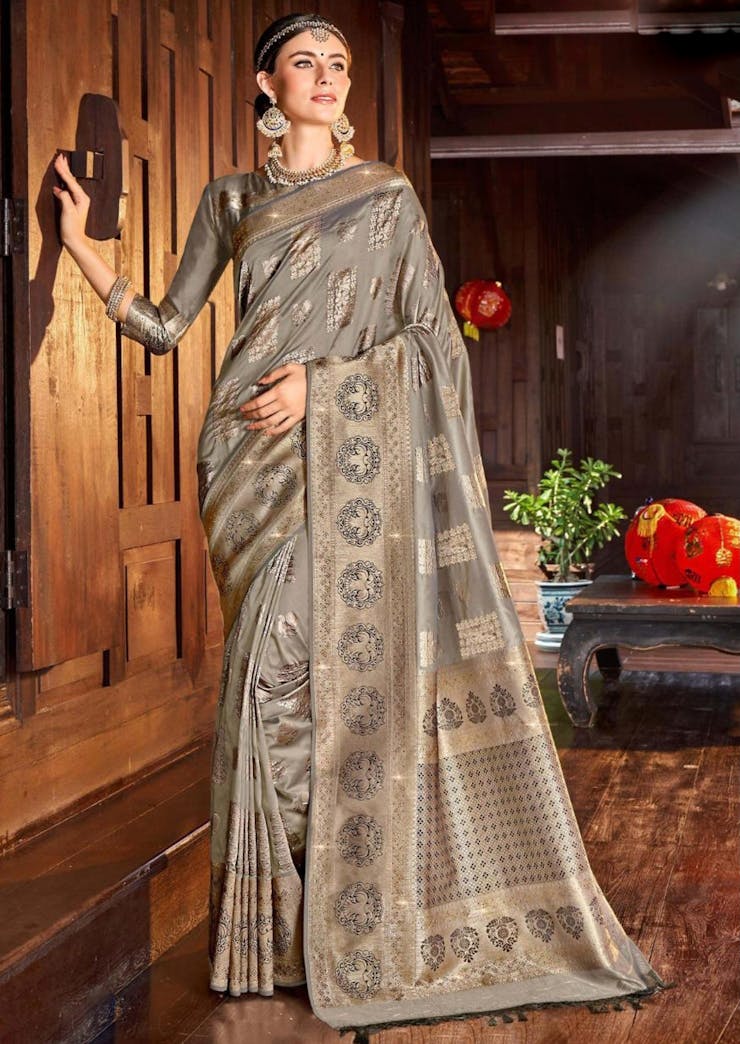 Who said that grey can`t be worn for the wedding? In fact, masterpieces like this can easily make the mind of any to-be bride get one for their saga! The pretty meenakari work on the borders is what attracts my eyes the most. If it is paired with a contrasting blouse, we are good to go.
6. A Beautiful Moyur-konthi Saree!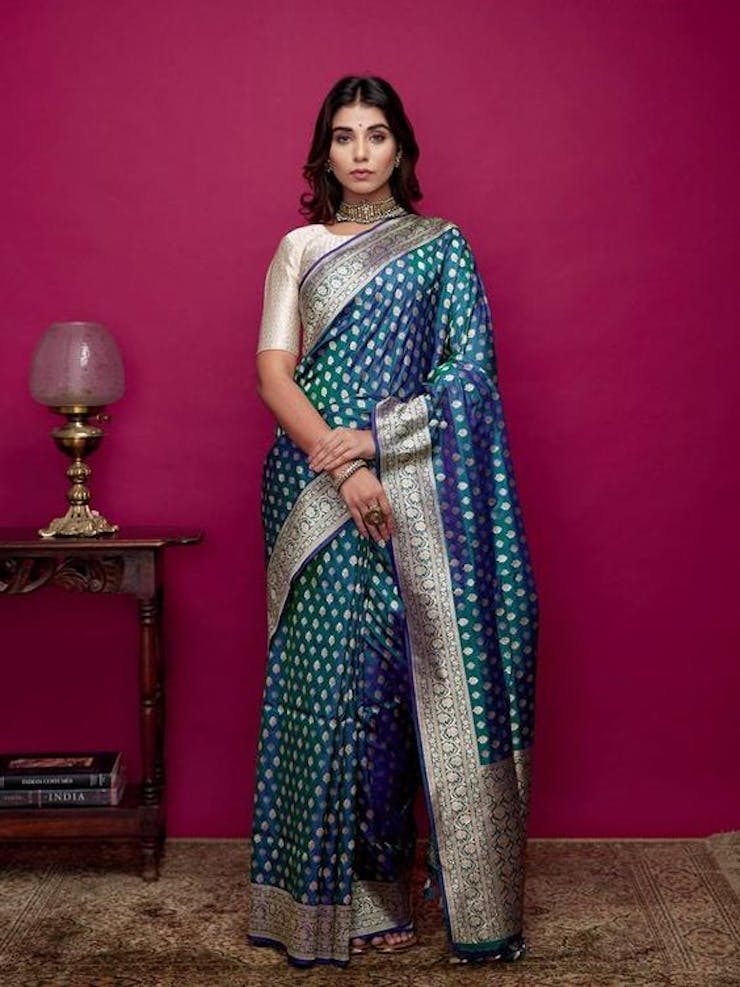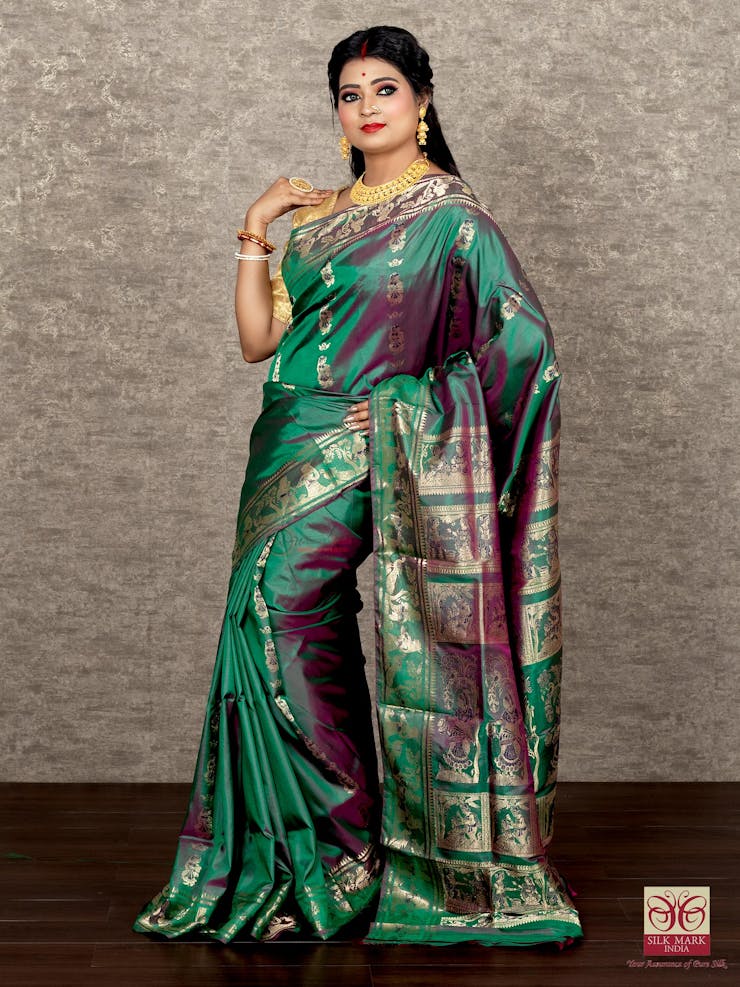 How do you like this gorgeous dual toned saree? A very pretty Bengali wedding saree, with Gotta Patti, work all over the body. I can totally imagine myself wearing this beauty someday. A simple and elegant style.
7. What A Regal And Chique Combination Of Yellow!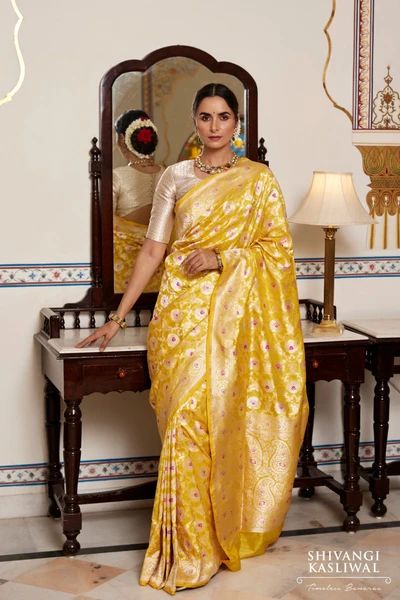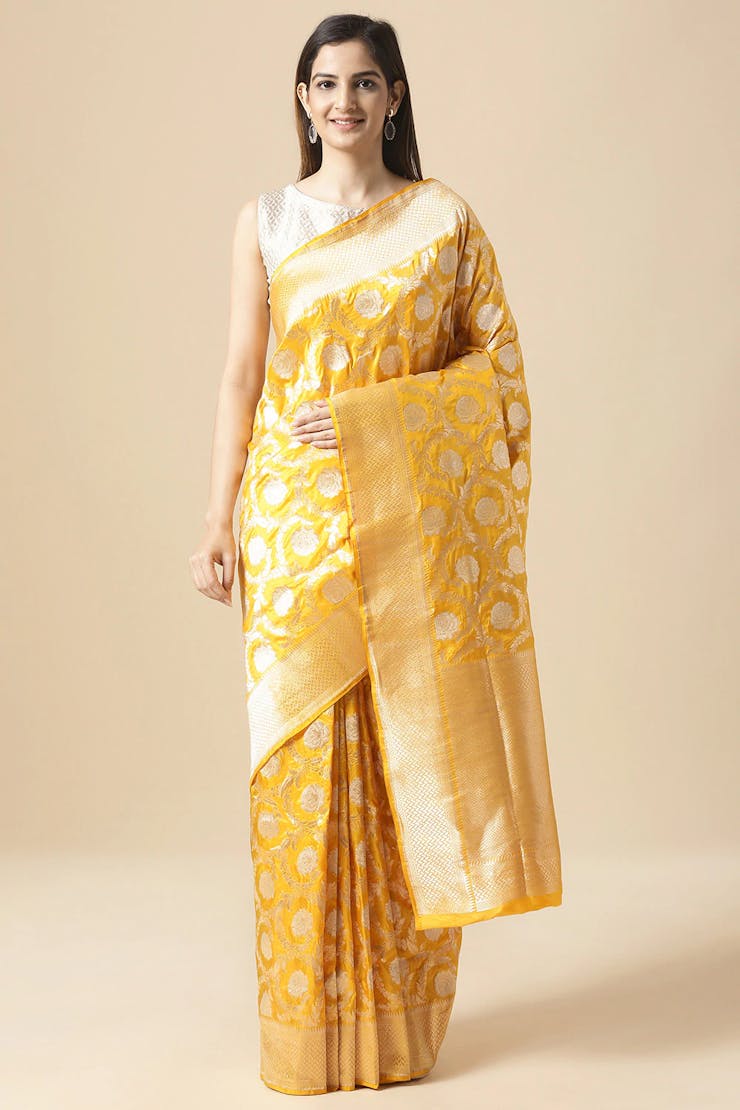 This beautiful Canary Golden Yellow Katan banarasi is yet another piece that can make any would-be bride drool over it! A very sombre shade, combined with a cream coloured banarasi blouse. The meenakari floral motif with silver threads all over the saree body is yet another beauty!
8. A Beautiful Peach And Magenta Dual Tone Benarasi!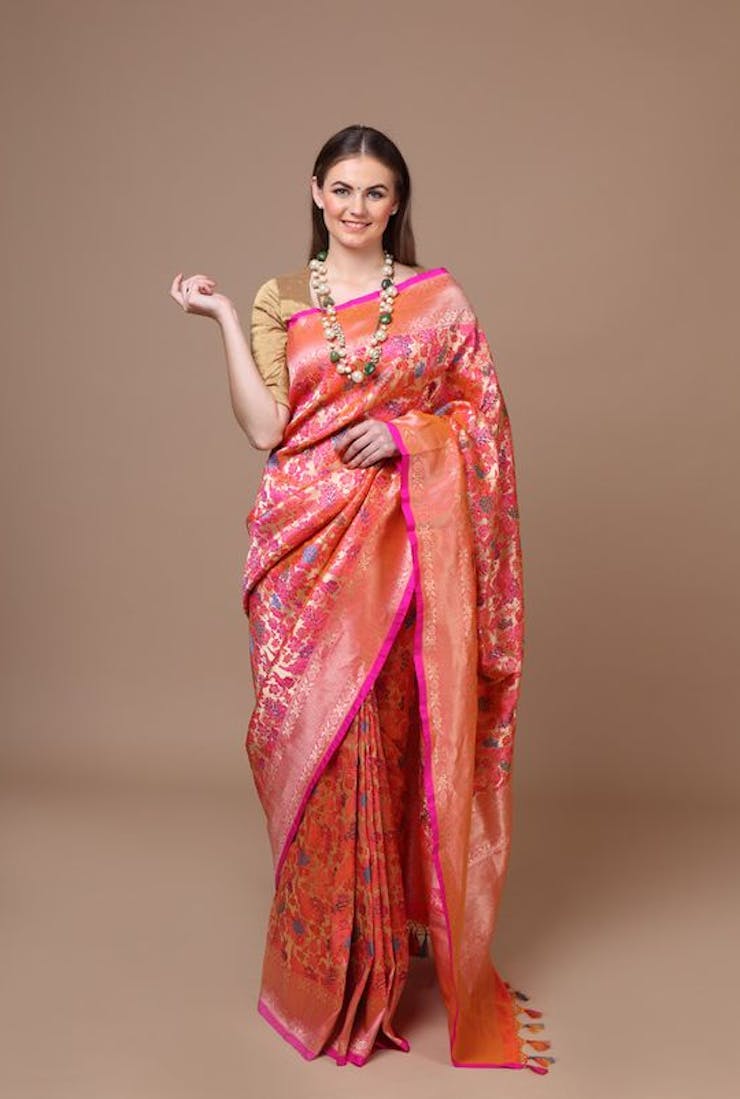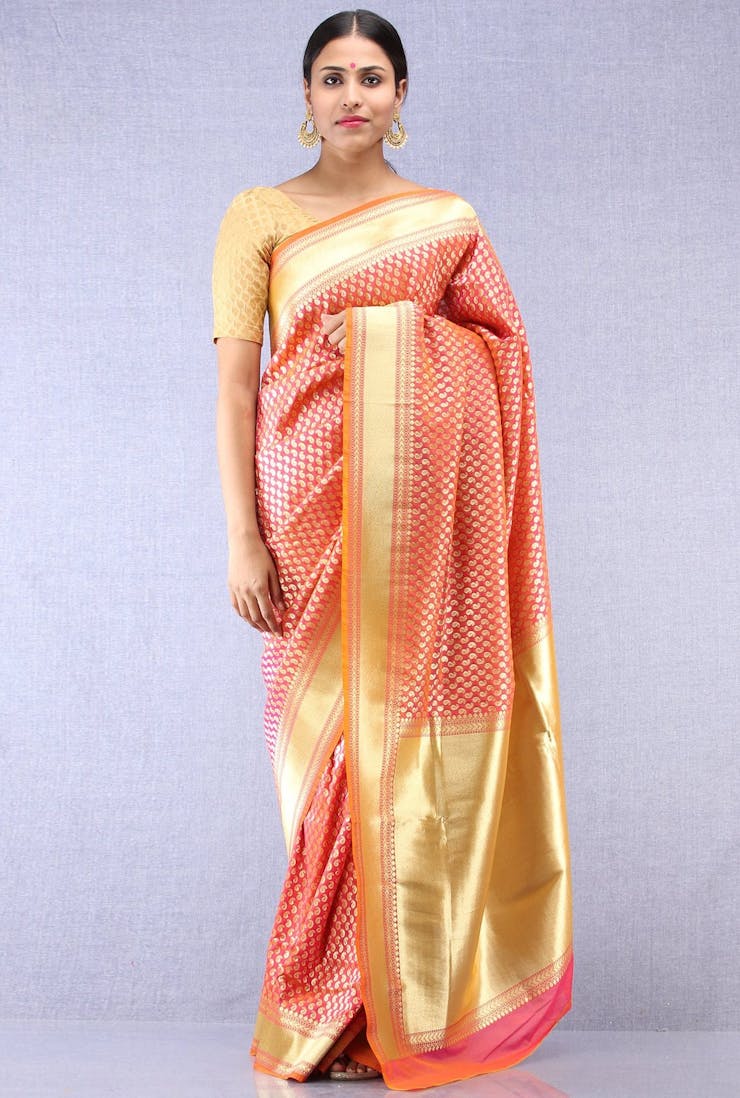 This pretty dual-tone banarasi saree of peach and magenta is yet another pick from our quest today! The beautiful meenakari work all over the body and the sleek magenta ribbon border is the major eye-catcher of the work! A perfect banarasi saree for Bengali wedding.
9. A Pretty Kataan-e-daastan!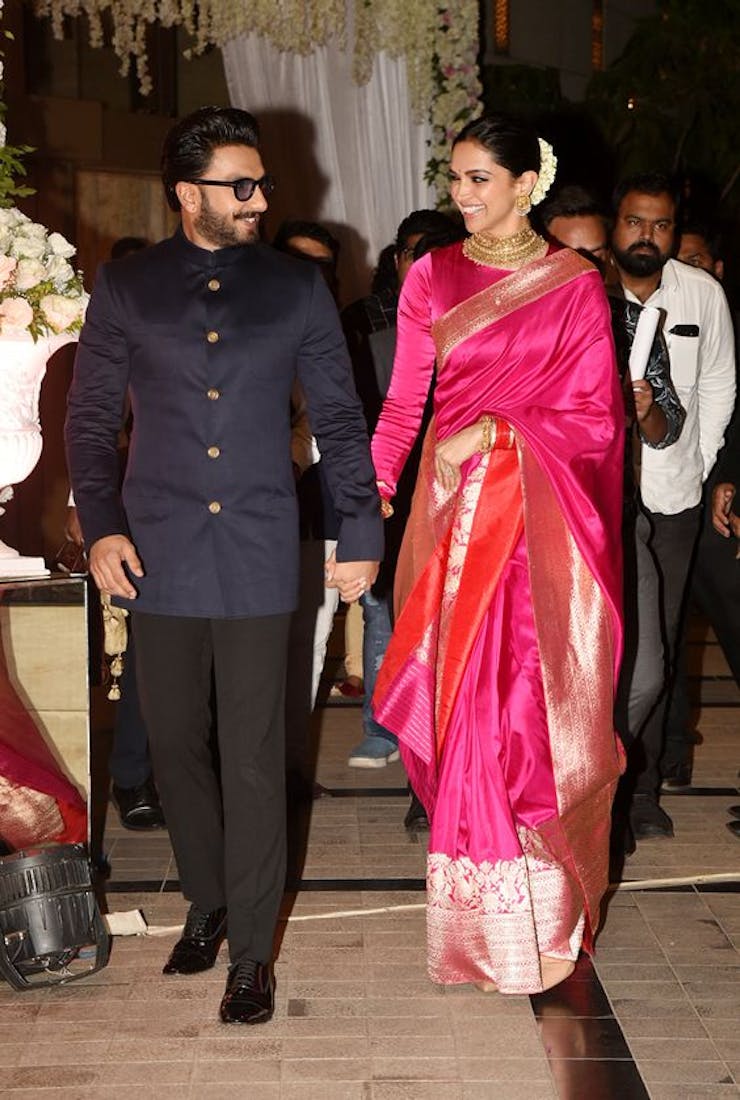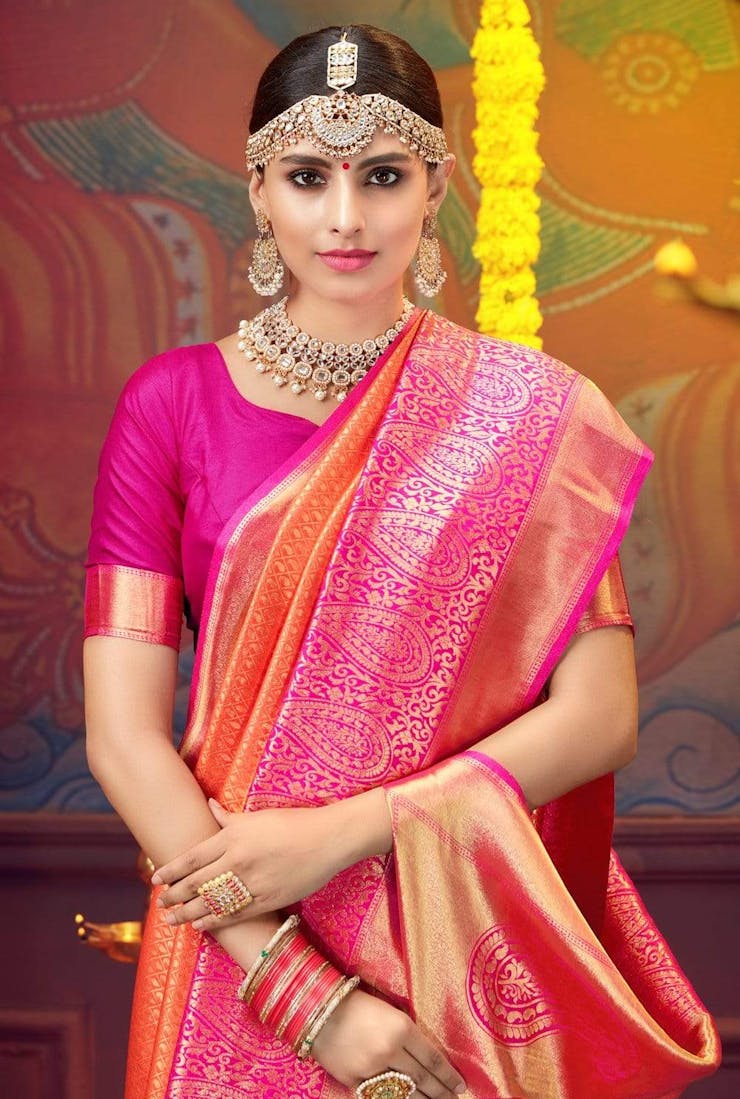 I have always been a keen follower of Deepika Padukone, especially with her choice of sarees! This pretty Hot-Pink Kataan banarasi saree is a vivid instance of how good I am at making decisions 😁. No, but seriously, this can be the go-to for any simplicity loving bride.
10. The Beautiful Combination Of Yellow And Reds!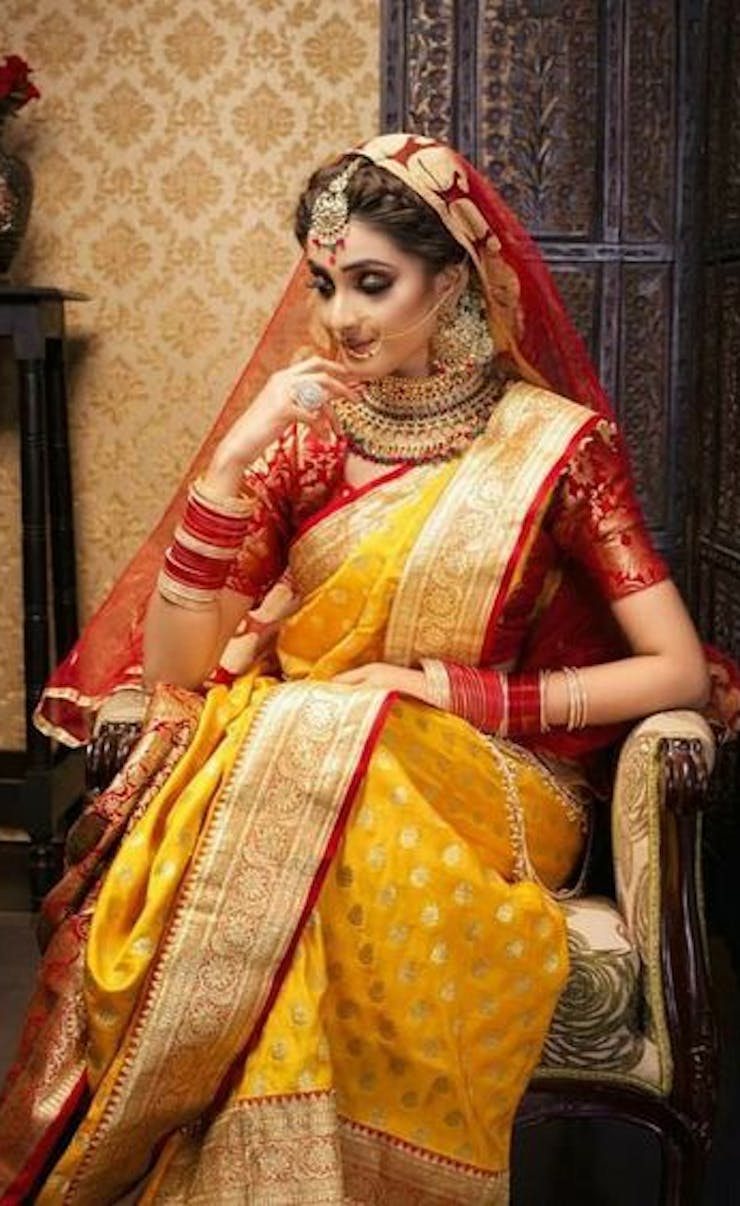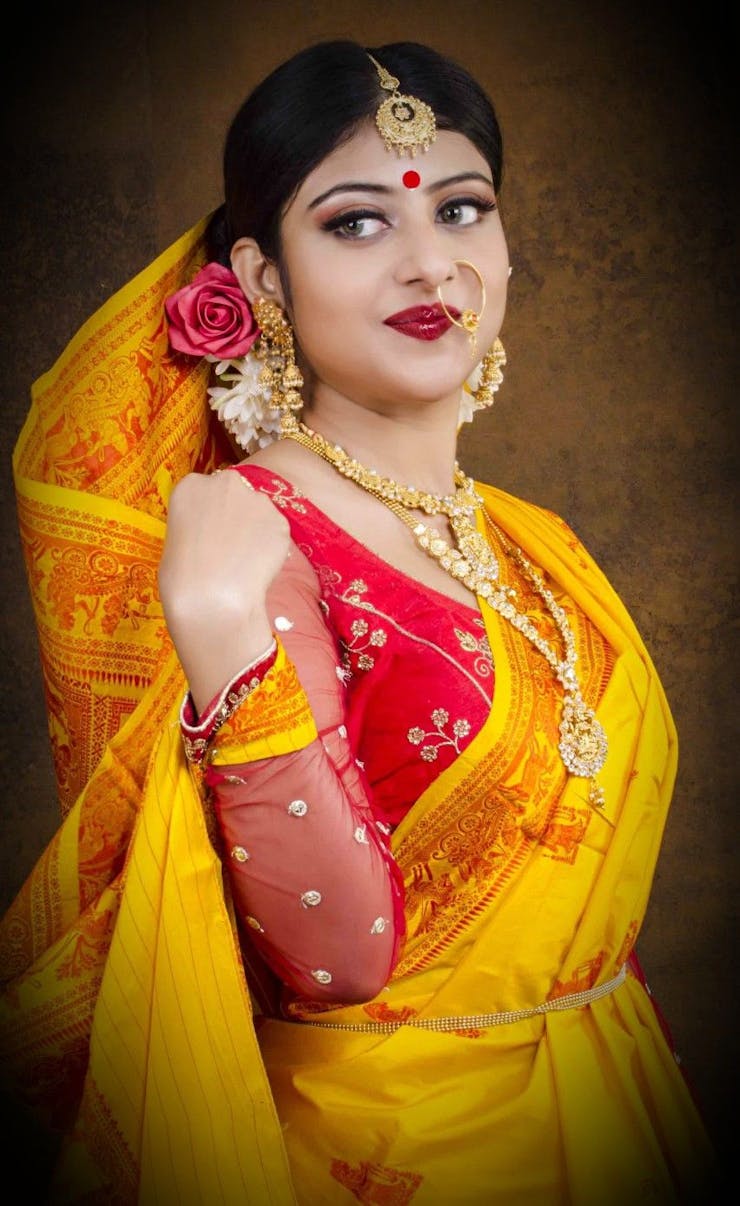 These pretty princesses are carrying one of my very favourite combinations of Yellow and red. The combination of canary yellow and magenta red in the first picture is a simplistic glory. And Oh the queen in this chrome yellow and red combination is indeed to fall over! Perfect banarasi sarees for Bengali wedding.
11. The Pretty White Sarees To Throbb Your Heart!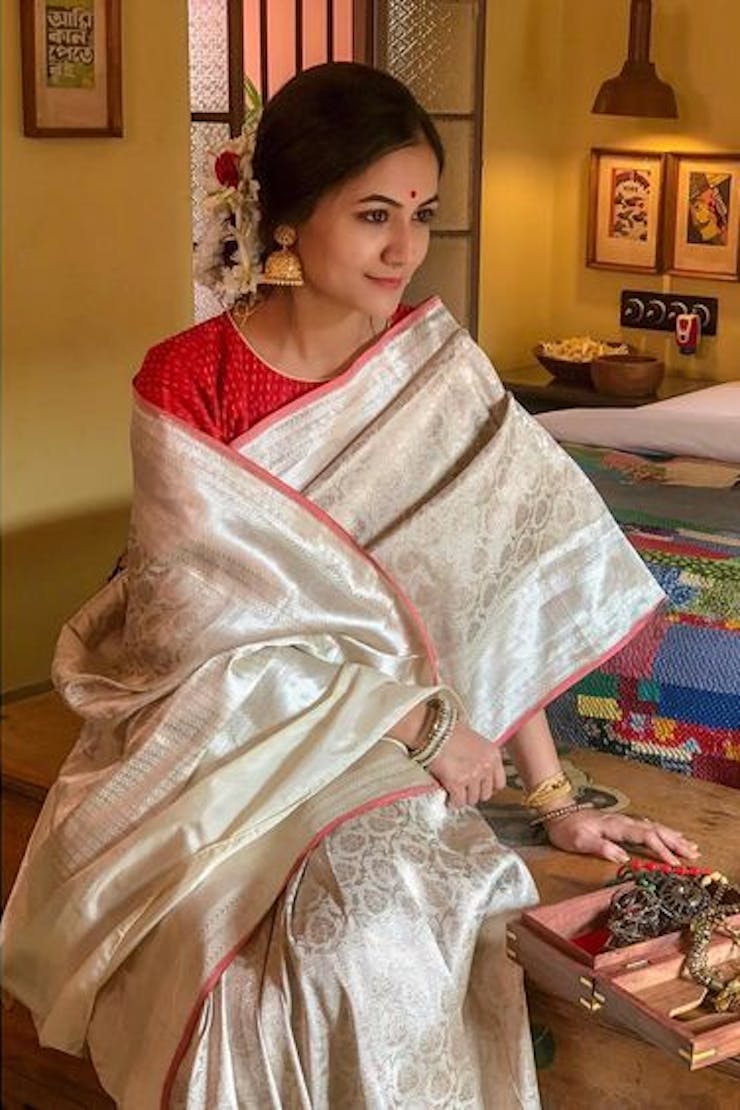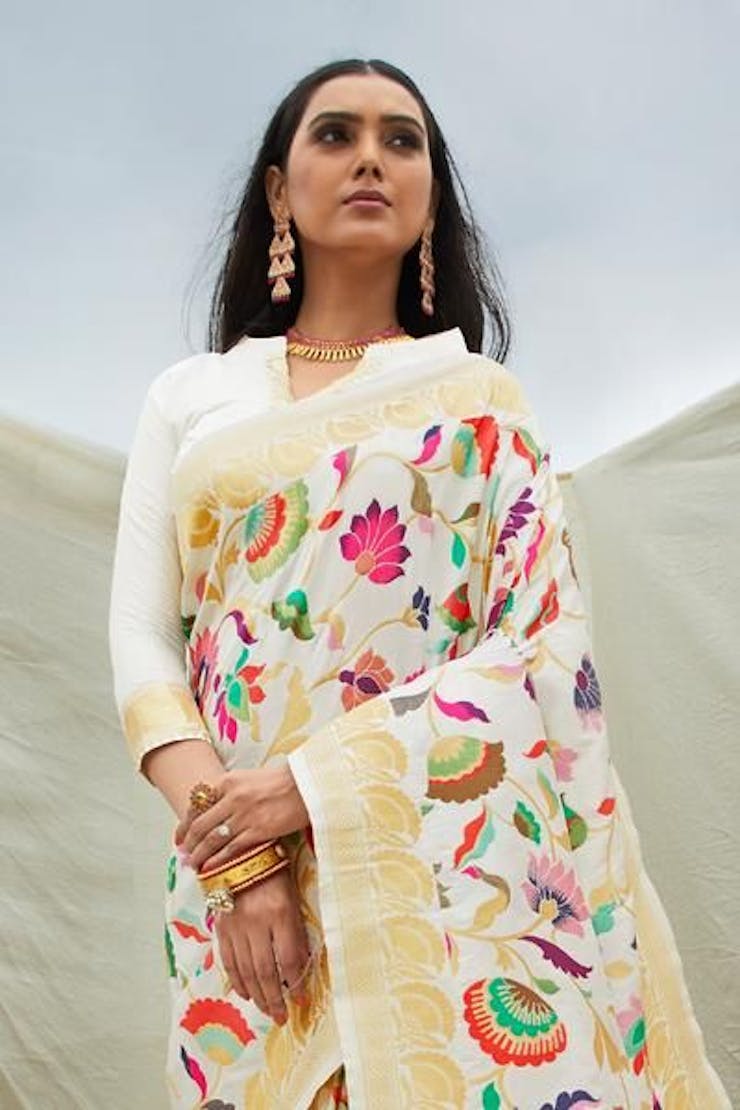 I can totally ditch the red banarasi saree for Bengali marriage, for these white babies! The beautiful powder white colour saree with a sleek red border in the first picture can be a go-to for the wedding. And the beautiful off white saree with colourful floral motifs all over the body, yet another pick for an elegant reception look.
12. The Beautiful Opara Silk Saree!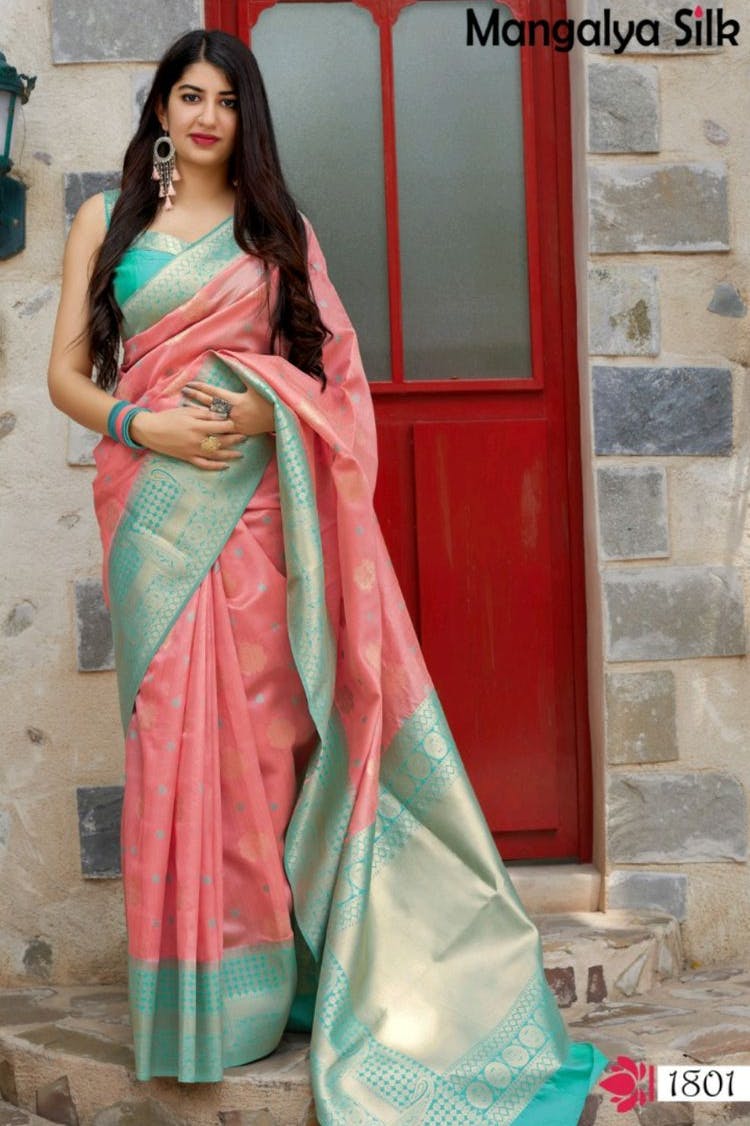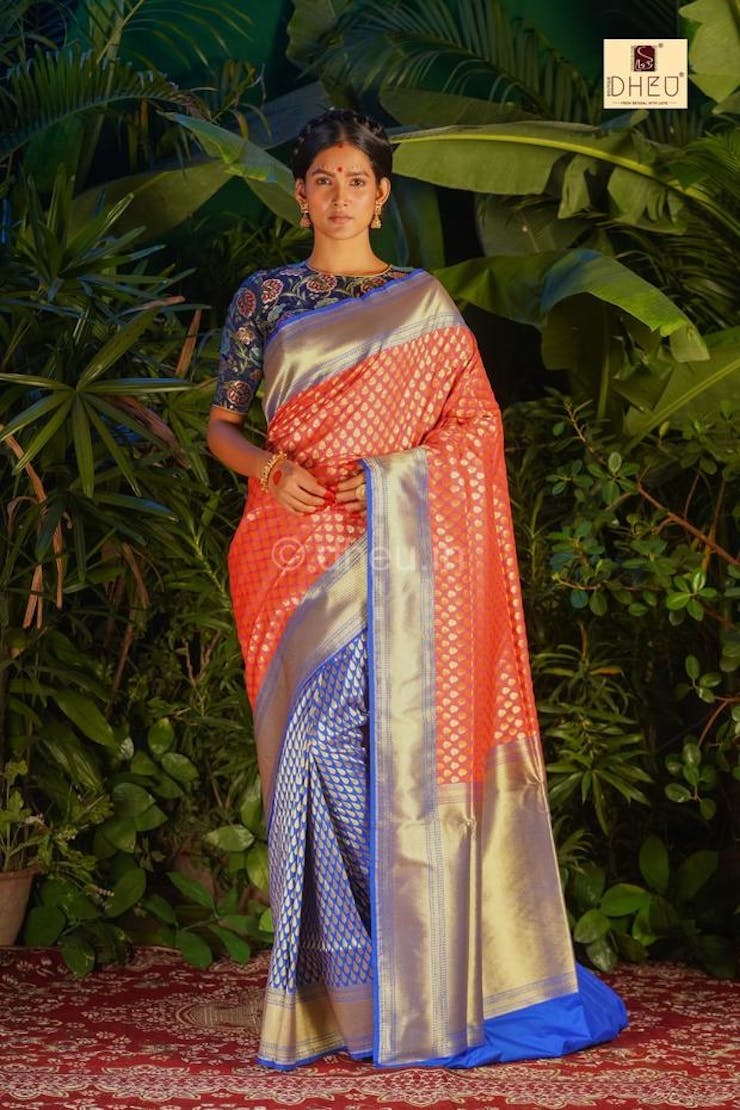 This beautiful peach and turquoise combination of opara banarasi silk saree is indeed breathtaking. The sombre and sophisticated look of this saree shall bring an elite aesthetic to any bridal look! A very pretty Bengali bridal saree wearing style.
13. What A Beautiful Meenakari Saree!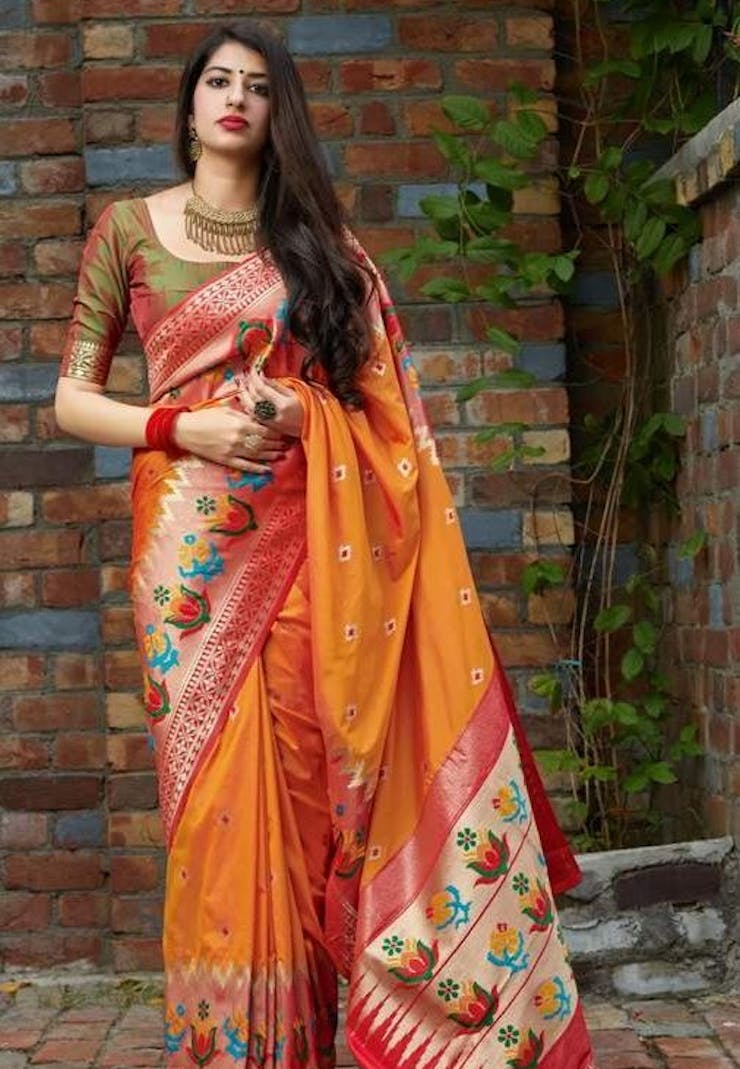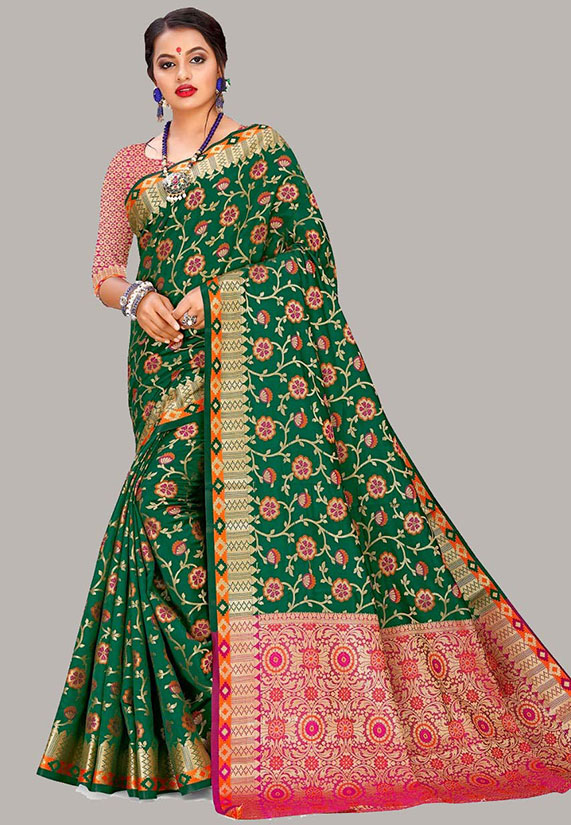 The beautiful fury orange and maroon combination of the banarasi saree is yet another combination of banarasi sarees for Bengali wedding. The stunning meenakari work on the saree is another factor that adds to the beauty of the look! Just give this combination a shot, you won't regret it.
14. The Beautiful Kochi-kolapati Saree!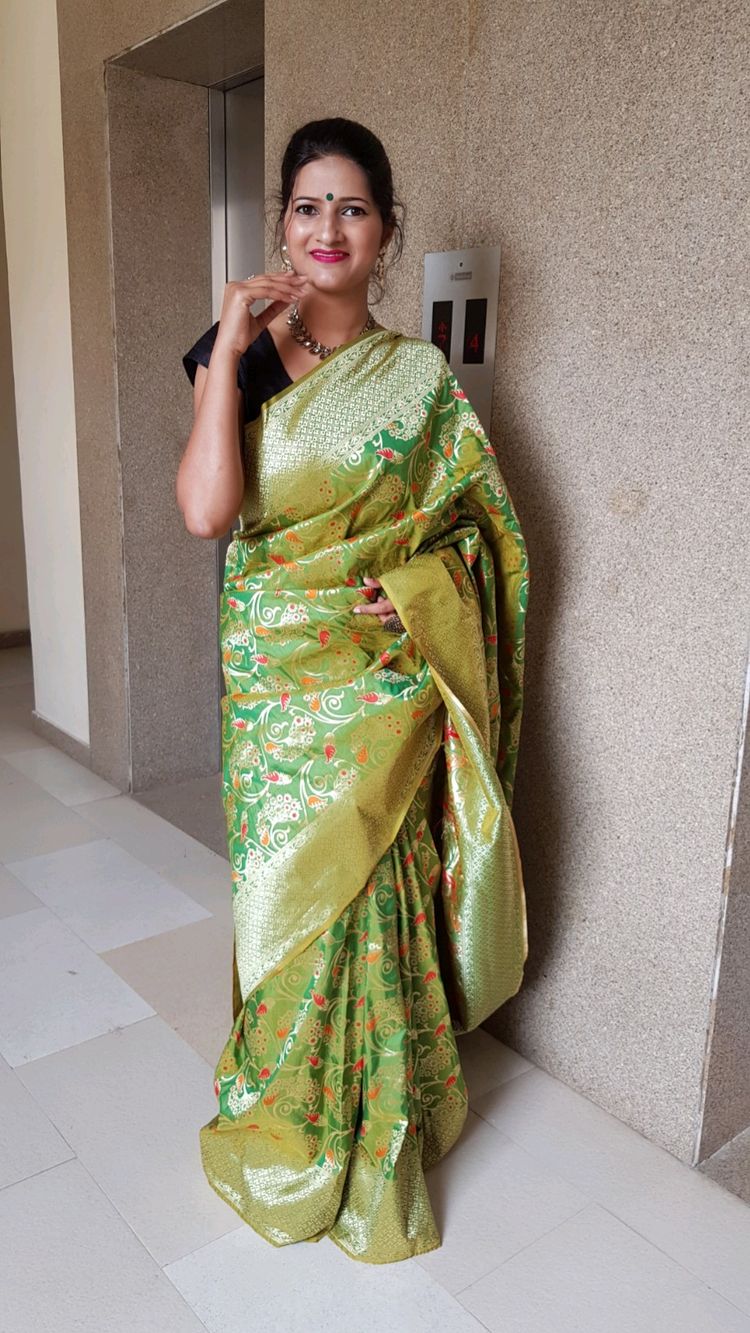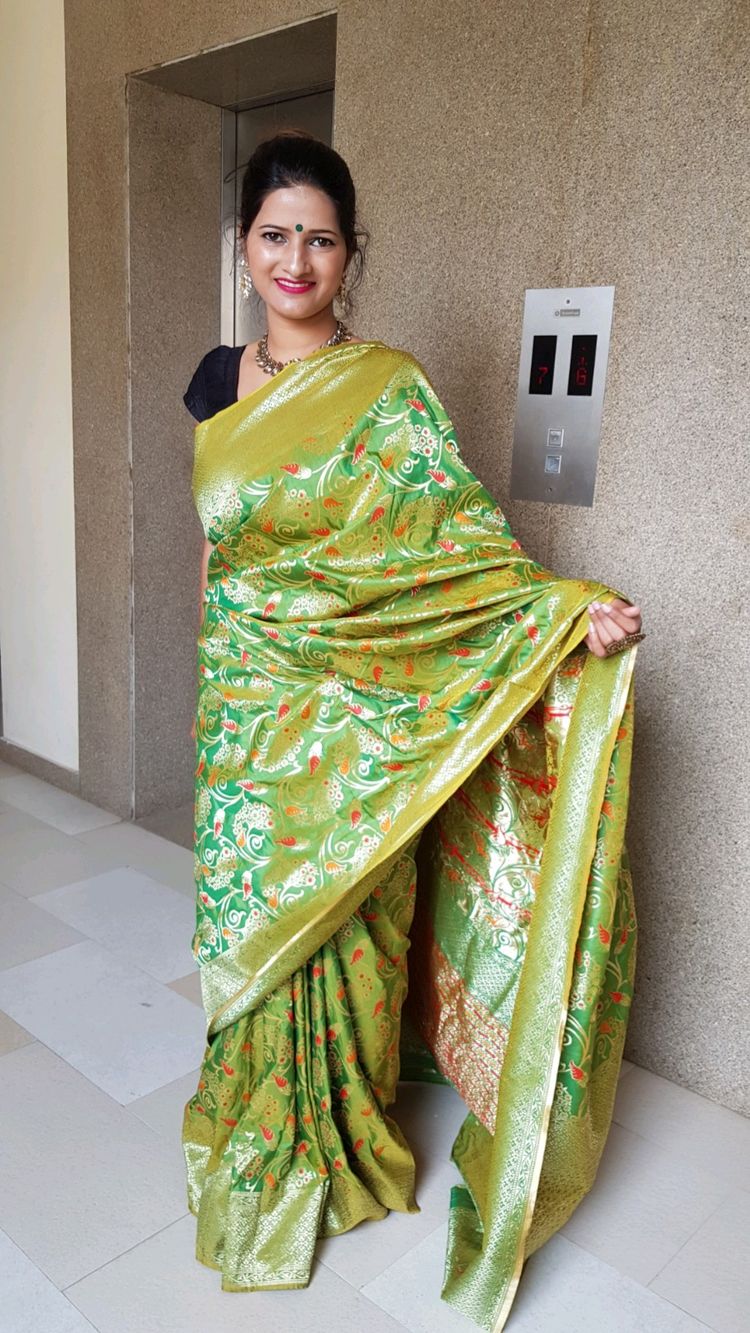 This combination is a very hyped one among the banarasi sarees for Bengali wedding. The beautiful dual-tone banarasi of lawn green and sheen green is yet another favourite of the modern Bong bride. And the intricate meenakari motif adds to the look.
15. A Light Georgettey Affair!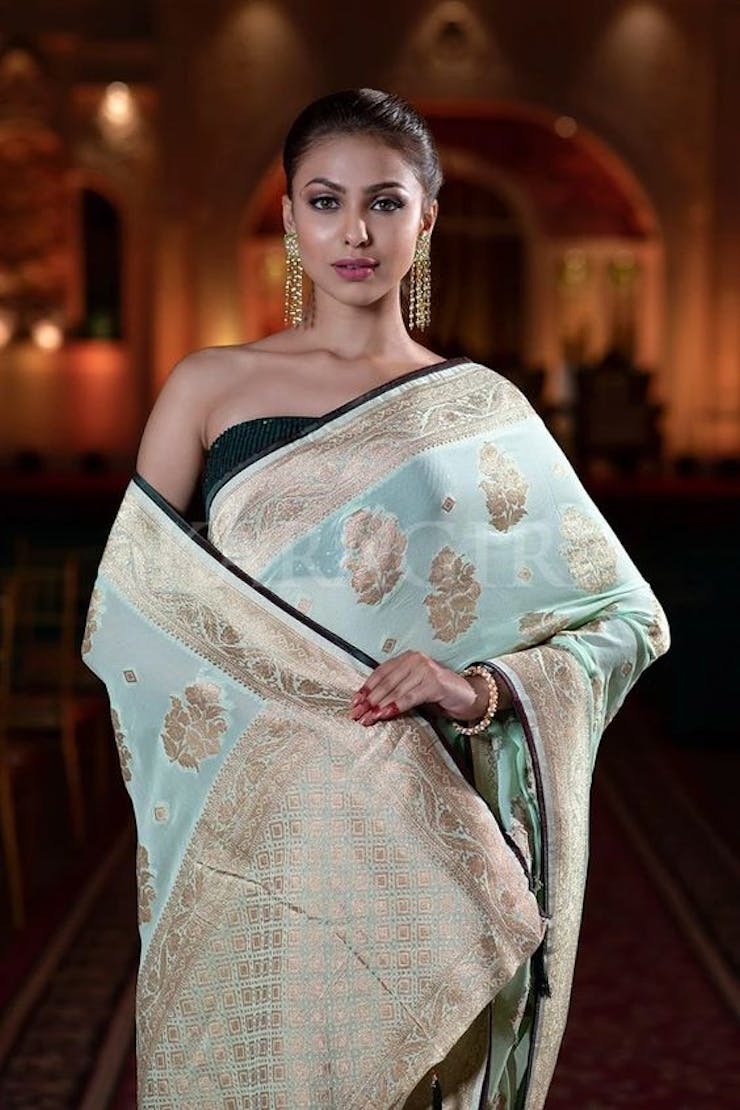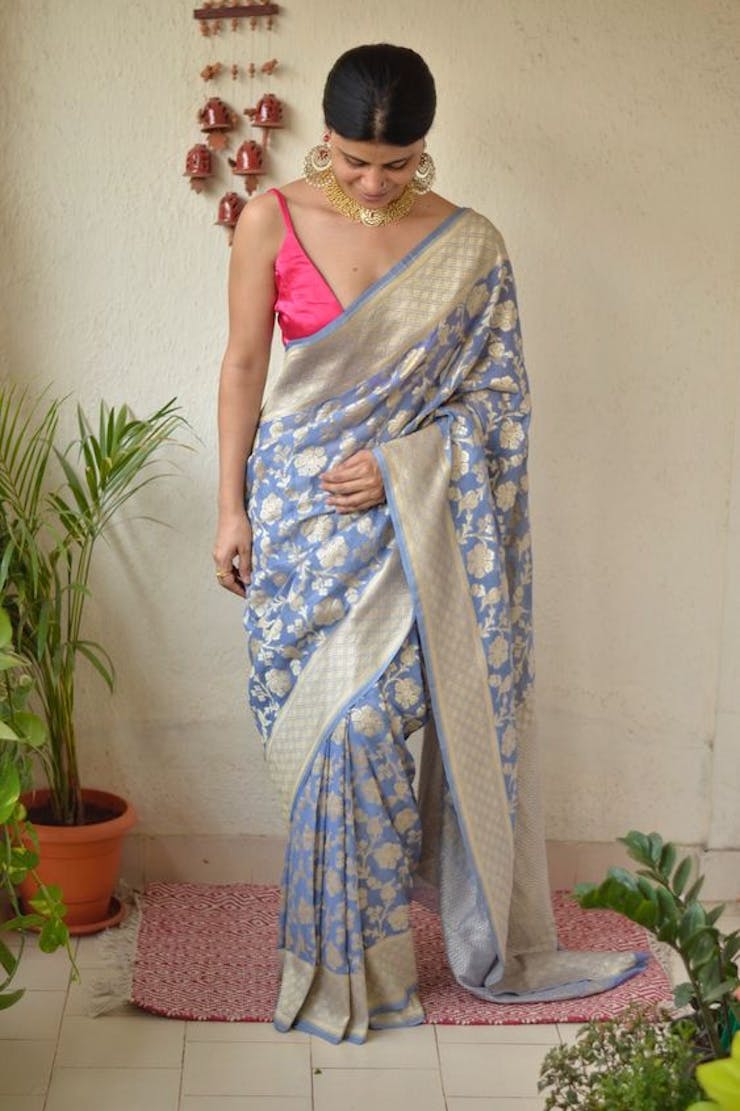 I very well understand if you are not very fond of wearing a very heavy silk banarasi saree. So worry not, these pretty sheer georgette banarasi sarees are sure to make you feel good about them! 
Won't you be wanting to do a pretty banarasi saree as a bong bride now? Do let us know how you like our picks of banarasi sarees for Bengali wedding.